Look –
I'm the LAST person to write this blog post for you.
I'm known to make spelling errors, grammar errors and any other types of errors when I write. So, why am I teaching you the top writing mistakes freelance writers make?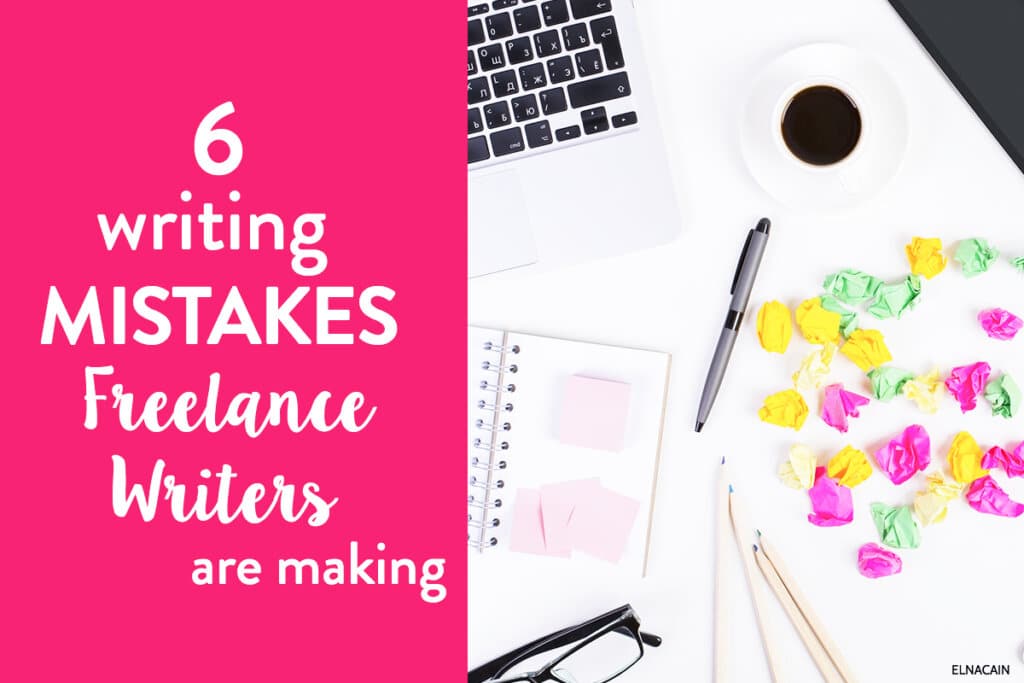 Because, when it comes to my client's posts, I'm error-free and my posts are properly formatted. I know exactly what types of blog posts my freelance writing clients want.
And it's soo much more than being error-free.
So, I'll share six online writing mistakes I often see from freelance writers so that you no longer make these mistakes.
Before I begin, I want to let you know that these ideas are strictly from experience and what I see online. There are other ways to write for freelance writing clients, but I don't know those ways.
1. Your Content Needs a Structure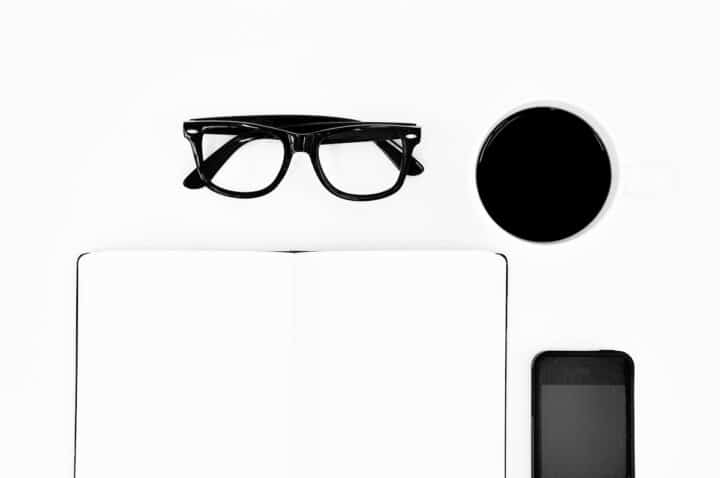 Okay, a lot of these tips will come from my knowledge of writing online and, specifically, writing blog posts for clients.
One thing I see a lot of new writers fail to do, is structure their blog posts.
See, an online reader needs to anchor what they are reading. If all you show them is big blocks of text, they won't be able to decipher what they are reading. They end up scanning and losing motivation to read your post.
So, a structure to a blog post means having anchoring features like:
Subheadings
Numbered lists or bullet lists
Images
These three things can help your content breathe and allow the reader to READ your post. Along with having this type of formatting structure, your ideas need a structure.
They need to be cohesive and make sense.
For example, if your article is: 8 Ways Entrepreneurs Can Use Pinterest For Their Marketing, make sure your subheadings are numbered.
1. Use Rich Pins
2. Optimize Your Bio
3. Join Group Boards
I wouldn't make a list post and not have a list in the post. A lot of freelance writers fail to add numbers to their subheadings when they have a list post.
While we're on the topic of subheadings, make sure you use H2 or H3 for your subheadings.
In WordPress: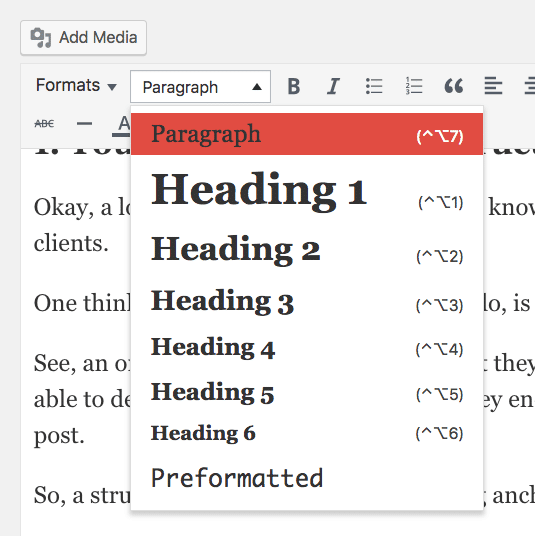 In Google Docs: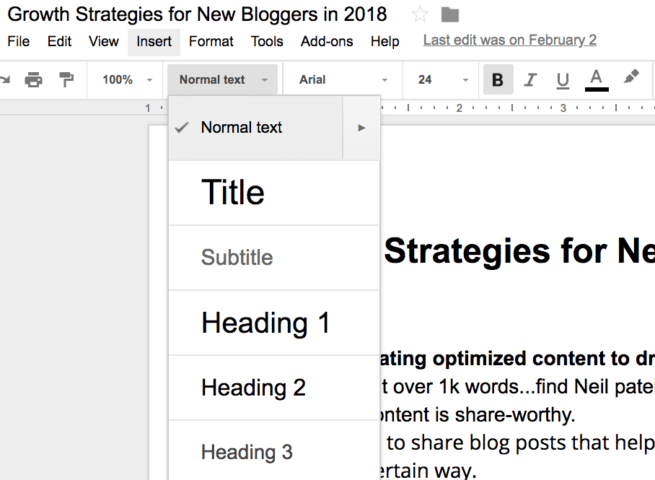 In Microsoft Word:

So, when coming up with a content idea, outline your idea with a structure that includes subheadings.
2. Your Content Needs to Breathe
One of the things I learned early on was the idea of having a lot of white space surrounding your words. This lets your writing breathe. Content online reads differently than a book or newspaper.
You might notice that the majority of blogs have a short content width than that of a newspaper or book.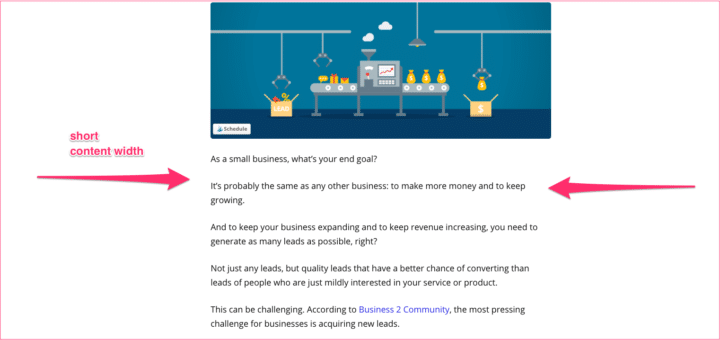 This means that one sentence can look like two lines on a short content width. So, if your freelance writing client has you upload your blog post to their WordPress backend, always take a look at the preview mode to see if your content is breathing.
3. Link The Right Way
For your client posts, you want to link to relevant topics as well as stats and facts to back up what you're writing.
What I see, however, is that many new freelance writers don't know what words to link to.
Let's look at this sentence:
Apple is interested in launching a new magazine subscription service.
You want to link to this article.
The incorrect way to link to this in your sentence is to anchor your link to the word "Apple." This is the brand and not the information the sentence is about. Instead, link to the phrase that talks about what the link is about.
Apple is interested in launching a new magazine subscription service.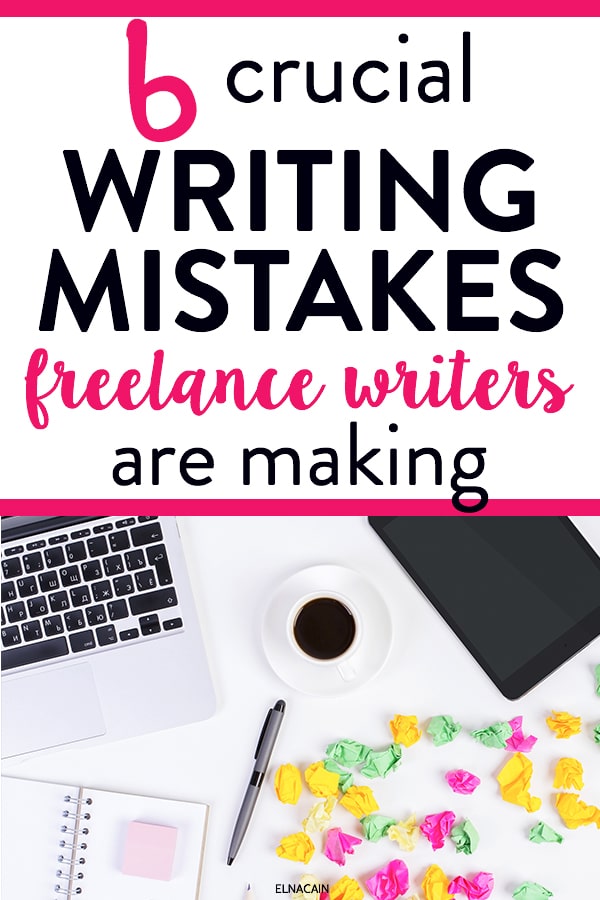 4. Be Conversational
Many new freelance writers think that freelance writing clients want professional content as you would write for a University paper. While there may be some projects that require this type of writing, most online content is conversational and relatable.
Remember, clients are using YOUR content to attract leads and grow their business. This type of writing, therefore, has to be easy to read and understand.
It's known online that your writing should be written at a 4th-8th-grade level.
The biggest marketers online write at a 4th-grade level, and many of your clients want you to write at that level. So use simple words and make your connections easy to understand when you write.
5. Provide Examples in Your Writing
A great way to add value to your samples (and your client's posts) is to provide examples of what you are talking about. This is important in my niche – digital marketing – but can be used for other niches too.
For example, if you are talking about a tip – drinking more green drinks – provide an example of why this is beneficial. Maybe there is an influencer that promotes this lifestyle or a study done showing the effects of drinking green drinks is on weight loss.
By providing examples of what you are talking about, it makes it easier for the reader to understand, and makes your content more engaging and boosts the value of your blog post.
The effectively can help you raise your rates.
6. Always Have a Conclusion Paragraph
Okay.
Maybe this is just a pet peeve of mine, but I strongly dislike blog posts that don't have a conclusion! They list their last list, and that's it! One sentence of "that's it folks" and end of the post.
If you started a blog and it's filled with your posts, that's okay to do what you want. You can write however you want on your own blog. However, for clients, you are getting paid to write for them – so give them the complete post!
How do you end your post or article then?
I like to have a new subheading with a conclusion phrase like:
Wrapping it Up
That's It!
Over to You!
There Ya Go!
Then I write a few sentences wrapping up what I wrote. For clients, I may expand on this and summarize key points in my post.
I then turn it around and ask a question to the audience as a way to start a conversation.
Ready to Write?
There ya go! Six writing mistakes I see new freelance writers make. They aren't grammar mistakes. Instead, I'm focussing on the formatting of your content for online clients.
If you get these right, you won't have any shortage of freelance writing jobs!
Now it's your turn – what are your top writing rules you've learned since becoming an online writer?
Please pin me!