Is writing a passion of yours?
Do you want to become a writer, but not sure if you can make a living from it?
I'm sure you've thought or read or seen how making a living with writing is a struggle and that people go through a feast and famine cycle constantly.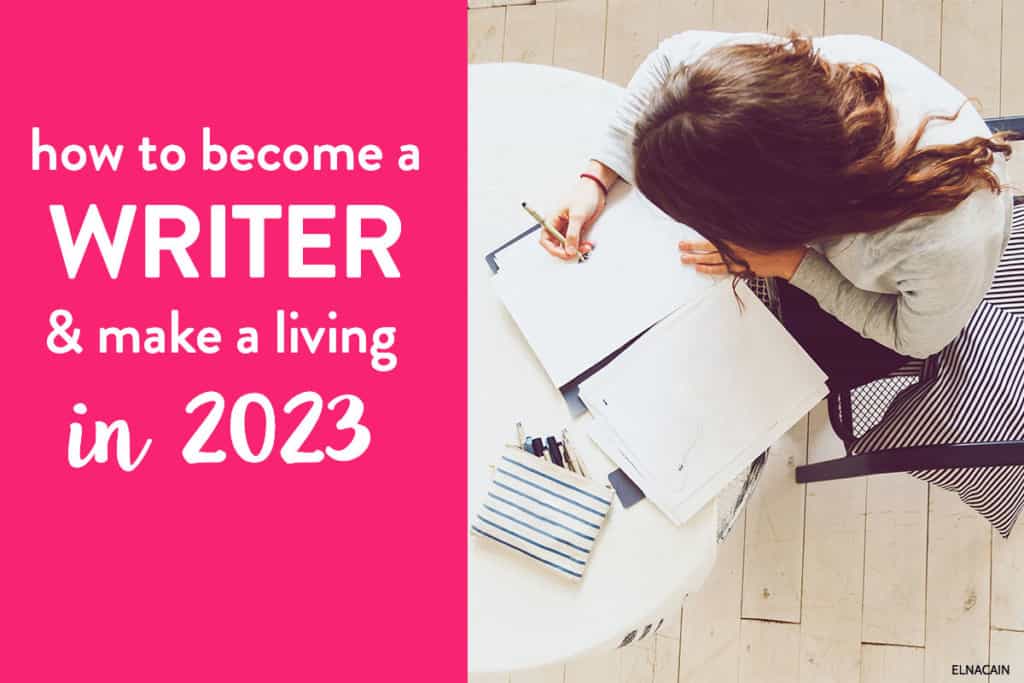 I'm here to tell you that you don't have to go down that path. I've been getting paid to write for over six years now, and I still continue to get opportunities to write.
Whether you want to be an author or a writer or even a blogger, there are many ways you can become a writer and get paid to write.
But do you need to be a good writer?
I feel you don't have to be the best writer to make it as a writer.
I know I'm not the best out there, but I can still get paid to write on big sites.
The thing to remember is that if you have engaging writing or writing that tells a story and connects with readers, then it's possible to make a living as a writer.
Let's go over if you can make money writing, then a rundown of exactly what you need to become a writer, the types of writing you can do, and learn the best writing tips.
Is Writing a Viable Career?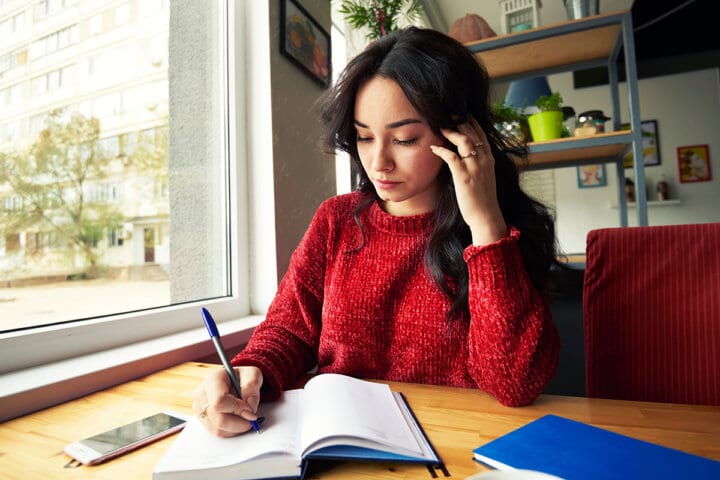 When I first started as an online writer, I knew another freelancer, and over the years, we connected many times.
Then one day, I learned that she wrote a fiction book.
I was shocked and amazed.
Over time, she transitioned from being a freelancer to being an author. She's now a USA Today Bestselling Author!
She's been writing for many years and fully transitioned out of freelancing.
So, is writing a viable career?
It can be!
According to the US Bureau of Labor Statistics, writers and authors in 2020 made $67,120.
This is only the average, and many authors struggle to get this amount. But, that's not to say that you can't make a decent living as an author.
Shaunta Grimes was able to earn a part-time income as an author.
"I sold four books in six years and earned a bit less than $100,000. A solid part-time income."
But, based on the type of writer you want to become, you can make more money than this and have it be more sustainable.
I'll show you that in a little bit, but let's go step-by-step on how to become a writer.
To help you out, I have a video on how to get paid as a writer. This is a freelance writing tutorial, but it can apply to becoming a writer. Make sure to check it out and subscribe to my channel.
How to Become a Successful Writer
1. Discover Your Writing Genre or Niche
My freelance friend is a YA fiction writer.
There are other freelancers that love to write romance novels or science-fiction writing.
But, if you want to get paid NOW and not wait years (writing your novel and trying to sell it to a publisher), you can start out as a writer for small businesses or brands.
In the video, I lay out different types of freelance writing you can do, but I stress to the new writer to try out three writing niches.
This might mean:
Health and wellness
Parenting
Education
Find a niche or some genre topics that you know about, want to learn more about or is something you can leverage from your day job.
My freelance friend turned author got paid to write about career writing mostly, but her author niche is YA fiction.
So, know that you don't need to have similar niches as a freelancer if you want to be an author.
2. Start Writing (And Start a Blog)
Once you have a few writing niches you want to use for your writing, then it's time to start writing!
I suggest you start an author blog or a blog that houses your writings.
Make sure to check out my post and video tutorial on how to start a blog for your writing.
Another way to start writing is to create writing samples in those topics so that you can start writing online for small businesses.
A cool thing you can do is marry your writing topics so that each writing sample is cohesive.
For example, in the above bullet list, I can create these writing samples:
17 Best Yoga Exercises for Toddlers
How to Stop the Yelling Cycle With Your Stubborn Child
8 Reading Tips for Kids Who Hate Reading
These writing samples fall under the parenting topic, but you can marry these under the health topic too:
9 Vegan Recipes Your Baby Can Enjoy
20 Survival Tips For When Your Daughter Says She's Ugly
How to Use a Fitbit to Encourage Exercise at School
So, you can see, even if you pick varied writing niches, you can see if you can merge them or marry them together to create similar content.
3. Grow Your Brand as a Writer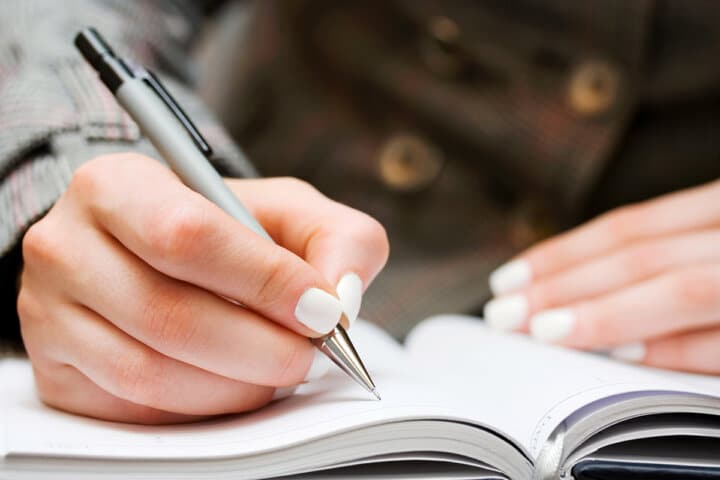 Writing doesn't have to be lonely or just for you. You need to send your writing out there and have it get read.
An easy way to do this is to get on social media.
Start a Twitter profile or Facebook fan page.
If you really want to dive into freelance writing, I would opt for a LinkedIn profile.
You can create one profile for your fiction writing and one profile for your freelance writing if you want.
This way, you can market yourself in two different ways to two different audiences.
4. Join a Writing Community
Note: this step isn't mentioned in the video!
One of the best things you can do to become a writer is to join a writing community. There you can get an honest critique of your writing, people can review your writing, and share your writing.
This can boost your confidence when you know you can write, but not sure if others will like your writing.
The two I recommend are Medium and Wattpad. Medium is a wonderful platform filled with some of the best writing out there on all sorts of topics.
If you want to be a writer, then start a Medium profile.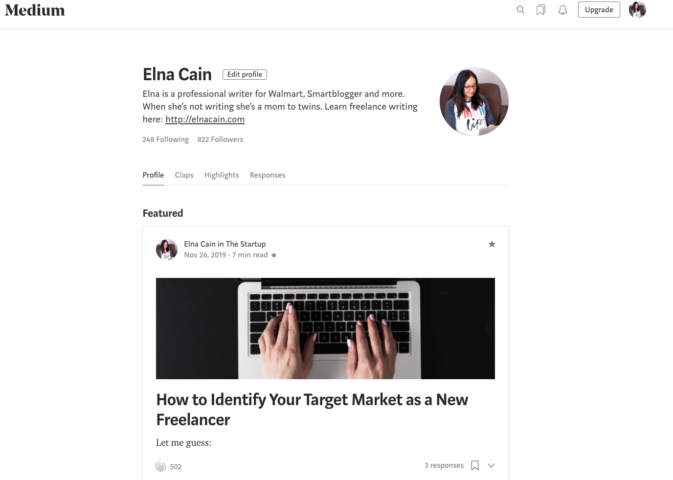 What's great about using Medium is that you can get paid to write with their partner program. This is what I use when I submit my stories to publications on Medium.
Whereas Medium is a place to market your brand and yourself as an author, Wattpad is a place to share your stories and read other people's novels.
They have a free and paid section, and if you want to become a writer, this is a great writing community to join.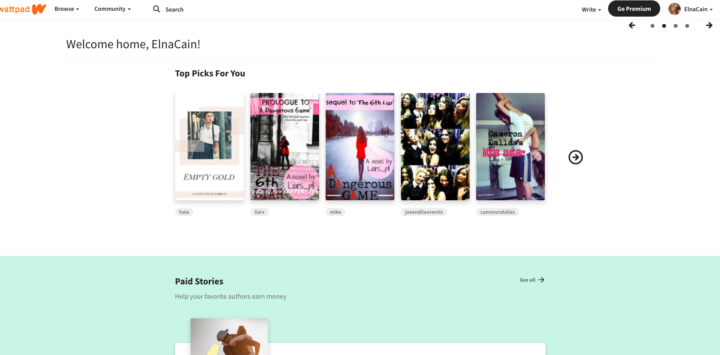 5. Overcome Fear and Writer's Block
As a new writer, you might have a lot of trepidation over your writing quality and writing skill.
This is normal.
I don't have a creative writing background or a degree in journalism. I learned how to write for small businesses through trial and error.
But, for many of us, we've always had a love of writing.
I wrote poems as a teenager, and it helped me cope with my mother's death.
In University, I loved researching credible sources for my research papers and essays. But, I did have one person tell me I had poor writing, and I almost gave up as an online writer.
The fear of putting yourself out there is a real thing, and after that incident, I did have a very hard time getting out there and find writing opportunities.
What I suggest is to remain positive as a writer and know that there is someone out there that will be touched by your writing.
That's why joining a writing community is so important in helping you overcome your fear of writing. Another thing that might plague you as a writer is writer's block.
As a freelance writer, I do get bouts of writer's block, and that means losing money.
I find that writer's block hits me when I'm under stress, lack sleep, or there's just too much going on in my personal life.
If you are writing your novel or a blog post for a writing opportunity, and suddenly you are stuck, try these methods to relieve writer's block:
Always outline your work, so you have a path to your writing
Take a break and do something else creative (painting, reading, making soap even!)
Listen to music
Take care of yourself!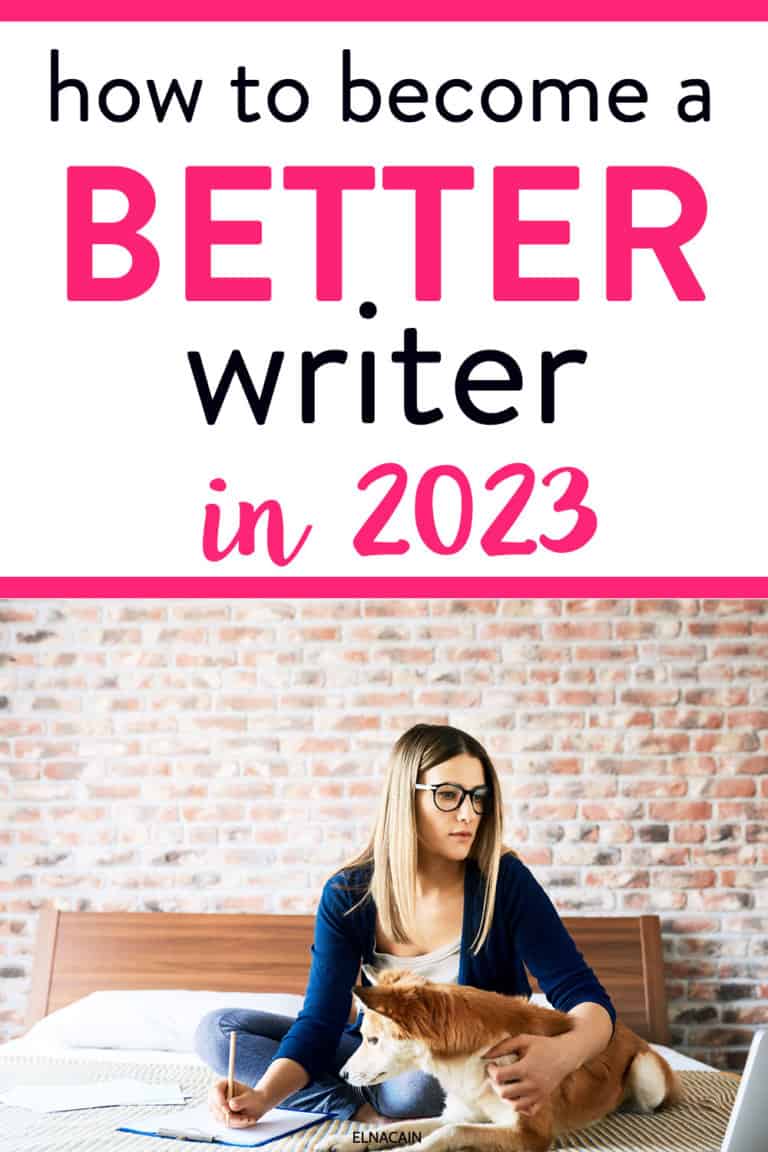 6. Find Paid Writing Opportunities
When you use Medium or Wattpad you can share your writing and get feedback.
But, wouldn't it be neat to share your writing to more and more people and even get paid for that?
In my video, I talk about finding freelance writing work.
If you want to become a writer, you don't have to do this step, but if you need extra income and a way to make money writing, then I suggest you pick up some paid writing opportunities along the way.
Some popular methods are:
Use Job Boards – there are specific job boards for online writers to connect them with potential writing jobs
Use LinkedIn – LinkedIn is like Facebook for businesses. You can connect with other businesses to land yourself a writing gig.
Go Local – some of the best writing opportunities are in your backyard. Put your writing to work by helping those in your community.
There are many other methods of finding writing gigs, but these are the best.
7. Submit Your Writing
The last step to becoming a writer is submitting your work to publishers if it's a novel or to potential companies if it's client work.
If you find submitting your work to publishers difficult and hard to come by, you can also self-publish your work. As well, Medium and Wattpad are free places to publish your stories and get recognized as well.
Okay –
So I walked you through the steps on how to become a writer.
But, you might find that writing is a vague topic and that there are many different types of writers and different income levels.
I've touched on some like blogging and freelance writing, but let's dive into the types of writing you can do (+ how much money you can make) to help you be a successful writer and make a living from it.
Types of Writing You Can Do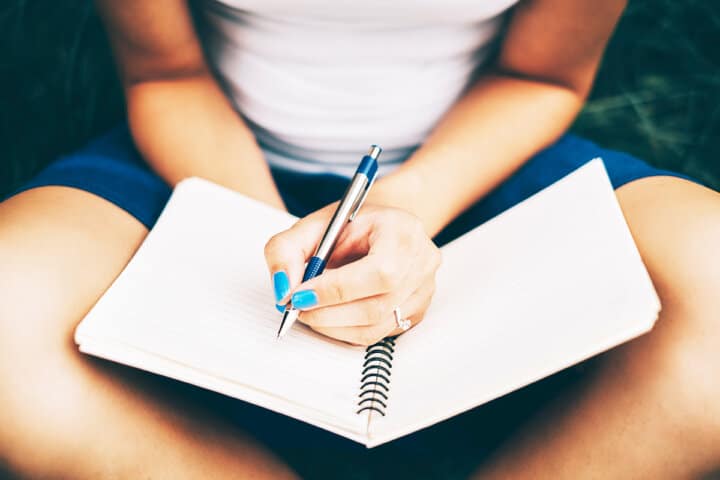 Since I already talked about how much you can make as an author or novelist, let's get into other writing types that are profitable and sustainable.
1. Freelance Writer
Of course, I'm going to talk about freelance writing first! I'm a tad biased since I've been a freelance writer for over six years now.
I lucked into freelance writing when my twins were toddlers and never looked back. While I don't share my income from my writing online, I do share that I average around $600-$800 a post since my type of freelance writing is blog writing.
What I found is that if you specialize in a certain type of writing, you can charge more. So, I can charge per blog post because I specialize in digital marketing writing that's long-form.
If you want to learn that type of writing and SEO writing (this is writing to help rank in Google), then check out my Freelance Blogging in a Weekend course!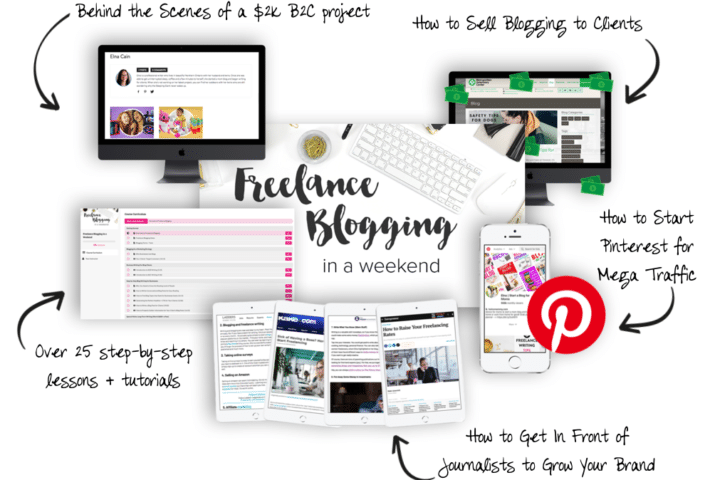 2. Ghostwriter
Ghostwriting is writing that isn't attributed to you. Any writing you do is attributed to someone else.
Many business people hire ghostwriters to write their books as well as ghostwriters to write music for rappers and singers.
Ghostwriting is highly profitable since you can charge more for your writing (since you can't market your writing).
According to Ziprecruiter, Ghostwriters average around $51,456 per year.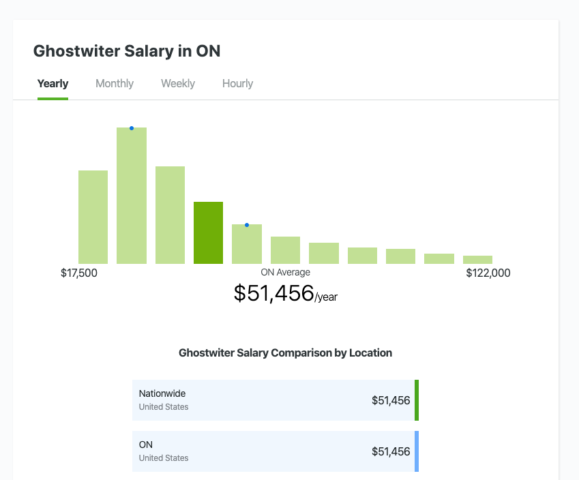 To help you start ghostwriting, make sure to check out my guide to becoming a ghostwriter.
3. Blogger
Blogging is a popular choice for many professionals –
Doctors blog, veterinarians blog, chefs blog and even authors blog.
Starting a blog is a great way to connect with your readers and grow your own community. It can also help you with updating your audience with any book tours, book signings or book readings in your city.
You can also make money blogging with affiliate marketing, sponsored content and creating your own products like books!
Of course, you can also use your blog as a marketing strategy to help you with landing writing jobs.
4. Magazine Writer
Do you want your name in print?
If writing your novel is taking longer than you thought, why not try being a magazine writer? Many magazines seek out writers. Here's a list of magazines that actually pay writers!
Rates for magazine writing is more than blog writing or other forms of writing. It's not uncommon to get paid $1 a word.
5. Copywriter
Copywriting is the idea of using your words to help sell an idea.
Copywriters use psychology, emotions and storytelling to help them craft their copy.
Copywriting is used in print and online. From email campaigns to a brochure for microchipping pets to creating a landing page to offer a free chapter of your latest book, copywriting is used.
If you want to become a writer, you can learn how to become a copywriter by blogging and getting paid to write.
Over the years, I've picked up a few copywriting skills and use them in my sales page copy.
To learn more about copywriting, visit Copyhackers.
5. Novella Author
If you want to be a fiction writer, you can become a novella writer. Novellas are shorter than a full-length novel but longer than a standard short story!
Generally, they are around 60-120 pages long.
For more information, check out this guide to writing a novella.
6. Children's Author
Why not write a children's book?
I know freelancers that have gone down this route, and it's awesome!
My twins are seven and I love reading to them.
If being a children's author is something you're interested in, this route can be profitable for you.
On average children authors can earn $58,567, according to Ziprecruiter. Don't think you can make this with your first children's book.
This is for a series of books, and the more you market your brand and get out there, the more popular your book series will become.
7. Historical Author
There are many sub-niches if you want to be a historical writer:
historical fiction
academic history
historical criticism
historical fantasy
historical romance
If history is your passion, you can be a historical writer. There are even historical publications you can write for. For example,
Early American Life will pay up to $500 for features.
8. Song Writer
If music and poems are your thing, then why not try your hand at songwriting?
I feel being this type of writer will be the hardest since the money is being a writer to famous singers, but you never know unless you try, right?
Make sure to get a good understanding of music theory, so you know the structure of songs and what's needed to make a bop or hit song.
As well, you need to be able to sing to market your songwriting abilities! Check locally for open calls and even start a YouTube channel to grow your brand!
For more information, check out this guide on how to become a songwriter.
There are many other types of writers you want to be depending on your genre or writing niche, so make sure to explore those options too!
My Best Writing Tips to Help You Become a Better Writer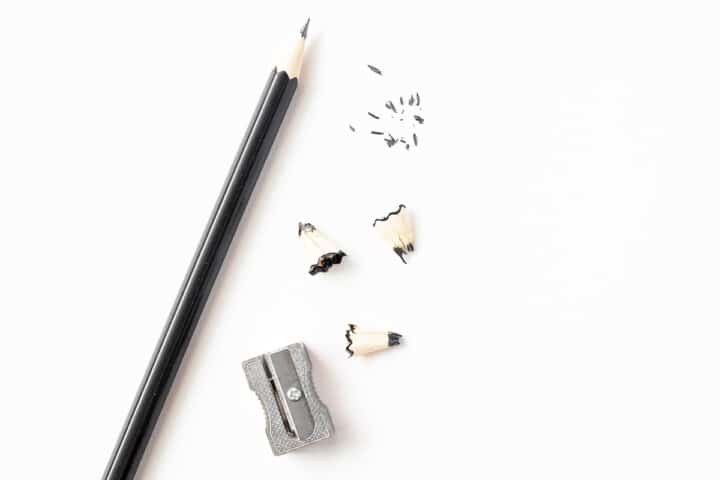 Here are my best writing tips so that you are more successful with your writing!
1. Write Every Day
If you truly want to be a writer, you have to write every day.
Whether it's a diary entry, a blog post, an email or your to-do list, find opportunities to write. Of course, what you write is important. If all you do are make lists, you won't hack it as a writer.
You have to flex your writing muscle and write what you want to get paid for – business writing, horror fiction, chicklit etc.
2. Don't Worry About Being Perfect
Work on just "dumping" your writing onto paper or online.
It's not going to be pretty or coherent, but you are exercising your writing muscle and helping you get away from the fear of writing.
Being the grammar police is also something you don't want to do with your own writing!
3. Work on Your Storytelling
Telling stories is so important as a writer.
For freelance writers like myself, I infuse my stories when I write as a way to connect with my readers.
Copywriters also heavily rely on emotional storytelling to help them sell.
As an author, you can think of that as well when you write in your characters. You can create a strong bond with your characters so that your readers crave more from you!
4. Work the Hardest on Your Openings
Your introduction or opening to your book is crucial.
It is what will convince someone to keep on reading. Stephen King can spend weeks and even months on his opening sentences.
So if you want to become a better writer, focus your writing on your openings.
Become a Successful Writer Today!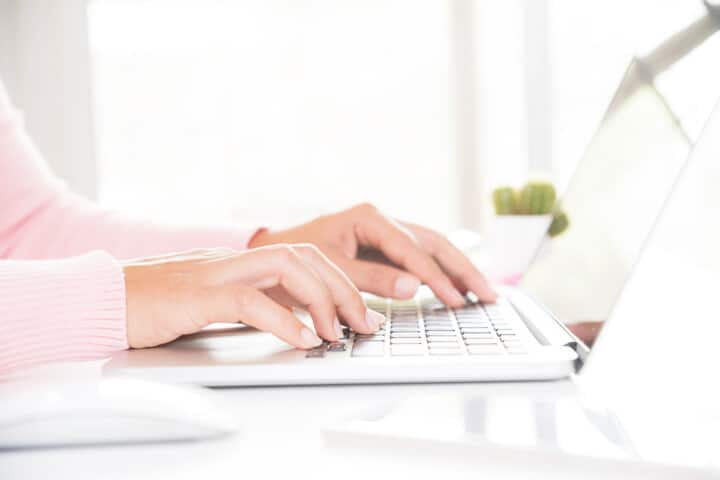 I hope this complete guide on how to become a writer was helpful!
Just remember that there is someone out there that will benefit from your words!
And if you are interested in freelance writing, then I urge you to sign up for my free get paid to write course!
Over to you – have you published any books or want to?
Share in the comments your journey to becoming a writer!
Don't forget to pin me!