Freelance writers working at home are living the dream, right?
Well, I won't argue with that!
But it's important to note that we didn't land in this situation overnight.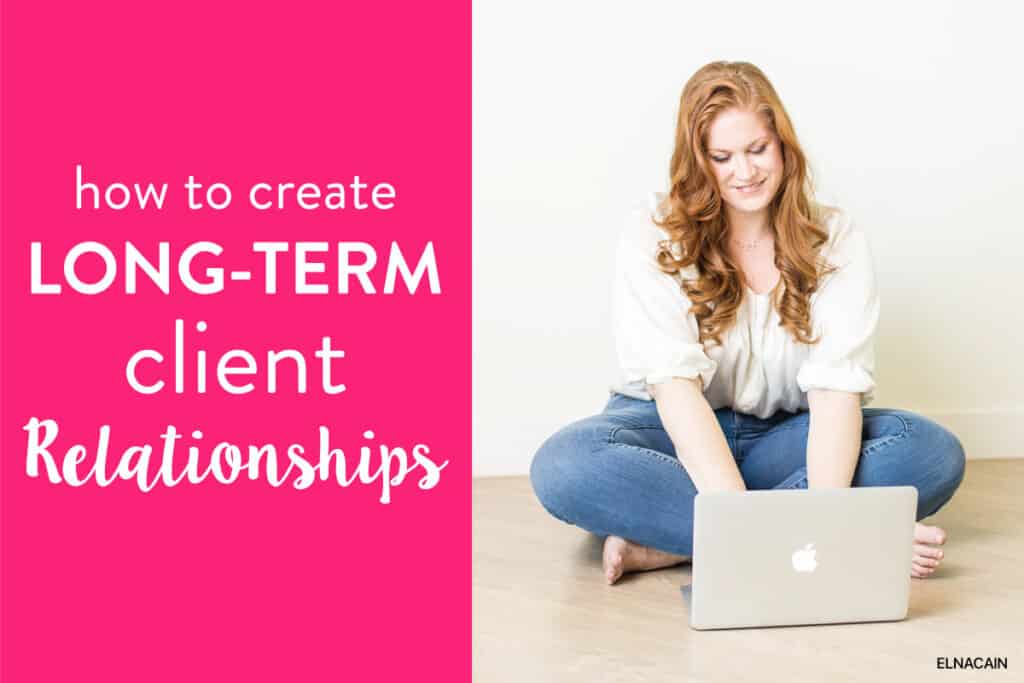 For every successful freelance writer making a living at home, there are many hours spent hustling for writing jobs.
More often than not, you don't land a long-term client right away.
And sometimes landing one doesn't happen at all – so what can you do?
If you didn't already know, there is something you can do with those ad-hoc clients or one-time projects from clients.
You can turn one-off clients into long-term clients!
Most of the time, clients only pay for a one-time project because they need the work done right away. They are not thinking about the future.
The key to building client relationships is demonstrating to the client the benefits of continuing to pay for your writing services.
But instead of simply saying so, it's important to nurture that relationship by building trust.
And when you have nurtured that relationship during your interactions, you have a better chance of clients accepting long-term proposals.
Ready to learn how?
First, let's talk about the importance of having long term clients when you are trying to earn money at home.
Why Do I Need Long-Term Clients?
I know there are many freelance writers working at home who do well picking up odd jobs to fill their calendars.
This is especially true if you are a copywriter.
When I added email sequences to my services I was able to land a few amazing clients.
But, they were just quick projects – a five-day welcome sequence, a 4-day promo campaign or a 10-day nurture sequence.
While I had fun working on these short copy projects, once I was done, that was it. There was no need for my client to keep me on.
Or, so I thought. By circling back a few weeks later, I was able to pick up additional freelance writing work!
And this is the beginning to building long-term client relationships.
So if you want to develop a sustainable and lasting career, you need to build client relationships!
Having long-term clients means you won't have to spend most of your time hustling for work and there is a propensity of a feast and famine cycle.
While some clients will give you more work than others, having a steady stream of projects not only will save you time but make you more money as well.
But saying you need long-term clients is easy – developing those relationships take work.
In some cases, you'll have to go above and beyond to get clients to keep coming back to you. Or you have to really prove your value so that clients will pay for your monthly services.
Let's look at some of the ways you can create long-term client relationships so you can make a living working at home!
1. Communicate!
One of the most important aspects of building client relationships to get long-term work is knowing how to communicate.
Be sure to get off on the right foot with your client by asking for clear instructions and expectations so miscommunications don't affect the end product you are delivering.
When communicating, it's important to be honest without being confrontational.
Don't be afraid to ask questions or point out instructions that need clarification.
Also, try to communicate with your clients using empathy. Once they turn into long-term clients, you want to ensure you have established healthy communication with them right from the beginning.
For example, one prospect hired me for my SEO writing but they also asked me if I could do some ad writing for them.
I asked what type and they came back with certain types of ad writing that I wasn't used to do doing.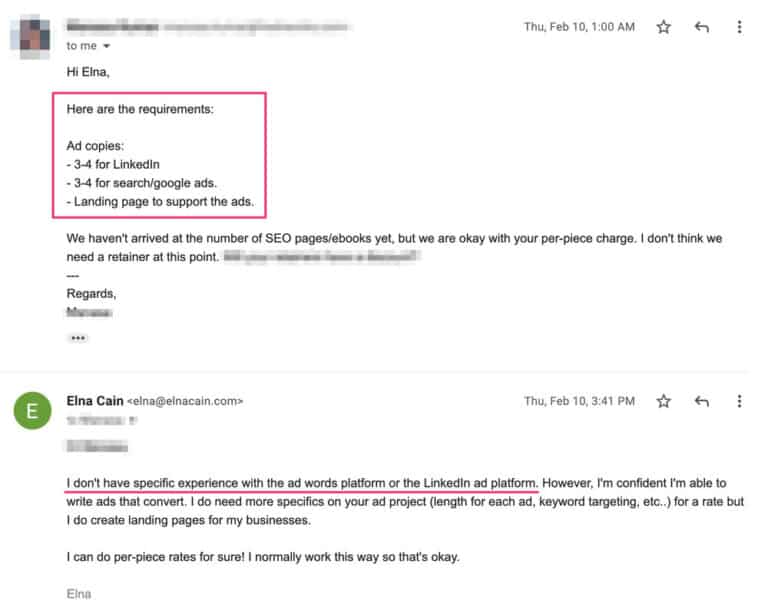 2. Deliver Your Work On Time
This may go without saying but the best way to build client relationships is to deliver your work on time!
When you're new to working at home as a freelance writer, you may not have a feel for how long it will take you to complete a freelance writing job project.
However, you may be given a deadline by your client.
It's super important that you respect this date!
Clients are paying you to complete work as part of a larger project. Delivering late may cost the client time, money, and reputation.
But, what if you aren't given a deadline?
One of my newest clients doesn't provide any schedule for me.
They have me pitch my ideas and the editor reviews my ideas and picks one or two for me.
Then, I provide an outline for my content pice and wait for the editor to approve my outline and from there the editor just says send it over when you're done.
No time line, no date, nothing.
For me, this is tricky because I have a lot on my plate every day and if I have no structure, the work doesn't get done.
So, I have to be diligent on creating personal deadlines for this client.
I tell myself, "On Wednesday I will write the introduction, on Thursday, the subtopics and Friday, the conclusion."
I well then set a time to edit the post before I submit the article on Monday.
If you find that you are unable to manage your time without someone telling you how to manage your time, you may struggle as a freelance writer.
*Keeping it real here.
3. Have a Process
Having a process when you work from home means finding what works for you to ensure that you are productive and can hit those deadlines.
It may take some time to figure out what process is best for you but you can always try something like the Pomodoro technique where you work and take breaks periodically throughout the day.
Also, make sure you have a way of organizing your jobs.
You need to always be aware of when projects are due so having a calendar or schedule is a must.
I use my productivity planner for freelance writers to help me stay organized.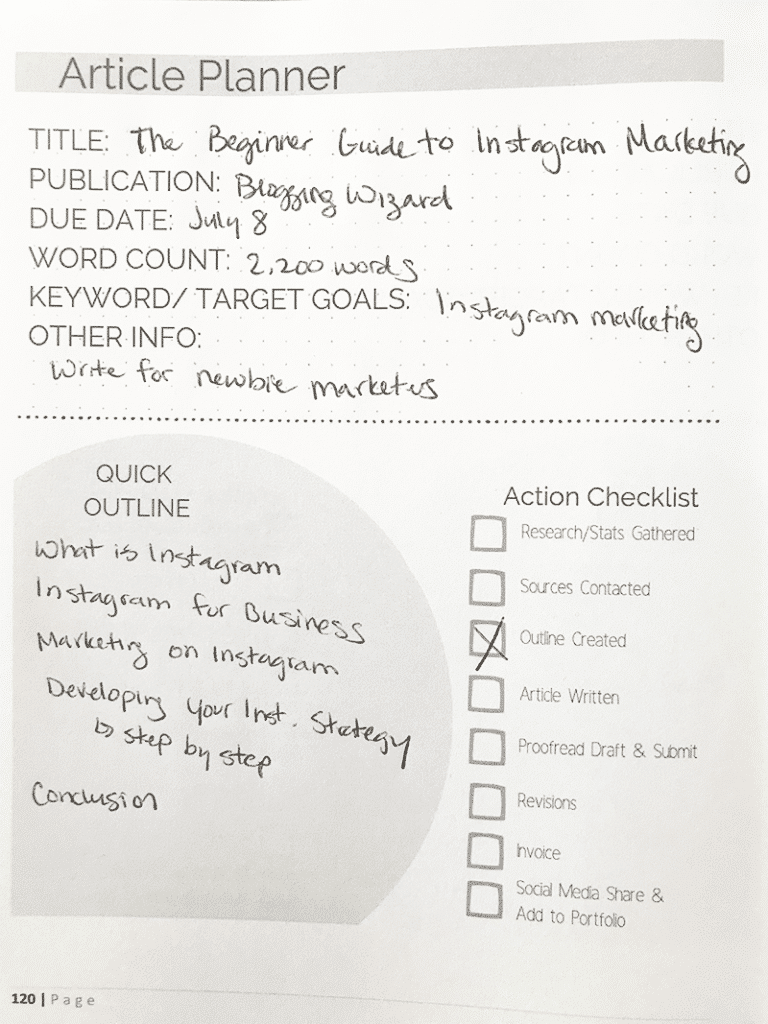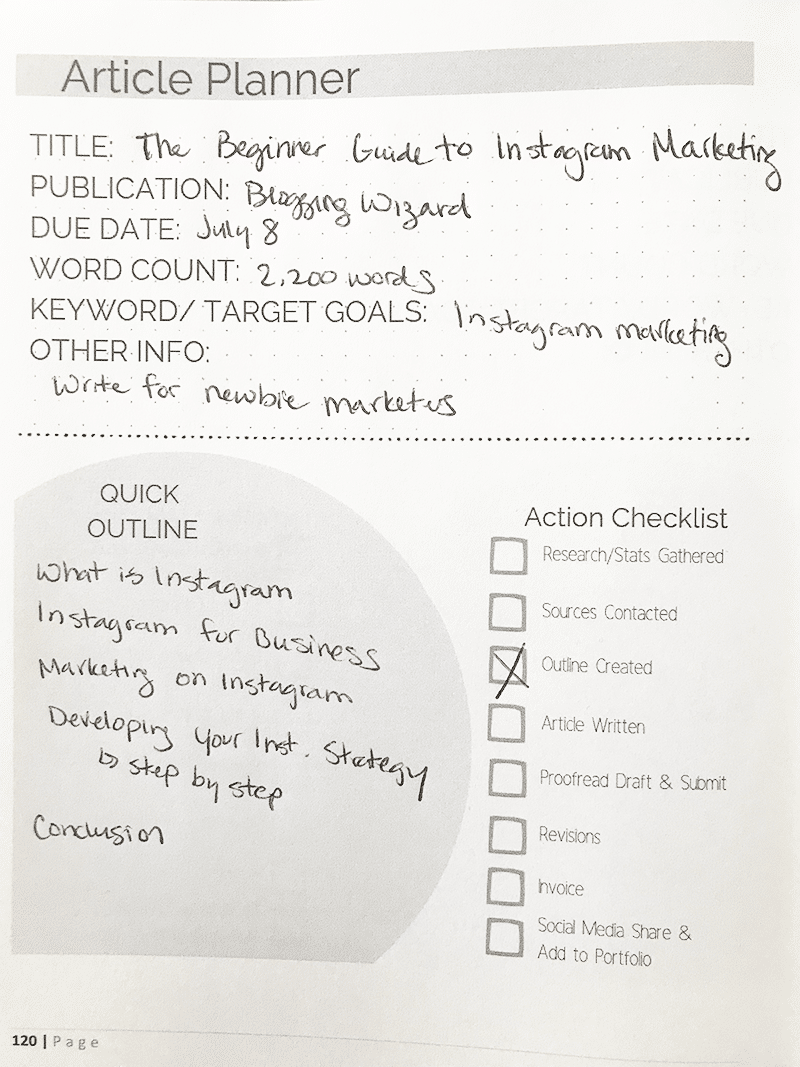 You can also work on spreadsheets to keep track of orders, due dates, and payments.
Having a process means that you will always be on top of things which will help clients gain confidence in you and build client relationships.
Check out my tips here for increasing your productivity!
4. Go Above and Beyond to Show Your Value
There are many ways you can show your value without bragging.
First of all, when you deliver content on time, you are showing the client that you are reliable which builds trust!
Building trust is imperative to creating strong client relationships and scoring recurring gigs. Eventually, they will depend on you and continue to give you more work.
Clients are paying you to make their job easier so when you create high-quality content and deliver on time, you are making their life less hectic and stressful.
Thus, you are adding value to their business!
Some simple ways to go above an beyond with your clients are:
Share your client piece on social media
Take the time to source keywords for your client piece
Use HARO to source quotes from experts
Provide a video
5. Add a Freebie
If you are getting paid to provide content to a client, don't give content away for free!
Instead, take a look at what their online presence is missing and offer to help out.
For example, if you were paid to write a blog post but notice that their site doesn't have regular content, you can offer some post ideas to help them boost their site traffic.
Not only will this help you get more work from the client (I mean, who else is going to write those awesome posts?) but it will demonstrate to them that you know your niche and that you are willing to support both them and their business.
6. Upsell Your Services
Even if you don't offer a freebie to build client relationships, make sure you are always upselling a service.
Let's look at the above example again.
Say a client was paying you to write a blog post – you can easily upsell services like social media sharing or graphic design for blog images.
Or, you can take long-form content and offer to create a free download/lead magnet for the client.
There are endless possibilities when it comes to additional services you can offer to clients.
This will earn you more money and help to build a long-lasting relationship.
7. Show Your Clients Your Gratitude
Again, building trust with your client will lead to a long-term relationship and you can do this by showing your client gratitude.
Remember you are not doing a favor for the client – they are paying you for your work.
On the flip side of that, they could have hired someone else.
And you don't have to grovel at your client's feet!
A simple "Thank you" goes a long way.
After a project is complete, be sure to send your client an email showing your appreciation. They won't forget this!
8. Think Of the Relationship As a Partnership
As a freelance writer working from home, it's easy to feel like you are an outsider when it comes to working for clients.
However, showing an interest in your client's success can help build client relationships into partnerships!
You can do this by making suggestions on content strategies and asking them for feedback on the work you have done for them.
While you may never end up on their payroll, over time you can become a part of their team.
How Do I Propose Long-Term Work To My Clients?
Hopefully, following the advice above will lead your clients into a natural and organic relationship.
However, there are ways you can supplement these steps by proposing your services for the long term.
Start by making a list of your clients and pick out the ones you enjoyed working with.
These are the clients to whom you are willing to devote a good chunk of your time.
Clients are more likely to become long-term clients if they have recurring needs such as weekly blog posts or clients who are planning to rebrand their business.
Overall, established businesses with a long-term budget are most likely to retain your services.
Try to stay away from clients who are unclear in their instructions and don't respond to you, as well as those who try to barter the cost of your services.
Do you really want to work for clients like this on a regular basis?
Check out my Youtube Video on Bad Clients You Don't Want
Once you figure out which clients you want to build a relationship with, remind them of what you can offer.
This means convincing them that you can continually solve their problems!
You can do this by writing a simple proposal that highlights how your skills and services can benefit their business and offer a long-term solution.
For example, you can say something like:
I really enjoyed writing about this topic and I would love to create more content for your site!
I'm glad to see that [project] worked out so well for you. Maybe we can consider something more long-term so I can help you get these amazing results on a more regular basis.
Thanks so much, [client name]! I look forward to chatting about more ways we can work together to continue the success and growth of your business.
Whatever you say, just be casual and throw the idea out there.
If they show interest, then you can hammer out the details.
If they say no, don't take it personally.
It could be that they don't have the budget or they are simply not ready to commit to long-term services.
Also make sure that your resume and cover letter show your expertise and knowledge in your industry to help potential clients see your value.
They know you're there and, if they ever change their mind, they know where you are!
Building and Nurturing Client Relationships
There you have it!
Some tips to help you build client relationships and get recurring work.
Just make sure you start the nurturing process from the moment you are hired.
This will help you make a great first impression with the client on which you can build trust.
Because remember: Trust is key!
For more help with your freelance writing business, check out these guides:
How do you build client relationships? Any tips you want to share? I'd love to hear them in the comments!