When I first started out as a freelance writer, I had no idea what I was doing.
I made soo many mistakes and failed making good money with my writing.
So, how did I turn that around? Right now, I command premium rates for my content and now do email sequences for businesses.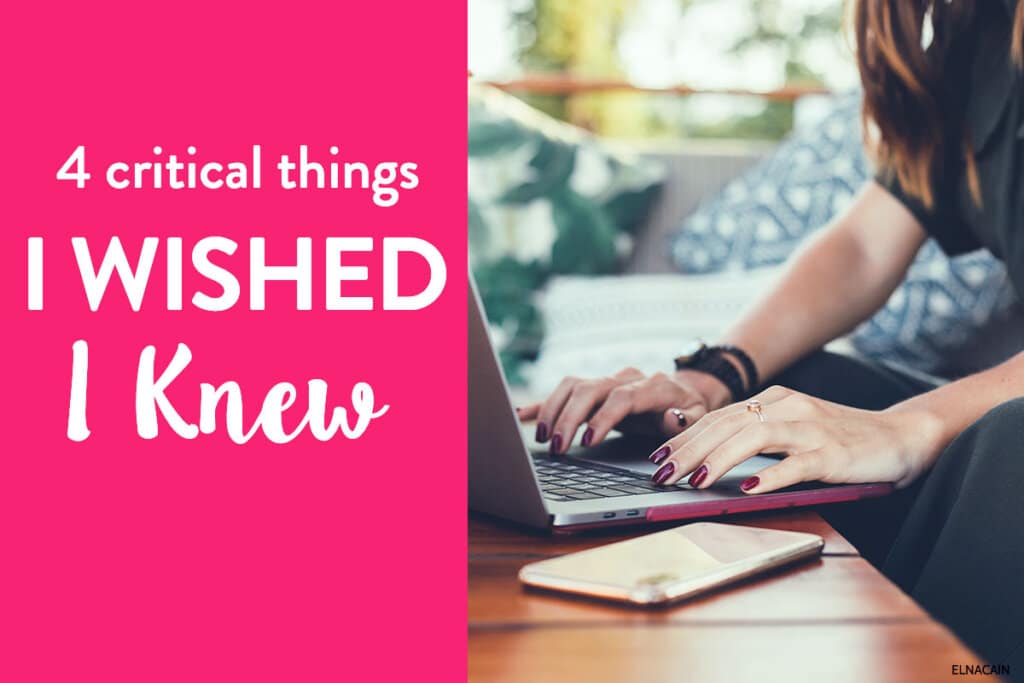 It's been several years since I was that new freelance writer that barely made $3 for all the work she did.
But, I wanted to go back to that time when everything about freelance writing and learning how to start freelance writing was new to me.
These are the things I WISHED I KNEW before I became an online writer.
I want to help you if you think freelance writing is something you want to try. I don't want you making the same mistakes I did, so I hope these four critical things will help you become successful as an online writer.
Learn These Critical Things as an Online Writer
Check out my Youtube video if you don't have time to read this post! And, be sure to subscribe to my channel for more actionable freelance writing advice.
1. Don't Start Writing On Content Mills
I wish I knew that there was no reason to start on content mills like iWriter as a way to "make it" as an online writer.
Unfortunately, back when I started freelance writing, everyone was talking about freelance marketplaces like Blog Mutt, Fiverr, Upwork and Guru as the place to land online writing gigs.
So, what did I do? I listened and signed up to iWriter and Guru (and maybe even Upwork) and it just made me anxious and doubtful.
There was no way I was going to get the rate I wanted for my writing on these platforms. I started getting anxious and stressed out that this wasn't going to work out for me and I would just be stuck writing for little pay.
I eventually learned that the businesses that were using these freelance platforms had one main objective: to save money. They did not want to invest in a content marketing plan and just wanted a cheap writer to help them with getting more content on their blog.
This is something I don't want you to fall for. Instead of trying out these content mill sites, opt for job boards instead. This is a legit way to find freelance writing jobs and many of the gigs are good paying ones too. Some job boards to start looking at are:
2. Don't Only Think About the Money
I was OBSESSED in the beginning on landing my first client and making money with my writing. This meant I was desperate and trying anything to land work. That's why I went to content mills, but landing that poor quality writing job just made me depressed and upset because I earned a few bucks for a few hours of writing.
And then this turned into more doubt about my ability to be a freelance writer. Maybe I'm really NOT the best writer. Maybe those writers I see online are 1,000 times better than me and that's why they can make money writing and I can't.
What I should have been doing and what you should be doing if you are new to freelance writing is to focus on a marketing strategy for your business.
I needed to look at my writer website and see how I can market it appropriately and get in front of my ideal client. I know for many of us you DO need the money but to make a living as a writer, it's best you start with a strong marketing plan for your writer platform.
This is exactly what I teach you in Write Your Way to Your First $1k course. For me, though, once I did start focussing on marketing my business I actually found that I enjoyed reading about marketing and wanting to write about what I was learning.
This opened the doors to discovering my writing niche!
To get you started on a marketing strategy, why not try guest posting? I did guest posting early on as a way to get in front of my ideal clients. I guest posted on the sites I felt my ideal client would be reading and this just helped me get out there more.
3. Stop Asking So Many Questions
This was a big mistake I made and wished I knew NOT to ask a ton of questions when trying to land a writing job.
One of my first inbound leads I received for my writing services came from a person with a new startup. They were excited to create their content marketing plan and wanted a blog writer.
I was excited because this was one of my first inbound leads. Prior to this, I had spent hours devising an onboarding process that was filled with questions. I decided to sent off that email with a ton of questions as a way to get to know the start up and projects.
Well, this scared the prospect away.
Learn from my mistake and don't ask too many questions when negotiating. What you should do is just listen to the prospect. Let them do all the talking and you take notes!
You will learn a lot just from listening!
4. Know the Type of Writing You're Doing Could be Copywriting
One thing I didn't "school" myself in was the different types of writing you can do as a freelance writer. I was just writing for the sake of writing. If a client wanted a blog post, I wrote a blog post. If they wanted a landing page I wrote that too. I didn't know that landing pages and eBooks and other projects I did fell under the umbrella of "copywriting."
I just charged those clients my regular blog writing rate.
Don't make this mistake! Learn the different copy projects you can do and how much to charge for them!
Starting Out as an Online Writer
Look –
One of the most asked questions I get from my email list is "how do I start?"
As you can see, I started out by making mistakes. You will probably make mistakes as well. But, the ones that use those mistakes as a lesson will succeed in this. I never gave up. I almost did – but, ultimately, I kept on hustling and marketing and landing work.
Freelance writing is a business and it takes time to sort out!
Over to you – what is one thing you wished you knew before you became a freelance writer? Tell me in the comments!
Please pin me!