It's December, and you know what that means?
It's time to get ready for the New Year and scale your freelance writing business with some freelance tasks! Yes, that might seem like a big goal, but baby steps, right?
I've been freelance writing since 2014, and what I enjoy doing at the end of the year are wrapping up any loose ends I have within my freelance writing business.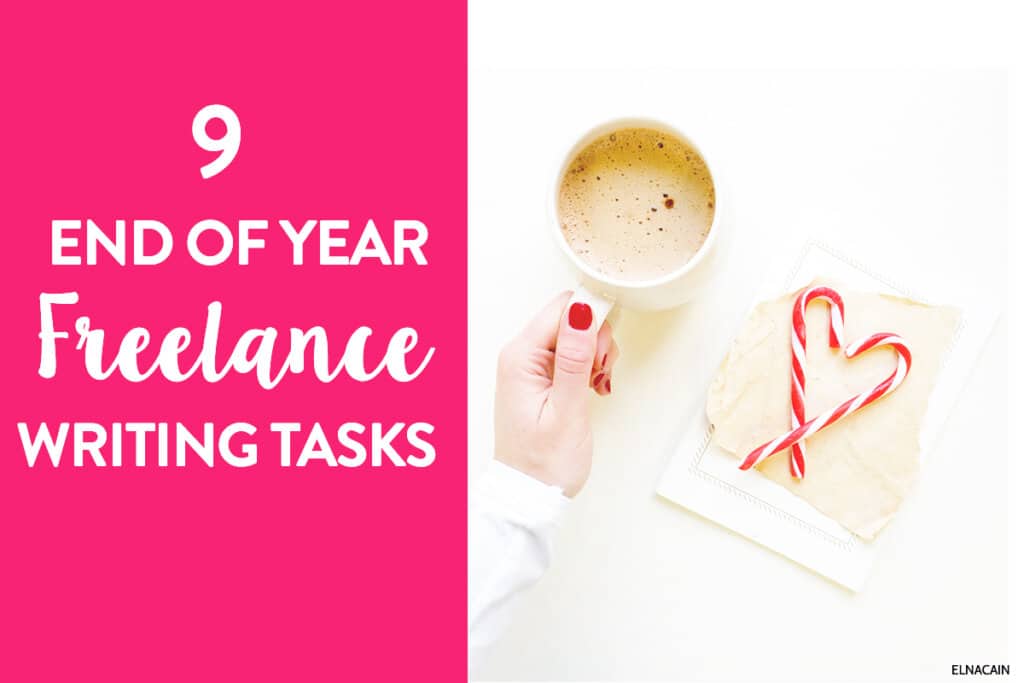 The end of the year is the perfect time to reflect, pause, and look at your freelance writing business as a whole. Decide if you want to continue down this path or not.
You also need to find the time to become a freelance writer. For me, December is a busy month, but it's also a time to reflect and get ready for my next chapter in business.
Early December is usually busy with Christmas shopping, organizing my home, and getting ready for company.
But, once that is all done, I only have time until the New Year. This is when I might write a blog post every day or start a new project and as a freelance writer, and this is the perfect time to finish any freelance writing tasks you may have.
9 Critical Freelance Tasks Online to Do
Whether you've been freelance writing for a year or just started three months ago, every December, I want you to look at these freelance tasks for your writing business and do them if you haven't already!
1. Set Goals
This is the perfect time to set goals for your freelance writing business. Grab the freelance writer productivity planner that I use for my business and list out your goals for your business under Quarterly Goals.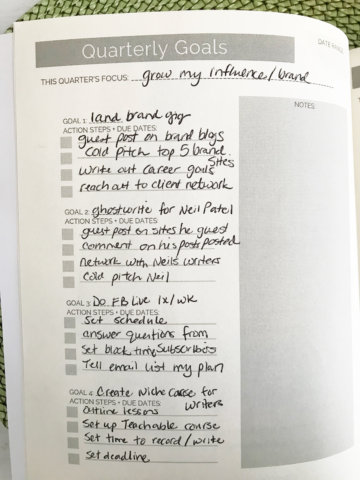 What's nice about this freelance writing planner is that you have a place to state your goal, and then you have spots to write down the steps to attain that goal.
And these are just small freelance tasks you can add to your planner to be more productive.
This is nice because, as a visual person, I can keep this page open on my desk and see what tasks I need to do for that month to work on my business.
Some goals you can have are:
2. Start a Writer Website
Have you started a writer website? I'm not just talking about a page on your personal blog for your writing services.
No.
I'm talking about a dedicated service-based website just for your writing business (not VA work either). Why? Because if you have a dedicated site like this, you will get high-paying freelance writing jobs.
Hands down, it's my #1 tool to land profitable freelance writing clients. If you haven't started your writer website, I encourage you to check out my blog post on starting a blog for your business (a blog and website are the same).
On your writer website you can promote your writing services, express your writing skills, and target your ideal writing job.
Here is a mock-up writer website that I easily created using WordPress.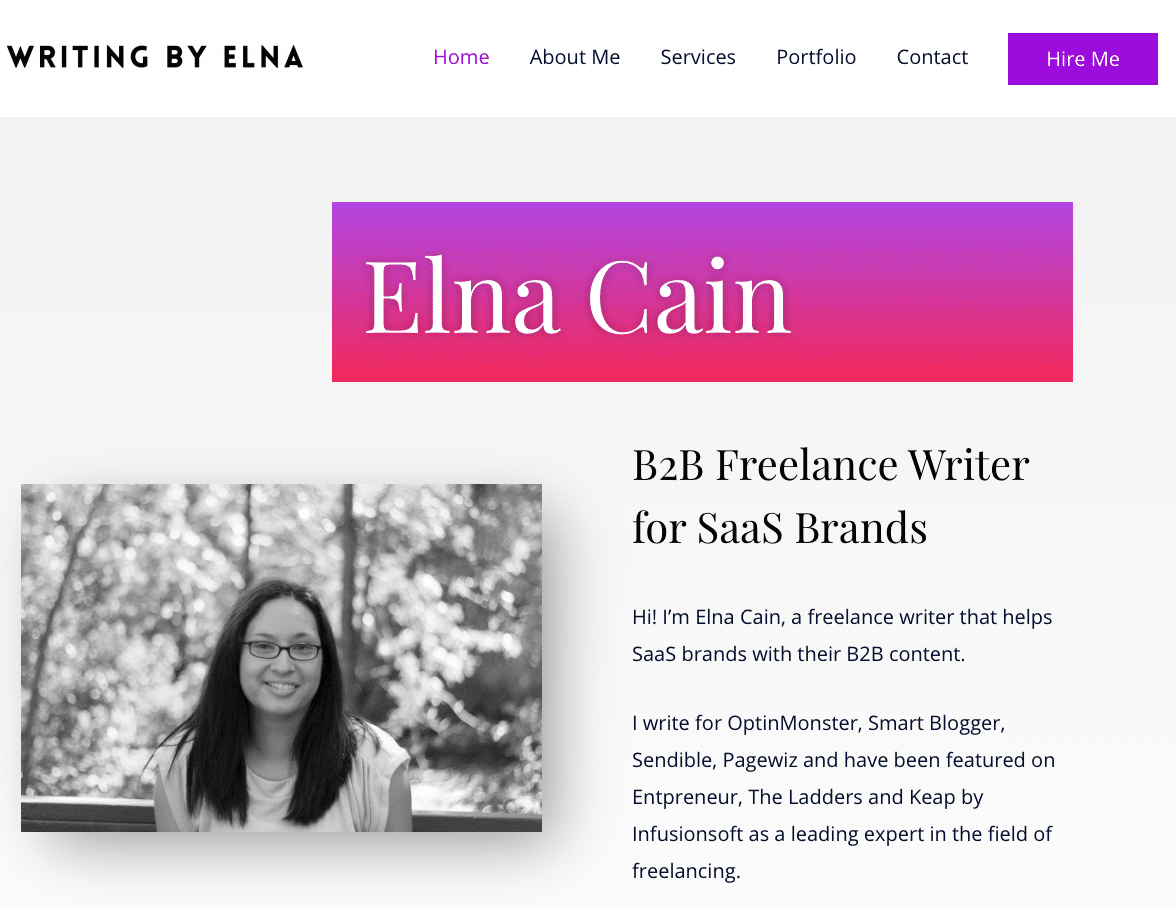 3. Keep on Pitching
Look –
I know it's hard to get back into freelance writing after the holidays. So instead of battling with yourself, why not continue to pitch? Don't break just because it's the holidays.
I know this may be challenging if you are truly busy right up until you have to entertain family or wrap gifts. But, it really doesn't take much out of your day to pitch to 10 companies or 10 freelance writing job ads.
Go ahead and create a basic pitch template, and for each company or job ad, make sure to personalize it. This might mean sharing a story about using the prospect's product or how you found out about that business. Just make sure each pitch is customized for that business.
If you need help, check out my blog post on how to write a pitch.
To find time to pitch, schedule your pitching process early in the morning or before bed. This will then give you time during the day to shop, organize the house, and get ready for company (or work!).
And if you can't pitch every day in December, that's okay! Give yourself a number for December that's doable. Maybe you can only pitch 15 times in December. That's fine but do the work!
You will feel proud that you accomplished pitching during the holidays AND survived the holidays with family!
4. Add New Clips to Your Portfolio
Does your portfolio have some of the first ever writing samples you wrote?
If so, it may be time to update your portfolio with new clips you have.
As every month passes, you improve as a writer. Your writing skills are more refined, you understand your writing niche better, or you pick up some marketing tactics to help you land more writing jobs.
The writing samples you created when you first started out may not be the best representation of your writing ability NOW.
So take a look at your current writing portfolio and update it.
5. Raise Your Rates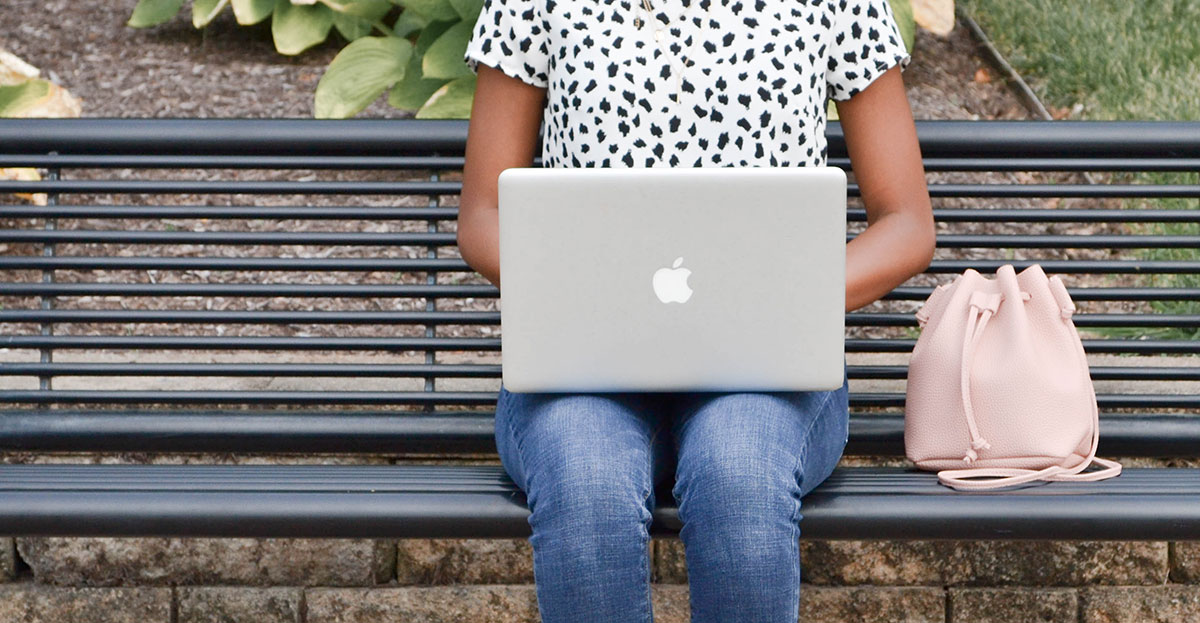 Another great reason to love December: the end of year rate increase.
Yes, it's a real thing. Many freelance writers use this time of the year to increase their rates with current freelance writing clients.
Send an email template to all your current clients, letting them know that starting Jan 1, you will be raising your rates 10%, or you can give a set amount.
The increase shouldn't be that drastic, or else you WILL lose clients. If it's a small increment, your client shouldn't bat an eye at this new proposed rate.
If you find that a client does oppose, it's probably a good idea to walk away from that client. You will have time to pitch and land an even better client!
6. Wrap Up Your Taxes
One of the administrative tasks freelance writers need to keep up with is taxes.
I'm in no way an expert in taxes, but as freelance writers, you should be paying taxes on your freelance writing business.
Most opt for quarterly taxes over year-end taxes, but it's something you can decide when the time comes.
It's a good rule of thumb to track your expense report (and income report) around every two weeks or monthly if need be. We try to do monthly for our business.
It's also best to get someone to do your taxes as it's not recommended to use the DIY tax return preparation programs out there. To learn more about doing taxes as a freelance writer, check out this post on Contena.
7. Try Something New
December is also a great time to try something new with your freelance writing business. Maybe you want to try a new marketing tactic like cold pitching.
Or, you want to try a new pitch template to use or even a new tool for your business. Give yourself 30-60 days to try this out, and you never know!
Maybe saying that you will pitch 10 times a day for 30 days will lead you to two clients every week! Or that new editing tool really speeds up your writing routine, which leaves you room to network.
Whatever new thing you try, actually try it out and give it time to work!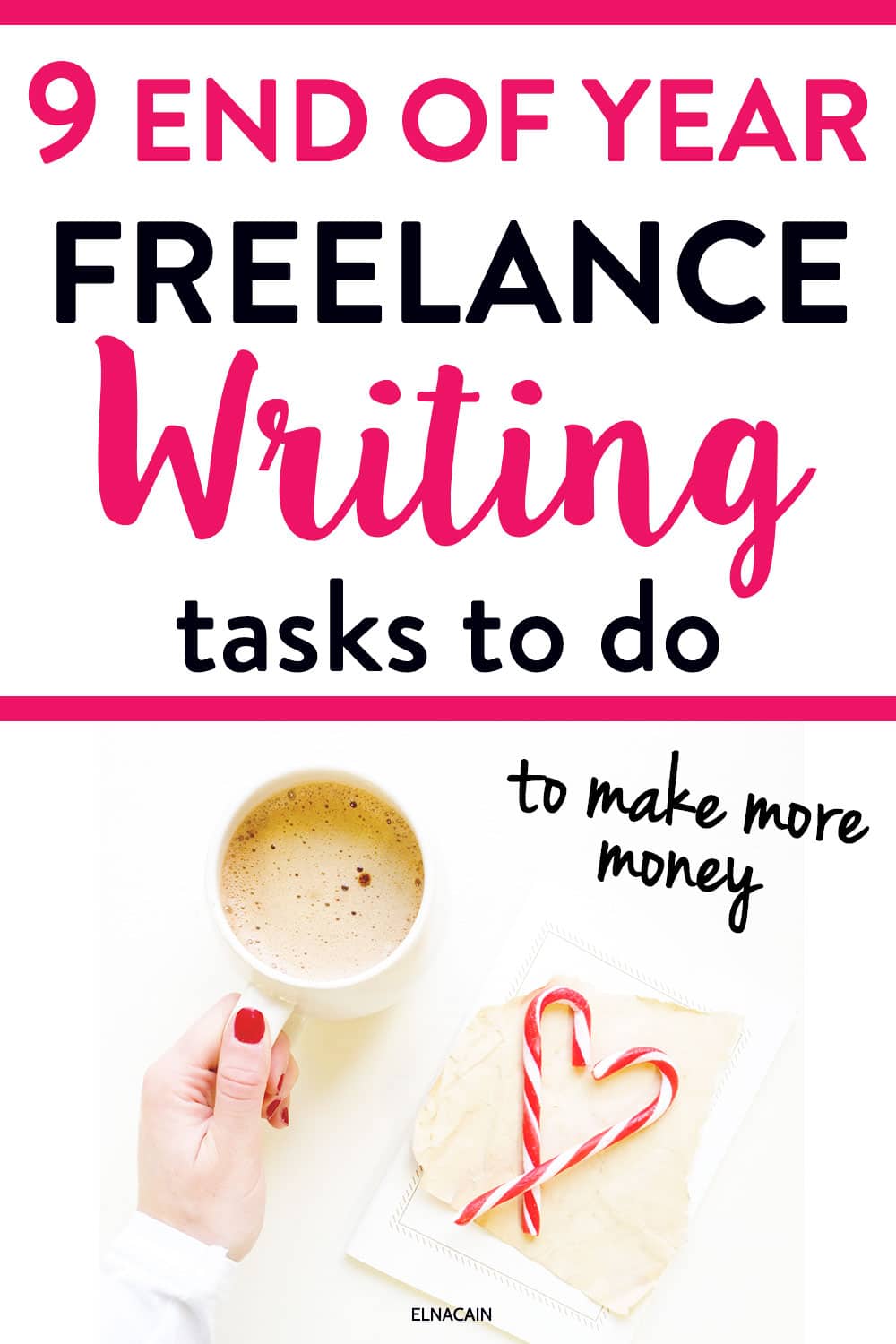 8. Add a New Writing Service
As a way to grow your income or diversify your income, why not add a new writing service to your business? When I first started as a freelance writer, I had several different writing services like social media posting, eBook cover design, copywriting, and article writing.
You might enjoy proofreading, editing, or transcription work.
Maybe you enjoy writing email welcome series or sales page writing. Look to other freelance writers and see what services they are offering on their writer website. Get some ideas and write them down. Then figure out which services you want to promote or at least learn more about.
Add them to your Hire Me page and watch your income grow!
9. Get Off Upwork!
Finally, it's time to get off Upwork because I know you are on Upwork if you are reading this.
Most new freelance writers fall into the same trap I fell into – using freelance marketplaces like Upwork to find writing work.
This is the wrong path I took, and it's still the wrong path for you!
Nowhere on my blog, in my courses, or on my Youtube channel do I mention Upwork as a way to find a writing job.
Upwork's strategy is to promote the cheapest writer to businesses. As a writer you compete with other writers to see which cheap writer will get hired.
I don't want that for you! I want you to create your own writer platform with your writer website and use the methods I've explained to find profitable writing jobs.
This is an easy freelance marketing task you can do.
So, in the New Year, promise me you'll get off Upwork for good!
End of Year Freelance Writing Tasks
There ya go! Nine freelance writing tasks to do in December. If you need more things to do, make sure to check out my other end of year post!
Over to you – what would you add to this list of December tasks to do as a freelance writer? Tell me in the comments!
Please share this post!