As a newer freelance writer, you might be struggling to make that $1,000 fast.
Don't worry…
I am not going to tell you how you need to start selling your stuff off, take on another side gig driving for Uber or Postmates, become an AirBnB host, or even that you should start taking online surveys.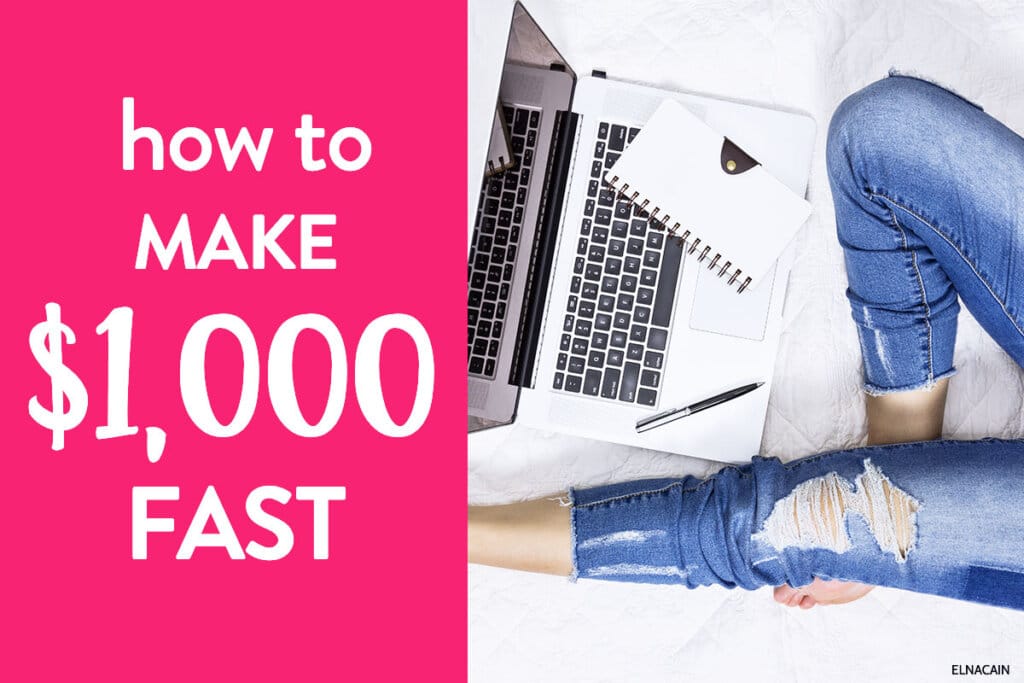 This is all about freelance writing my friend!
As a freelance writer you have the ability to make $1,000 fast from your sweet writing skills. Writers across different niches are in high demand for all types of businesses!
There are so many people today living paycheck to paycheck and struggling to come up with ways to make ends meet. As a freelance writer, you should never be in that position!
For more help on how to make $1000 fast, I share 24 additional ways to make money from your writing skills.
If that is too lofty of a goal, for the brand new writer without a client base established yet, you can set yourself up for success with these 15 ways to make your first $100 fast!
So let's dive into these tricks and hacks so you can start making money NOW!
Easy Ways To Make $1,000 Fast As A Freelance Writer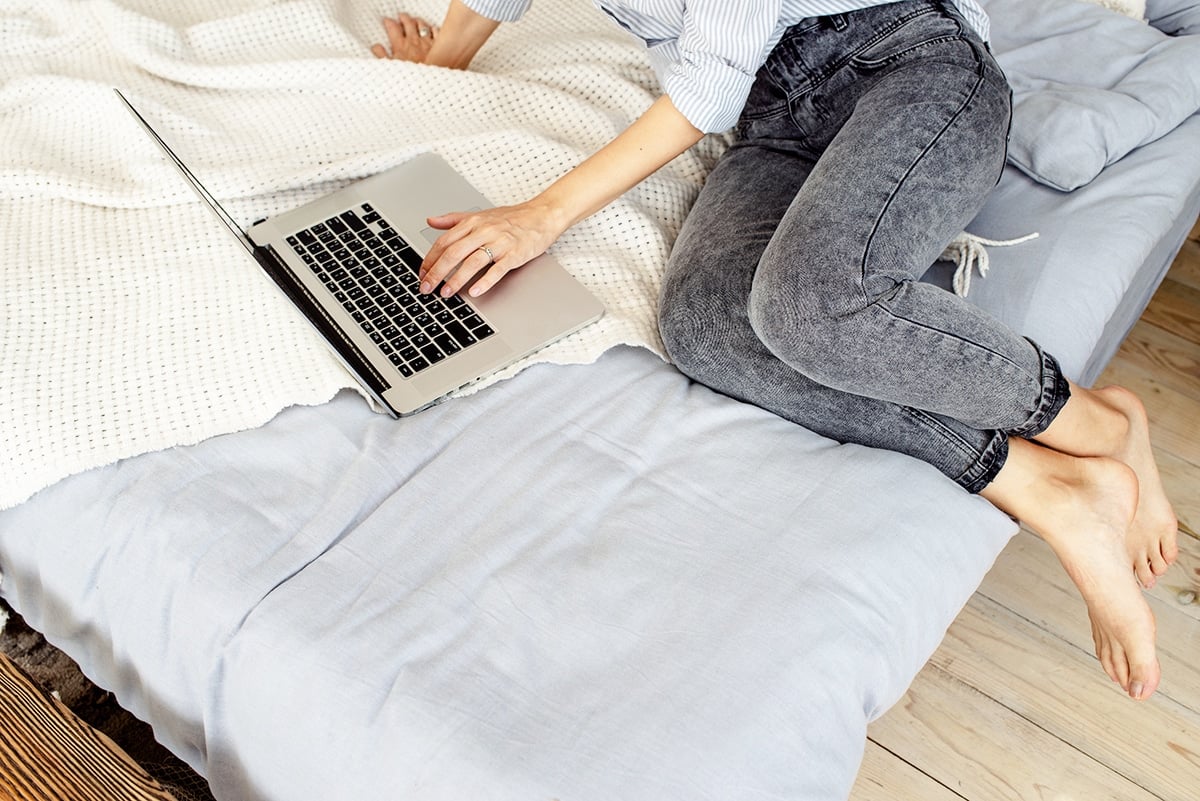 If you haven't made your first penny yet as a freelance writer, $1,000 can seem really far off.
I can tell you that once you make $1,000 fast as a freelance writer, the next thousand, and the next won't seem that far off. With the tips and tricks listed below, you will be padding your Paypal in no time!
1. Use Content Marketing Agencies
There are many different types of people and businesses that need freelance writers. One such client are content marketing agencies.
These are agencies that provide content to businesses. With high demand they often hire out freelance writers to help them with their content for businesses. Simple search on Google for content marketing agencies and your niche to see what's out there.
Take a look at a few of these agencies and reach out to them or see if they have a job board.
You might also get results of huge roundups. These are great resources as everything is in one blog post and you don't have to keep clicking Google results to find one company.
Here are the Google results for marketing agencies for art.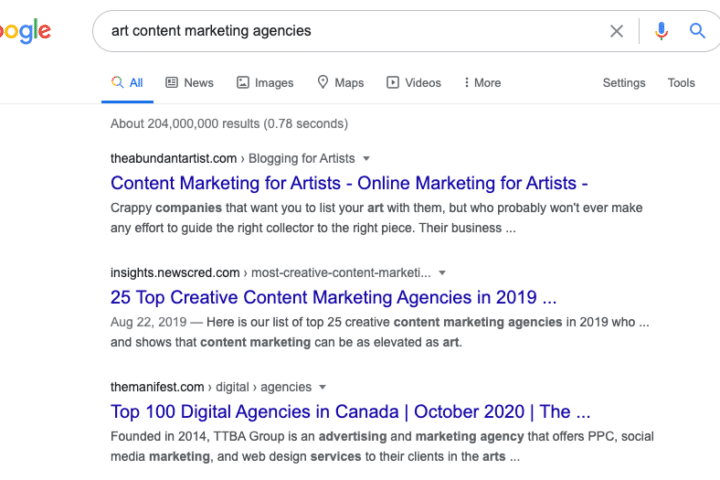 2.Cold Pitching Hacks
My Youtube video talks about a cool cold pitching hack for freelance writers to make $1,000 fast!
This freelance writer hack is for you if…
If you have had difficulties finding your ideal clients through searching job boards and other avenues.
If you are unsure of what you want your writing niche to be.
While cold pitching might not yield you the highest paying clients, it is a better route than guest posting for free. Repeat after me…your goal is to get paid $$$ (cha-ching)!
That is how you can build up a client list and actually start to make a good living from your writing.
Now there is a difference between getting paid and getting paid well. This cold pitching hack is not meant to lead you toward content mills that are going to pay you $0.01 (or even less) per word.
Unless you want to work for next to nothing, then stay away from those!
So here's my first tip…
Turn to my old and beloved friend Pinterest.
Now I LOVE Pinterest, just scrolling through for tasty recipes or searching for something business related. In this case, your goal is to check out income reports from other bloggers. Just type in "income reports" in the search bar and you will come up with a TON of different blogs.
Now the secret here is to read or scan through the income reports and see where they are spending their money. Do they hire freelance writers? Did they mention that they might be looking for a freelance writer?
But there is a little trick to this. It's best to find bloggers that own and run more than one blog.
I, myself, have 7 blogs in which I do hire freelance writers to help keep up with the content. The more blogs that an individual has, the more content they need, the more likely they are to hire freelance writers.
So dive in and do your research!
There are a couple things to note when doing your research. Check out their blogs and see how often they are posting. Is their content pretty sporadic? Could they use more content?
You want to find blogs that are growing rather than ones that are already making a ton of money, they will likely already have a whole writing team in place and only post jobs when they are looking for new writers.
While up and coming blogs might not pay a ton, it is a great way to get your foot in the door and to make connections. If you are going after blogs that have more specialized content, such as growth hacking or email marketing strategies, they are most likely going to pay a bit more for that knowledge.
Getting hired as a freelance blogger might take some convincing beyond your research.
You can do this by making a connection to that blogger. For example, if you are looking to write for a parenting blog, you can pitch them about how you are a parent and have dealt with things that they write about (baby sleep training, rebellious teens, ect).
You can also just google terms like "mom blogs that make money," which should lead you to some roundup posts that you can search through for potential cold pitches.
Just keep in mind that you want to tailor your pitch to that person. DON'T…I repeat…DON'T send a generalized email. Business owners hate these and it will most likely be deleted.
3. Craigslist Hacks
Yes, another Youtube video to help you make $1,000 fast if you're brand new to freelance writing.
I know what you're thinking…Craigslist? For writing gigs? You might be surprised as to the high paying gigs you can find on there.
So here's what you need to do to get started…
Go to Google and type this in: writer and
The nice thing about doing it this way is that you don't have to search by city or state and it will return results that actually pay.
You should come up with some results that look like this: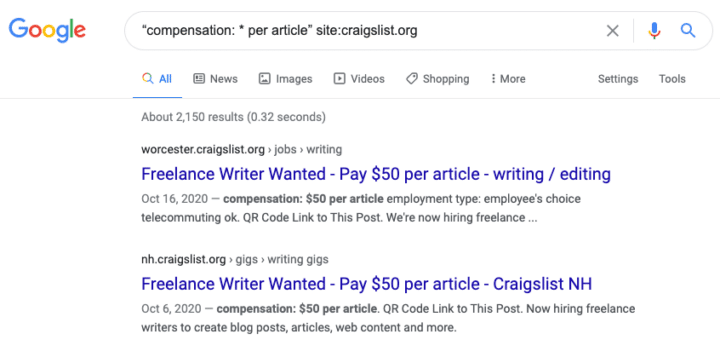 Notice that it pulls gigs from all over and you aren't limited to one location. Plus, this saves a ton of time.
Don't be turned off by the $50 per post listings. Many of these that I looked at are $50 per 500 words, which comes out to $0.10 per word, which is pretty darn good for a newbie!
4. Magazine Submissions
There really is something special about having your name in print. While magazine submissions might be a little more difficult to land and take a bit longer to publish and pay their writers, you can make darn good money from them, upwards of $1.25 per word!
There are magazines for literally every topic out there, from travel to pets to parenting. I put together a list of 43 different magazines that accept submissions from freelance writers here. While this list contains a mix of physical and digital magazines, adding magazine articles to your freelance resume is a great way to impress future clients.
Magazines pay based on a number of different factors, while you want to shoot for the feature articles as they pay the most, making submissions can at least get your foot in the door.
5. Websites that Pay Writers
There are also a ton of different websites that pay freelance writers.
Now I want to clarify that these are different from cold pitching a blogger to be their freelance writer.
These types of sites take submissions just like magazines and often pay on a one off article basis. Here you can find 12 sites that pay on average $200 per article to their freelance writers.
There are so many different sites that pay writers where you can even make up to $700 PER POST! From sites like Motherly to Reader's Digest, landing a few of these gigs per month will really help you to get the ball rolling.
Even as a new freelance writer and a stay at home mom you can start to make a living from your writing, even if you can only squeeze it in during nap time.
One site that writers often don't think about paying for writing is Medium. Once you have your profile setup, sign up for the Medium Partner Program. The basis of earning money from Medium is chalked up to reader engagement and having your content behind a paywall.
You can also make money from Medium by posting affiliate content. Write a high quality post around an affiliate offer.
This could be anything from website hosting to online birthing classes and pop in your affiliate links. The content must be high quality and not junk as Medium will only promote good content, not spammy, link filled junk that no one is going to enjoy reading.
I recall reading an article about how this guy made like $10,000 in passive income from writing an article on Medium about being a Lyft vs. an Uber driver.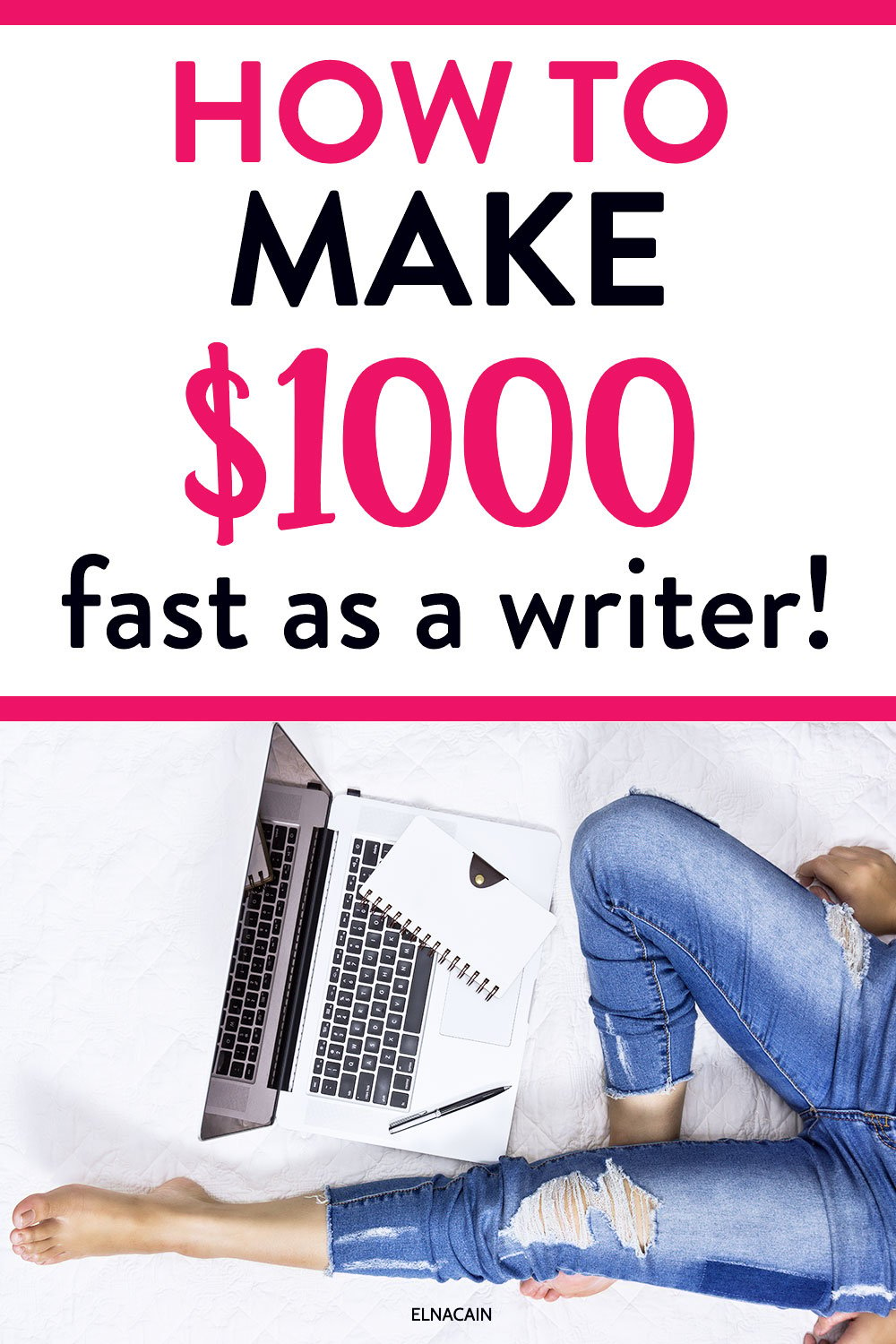 6. Ask Friends and Family
While you might think of asking friends and family as more of an MLM/direct sales type of situation to buy into your latest business opportunity (we all have THAT friend, right?), this is not like that.
Don't be afraid to put your feelers out there for friends, family, and acquaintances that might be looking for a writer. Perhaps your friend has always wanted to write a book but is a self admitted terrible writer.
If they know that you ghostwrite, then perhaps you can help them out. Or maybe your church or local non-profit is looking to increase their following and could use some more content on their site to drive visitors, you could write for their site. Or perhaps your dad has had a children's book idea in his head for 20+ years that he has never gotten around to writing, what better time than now to help him start!
There are lots of options when you put yourself out there and start to look.
Heck, print out some business cards and give them out to your friends when you get together or to your family when you see them over the holidays. People aren't going to know what you are up to if you don't tell them.
Just keep in mind that you need to let people know that you are a freelance writer FOR HIRE. You don't want to give them the impression that you are going to do writing for free, it is your business, treat it that way.
Say it loud and proud, "I'm a freelance writer!" Let people know that you have a slot or two open for a new client if they or someone they know might be interested in securing your services.
7. Ask on Facebook
Look – social media is where everyone hangs out!
While it can be a huge distraction, you can use social media for promoting your services. If you belong to promotional Facebook groups, create a little social media graphic and share that in those groups.
You can even be helpful and answer questions around your area of expertise and then slip in that you're a freelance writer.
This is a great networking tactic and can help you build relationships down the road.
Making $1,000 Fast
You might be wondering if you need a writer website or samples of your writing to pick up these gigs.
Usually, you do, but it doesn't hurt to try, right? If you create an amazing writing pitch, the pitch alone can sell your services easily.
Make sure you have a professional email address and you a business PayPal account (so you can get paid).
With a laptop you are ready to make $1,000 fast as a freelance writer!
If you are interested in making more money writing check out my guide on making $4,000/month from writing.
Over to you – which tactic are you going to try to get some freelance writing jobs and make that first $1,000 fast?