I need money!
You need to earn money on top of your day job, and freelancing is your ticket.
But, you haven't a clue what to do or how to even get started.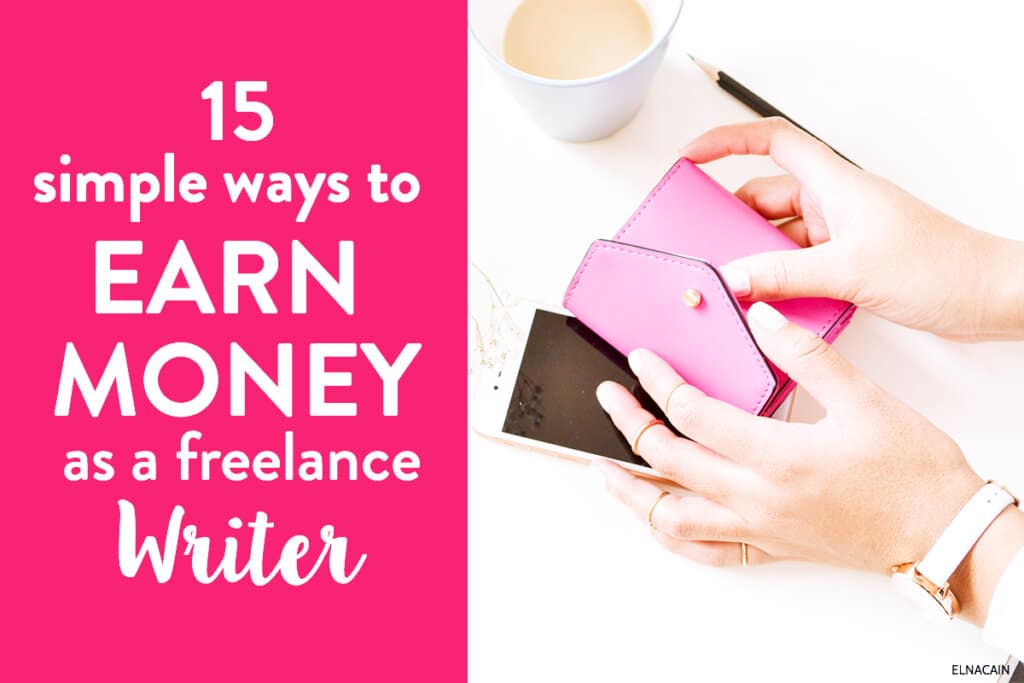 And the clincher –
You don't have a lot of time either.
I'll be the first to say that this isn't the best strategy to make money freelancing.
This is a legit business and building a business requires time and money.
But, that's not to say there are easy ways to earn money doing this. Before I share my strategies on simple ways you can earn your first $100 fast as a freelancer, let's go over how you can be successful doing this.
I want you to succeed and not only earn your first $100 fast, but your first $1k as a new freelance writer!
Earn $100 Fast With a Solid Freelance Business Plan
Starting from the ground up as a new freelancer is a challenge – I'm not going to lie.
This is exactly what I did when I first started out. And guess what?
I made a ton of mistakes along the way and had to learn the hard way how to get started as an online writer.
But that doesn't have to be you. If I only knew what I'm going to share with you right now when I first started, I believe I would've cut my time in half in getting my first $100 fast as a freelancer.
Here is your four-step process to getting your freelance business off on the right foot.
1. Educate Yourself on Blog Writing
What's the best way to learn about something when you don't know anything about it?
Google it or ask around!
And it's no different for learning about blog writing.
This is primarily the type of writing you will do since business owners hire freelancers for their content.
When I first started, I read blog post after blog post on writing and freelance writing.
My favorite sites to visit were:
When I have time, I still visit these sites and read their content to help me improve my writing skills.
Because in the beginning, I had no idea that blog writing was different than the writing I did at school.
I was great at writing essays and developing my thesis, and I knew how to properly research peer-reviewed articles.
But, this didn't translate into writing for the web.
The clients you will land will want proficient blog writing skills and if you're new, how do you show them that you can write like this?
Remember, when I first started my blog, I had no clue how to write a blog post.
So, I read about it. I learned how to write an amazing blog post.
Blogs were my teacher, and I was the excited student that absorbed as much as I could about how to write for online readers.
If you notice, this blog is written in that fashion.
I try to keep my sentences short, use subheadings to show you where this post is going and add a bullet list here and there to space out my writing.
These little tweaks can change your writing from blah to whoa and make a client immediately hire you.
Why? Because business owners have no clue how to write a blog post either!
They are looking to you as the expert web writer.
To help you get started with blog writing, start a blog!
Get your first blog post up and study it, improve it and learn from it.
And, the number one thing you need to work on the most is your headline. Online readers only have less than 3 seconds to decide if reading your content is worth it.
So, if your headline doesn't speak to them, they aren't clicking, and for your clients, that's not a good thing.
To see what headlines work, check out Buzzsumo.
This is a tool that looks at the posts with the most social shares. Since people are on social media, you know these titles resonate with them.
Here is the result for the term, budgeting tips.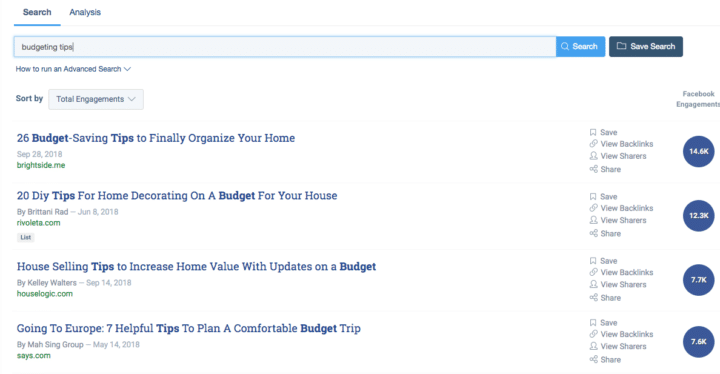 If you're writing about saving money or even traveling, you can see what types of headline works for social media readers.
Finally, you can run your headlines through headline analyzers.
A great one is the Emotional Marketing Value Headline Analyzer.
It looks at your headline from an emotional value perspective. How does your headline affect a reader on a deeper level?
Not every headline needs to "pass" the EMV score. Here's the result of only one headline I wrote for a client: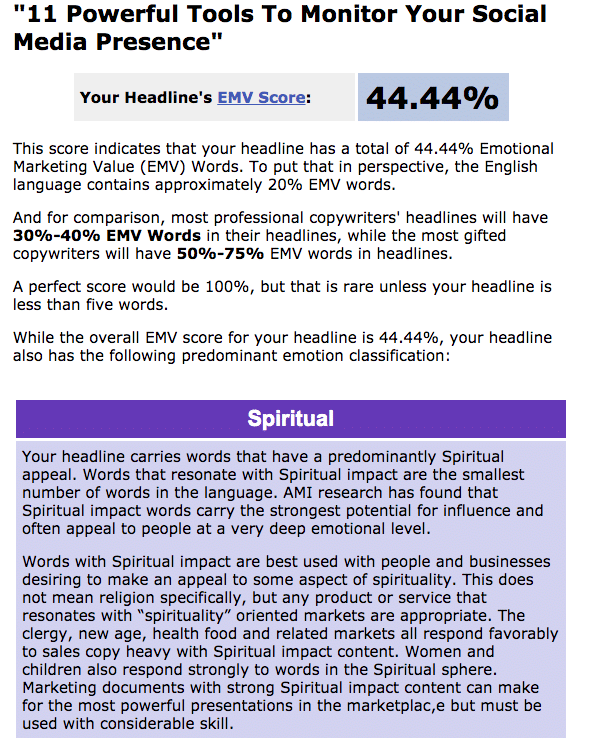 The EMV mentions what normal copywriters achieve and what gifted copywriters achieve –
And for comparison, most professional copywriters' headlines will have 30%-40% EMV Words in their headlines, while the most gifted copywriters will have 50%-75% EMV words in headlines.
2. Learn About Content Marketing
When you think about it, all that writing is, is content. And when you think about writing online, it's basically content marketing.
What this means is that businesses online are using writing – content – to market their brand and business.
This is how they sell their products and services.
So, in a nutshell, it is writing that will help these businesses grow and that means writers are in need.
And content marketing isn't disappearing. It is predicted that the spending on content will more than double to over $412 billion by 2021.
This is a good thing for you.
But, to leverage this, you have to gain a firm understanding of content marketing.
Businesses and brands want results with their efforts. So, if they hire a freelance writer to write 5 blog posts, will they gain leads, traffic, subscribers or sales from it?
Depending on your ideal client, some businesses hire writers to grow their blog traffic and email list.
Personally, these are the types of clients I enjoy writing for as it's similar to my strategy on my blogs.
To help you understand more about content marketing, check out the Content Marketing Institute blog.
3. Build Your Portfolio
Up until now, your freelance business strategy is mostly learning and not doing.
Well, now it's time to step up!
Businesses have no idea who you are if you don't show them samples of your writing.
You need to remember they are taking a gamble too with hiring you. What if you don't deliver?
What if you don't respond to emails or take their work seriously?
Business owners or marketers that hire freelancers want that assurance that you are legit.
And you can easily show them this with a strong portfolio.
This can be a page on your writer website or it can stand alone.
Contently has a portfolio option that's free to use. Not only do I have a portfolio on my writer website, but I also have a LinkedIn profile showcasing my gigs, and a Contently portfolio.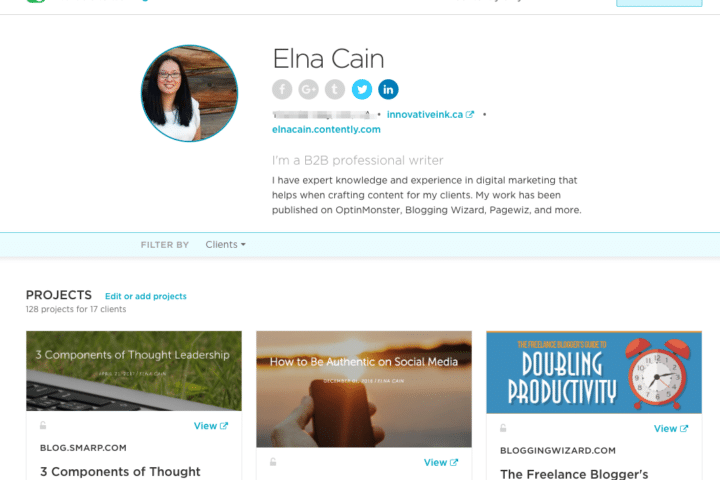 It's a good idea to be "everywhere" once you have secured some samples of your writing.
But, how do you build your portfolio?
You can start a blog! Yes, not only is starting a blog great for learning how to blog, but it's also a great way to create samples in your niche.
When I started Twins Mommy, my blog posts caught the eye of an editor on Pinterest.
Other writers have had similar stories too!
A blog is a great way to showcase your expertise. And the funny thing is, your clients will come to your blog and may even comment on your blog!
Another way to build your portfolio is to guest post. Many sites offer guest posting abilities and the more popular the site, the better.
This is because it's easily recognizable to potential clients and those popular sites have a large audience.
For example, Thrive Global gets almost 3 million visitors a month , and they offer guest posting. This would be a great platform to promote your writing as a freelancer.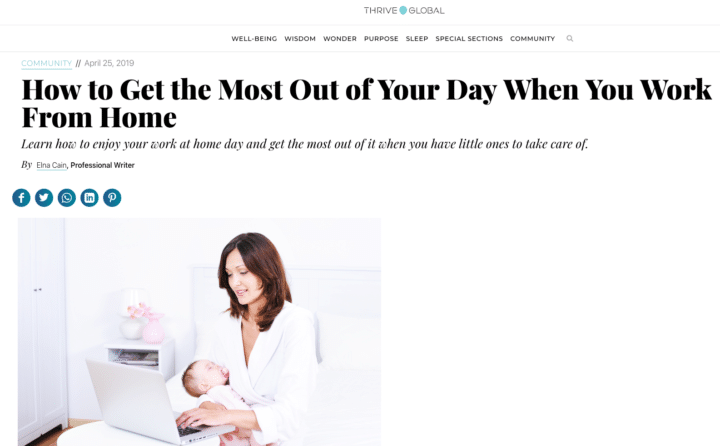 You can also run a Google search for your freelance writing niche + guest post.
4. Have a Dedicated Writer Website
Do you REALLY need a website as a freelance writer?
I know there are plenty of writers out there without a website. I also feel if you just need to earn money quickly, then no, a website isn't something you should create.
But, I feel you're reading this because you've struggled to land that first gig or get that first $100 fast and you truly want to make a living out of this.
If that's you, then having a dedicated writer website is your ticket to success.
This is my #1 tool to landing high-paying gigs.
I personally use WordPress.org to create my writer website, but I do know other writers enjoy Squarespace.
I will say this – all of my clients use WordPress, and it's a great skill to have when a clients invite you to their WordPress backend and have you upload your content to their site.
If you need help with the tech part of starting a writer website, check out my course!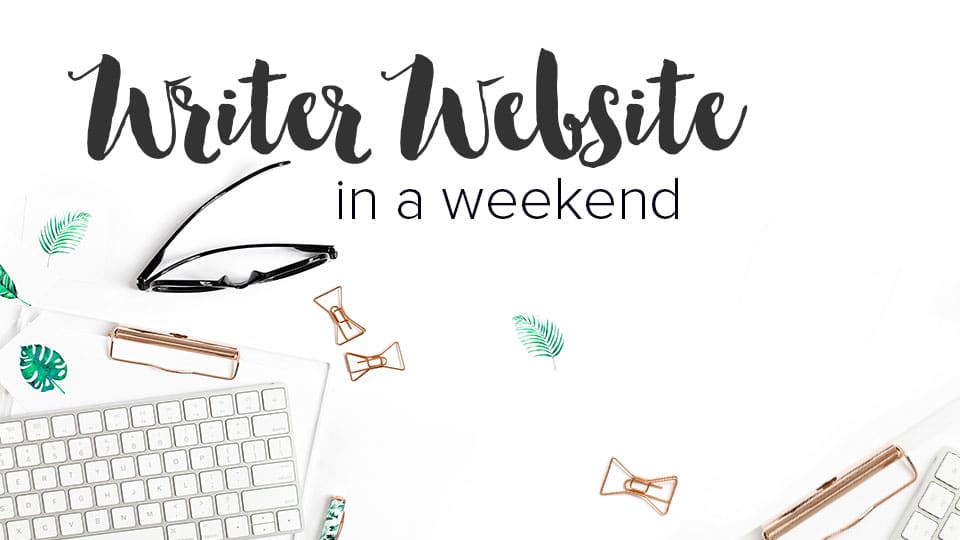 Okay, those are the core elements you need to start a freelance business. Now, let's focus on earning money and getting that first $100.
Earn Money as a Freelance Writer
Let's look at 15 easy ways you can earn that first $100 fast as a freelancer. Many of these will be time-consuming, but you are trading time for money, right?
So, the more time you dedicate to these actions, the higher chance you will have to land your first $100 fast.
If you don't have time to read the rest of the post, you can look at my YouTube video! Make sure to subscribe to my channel for more tips on freelance writing!
1. Do Paid Guest Posting
Remember when I said that guest posting is a great strategy to build your portfolio?
Well, you can also make money doing it too!
Some websites pay writers, and they are all in different types of niches.
I will say this though – getting a paid guest post is a challenge and can be time-consuming. It is like having a legit gig.
Their team will also be more strict in terms of what they seek for their content.
Because of this, I never went for paid guest posting opportunities. I didn't have the time. So, if you feel this would save you time in the long run by earning money and creating a freelance business, then go for it.
Here are some places to find paid guest sites:
When applying to these gigs, make sure you read their guest posting guidelines thoroughly. This can increase your chances of getting accepted. Many of these sites pay an average of $50.
So that's only two projects to get your first $100 fast as a freelancer!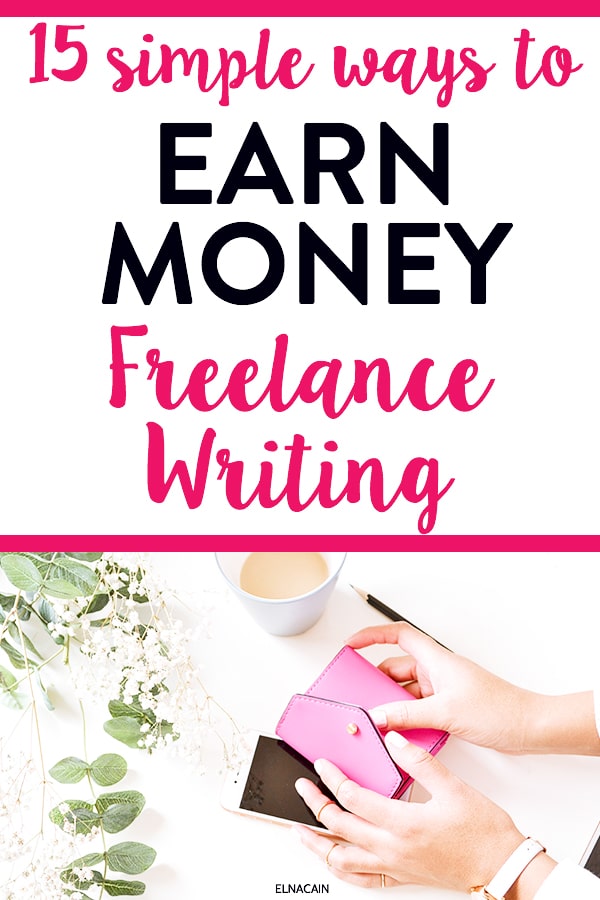 2. Do Quick Jobs for Friends & Family
One of the easiest ways to start your freelance journey is to ask around IRL!
I know writers who have mentioned that they can pick up gigs at their child's school.
A teacher may need someone to edit their thesis paper or a local business owner may need some newsletters.
Whatever it is, be open to the possibility and take action. Before you head outside, make it a point to strike up a conversation with a store owner or friend.
Set a goal for yourself so that you will feel accomplished when you talk to people.
Odd local jobs can run anywhere from $45 to $100.
3. Submit Short Stories
Many magazines and publications seek out fresh and new short stories. And they will gladly pay for them (not always, though).
And if you aspire to be a fiction author, this might work for you!
The Write Life has a post on where to submit your short stories. Some places pay up to $500 for short stories!
4. Do One-Off Pieces
One-off pieces are similar to guest posting, but this option is usually higher paying and for mostly magazines or freelance markets.
All Freelance Writing has a comprehensive list of freelance markets that pay writers.
Make sure to bookmark this list and see which market fits your niche.
There are many different niche topics to choose from – adoptive families to equine enthusiasts and more.
5. Re-Pitch to Old Freelance Jobs
One way to earn money as a freelancer is to find older gigs and projects and pitch to them. They can even be the same freelance writing jobs you pitched to earlier in the year!
Sometimes these places may need another writer or the writer they initially hired turned out not to be a great fit.
You can swoop in and take the gig!
Many freelance writing jobs start at around $50 a post. So only two articles to get to your first $1oo as a writer!
6. Reach Out to Other Freelancers
One thing to note is that there are NOT too many freelance writers out there and we are not competing for the same gig.
There are enough gigs for all of us.
It's in the best interest to network with other freelancers. You can edit each other's samples, find gigs for each other and if one writer has too many offers for their writing, they can pass it to you.
This happens to me all the time.
What's great about this way to earn money is that you'll land gigs in your niche or at the very least, the gig will have been vetted.
7. Reach Out to Solopreneurs
According to Forbes, at the rate we are going, by 2027, 50% of us will be freelancers!
This means there will be a lot of solopreneurs and small business owners like bloggers, photographers, graphic designers, Etsy store owners, and more.
You can capitalize on this influx of entrepreneurs by reaching out to them and seeing if they need blog writing work, newsletter campaigns or other types of content writing.
While the budget for these types of clients isn't the highest, it is a great way to get in the circle of these entrepreneurs.
You never know where networking can lead you – referral business, testimonials, ghostwriting and more.
It's not unheard of to land blog writing gigs at $100+ a post.
8. Promote in Facebook Groups
You can easily leverage Facebook groups to help you find your ideal client.
You can create a simple social media graphic using Canva explaining your services and if a Facebook group allows promotions, promote it there.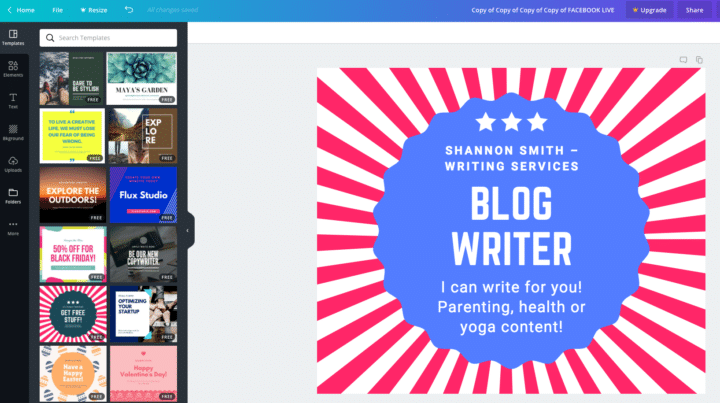 This is an easy way to connect with other bloggers in your niche.
While writing for other bloggers isn't the highest paying, you can earn money in the beginning by offering your services for $75 a post.
9. Offer More Than One Service
I know –
You're brand new to all of this, and now I'm telling you to offer more services!
But, I know you can do it!
I did this when I first started. I offered eBook cover design and social media marketing in the very beginning.
I did pick up a few eBook cover designs, and that helped me earn money quickly.
For you, maybe you can do some VA tasks like setting up a blogger's Tailwind account or create Pin graphics for them.
Find another service – editing, blog management, Facebook posts – and offer that on your Hire Me page.
Odd jobs can give you $50-$100 per project.
10. Have More Than One Portfolio
One of the best ways to get your first $100 as a freelance writer is to try to be everywhere all the time.
And an easy way to do this is to have more than one portfolio.
Your main portfolio can be on your writer website, but you can also create a portfolio and showcase your samples on:
This just gets more potential eyes to your writing and can help you land some freelance gigs.
11. Improve Your Samples or Create New Samples
Look, if you find that you are struggling to earn money with your writing, maybe you have to improve your samples or create better ones.
Maybe it's been several months and during that time you learned better ways to write a blog post or newsletter.
Take the new knowledge and apply it to your samples.
Rework older samples or create new ones. I go back to my older blog posts all the time and update them or add new and relevant information to add more value to them.
Clients will notice how up-to-date your content is and that can sway them to hire you.
12. Showcase Your Portfolio On Your Blog Better
Look –
There are many ways to display your portfolio as a freelancer.
While having a page on your writer website with links to your samples is okay, it won't wow your potential clients.
It's better to use a tool like a free plugin to showcase your portfolio better.
13. Define Your Niche Clearly
One of the easiest things to gain recurring work and earn money as a freelancer is to have a niche!
Yes, it's that simple.
A niche is a topic you are experienced in and can write about for years to come.
As a freelance writer, it's the niche that will help you earn money and that clients pay for.
For example, my niche is digital marketing. I provide digital marketing content to businesses, and they pay me for my writing!
When I first started as an online writer, I didn't define my niche.
While I picked up some gigs, they weren't that high paying, and it wasn't until I stated on my website that I write in the digital marketing niche that my freelance writing rate skyrocketed.
14. Take a Course
If you find that you are truly struggling to gain that first freelance client, it might be time to take a course.
While there are free courses out there (ahem…my free course), when you put skin in the game and pay for a course, you will find it a bigger motivator to take action and make it work.
If you need help with improving your writing in all areas, the Speedy Freelancer course is perfect.
I took this course when I had writer's block, and it helped tremendously with structuring my writing and figuring out how to improve my productivity as a writer.
And if you want to take your freelance writing to the next level, Write Your Way to Your First $1k is your ticket to get there!
15. Write a Short Book and Sell it On Amazon
In our day and age, it's becoming increasingly easier to self-publish a book and sell it on Amazon.
And many freelance writers write books as a side income source.
If you have something to say either non-fictionally or fictionally, you can sell it on Amazon to earn money.
I'm actually interested in doing this for one of my guides I created.
Your eBook doesn't have to be lengthy – 10-20 pages is fine.
It's Time to Earn Your First $100 Fast
There ya go!
Fifteen ways to earn money as a freelance writer. Getting that first $100 fast is a milestone! I was elated when I made my first $100 fast. I knew that I "made it" and was a legit freelancer!
I hope you find one of these ways something you can try and use!
Share in the comments which method you'd like to try!
And please remember to pin me!