Are you a freelance writer in your first or second year?
I've been a freelance writer for five years now and have been going through the Christmas holidays for a few years now.
While I usually pick up client work in December, when the holidays are officially over, I get stuck on "vacation mode."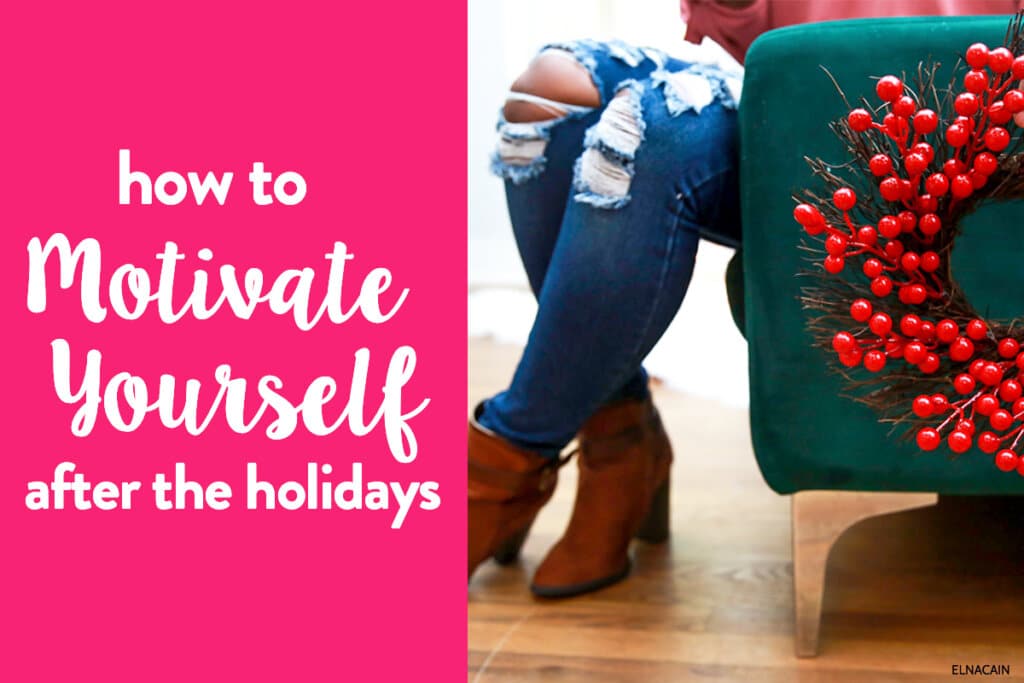 Does that happen to you?
It's having to wake up to the alarm and get your work clothes on and head back to work after a nice – but busy – holiday break.
Hours of wrapping presents for my twins, cleaning the house top to bottom for company and two turkey dinners later, I'm mentally exhausted and just want to Netflix all night.
But, as a freelance writer, this isn't always possible.
The Slippery Slope of Pressing Pause on Your Freelance Writing
If you can't already tell, I don't take long breaks. From when I started until now, I haven't taken a large break from freelance writing.
Since I work full-time and I work from home, writing is built into my day. And since I take frequent breaks during the day to tend to my twins or housework, I feel no need to take a long vacation.
However, as my twins get older, the idea of going to an amusement park or to the beach as a family is a great perk to freelance writing!
This holiday I was able to slow down a bit – on the client side of things – and really sink my feet into the family side of things.
And this isn't a bad thing. Anyone who is a freelancer knows how hard it is to achieve work-life balance. I managed to finish my client work ahead of schedule and didn't have to worry about deadlines leading up to Christmas.
Now that the holidays are over though, I'm finding it harder to motivate myself to get back into the swing of things (I'm writing this blog post yawning and it's only 10 pm. Hanging with the family can be mentally draining for me!).
And this can be dangerous for your budding freelance writing business.
You might think sleeping in longer than usual or not starting any writing until 5 pm (when you typically start before 10 am) is okay because, hey, you're on "vacation," but you know what?
Successful freelance writers typically don't think like that. They know what's at stake and they want to continue investing in their business and see continual success.
So, if you find yourself having a hard time "pressing play" on your freelance writing business and don't want to lose freelance writing jobs, here is what I plan on doing to get my motivation back on track.
And I want to do this now because I have a lot of new projects that I'm going to be spearheading in the New Year and I want to get out of this holiday haze and get back into creating awesome content, highly valuable courses and continue learning new skills as a professional writer.
1. Stick to a Schedule
It's import to have a schedule if you want to keep landing clients and growing your business.
If you're new to freelance writing, you might think this goes against what a freelancer is.
Doesn't freelance mean not having a set schedule to work by?
Well not necessarily. I view freelancing as setting your own schedule that is continually adapting to the needs of your life.
When I first started freelance writing, my children were napping earlier in the day and going to bed earlier at night. This meant I could squeeze a bit more time to devote to my writing.
Now, my children are in school, which leaves me a good chuck of the day to work.
But, for three years it wasn't like that. When they dropped their only nap, I learned to adapt and make changes.
During that time, I wrote when my children were either napping or in bed for night.
This caused me to have a schedule of waking up at the same time every day and working at the same time every day.
During my holidays I mostly kept to this schedule, but with children and Christmas, the excitement of it all left little time to sleep. But, now that the holidays are over, I'm cracking down and will go back to my regular schedule.
Bonus: one thing that gets me to focus and complete my schedule is having my productive planner with me at all times!
2. Write Every Day
If we're writers, we should be writing every day, right?
What ends up happening though, is we don't treat our own writing as a client. We tend to put our client work ahead of our professional blog or website copy.
So, we stop writing when the work stops.
It's vital to treat your business as the most important client because it is. Without your freelance writing business, you won't get paid and you won't be able to make a living from freelance writing.
But it's hard to do. It's happens to me, but I know I just have to hunker down and write every day.
Like just recently, I finished writing blog posts for my other blogs and writing a schedule for my emails.
So, don't quit and keep writing!
3. Keep Guest Posting
Raise your hand if you're a sophomore or junior freelance writer and you've stopped guest posting?
I mean you have a growing list of client work and there's just no time to write for free, right?
For the freelance writer who's been doing this for a while you may think now that you have paid work there's no need to guest post anymore.
Want to know something?
This is completely wrong.
Whether you're a new freelance writer with one client or a writer with many clients guest posting shouldn't be on the back burner of your business; it should be in your arsenal of promotional tactics.
You never know if some of your clients will drop you or move on in a new direction without you and now you're three clients down with 75% less earnings.
That's a scary place to be in and to ensure this doesn't happen to you, it's in your best interest to always be hustling and promoting your freelance biz.
And one highly effective way to do this is by guest posting on other people's blogs. You'll reach a new bigger audience and you'll get your name and services out there (with your attractive author bio).
So, what are you waiting for?
4. Focus on Your Business
I recently wrote a blog post on end of year tasks all freelance writers should be doing. In addition to those tasks, there are a couple of important things you should do to start the new year off on the right foot.
1. Organize Your Desk
I'm not the neatest person when it comes to organizing, but when you run your own business, you best believe I have an organizational system in place.
But, I'm human – and a mom to twins – and this system isn't always effective every day.
I plan to go through my notes, pare down my pens and post-its and give my desk a thorough cleaning.
Doing this will probably give me the kick in the butt to get working!
2. Set Goals
Last year I didn't write a goals post until the summer! Yes, I was late, but as the saying goes, better late than never right (and that should go for starting freelance writing too!)
For this new year, I have a lot lined up and am excited for the new year. For now, setting goals for me just fuels my desire to make freelance writing work.
I strongly believe that you can make a living from only freelance writing. If I'm able to do it part-time, then I know you can do it full-time.
And to help you build that map to success, creating goals helps. So, I hope you all are focusing on your business and finding ways to excel!
3. Create a Plan
While goals can help give you the roadmap to succeeding as a freelance writer, forming a plan will ensure that it happens.
One of the things I do is lay out my goals and figure out how I'm going to accomplish them. Breaking my goal down into actionable steps just makes it easier to do (if you're having a hard time forming a plan, my full course can help!).
5. It All Goes Back to Your Why
Why did you start freelance writing in the first place?
For me, it was to stay home and raise my twins and to have the freedom to choose my own destiny. That's really important to me since most of my adult life I've been an entrepreneur (and so has my husband). So, running my own business is in my blood.
But, before I had my twins I was working as a teacher so when my maternity was over I had to really decide if I wanted to go back to work.
I'm glad I didn't!
Freelancing rocks!
So, if you're just not motivated to do any work on your freelance writing, just go back and think about your why. When you can focus on why you decided to pursue this lifestyle and what you want to gain from it, you'll have the motivation to start up again.
Time to Focus
I know I'm not the only freelance writer who is stuck in "vacation mode." You start to enjoy relaxing and the freedom of not having a strict schedule.
I get that. But, you're running a business and that means playtime is over. It's time to focus.
Are you with me? Tell me in the comments what's motivating you to get back into the swing of pitching and hustling!