When I started as a freelance writer, I imagined myself just writing articles for whoever was willing to pay for my work.
That was me! A new freelance writer, excited to be writing for anyone and any business writing jobs!
As I gained experience, however, I started to focus on a particular niche and my freelance writing took off!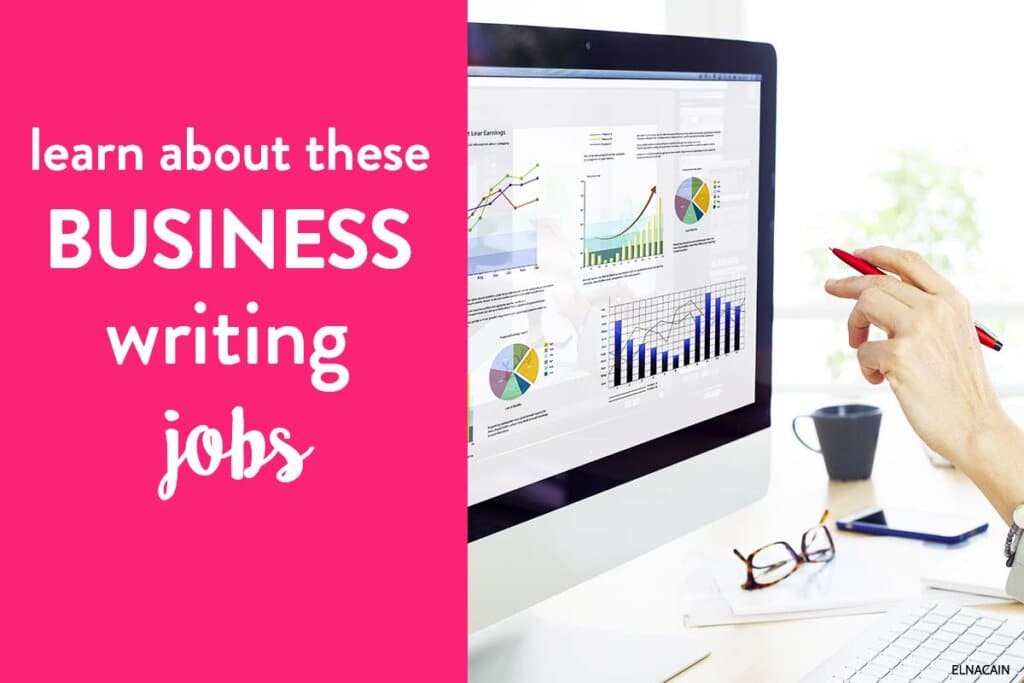 While I was busy writing about online business and digital marketing, I somehow got into business writing and expanded the horizons of my business.
This opened the doors to soo many business writing jobs in different niches, and I learned over the years that I just loved writing in the digital marketing niche, so I stuck with that.
As a freelance writer, you may not be aware that you can earn good money by writing for businesses – and I'm not just talking about small businesses and startups.
Major brands are always on the lookout for skilled writers to tell their stories while promoting their products.
That was something I really didn't know until a huge brand reached out to me to do business writing for their blog!
So if you're ready to move your freelance writing business, let's talk about what exactly business writing is and where you can find some high-paying business writing jobs, even if you are new to all of this.
What is Business Writing?
When it comes to business writing for freelance writers, you've probably seen the terms "B2B" and "B2C" floating around.
These two acronyms refer to the two types of business writing which is a highly profitable niche for writers.
Let's look at exactly what these terms mean:
B2C Writing
B2C stands for "business-to-customer" and is a form of writing businesses use to speak directly to customers by integrating a message about their product or service into their blog posts or content marketing strategy.
Think of brands you wear, eat, or know and you will be surprised that they have a content marketing strategy like a blog or email list.
Here is Starbucks' blog: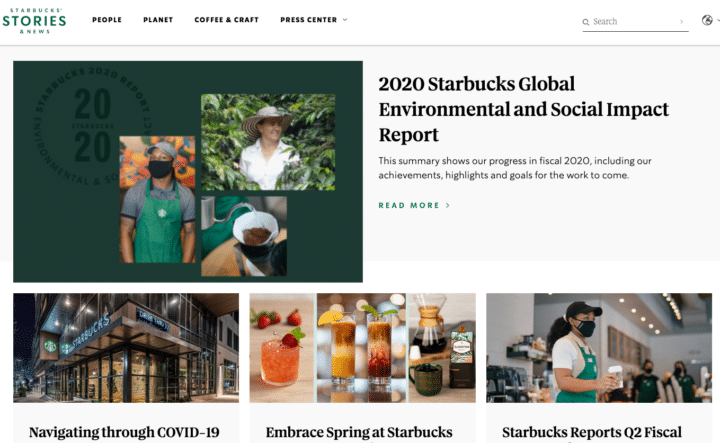 B2C writing tends to use a more natural voice since you are creating content that speaks to consumers (i.e. people like you). This means that you can write about topics that interest you in formats that are easier to write such as list posts.
B2C writing can be lucrative if you get in with the right client.
B2B Writing
Where B2C writing involves addressing customers on behalf of a business, B2B writing is "business-to-business" writing in which one business, marketer or entrepreneur is speaking and promoting to another business.
With B2B writing, you could be writing about the latest trends, systems and processes, tools of the trade or tips to help others in their business.
For me, I write for OptInMonster on topics such as how to set up your sales page to convert readers into customers or for Sendible on how to use Pinterest marketing for your brand.
Optinmonster and Sendible serves other businesses so the writing I did was to serve other marketers or CEOs.
B2B writing doesn't have to be highly technical, analytical and statistical.
While some B2B content may be dry and more geared toward being academic, a lot of it is more focused on being engaging and relevant to the businesses it is targeting.
B2B writers typically write blog posts, white papers or case studies aimed at not only marketers and small business owners, but other bloggers as well. I'll share more business writing examples in this post!
Compared to B2C writing, B2B can be a more highly profitable writing niche.
If you want to know more about the B2B and B2C niches then check out my video here.
The eCommerce Industry
While there are many businesses out there big and small that focus on creating a strong online presence, eCommerce is a particularly massive industry that is always looking for people to do business writing.
This industry refers to the buying and selling of products or services online and provides amazing business writing jobs both in the B2B and B2C niches.
eCommerce experts know how important good SEO is in order to rank in search engines and grow their business – which is why they are always on the lookout for fresh content on a wide range of topics.
And that's crucial because according to Oberlo, 81% of retailers research the product online before purchasing.
This is awesome news for freelance writers looking to get into business writing jobs!
It means that, no matter your area of expertise, there is a writing job out there in the eCommerce industry.
Great Business Writing Jobs
Ready to find some business writing jobs?
Here are ten paying markets for freelance writers who focus on business writing – particularly in the eCommerce industry.
1. ECommerceBytes
ECommerceBytes is a publisher that provides news and information for eCommerce and online merchants in the form of blog articles and email newsletters.
This site features two blogs: The Ecommerce Bytes Blog, which publishes news and information, and The AuctionBytes Blog that focuses on marketplace selling and online auctioning.
The editors of ECommerceBytes are always looking for articles for their blogs as well as their newsletter.
If you're interested in pitching to them, think about how-to articles, software and product reviews and online auction experiences.
2. The Ken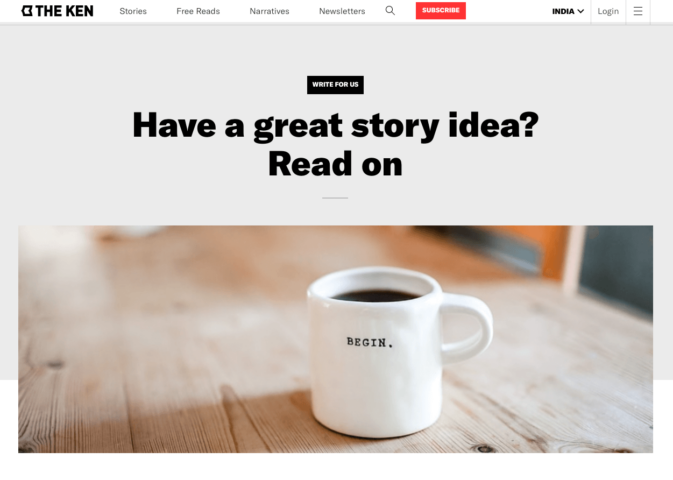 The Ken is a pan-Asian online publication focused on the online retail sector with over 15,000 paid subscribers. They publish one story every day so they are always looking for original and analytical pieces from freelance business writers.
Their stories revolve around select sectors-technology, startups, science, healthcare, retail and education across India and Southeast Asia.
They are fairly lenient when it comes to writing style but specifically look for content that well-researched and analytical.
The Ken pays $.25/word.
3. SmartBusinessTrends
SmartBusinessTrends shares the latest trends in online marketing on their blog. Popular topics include email marketing, WordPress and Amazon FBA (Fulfillment by Amazon).
This site will pay freelance business writers to create quality articles and tutorials as well as case studies and product reviews. Their pay rate varies from $200 to $500 per article!
Just keep in mind that SmartBusinessTrends looks for relevant experience or expertise in the topic you pitch to them.
Pay: Up to $500
4. Shopify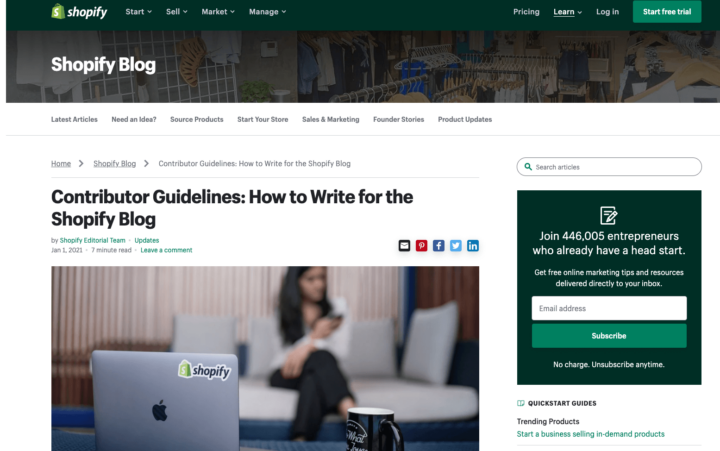 Like I mentioned before, not all business writing jobs come from small businesses. Shopify is a huge eCommerce platform used by online and retail stores around the world!
They publish a blog that provides resources and inspiration to their merchants to help them grow and develop their businesses. To do so, they pay experienced entrepreneurs and business experts to share their stories on their blog.
While they don't disclose their rate of pay, it is described as being "competitive" when it comes to quality submissions.
Pay: Says pay is competitive
5. The Guardian
Based in Britain, The Guardian is a publication that covers international news and current events. Its readership spans the globe!
Apart from news, they also feature an eCommerce section that covers online retail, online retail and technology.
When submitting a contribution to The Guardian, be sure to direct your query to the appropriate section of the website – each section has its own commissioning editor.
Also, be sure that you demonstrate your expertise in the topic you wish to pitch!
According to Who Pays Writers, their average rate is $0.45/word but some writing jobs were reported as high as $1.27 per word.
6. BCBusiness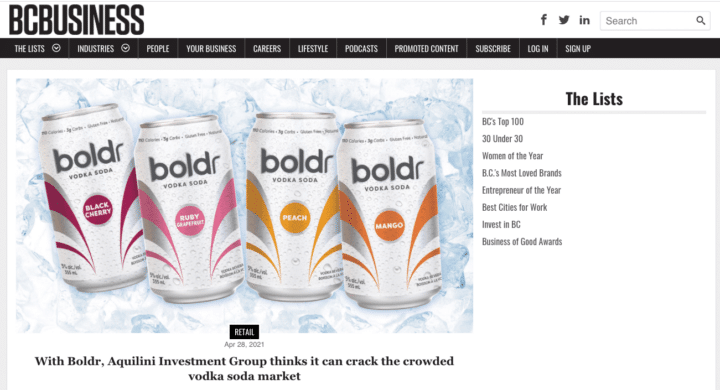 BCBusiness provides its readers with articles related to issues involving eCommerce in the area of Vancouver, British Columbia, Canada.
They tend to pick up stories that relate to the working lives of their readers as well as stories that appeal to their interests.
If you want to send your article idea to BCBusiness, make sure your point-of-view is back up by research and logic and your content is written in an engaging style.
Topic-wise, pitch ideas based on issues and trends relating to eCommerce and the tech industry – especially pertaining to Vancouver and its surrounding areas.
Pay: Up to $.75/word
7. Freshbooks
FreshBooks is a well-known accounting software primarily used by small and medium-sized businesses.
They offer invoice tracking and billing capabilities.
They also have a blog that provides daily resources for small business owners as well as their customers.
While they don't regularly accept contributions, they are open to considering unique ideas not currently covered on their blog.
So if you have an original story idea, send it along!
Pay: $200 per post
8. PracticalECommerce
PracticalECommerce supports mid-sized eCommerce companies by providing advice and instruction to grow their businesses.
While this site relies on its regular contributors, and doesn't post one-time and unsolicited content, you can still pitch your idea to the editor for their consideration.
If your idea is accepted, you could end up becoming a regular contributor and write for them monthly!
Pay: To be determined
9. Alaska Business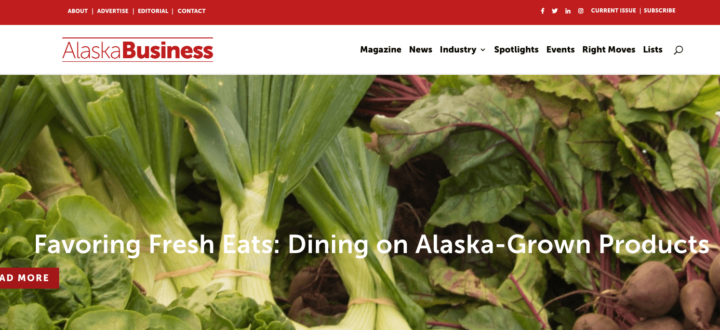 Alaska Business is based in Alaska but publishes content for international audiences.
Their focus is on issues and trends affecting Alaska's businesses and stories about the individuals and companies that shape their economy.
eCommerce is a huge industry in Alaska so a lot of their content is focused on this industry.
Again, this is not a company that posts one-off articles but they will consider pitches. Otherwise, they assign topics to their freelance writers – which you can become if they like your idea!
Pay: $100-$500 for stories of up to 2,500 words.
10. eCommerce Insiders
eCommerce Insiders offers advice from eCommerce experts to the online retail industry and retailers as well. Their content is either focused on education or "how to" tips or news and trends in the industry.
They are looking for writers with direct experience with retail, online or otherwise.
So if you have retail experience, you can send along a pitch outlining your topic idea.
eCommerce Insiders will pay for accepting pieces and their compensation ranges from $75 to $150 per article.
Examples of Business Writing
There is more than just blog posts you would write as a business writer. I mostly wrote blog content but I have written landing pages and eBooks in the B2B space.
To help you decide on the type of writing service, you would have for business writing gigs, check out these eleven examples.
1. Reports
When you think of business writing, this is probably what comes to mind, right?
Business reports are research-driven and filled with data and analytics, and other important information to help companies plan out their objectives.
If you favor more academic writing, enjoy numbers and data, then writing reports for your business writing job is what you would offer.
2. Press Releases
Many businesses use press releases, or media statements, to share any new innovations, products, or services to tell the world.
As a business writer, this writing assignment is highly versatile with all types of industries – not just for the eCommerce space.
For more help, check out my guide on writing press releases.
3. Handbooks/Manuals
Standard Operation Procedure manuals, instructional handbooks, policy and procedure manuals, or a simple business policy are common types of business technical writing jobs you may do.
These manuals serve a purpose in a business, and while the information may be dry, as a writer, you can write these handbooks to make it easy to read and easy to follow.
4. Resumes
As with cover letters, it's a common practice to hire resume writing out. In HR, the idea of having a ghostwriter draft up a resume or cover letter is common practice.
Why? Most executives don't have the time, or they just aren't that great of a writer.
5. Email Newsletters
Email writing is a great freelance writing job to have! And for business writing, it can be lucrative if you decide to work in the eCommerce space and the SaaS space.
While many B2B businesses have emails and need someone to write newsletters, retention emails, or nurture sequences, what I found is that many of these businesses need to optimize their existing email strategy.
For more help, check out my guide on how to write an email.
6. Cover Letters
As a business writer, you may be responsible for drafting up cover letters for owners wanting to move up from administration to executive positions and the like.
While this isn't necessarily in the B2B space, it is a type of business writing and something all freelance writers should learn to write if they want to gain writing jobs.
7. Case Studies
As I mentioned early in this post, case studies are a type of business writing you might do as a freelance writer.
Case studies showcase a success story of a company or person. These are usually written to show how your client helped a customer, or in the B2B space, another business.
For more help, check out my guide on writing a case study.
8. White Papers
A standard example of freelance business writing jobs is white papers. These are reports – for example, government reports – that detail a process or issue in an easy reading format.
So this might be turning highly technical reports and streamlining them into readable content for other businesses to apply. If you have a knack for understanding technical concepts and explaining it in an easy-to-read format, white paper writing might be your thing!
9. Business News
If you want to do more journalistic writing in the business space, you can write news stories. Typically, no one wants to read business news. They are boring and filled with numbers and difficult jargon.
But, that's because the topics in question are difficult concepts. As a business writer online, it's your job to translate that information into something that is easy to read. An example of this is the Pinterest News Room. They create "blog posts" or press content to share any new innovations or updates with their platform.
While the format of their business news isn't formatted like a blog posts the writing is readable and understandable.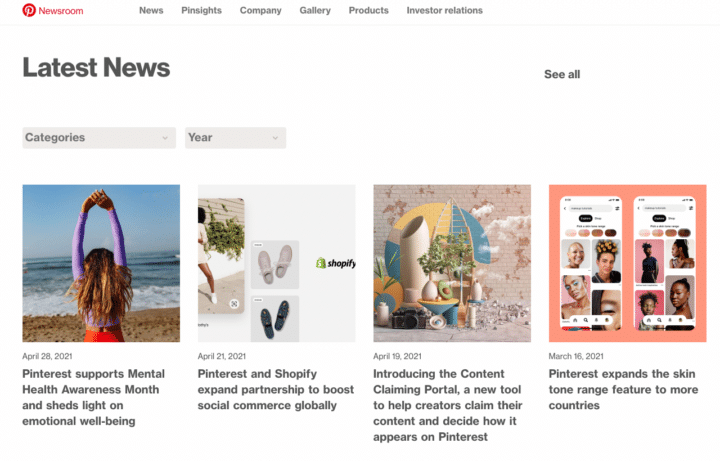 10. Blog Posts
According to Demand Metric, businesses with blogs gain up to 67% more leads than businesses that don't have a blog for their content marketing purposes. This is great news for new freelance writers!
I'm a long-form blog writer in the B2B space, and it's still my #1 type of freelance writing job I do. Personally, I write in the digital marketing space (SaaS), but businesses in all industries – from bookkeeping to pets – need blog writers.
11. Bios
Executives need bios for their website and social media presence. As a business writer, you can provide this short copy for websites and LinkedIn profiles.
Types of Business Writers
While you can definitely call yourself a business writer, you can use different freelance writing names to show businesses the exact type of writer you are.
Here is a list of six types of freelance writing job titles for the business writing niche you can adopt.
B2B writer
B2C writer
eCommerce business writer
Business research writer
B2B copywriter
Business content writer
There You Go!
Now that you have a better understanding of what business writing is and where to find paying business writing jobs, it's time to get out there and expand your freelance writing income!
Other than that, you've got this. Good luck!
Now it's your turn: Have you ever tried business writing? How was it different from your other writing projects? Let us know in the comments!