This is shocking!
I discovered that the true answer to how much new freelance writers make remains low – $10/hour.
Writers are struggling financially, and I think I know why.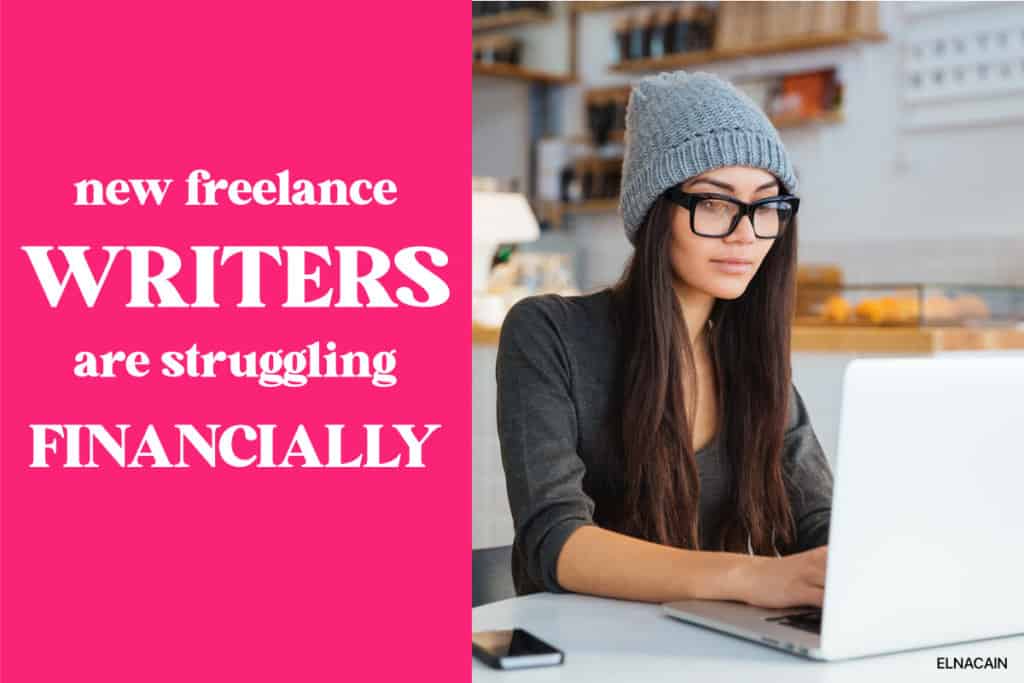 And even though the report was done a few years ago, I suspect the low rate remains today.
It's not as easy as saying it's because of AI taking over or that, collectively, businesses just don't want to pay for writing.
If your freelance writing business is down the toilet and you're struggling to gain consistent writing jobs, pay attention to what I'm about to share.
I Went from Making $100 to $1,000 a Post In a Saturated Market
Look –
There are 600 million blogs out there, and many more are being created right this second.
A sea of content is flooding us, but you know what?
Businesses know this, and they still create, but they don't just create content, they create epic content.
See, I was able to go from charging $100 a post to $1,000 a post because of my credibility.
That means this didn't happen over night.
I worked for it year after year, and over time, I wasn't struggling with finances because I wasn't landing $50/post gigs anymore.
I inched my way up the income ladder and gained high-paying clients in an oversaturated market (SaaS).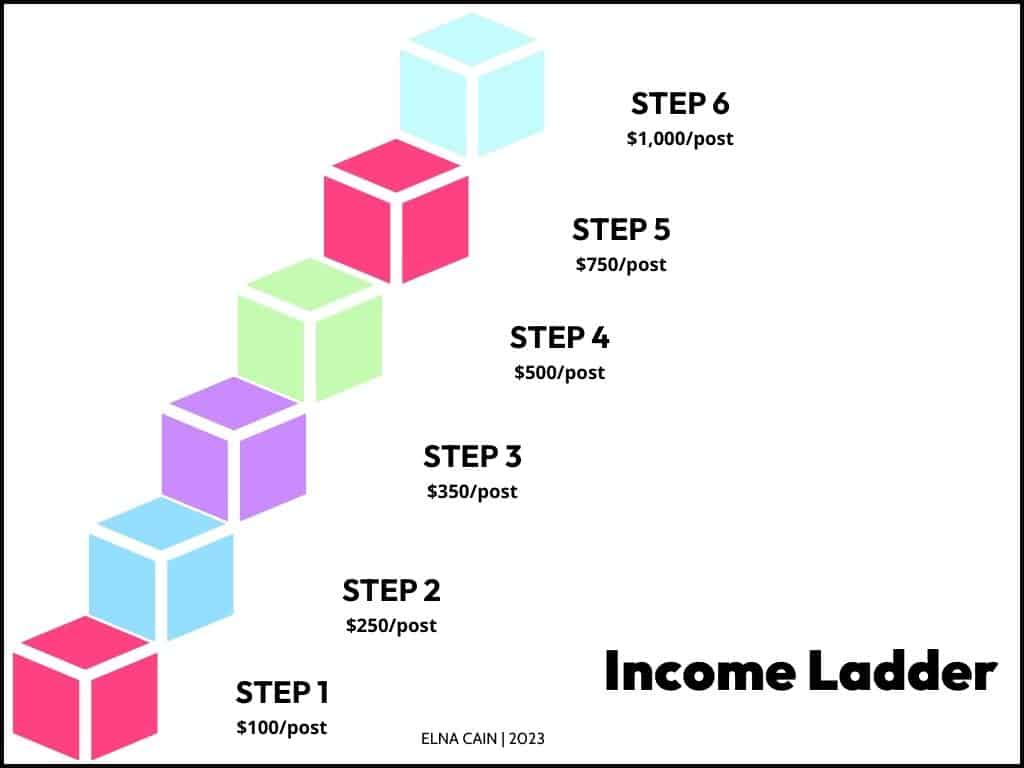 And the one thing that associated my credibility (& writing epic content) with better writing jobs is research.
Your Research Dictates Your Freelance Writing Rates
See, I didn't put weight on where I got my stats for a long time.
It's okay to grab stats by going on Google, finding the first 3 posts for a topic, and checking to see if those are good resources to link to.
There's no shame and no problem in doing this.
But, as a freelance writer, you can wow clients with WHAT you link to in your articles.
And by wowing clients, you become their go-to writer.
When this happens – $$$.
No longer are you averaging $10/hour, but it's more like $100/hour.
And this translates into credibility, which is how you can get your writing ahead, as the information you provide to your clients is built on trust.
So, how do you move from making $10/hour to hundreds an hour based on your research ability?
Let's go through the steps I did to command higher copywriting rates.
Increased my skills
Wrote every day
Consumed content
Knew the news in my industry
Created a swipe file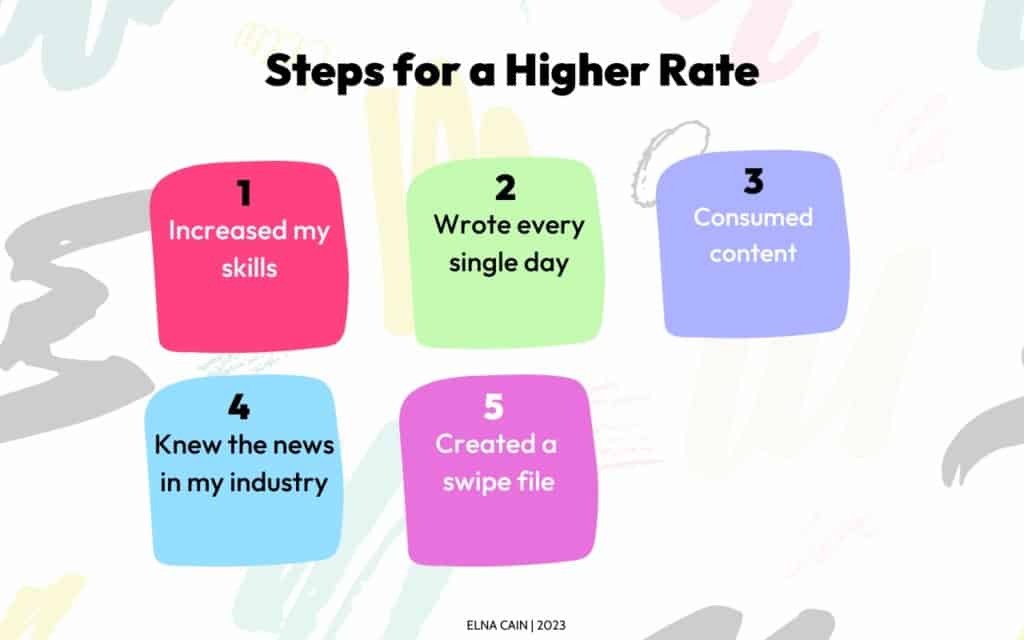 1. I Increased My Skills
Every day, month, and year I up my writing skills.
Sometimes I don't notice it. It might be that I can think of the whole article in my head and type it out in an afternoon.
Other times, I use my free time to learn new tactics, strategies, and information regarding my writing niche (digital marketing).
While doing great research for your articles, you must support that ability with other skills.
For example, when I first started out as a freelance writer – and only got around $50-$100 a post – I knew absolutely nothing about SEO – search engine optimization.
But, as soon as I started learning and applying my learning to my writing, my rates started going up because I was CONFIDENT in what I was doing.
Because I had another "tool" under my belt, I felt more comfortable commanding a higher rate.
And this is the fastest way to build your freelance clients.
If you need help with SEO writing, check out my handy masterclass!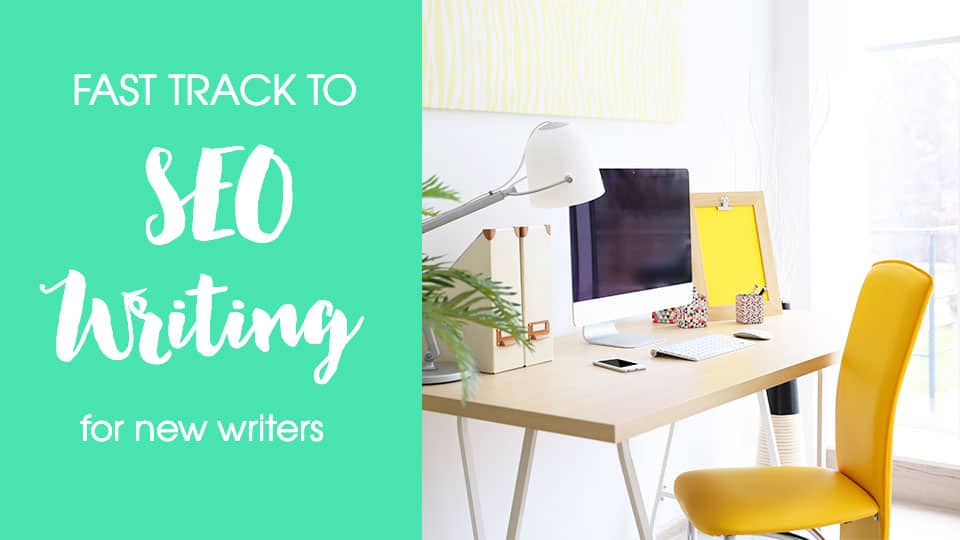 2. I Wrote Every Day
Part of my high rates is the ease it is to write.
Sure, I get writer's block, but over the years, the more I write, the easier it is.
For me, I started new blogs and wrote in different tones.
One blog I wrote for moms, another for college kids, and another for new couples.
This helped me share the same information in different ways.
Another way to write every day is to challenge yourself
Challenge yourself to write an article without an outline.
Just freely write the article and see what happens. You might surprise yourself and find that your writing flow is increasing or thoughts about what you are writing are coming at you like gangbusters!
This is something I do regularly for Medium.
My Medium posts don't have outlines because they are short-form content. I just free write what I'm going through at that moment.
It seems to work, and my audience seems to like my content!
Try different challenges as well as writing different lengths.
Write a landing page of 300 words and an article that's 3000 words.
Transcribe a Youtube video and work on summarizing the main points.
Doing all of these actions will make you a better writer!
3. I Consumed Content
New writers need to consume, consume, and consume content as much as they can!
This is your learning playground, and you must scour the web to find information to help you with your client pieces, marketing, and onboarding processes.
These are the places I consume content:
Youtube
Podcasts
Blog posts
Forums
Magazines
Documentaries
Books
Facebook ads
When you invest time online, you come to find little nuggets of gold as a writer.
The other day I checked my LinkedIn feed and found a podcast episode about generative AI.
This was amazing, and I shared it with my Writeto1k students because they need to know what's happening with AI writing.
Carve out time during your week to spend on social media and sourcing information.
4. I'm Informed of News in My Industry
As a freelance writer in the digital marketing niche, I must be on top of all the news since it changes frequently.
The big news is all about generative AI and how businesses incorporate this new technology into their content plan.
So, it's up to me, as a writer who writes about content marketing, email marketing, and things like that, to know the new tools and find the latest trends and news about my topic.
But how do I do that? How can I know that what I'm reading is current and up-to-date?
1. I Follow the Right People on Twitter
A simple way to get the most up-to-date information regarding your writing niche is to follow the right people on Twitter.
For example, I follow Lily Ray and Dr. Marie Haynes for all my information about Microsoft, Google, and AI writing tools.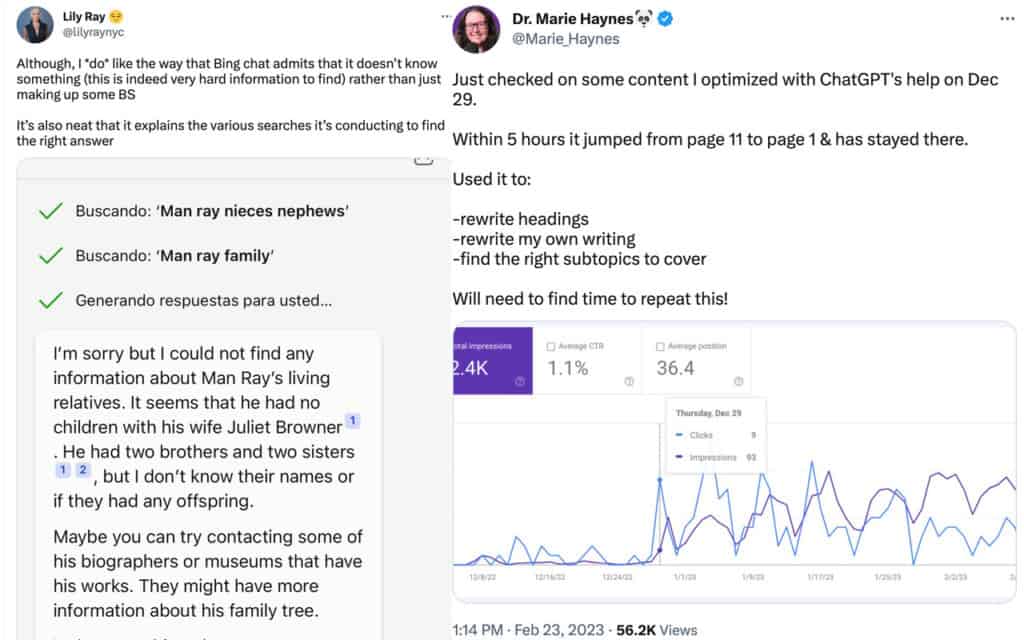 I also follow content leads or marketers for SaaS businesses.
People like Eric Doty, the content lead at Dock, or Jimmy Daly, the CEO of Superpath, share information about any news like a new podcast, or new feature of their services or just share newsworthy information about a particular topic.
2. Become Familiar with Different Tools
Another way I'm on top of any news in my industry is to become familiar with any new tools or features.
With all the talk about generative AI, many businesses implement AI in their services.
For example, Tailwind has Tailwind Ghostwriter, similar to Jasper AI templates.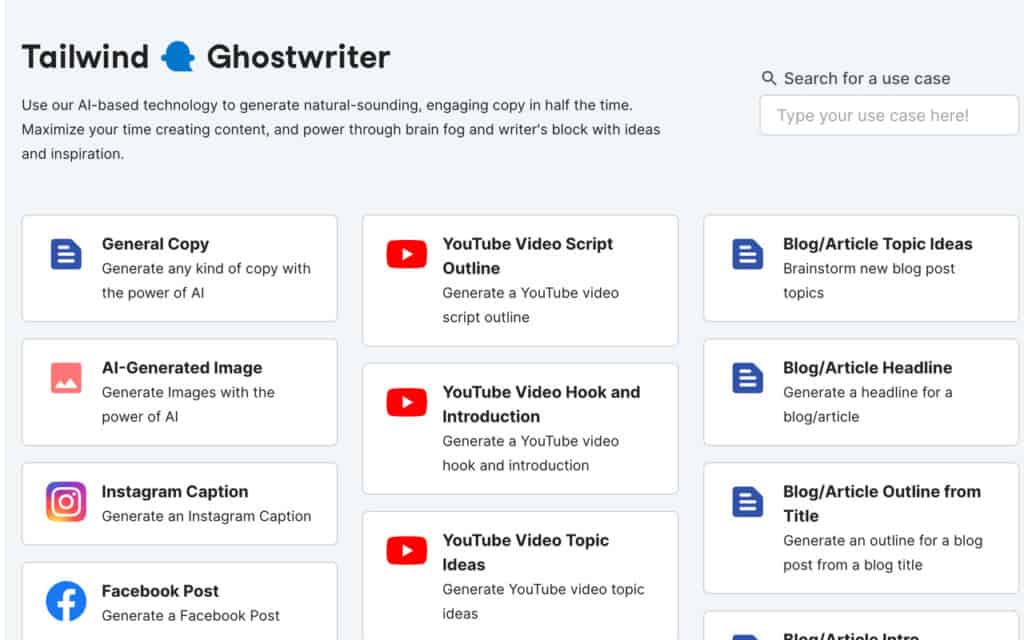 Canva, an image editing tool, also adopted Canva Magic, an AI writing assistant tool.
You can use Canva Magic Write in Docs only, and it can help you create many forms of content like eBooks, landing pages, blog posts, and more.
And with the popularity of chat GPT, other businesses are using the chat feature like Jasper AI (Jasper Chat) and Writesonic (SonicChat).
I don't just use generative AI tools but also SEO tools, social media automation tools, and image editing tools since I have written about tools in the past.
So, these tools could benefit your knowledge and skill base if you are a SaaS writer or technology writer.
3. State of Industry Reports
I may lean on reports to get my stats and facts if I have a client piece from a new freelance writing gig.
And an easy way to find those reports is to Google it!
Just type in state of industry report and (niche) to get some results.
This is one I landed on that has great graphs and insights.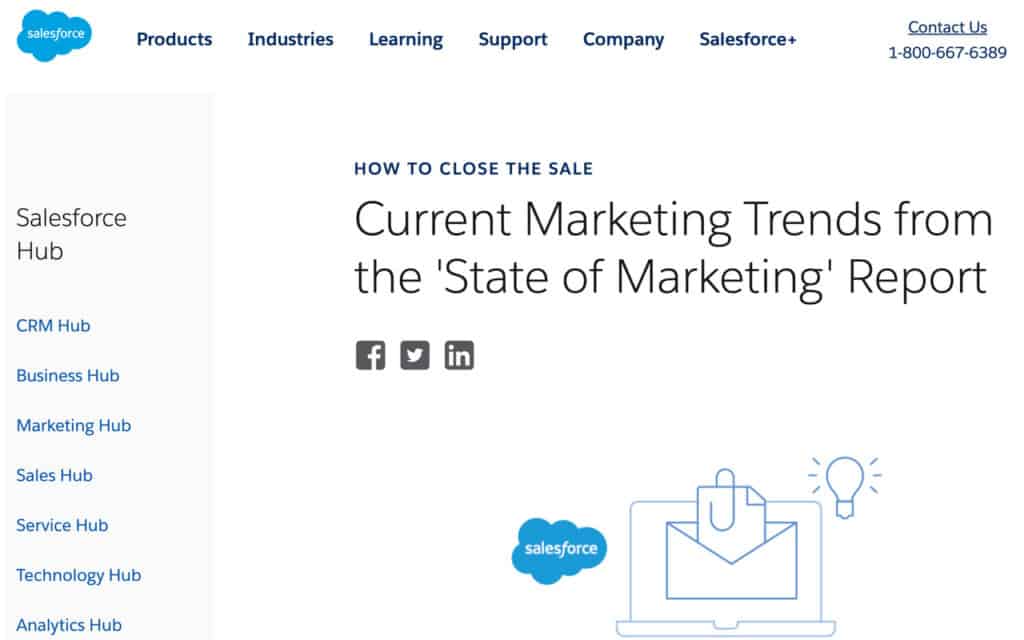 5. I Created a Swipe File
With all this information I'm reading and viewing, I need to remember it!
That's where a swipe file comes in handy.
I use a Google Doc and drop all the links for a quick way to add stats to my writing work.
I have two: one for my Twins Mommy brand and one for digital marketing, my freelance writing niche.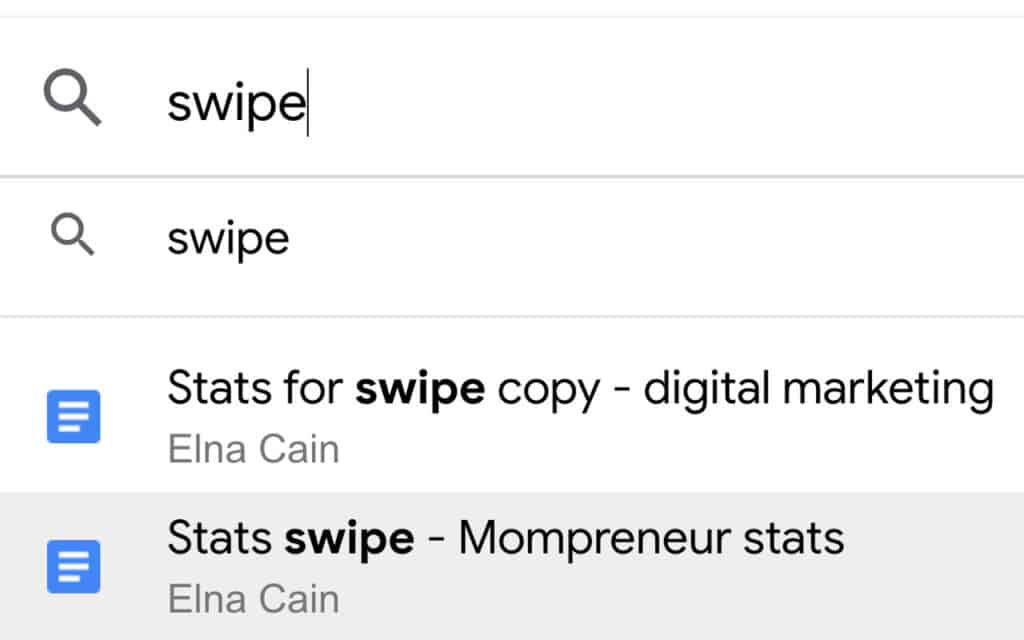 The Best Tips for Researching As an Online Writer
Let's get the best advice from other writers who write and research every day.
Finance and sustainability writer Jake Safane says,
"Look for consultants in the industry you're writing about. They often publish original research and tend to be willing to do interviews. And they can provide good third-party perspectives rather than pushing a particular product."
As a new freelance writer, it's important to know where to find these consultants. A good option is to find start ups that need promotion and brand awareness.
Social media marketers, CEO's and consultants would love to talk to a writer if they get recognition for their work (and a backlink).
For example, in one of my client pieces, I got a quote from a virtual learning platform using HARO (Help a Reporter Out).

SEO writer and digital consultant Holly Landis says,
"If I know there's a site that will probably have good stats, I'll do a Google site search with a keyword in quotes so I don't have to scroll through endless pages."
I shared this tactic in my post about finding credible sources, but Holly is more specific about finding the right resources filled with stats she can use for her article.
Using terms like "x stats" or "x industry report" will yield you list articles of those stats.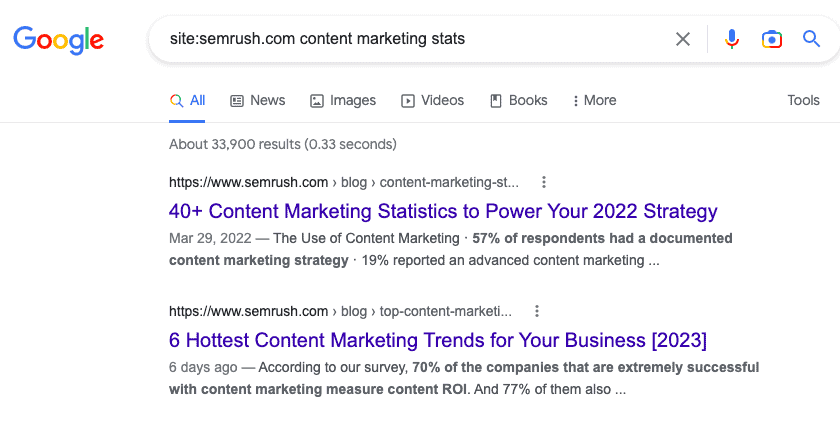 Copywriter Garret Oden shares that he has a list of experts for his one industry, and whenever he needs an expert, he can call on that list.
Great idea.

Something that I haven't done (but should be doing) is to collect a list of experts that want to contribute to articles.
You can create a landing page on your writer website detailing what type of writing you do, who your base clients are, and mentioning you are gathering a list of leads for future quotes.
This can be an excellent method to get unique and insider knowledge for your client pieces, making it much more valuable for their audience.
SaaS writer Rochi Zalani says,
"Use Google Scholar and things like @PrimoStats to find relevant + recent data/reports For finding examples, go beyond Google and search on Twitter and YT too."
There is a lot to digest from Rochi's tip for finding good stats and facts for your clients.
Primo Stats is a paid tool, but there is a free tier where you can search for 1200 stats! Not bad!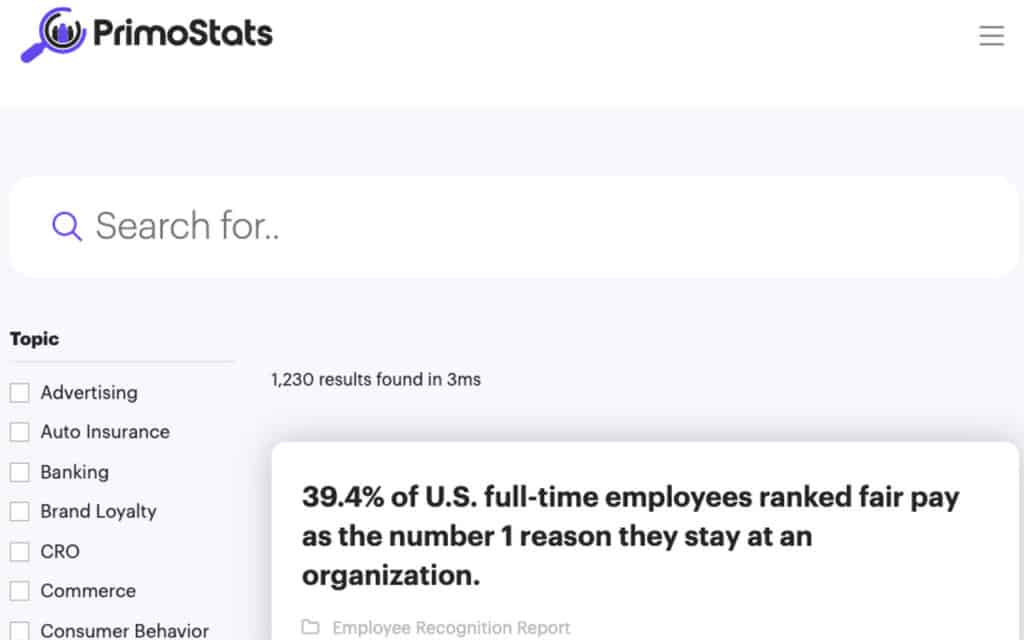 This is a big time saver for freelance writers and can make you much more productive!
The other two methods Rochi shares are to use Youtube and Twitter.
I have mentioned this in my blog post, and I'm glad other writers are using these methods too!
I love looking at Youtube to find case studies.
Many Youtubers will share their marketing tactics, what they made, or new things they are trying.
This first-hand knowledge is GOLD for your articles.
For Twitter, you can grab some amazing Tweets that support or help your article points.
You can see it in action on THIS blog post!
Is That The Only Thing to Making More Money As a Freelance Writer?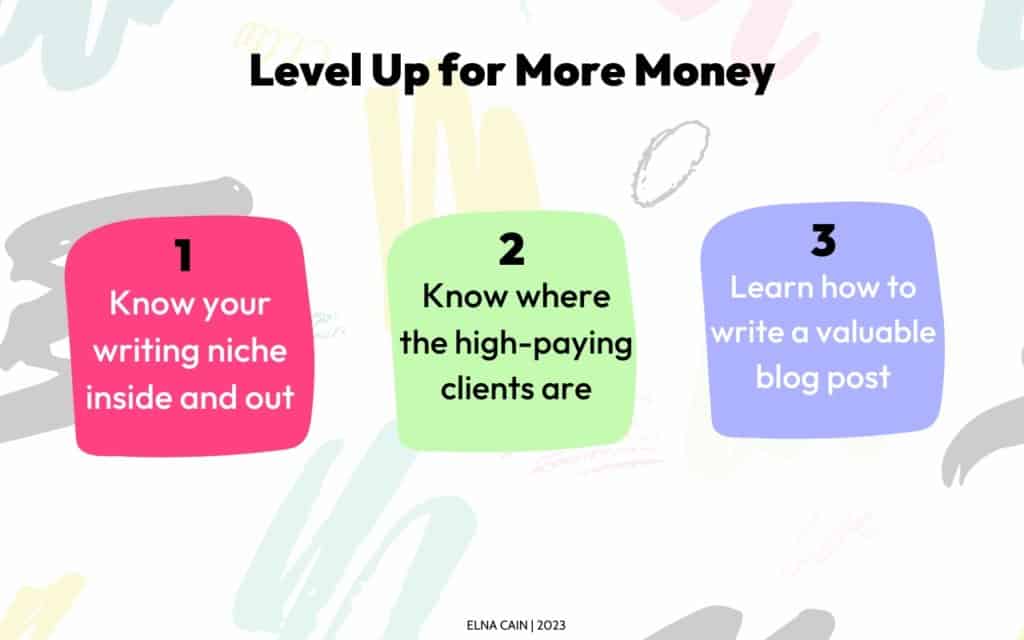 To tell you the truth – No, it's not.
A lot goes into having a highly successful and sustainable freelance writing business.
On top of sound research, an online writer needs to know:
Their writing niche inside and out
Know who the high-paying clients are
How to effectively write a high-paying blog post
1. Know Your Writing Niche
Just because you picked a fun topic to write about doesn't mean you sleep on it.
You need to consume as much information about your topic to help you become an expert.
You do this by:
Following industry leaders on social media
Singing up to company newsletters
Following companies on social media
Read industry-related blogs
Listening to company owners on podcasts
The more you learn about your niche, the easier it will become to write about it and write about it uniquely.
High-paying clients know that good writers can write about an overused ideas (like repurposing social media content) and create something outstanding with new examples, takeaways, and angles.
The faster you go through this process, the faster you will find better clients.
2. Know Who the Clients Are
In the world of business, there are different types of businesses:
Startups
Small companies
mom and pop shops
Service-based (subscriptions)
Within these types of businesses, there's also B2C and B2B.
B2C means: business to consumer, and B2B means business to business.
If the business you gravitate towards markets to consumers (think Starbucks), then the content will drastically differ from a B2B business (the distributors for Starbucks).
This can help you see who your clients are and what type of writing you want to do (and what pays more).
3. How to Effectively Write a High-Paying Blog Post
For any new freelance writer out there, I'm sure you won't know how to create a highly compelling blog post.
Even if your previous job was to write blog content for your company, you might not have known the best practices or ways to add more value to make the content worth more.
This took me a few years to figure out, but I went up my income ladder once I did!
To help you out, I have two resources:
Freelance Blogging in a Weekend – this is my comprehensive writing course that teaches you different types of writing like SEO writing, viral writing, long-form writing, etc..
Writing a B2B $1,000 Article – get this 1 hour masterclass to help you write a highly valuable blog post for a B2B client.
Conclusion
Look –
All the tips in the world won't help you break free from the LESS than $10/hour rate you are receiving if you're not confident and skillful.
Those two attributes will get you far, and you know what?
Businesses will value this.
Here's a Tweet poll from Brooklin Nash, co-founder of Beam Content.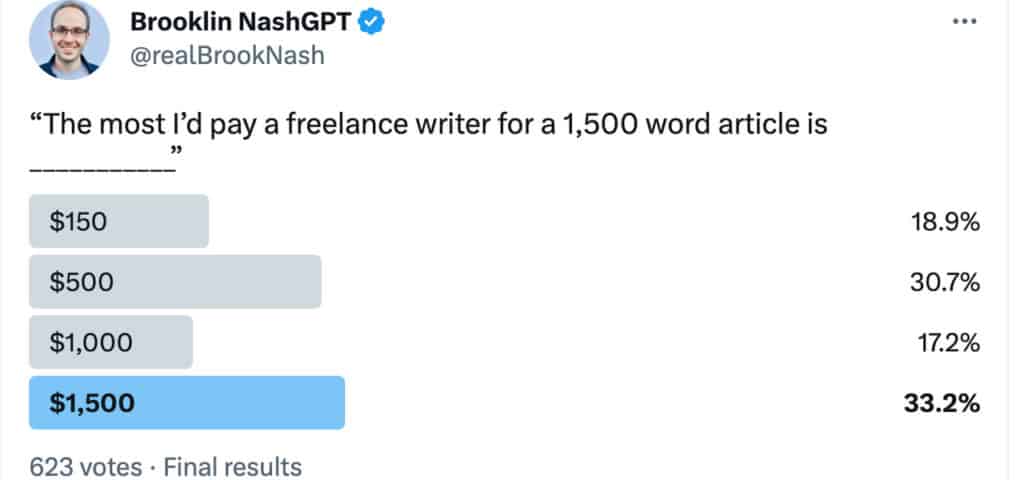 The poll's results are that 33% of businesses will GLADLY pay $1/word for an article written by a freelance writer.
Think about that.
Why would a business pay that much, and more for content?
It's because of writer's skills (which this post covered) and the confidence they elude when communicating with the potential client.
Now, confidence is something you have just to face and do.
I'm an introvert, but I'll gladly talk 1:1 with someone about a potential gig.
Get me in a room with 10+ people, and I am a wallflower.
Once you get everything in order (I can help with that), you are on your rate to raising your rates for good.
Tell me in the comments how your freelance business is doing!