Back in the day, when I first started out as a freelance writer, I was excited to tell my audience all about where I was writing.
It sort of started as a mini-series:
It's been years since I last wrote a where I'm writing blog post in this series.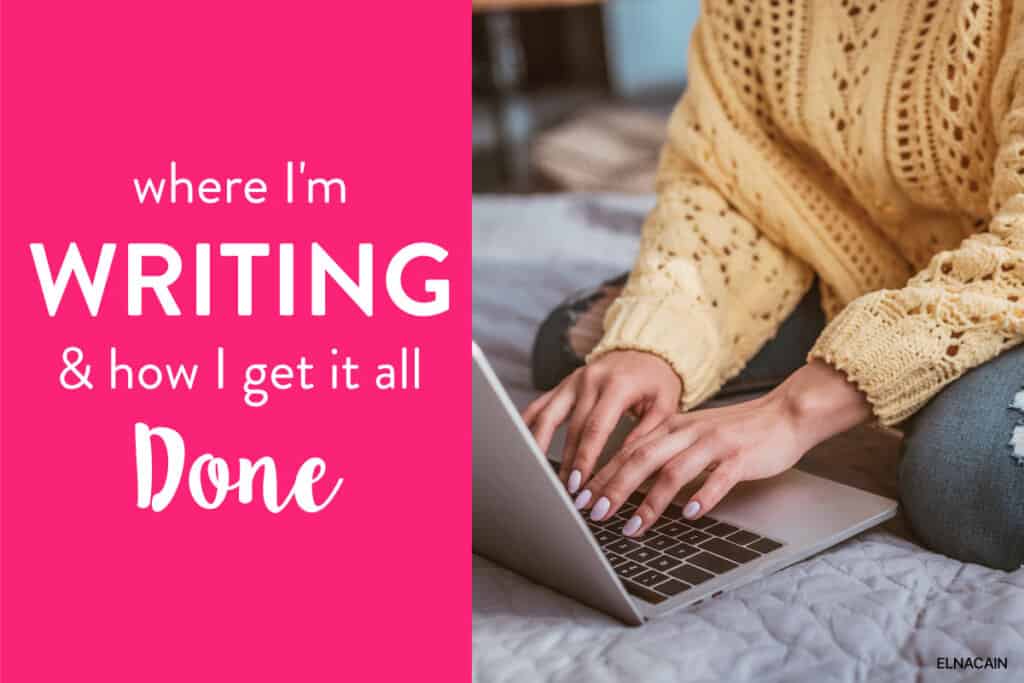 So, I thought for this post, I would talk about my current clients.
During This Time
Since the last time I wrote about this, I've done a lot. A LOT!
Been featured in the Globe and Mail newspaper!
Participated in many summits, including one offered by a prominent Medium writer
Introduced thousands of new people to my brand to become a freelance writer (thanks!)
Started a new service: email sequences
Narrowed my writing niche to focus on SaaS businesses
I was approached to write for huge brands, including Walmart and Smartblogger!
Practiced writing long form SEO content to help businesses rank in Google
Worked with amazing clients!
How is My Freelance Writing Business Doing?
Over the years, I've been able to tailor my writing business to fit my passions and life.
You may or may not know, but I like creating new websites. I have another brand for mom bloggers called Twins Mommy.
I've also started other sites:
Imperfectly Perfect Mama
Smart Mom Ideas
Spongehacks
FreelancerFAQs
Not all of these are blogs that I have to supply blog posts for. Two of them are contributor blogs, so I approve guest writers.
On the other sites, I hire freelance writers and mom bloggers to provide content.
But why do I start blogs?
It's fun for me to practice my digital marketing niche.
Parts of digital marketing include:
content marketing
SEO
Using social media to promote content
Lead generation tactics
Brand building
& more
I decided to practice what I offered as a way to help me understand my writing niche more.
This helps me become a thought leader, and clients who are aware of that will pay premium rates for my content.
And during this time, I've been picking and choosing who I want to write for and how often I want to write for clients.
For some months or years, I write for one or two clients on an ad hoc basis. This means they come to me when they need content, and I supply it or tell them I can't.
In other years, I may focus on one client at a time, like I did when I started my new email sequence niche.
And, for right now? I have decided to focus on SaaS brands, but not just any SaaS brands, notable ones that other marketers and small business owners would know.
My Current Freelance Writing Clients
Each of my current clients reached out to me.
I did not find them on job boards and I didn't cold pitch these companies.
Here are my current freelance writing jobs.
1. Wordtune

AI (artificial intelligence) writing assistant tools are exploding!
With AI Art in the mix, there are soo many possibilities for writers to use AI tools.
AI is already integrated into our lives – Grammarly uses AI, Google auto-complete uses AI, voice search, and more.
Wordtune, helps you fine-tune your writing using copywriting principles and smart features to fit your voice.
Take a phrase you're having trouble rewording and let Wordtune help you out.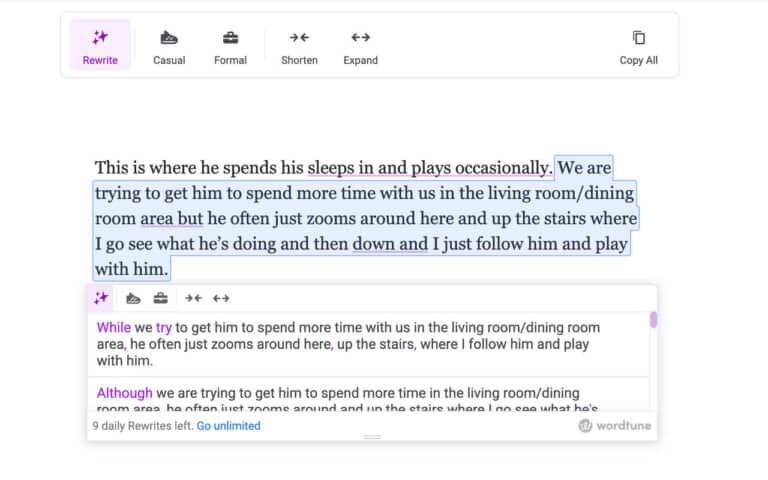 Wordtune also has an editor for your content and a summarizer for texts. It's a pretty nifty AI smart tool!
And they reached out to me for some writing on their new blog.
I heard about Wordtune but never tried it, so it was neat that they reached out to me.
I'm excited to continue writing for them.
2. GoDaddy
Another client that reached out to me was GoDaddy.
Well, this wasn't a complete mystery, though.
For six-eight months I was doing some warm pitching on Instagram, so this may have played a role.
I dive into how I landed this client in a new lesson in my Writeto1k course.

The editor gave me the topic, I wrote it, and was paid later that week. The easiest job so far!
3. Zapier
I landed Zapier at the beginning of the year, and to be honest, this is a difficult gig for me. I have to pitch topics, and for some reason, they always get denied.
So, writing for Zapier is few and far between. I love the brand and use Zapier for my own business, so it will take time to find the right topic, and it's nice I'm on their roster of writers!
4. SEO Copywriting Ghostwriting Client
My last client is a ghostwriting client for SEO copywriting.
This is an ongoing project and is in the WordPress maintenance industry.
For now, I'm writing SEO blog posts for their brand. As a copywriter, I produce brand mentions in a streamlined manner and make my SEO writing engaging and helpful.
This is an ongoing project, and it's nice to write about something that isn't about digital marketing!
How Am I Managing All Of This?
It's been a long time since I've had 4 clients!
And on top of that, I also have:
2 Email lists
2 Youtube channels
A Medium account
Several blogs
Why take on all this work?
Because I simply love freelance writing!
It's my main passion – writing and writing for clients.
Getting those amazing testimonials about my writing makes my day!
It proves that I AM a great writer and know my niche inside and out. This helps me be a better teacher to my Writeto1k students.
Creating new lessons and products and offering them new strategies is important to their success!
I was slotted to do 2x a month for blog posts for two of my clients, but had to move to 1x a month for both.
And, on top of all this, we recently adopted a 9-week-old kitten.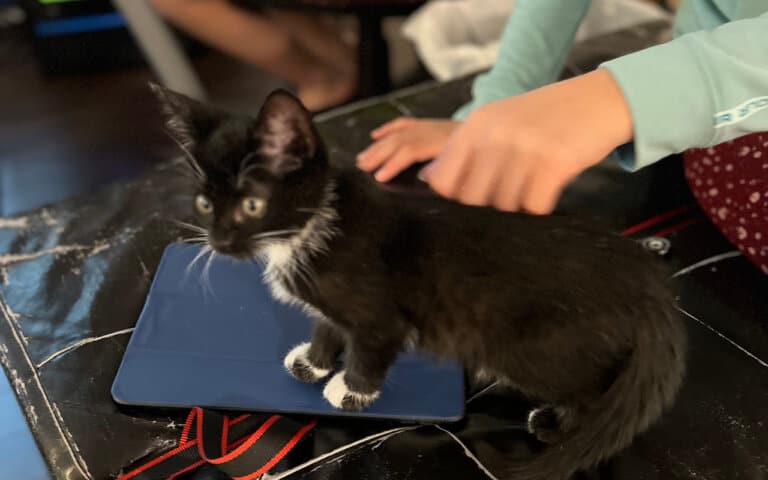 He's 11 weeks now, but he's a handful.
There is constant playing and keeping him safe when he's awake ( and he also wakes up early for the day – 645 am).
So things are slacking (like my Youtube channel), but that's okay. Our kitty will only be a kitty for a while, and he'll be able to roam the house and not get into trouble!
My focus is on the following:
Client work
Kitty
Keeping the house in order/twins fed and all that jazz
This is What I've Always Wanted
These last few years of being a freelance writer/blogger have been amazing!
My husband helps me in my business, and I've been able to work part-time all these years!
If I want to take Fridays off, I can!
If I can't write a post, I can tell my client, not this month, and I'm okay with that.
I've built a sustainable business where I can choose my clients and the work I do each month!
If this is something you want, check out my most successful course, Writeto1k!
Tell me in the comment where you're writing! I'd love to know!