The pinnacle of being a writer is seeing your name published in a magazine, right?
There are plenty of online magazine jobs just for you but it can be difficult to find good online writing jobs if you don't know where to look.
I should know because when I first started out as a freelance writer, I had no idea where to find these online jobs and at the end I just found market places and content mills that paid very little.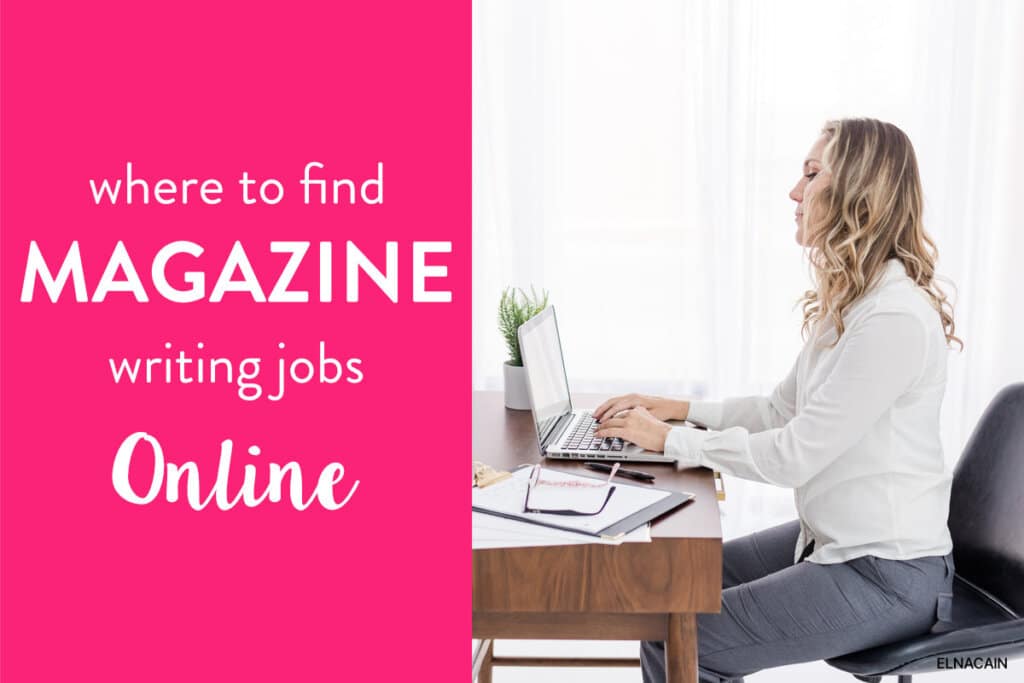 But, finding out about magazines that pay changed my outlook on writing online professionally.
Some magazines offer both print and online publications, while others offer online publications only.
The opportunities for online writers are numerous and continue to grow day by day and I want to show you this can be something you can achieve.
Online freelance writers are able to earn good and stable incomes with writing gigs such as content creation and magazine writing jobs.
There are a plethora of various niche jobs for online magazines. From celebrity gossip to breaking news, you're sure to find a gig writing for an online magazine that is just right for you.
How Much do Online Magazine Writers Get Paid?
The pay that online magazine writers receive is not all that different from any other type of niche.
As a newbie that is still building up their portfolio, you can expect to earn anywhere between $0.10 to $0.15 per word.
As your portfolio grows and you land more magazine features you can increase your prices.
Experienced writers can charge $0.50 to $1 per word, depending on the type of content and the caliber of the magazine they are writing for.
As it stands, the average salary as an online writer is upwards of $78,000/yr.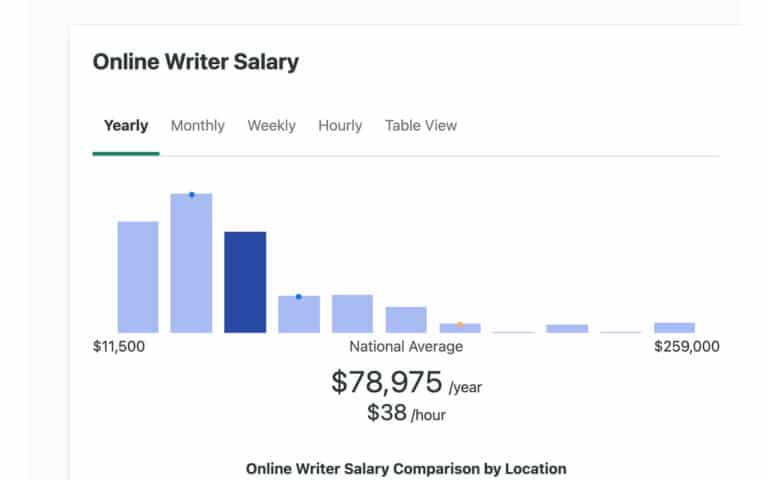 One thing to consider when writing for magazines is that it can take a long time to hear back about a submission, get published, and get paid – up to months at a time.
Generally, income from writing for online magazines is not fast, so be sure to take that into consideration when pitching publishers.
As well, consider other types of freelance writing jobs to supplement your income between magazine jobs.
How to Land Well-Paid Online Magazine Jobs
One of the biggest differences between online magazine writing jobs and others is the pitching process.
In order to become a well-paid online magazine writer, you need to master how to persuasively pitch your ideas and be really good at storytelling.
You can't simply copy and paste the same pitch to every magazine gig you are applying to. Each one of the magazine writing jobs that you apply for has individual needs, styles, and audience. Sending the same pitch to multiple editors is a huge rookie mistake and it shows.
While you can use a template to try and make your pitching a little more streamline, don't send the same thing to each and every magazine you apply for and certainly don't expect a response.
Tips for Your First Online Pitch to an Editor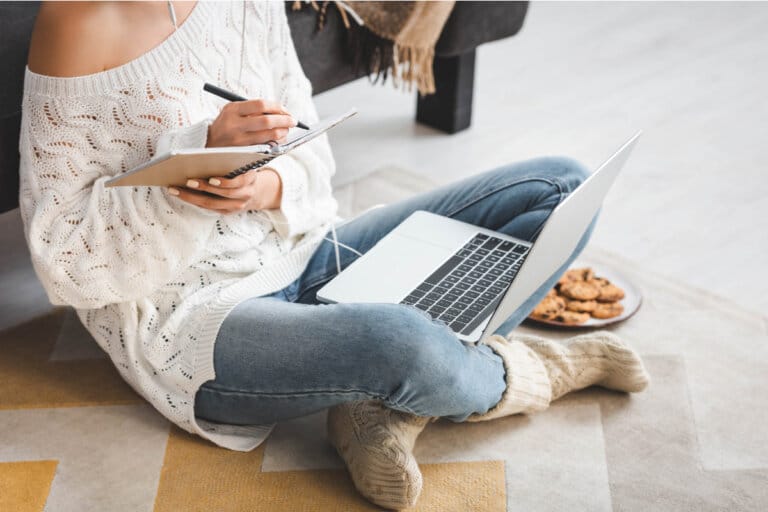 While my freelance writing niche is long-form blog writing, I sometimes dabble in magazine jobs here and there. One of my recent successes was getting onto the Storius magazine.
To help you out with pitching to editors here are my tips.
First, don't start off with your life story.
The client doesn't really care about you. They care about your caliber of work and the results they will get from hiring you as their writer.
As well, they want to know that you are a reader of their magazine. Do you understand their tone and brand message? These are important aspects to include in your writing pitch for editors.
Makes sure to be clear about your story or pitch idea. You don't want to make the editor work too hard to figure out what you are trying to say or what column you are pitching for.
Simple ways to do this is to share how you came up with the article idea and why that idea would resonate with their audience. From there you can summarize what exactly you will be writing about.
Next, keep emails short and sweet.
We are all busy professionals that don't have time to sift through super long emails for something that could have been said in a few sentences. Make sure to stay credible when you are pitching and not desperate. Don't pitch to different industries just to try to land your first writing gig.
When submitting your pitch, follow the guidelines no matter what. Ignoring submission guidelines is a good way to get your submission deleted immediately.
Remember to avoid sending attachments with your pitch email (unless specifically requested by client). This is just one more step for the editor to go through and takes up their time (which they don't like!)
Finally, send an outline rather than a finished draft of your pitch. This is typical for online magazine writing jobs.
There are two things to understand when pitching to editors: editors get pitched up to 40 times a day so your freelance writing pitch must stand out and there's a good chance that you won't hear from editors and you'll have many unresponsive pitches.
Which Online Magazine Jobs Pay the Best?
There are so many different online magazines that pay writers, and pay them well!
Whether you're just starting out writing for an online magazine or you are an experienced pro, you're sure to find something in our list below that you'll want to pitch too that will also bring in a good income.
Like many other online writing gigs, you can have more than one gig at a time. Especially with how slow pitching and publishing in the online magazine industry can be, it's best to take on a few different gigs, at least when first starting out.
Where to Find Online Magazine Publications
While you can certainly look on platforms like Upwork and LinkedIn for online magazine writing jobs, I wanted to highlight some well-known, individual magazines that you could pitch to.
These may not be paying but they can build your credibility quickly and these good turn out to be a paid writing job.
1. Good Housekeeping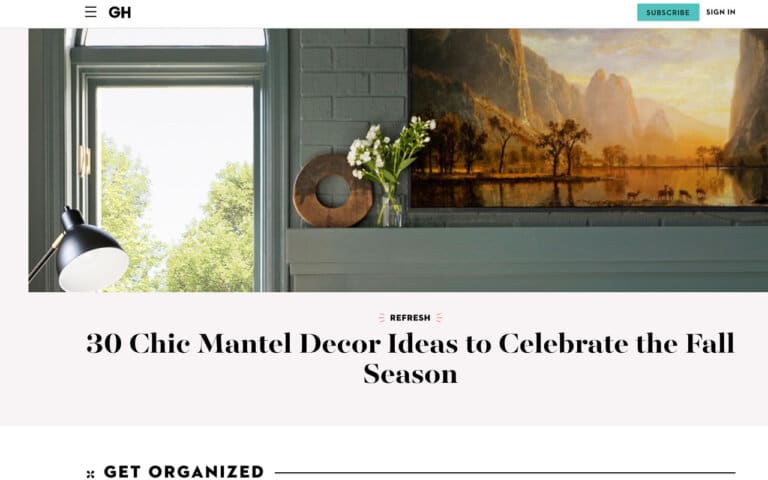 Founded in 1885, Good Housekeeping is one of the oldest magazines on our list.
It caters to women (wives and mothers) who work outside of the home with children that are generally between the ages 6-12 years old.
There are several different categories in which you can make a submission.
The "blessings" column, which is about a person or event that was a blessing in your life. There are also submissions for health narratives. Be sure to follow the submission guidelines to be considered for this writing gig. Just be aware that it can take 2-3 months to hear back about a submission.
2. Smithsonian Magazine
The Smithsonian Magazine publishes content in the categories of history, art, science, travel, and innovation.
You can submit a pitch of up to 250 words directly to the editors of the online magazine.
Whether covering topics about the world's oceans or representation of Native Americans in film, there are topics from a wide variety of topics to choose from.
3. Cracked
Cracked.com is an online magazine that pokes at just about everything.
While other magazines focus on serious topics, Cracked looks at the lighter side of life.
So if you have a stash of weird ice cream facts or a random list of horribly failed products, this is the place to showcase those!
4. Cosmopolitan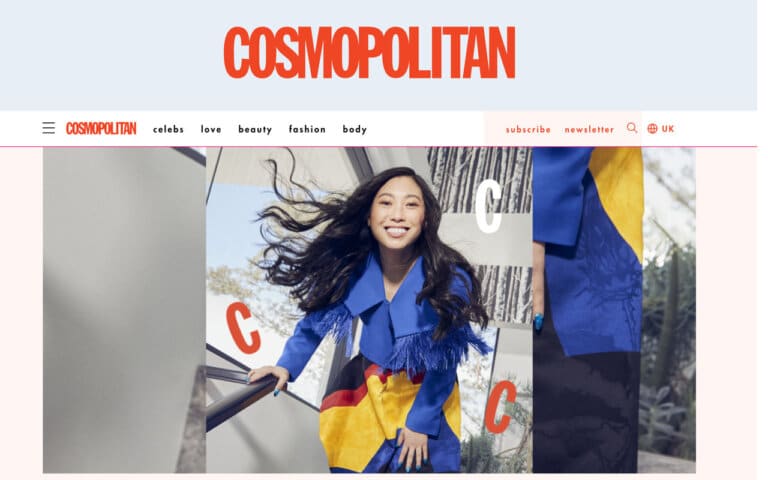 That's right, the magazine that you still see standing in line at the grocery store, you can write for!
Known as one of the largest lifestyle magazines for women, they cover a variety of topics in beauty, relationships, profession, style, well-being, culture, and life.
Cosmo is all about empowering women to be their best selves. While it could take six months to get published in their iconic online magazine, it's certainly worth the wait. Writers can expect to earn about $0.20 per word and some notoriety on their resumes.
5. BuzzFeed News
We're all familiar with the popular site BuzzFeed, however, BuzzFeed News is its more serious cousin.
While it still covers celebrity news and global happenings, it has a bit of a more serious overtone than its humorous counterpart, BuzzFeed.
BuzzFeed News accepts pitches for personal essays and cultural criticism pieces.
6. Glamour Magazine
Glamour is another women-centered magazine that accepts submissions.
With categories covering culture, beauty, entertainment, wellness, and style, there are a lot of different topics to write about. Your best bet to pitch to this magazine is to reach out to the editorial team on Twitter.
7. Bustle
Bustle is part of the media giant BDG which focuses on the engagement of the millennial and gen Z audience.
Bustle specifically covers entertainment, style, wellness, life, and "rule breakers," a column about inspirational men and women.
On sites like Glassdoor, you can find various writing positions for Bustle.
8. Oprah Daily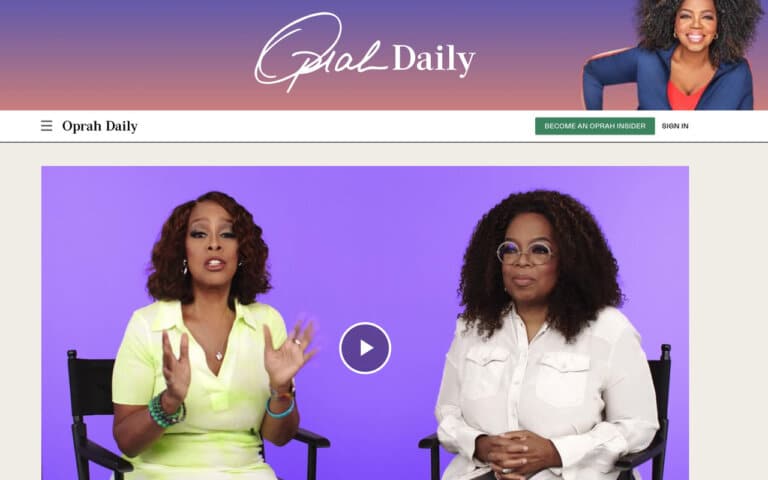 Have a great story that you think Oprah readers would love?
Submit it to the editorial team here. From everyday product recommendations to a deep dive into the latest, steamy shows, there's something for everyone when it comes to Oprah.
9. The Sun Magazine
According to their submission page, their online magazine is ad-free and reader-supported.
Submissions for The Sun can include letters to the editor, interview pitches, essays, poetry, and fiction, as well as photography submissions.
10. Vox Magazine
If you are up on the latest political debates, then Vox is a great resource.
Vox selects personal narratives for their "first person" section.
11. New York Times Magazine
Much like Good Housekeeping, the New York Times has been around for a long time!
The best kind of submissions to send to the New York Times Magazine are op-eds. However, be sure that they are based in fact and well-written.
As well, it's a good idea to test your editing skills as the New York Times doesn't have time to fix every grammar mistake.
12. Harper's Magazine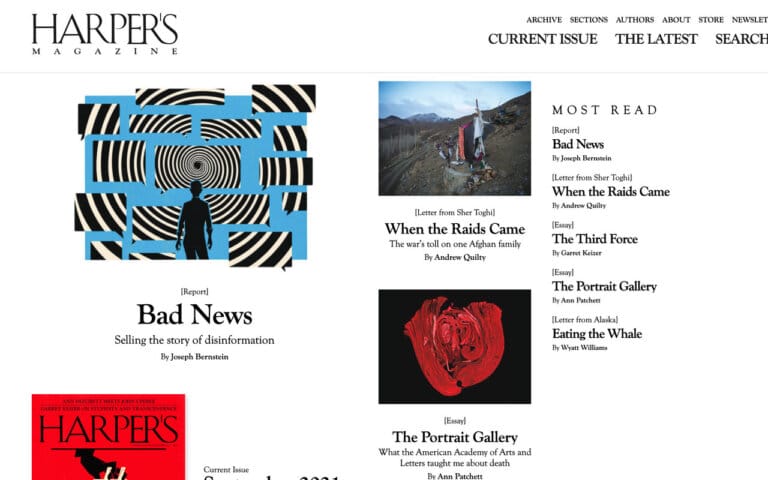 Originally published in 1850, which makes it the oldest publication on our list, Harper's magazine covers general interests.
When submitting to Harper's, focus on essays about politics, culture, entertainment, and society with a unique perspective as well as long form narrative journalism.
Another great publication to add to your freelance writing resume.
13. Discover
Do you love everything about science? Discover magazine can be found in doctors offices and schools across America.
Whether it's digging up dinosaur bones or talking about the latest tech, Discover is a great place to submit a pitch for anything science related.
Freelance Writing Sites for Online Magazine Writing Jobs
Okay – so you saw some popular magazines you can get bylines for, but now I want to share actual freelance writing sites that post jobs for you!
1. Ed2010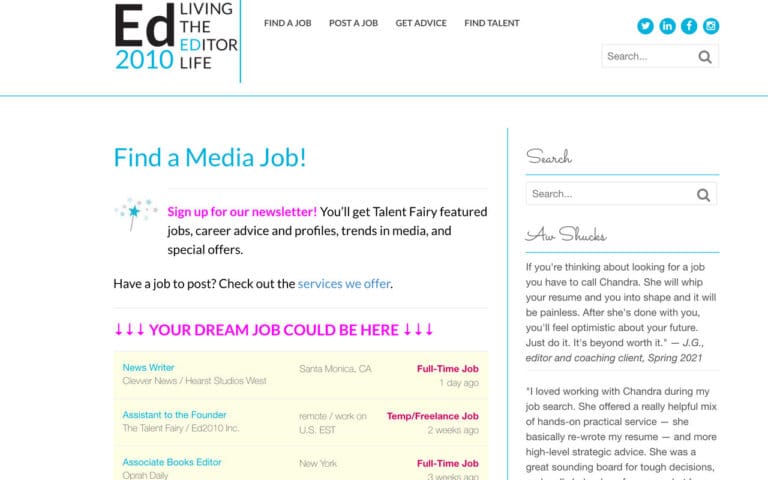 Also known as Whisper Jobs, this freelance job board has amazing magazine jobs from top brands like People magazine.
So, bookmark this job site and check it every day for new magazine writing opportunities.!
2. Media Bistro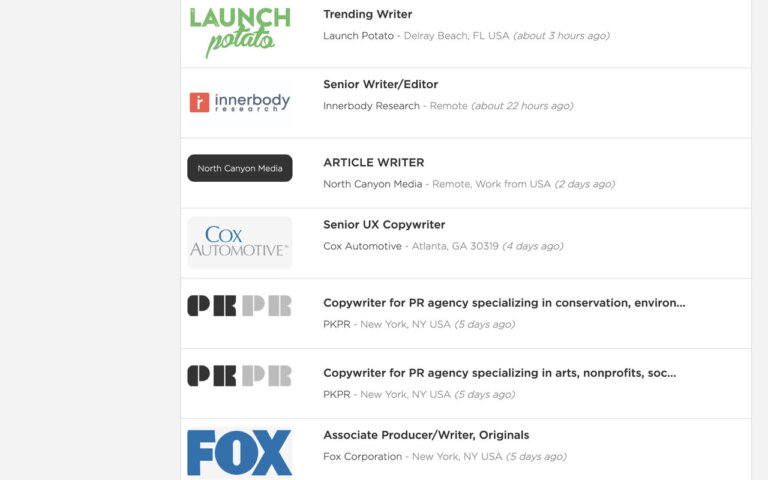 Media Bistro shares writing jobs like copywriting jobs, article writing jobs and even magazine writing jobs.
3. Glassdoor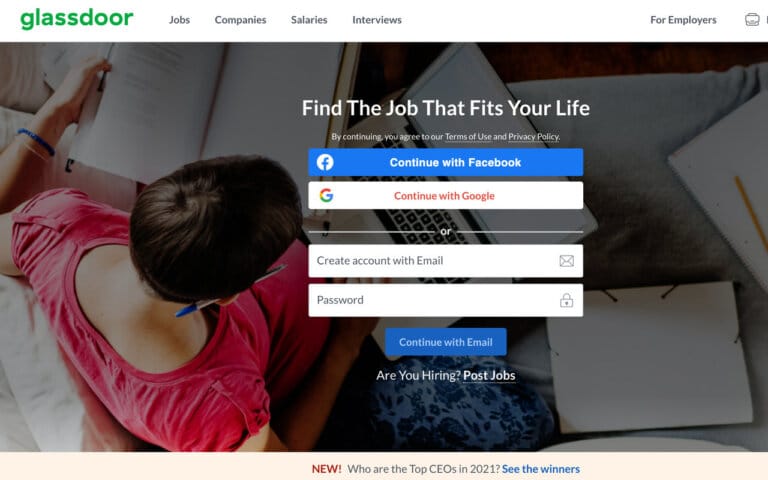 This job site was mentioned already, but Glassdoor shares high-paying writing jobs for magazines, brands and other sites.
This should be a job board you check daily for great magazine writing jobs.
4. Contena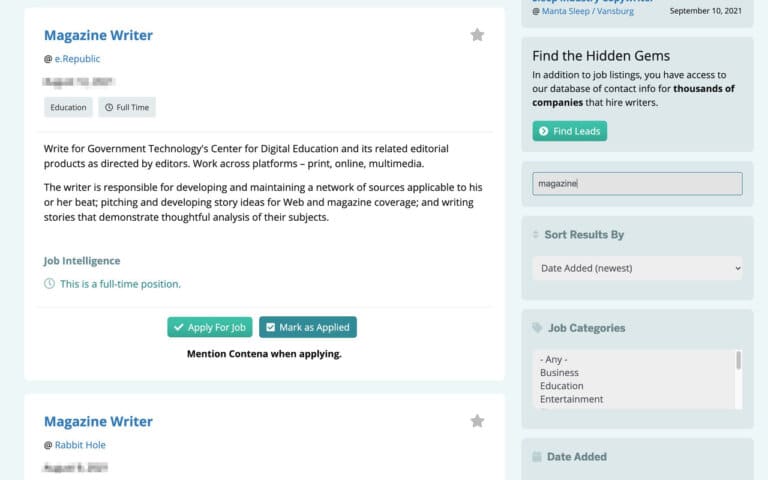 Contena is a premium job board that has high-paying writing jobs as well as magazine writing jobs for you! I personally use Contena if I want to pick up a writing gig with a notable brand or find one that fits my writing niche. I also use it because it's easy to find a writing job. I can pick a topic and quickly see the gigs as well as how much they pay.
Bonus: Who Pays Writers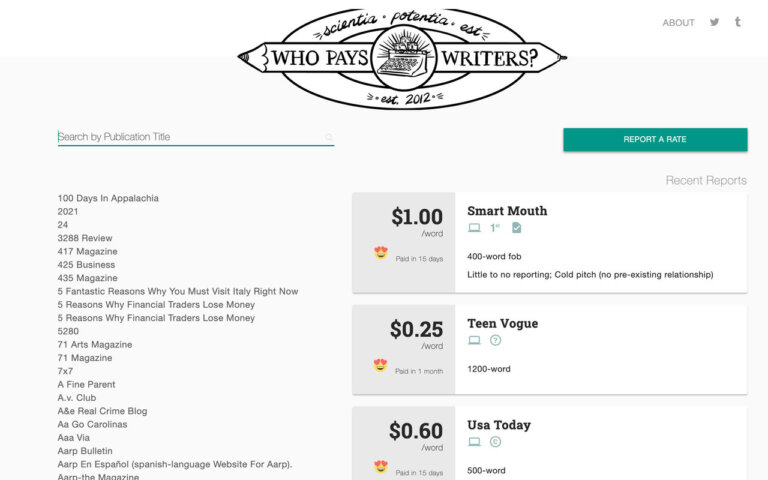 While this site doesn't list magazine jobs, what it does is list the magazines and publications that pay and what they paid for their writers.
This can be your secret way to find magazine writing opportunities that others don't know about.
Magazine Writing Jobs For You!
From these freelance writing sites, there are hundreds of online magazine writing jobs just for you to choose from!
Take your time looking through the magazine publication sites as well as these job boards and spend time crafting a good pitch for editors.
Understand that it can take months (up to 8 months or more for some publications) for your pitch to be accepted.
For more help on landing some amazing magazine writing jobs, I encourage you to check out Lindy Alexander of The Freelancer's Year.
Over to you – have you written for magazines before? Please share your story on the process and how long it took to get your byline!