I've been freelance writing for almost three years. My twins are 4.5 years old and have stayed home with me the entire time.
They haven't been in daycare and there's no babysitter that comes to watch the twins while I work at home. So how can I build a successful freelance business with little ones to tend to?
For a lot of stay-at-home moms, freelance writing is the perfect gig. It's flexible, pays well and gets your creativity flowing.
But, it can be a challenge. Especially with little ones. How can you run an entire business as a work at home mom when you have to take care of your little one or ones?
Here are seven ways I'm able to have a freelance writing business and product business too.
1. I Have Help
There is no way I could do this without having some form of help.
Fortunately, my husband also stays home and works on his online business. While I do most of the child caring during the day, my husband often takes the twins to the park or out for errands in the middle of the work day, or gives me an hour here and there in the morning and afternoon to work on my writing.
On top of that, I have my mother-in-law come almost every day in the afternoon for two or three hours to play with the kids. She does this more often in the warmer weather, and I take advantage of this.
I pick up more gigs and more clients during the spring and summer and this has helped grow my business in the last year.
If you have a sister, cousin, friend or neighbor, ask them for child care and in return, you can do something for them (like edit their resume or make them dinner one night).
If you can get an hour or two out of the week, that can be the work at home time where you:
If you only have a little bit of time to work on your business, you'll fill that time with important tasks!
2. I Wrote When My Twins Napped or Slept
Ah, the good ol' days when my twins napped. I got an extra 2-3 hours every day to write for my clients or build my own brand.
But alas, no more. A unicorn died when my twins gave up their nap.
And I had to scramble to figure out how to write for my clients when I lost 3 hours a day. If you have a little one that still naps, treasure it and cherish it.
Don't nap yourself and don't go cleaning the house or doing laundry…that can wait.
Get to work on your freelance writing business. Write and write some more!
3. I Work at Home In Chunks
Now that my twins don't nap, I have to work when they are awake, so I chunk my time. In the morning, they get to watch a cartoon and then have breakfast. This is easily 45 minutes.
I check my email during this time.
After lunch, it's quiet time where my twins play as quiet as they can. I can have my afternoon coffee (needs me some coffee) and work on my projects.
From that point on, I'm on mom duty and go back to my business when my twins go to sleep. Now that isn't 3 hours in a day, but I can get 1.5 hours in a day.
That's enough.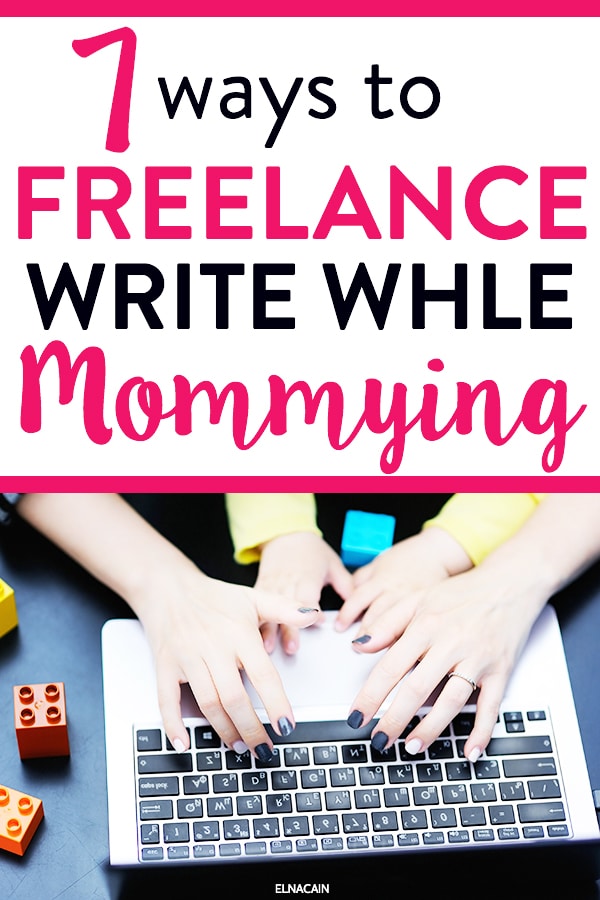 4. Streamlined My Writing Process
Do you have a writing process for your client work or blog posts? If you want to be a freelance writer, you'll need to create a writing process and then streamline it if you have a little one at home.
My writing process has evolved over time. Before, I needed to have certain things to write like my music, my water and my desk.
Now, since I don't have enough of time during the day, I write when I can. This means I have to optimize the time I have to write!
Instead of picking up any client in any niche, I only pick up digital marketing clients that want content about content marketing, blogging, branding, email marketing, and social media marketing.
I have experience in these niche topics and don't have to research heavily to write these posts.
So my process ends up being:
Create a rough outline
Write down examples in each sub topic
Write the post
When the post is written I edit it, send it to my copyeditor and have it proofread. This cuts my time down and I can write more posts in a week.
Figure out in your writing process where you are spending the bulk of your time.
Outlining? Pitch topics you really know about
Researching? Spend your free time bookmarking websites and creating a swipe file of juicy tips.
Writing? Practice speeding up your typing. Sart a blog and write every day.
Editing? Hire an editor or use an editing tool like Grammarly.
5. Pared Down My Client List
I mentioned that I only write for digital marketing clients. But this didn't happen in one day. I still write for clients from the first year I was a freelance writer. They may not be in the digital marketing niche, but I enjoy the stable income they bring me so I keep them.
Around the end of year 2 of my biz I started honing down my client list to only pick up digital marketing clients.
If a prospect in another niche approached me, I would tell my students in the Write Your Way to Your First $1k course.
I also updated my writer website to reflect this change and it's working for sure.
6. Automate My Social Media Posting
I love social media. Pinterest is a blast to be on and so is Facebook. It's a goldmine for clients too and I've gotten a lot of clients this way.
But, I'm also building my brand and growing my Twins Mommy blog. To do this I use social media to post my latest blog posts.
I don't' do this manually anymore. Instead, I use scheduling tools to handle all of this.
For Facebook and Twitter, I use Buffer.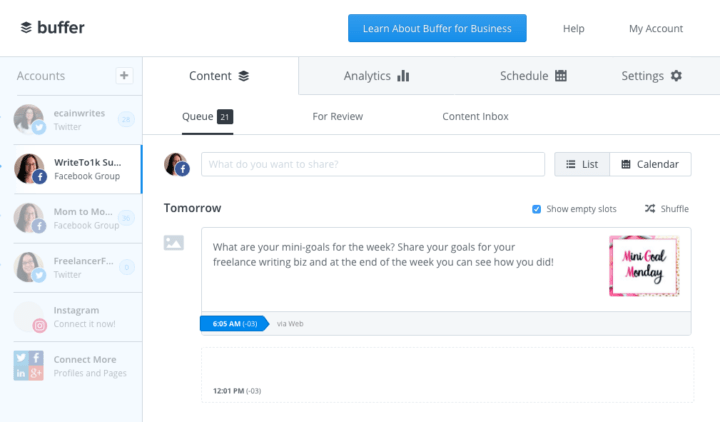 I pay $10/month to use unlimited posting on multiple profiles.
For Pinterest, I use Tailwind and Board Booster.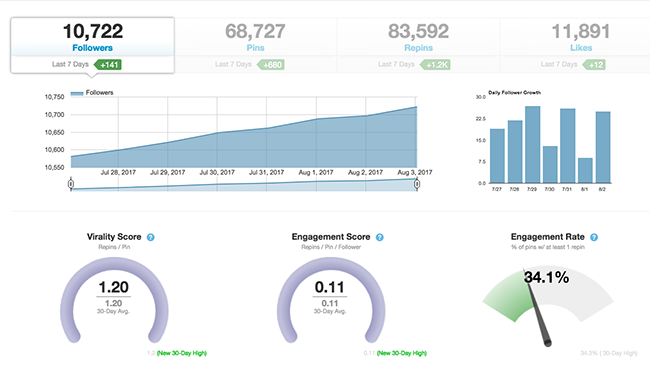 I use Tailwind to schedule my pins to the many group boards I belong to. I use Board Booster also to loop my pins on my boards. Since I have over 10k followers I need to make sure my own boards are up to date.
I paid yearly for Tailwind ($120) and I pay $15/month for Board Booster.
7. Used Video When I Had Little Time
I'm a total introvert. That's probably why I enjoy staying at home and being able to make money at home.
But, I also love connecting with people. I'm great 1:1 or in a small group. Large groups are uncomfortable for me but I can tolerate it if I have to.
So, it's not anxiety filled if I do a Facebook Live or a webinar. I don't mind talking to "myself" and knowing that others can view me.
But, it's still uncomfortable. I'm not perfect on video and I mess up a lot. But, I'm doing it because, in the end, it saves me time.
And I have very little time as a mom, blogger and professional writer.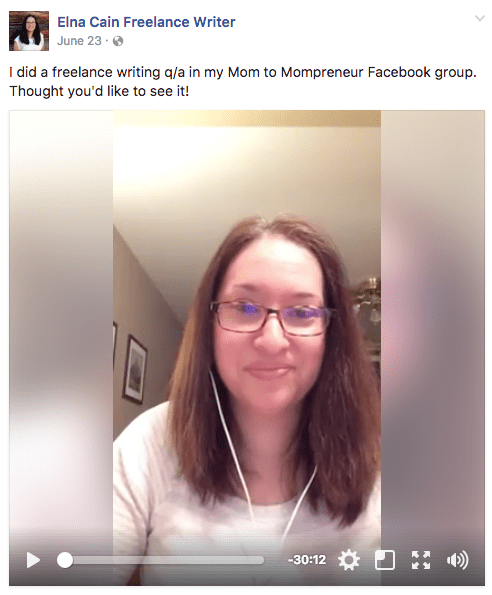 I even created some videos and made them some blog posts when I was revamping my Write to Way to Your First $1k course.
I'm a Mom First
It's hard to imagine that my twins are 4.5 years old and will be entering school this year. I'm fortunate enough to be able to continue to stay home and create the life that I want with my online business.
My husband is by my side every day and together we work from home caring for our little ones.
Finding time is necessary and it's your only currency when you're a mom! Use it timely!
Over to you – how do you get your work done with little ones?