Full-time job killing you?
Wish you can try something new, that won't take a lot of money to start?
Why not try an easy business to start? Something you can moonlight and do on the side?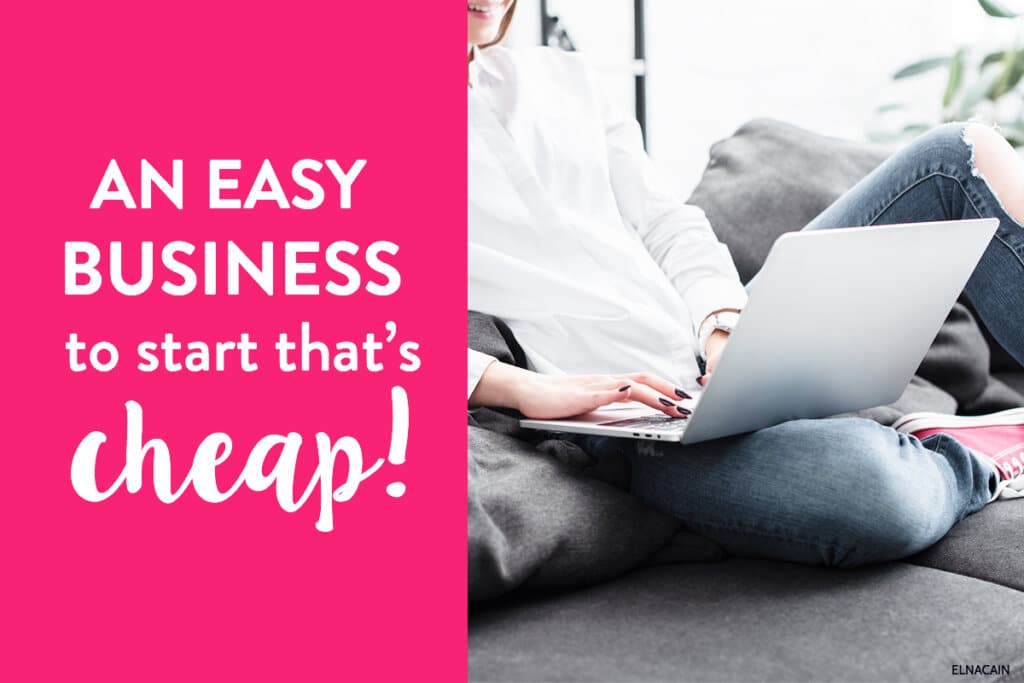 Believe it or not, freelancing is a huge business. By 2027, the majority of people will be freelancers! Seems crazy, right?
When I started freelancing, I had no idea where this would take me. But, I'm soo happy I had an easy business to start right away. If you're at crossroads about whether to stay with your soul-crushing job or quit and try something new, then read this post!
An Easy Business to Start
Freelancing is a very broad term. You can picture a journalist in Prague freelancing and pitching their stories to local newspapers or you might picture a college student helping other students set up their websites.
For me, I never identified as a freelance writer until I started reading about other moms freelancing. Some were VA's (virtual assistants), others were online tutors and still, others chose to write for brands and businesses.
Right now, whether you're in high school, college, or a parent, or grandparent, starting an online freelance business is an easy business to start.
Here are six reasons why it's easy.
1. You Can Bootstrap It
When you think about it, a lot of big entrepreneurs bootstrapped their business because they didn't have the funds to start the right way.
From Bill Gates to Daymond John of Shark's Tank, they had little funds for their startup and look at them now? And you, as a stay at home mom, can bootstrap your freelance (writing) business too.
Let's look at some basic start-up costs:
That's basically it! The other things are free like:
Start an email list – You can use Mailchimp for your first 2,000 subscribers for free
WordPress Theme/Plugins – You can use a free WordPress theme and plugins
Writing platform – If you don't have Microsoft Word, you can use Google Docs
Skype – for talking to prospects
2. You Control Your Business
You get to be the BOSS in your own freelance business!
Yes, you do have to wear a lot of hats as a freelance writer – marketer, handling administrative duties, researcher, etc.. – but ultimately you control how much your rate is and how much work you will take.
Over the years, I've taken on fewer and fewer projects, and am only aligning myself with clients that will help me grow my brand (i.e., popular influencers or big brands/blogs).
Because of this I can raise my rates and lower my stress so I don't get writer's block!
3. Ultimate Freedom
It might be cliche but that easy business to start can give you ultimate freedom.
Many students in my freelance writing course are travelers.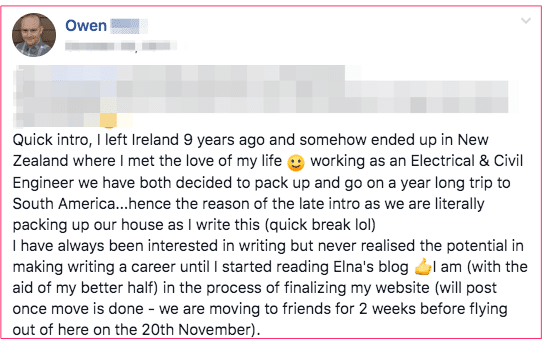 They use freelancing as their way to travel the world and live a nomadic lifestyle.
And, if you aspired to travel, you can do this too!
4. Great for Those With a Disability
I can't tell you how many freelancers I've encountered to later find out they have some form of disability, mental or physical.
Miranda Nahmias has told her audience that working from home wasn't only because she wanted the freedom and flexibility, it was also because she had a disability.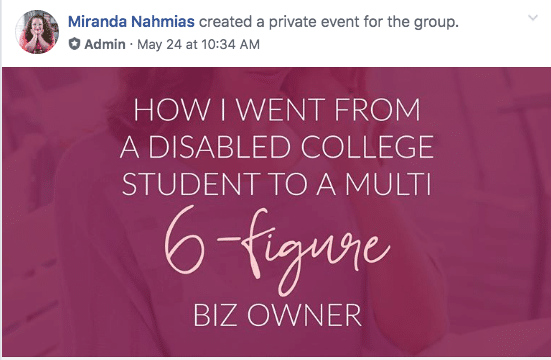 Other entrepreneurs including myself have anxiety or depression and working from home is such a blessing.
I remember as a young college student I picked up some gigs at people's homes to do some ABA therapy with children with autism. I loved doing this and knew I was helping children socialize and learn to talk.
But, every time I picked up a new family to work with, the drive to their house was filled with anxiety. My palms would sweat, and my heart would race.
I would psych myself out, and over time it became unbearable, and I eventually had to move on to something else.
And, I'm not going to lie, anxiety still plagues me as a freelance writer still, but it's much more manageable, and the community online is amazing to help you through those tough times.
5. You Can Do This as a Side Hustle
The best reason why this is an easy business to start is that you can do this on the side!
A side hustle is so popular with Millennials and people who aren't sure freelancing is for them. You're testing the waters, and it's incredibly easy to execute.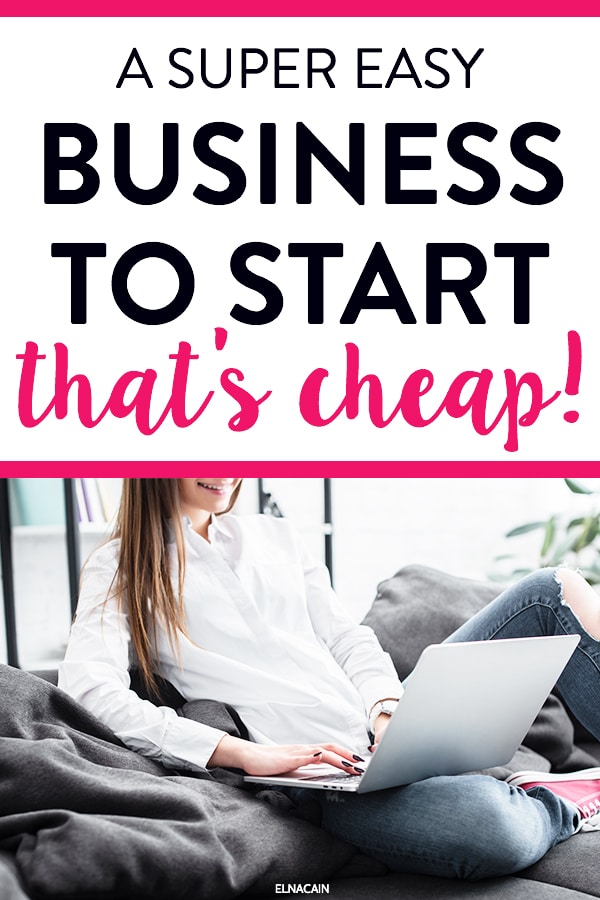 6. Completely Flexible
What if being a freelance graphic designer doesn't pan out?
That's okay – you can switch to website tech or freelance blogging!
An easy business to start is one that is super flexible. I pick and chose my clients and my work time. While I do have twins and had to work around their schedule, it was up to me if I wanted to wake up earlier or stay up later.
Or, if I wanted to work on the weekends.
My husband has had his own online business for years, and during that time we moved across the country twice. There are no limits to where we can move to, and having that flexibility is more than money can pay for!
4 Steps to an Easy Business to Start
Since I'm a freelance writer, I'll share with you the basic steps of starting this type of business online.
One of the first things to do is to learn more about the type of business you want to start.
Finding that skill you are good out – or want to learn more about – is an important indicator if you'll be successful.
This might mean reading other blogs, signing up to email lists, or taking a course, like the Speedy Freelance Writing course for your education learning.
1. Start a Website
If online freelancing is what you want to do, then having a home base like a website is important. This immediately shows you are in business and are legit.
Sure, if you truly are strapped for cash, a website right away isn't necessary, but if you can invest in your business, then starting a website is the way to go.
2. Have a Hire Me Page and Social Media Profiles
Now is the time to start promoting yourself.
On your new website, create a Hire Me page and lay out the service you are providing. Make sure also to share the type of client you seek – authors, bloggers, small business owners, etc…
As well, start a Twitter and LinkedIn profile. You CAN start a Facebook page, but you don't have to right away.
For me, my Twitter and LinkedIn profiles have yielded me more gigs than my Facebook page.
3. Start Helping
An easy way to build your portfolio is to offer free help in Facebook groups. You might notice that a blogger is having trouble with coding their website.
If this is your service, you can offer your service and in return, get a testimonial!
For example, I posted in a Facebook group that I needed some suggestions for an email funnel. Well, one copywriter went the extra mile and provided some great tips and changes to tweak my funnel, and because of this free advice, I hired her!
4. Pitch Your Services
Finally, an easy business to start means you will have to hustle in the beginning. So, pitching your services on job boards or cold pitching to businesses is part of your tasks as a new freelancer.
In your pitch state who you are, what you do, and how you can help the business with your service.
Bootstrapping Your Business All the Way
Look –
I get you. You don't want to invest in yourself completely, only to know that it may not pan out.
So, finding a cheap way to start a business is okay. Over time, once your business proves itself to you, then you can grow your business and take it to the next level!
Over to you –
Do you feel freelancing is an easy business to start?