You're struggling financially this month.
You haven't landed any new freelance writing jobs and the jobs you have right now, are from a content mill that pays $.02/word!
Ouch!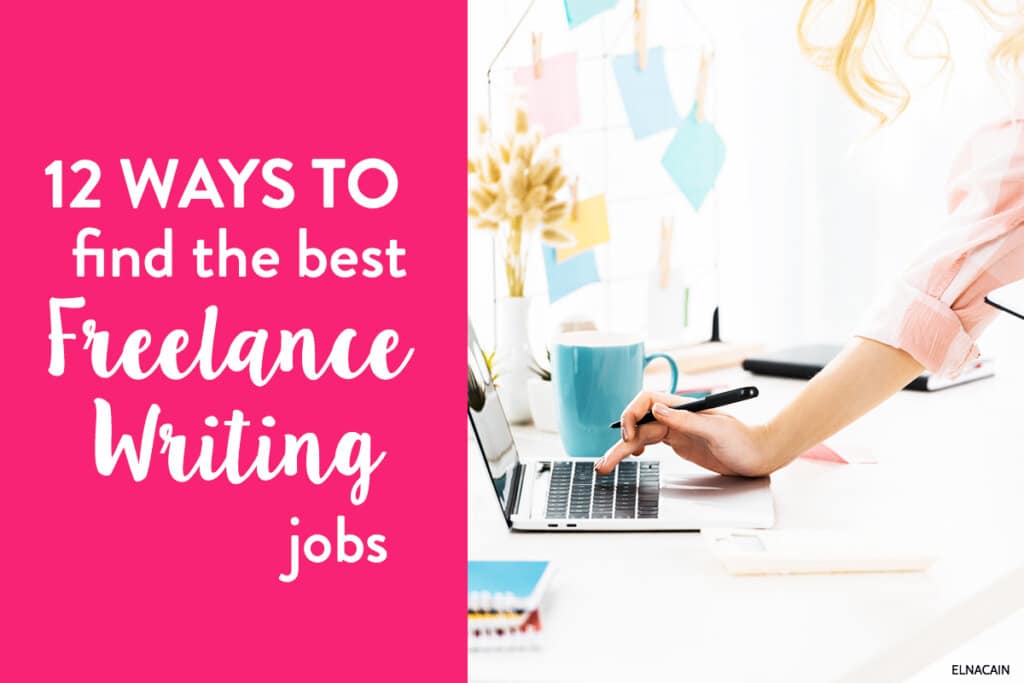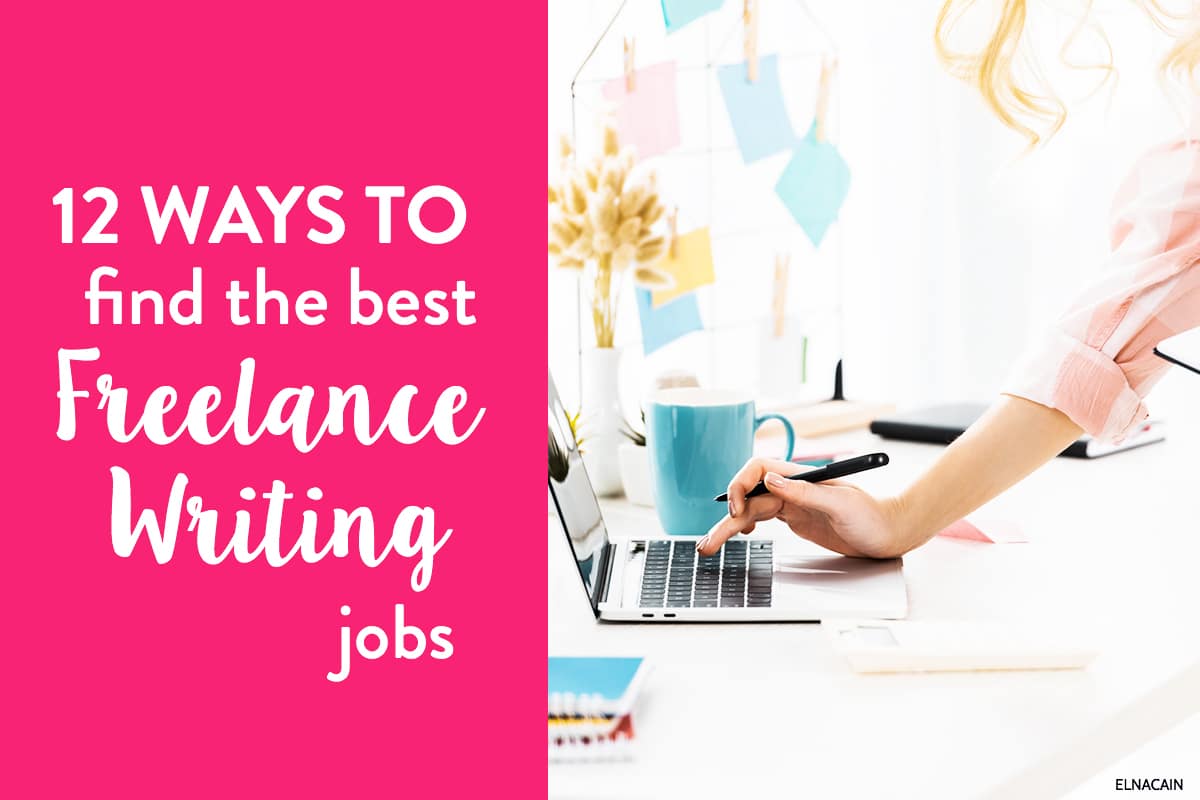 You don't get it because you keep hearing in Facebook groups or on other freelance writing blogs how writers are making a full-time income writing for small businesses.
They have no shortage of work coming to them – and it's high paying work too – and here you are, with bottom of the barrel rates for writing articles that take up all your free time to write.
This isn't right.
Yes! You're right! This is not what freelance writers should be making.
Freelance writer Carrie Madormo said this to me the other day –
When I wrote lifestyle content for a major hospital, I charged $500 for a post.
And I routinely make $600 a post for digital marketing writing.
Now, to be truthful, I didn't charge this much for my writing when I first became a freelance writer. But, over time, I found where the best freelance writing jobs are.
And guess what?
They aren't on job boards (although this is a great way to break into freelance writing. So don't knock it!)!
So, if you've been freelance writing for a while, stuck writing for pennies and want to start getting some high-paying clients, then check out these 12 highly profitable ways to find them!
1. Your Writer Website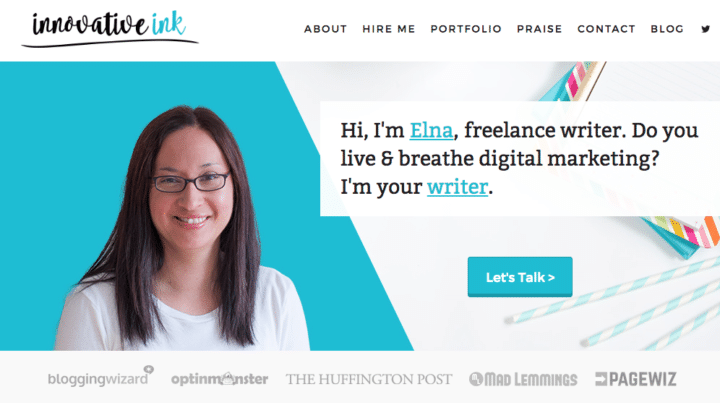 Your writer website is absolutely the BEST way to "find" high-paying clients.
Your writer website is attracting prospects that want to pay you big bucks. How can that be?
On my writer website, I make sure to niche down to one freelance writing niche.
This is important because businesses don't want a jack of all trades. They want a writer that exclusively knows all about – breastfeeding, pregnancy, email marketing, Pinterest, air fryers, essential oils, law, dentistry etc…
I also speak to my ideal client on my writer website.
Do you live and breathe digital marketing?
I want to only work with clients that know and breathe digital marketing. Whether it's content about that subject or a marketer that understands the true value content has, I know that I only want to collaborate with those types of clients.
For example, a study by serpIQ showed that the top ranking posts in Google were over 2,000 words long.
You want to align yourself with these types of people that know how content converts (if long form-content is your service).
When your writer website speaks to your ideal client and shows what a great writer you are, you'll start attracting those high-paying clients.
If you need help creating an optimized writer website to attract the right type of clients, make sure to check out Writer Website in a Weekend!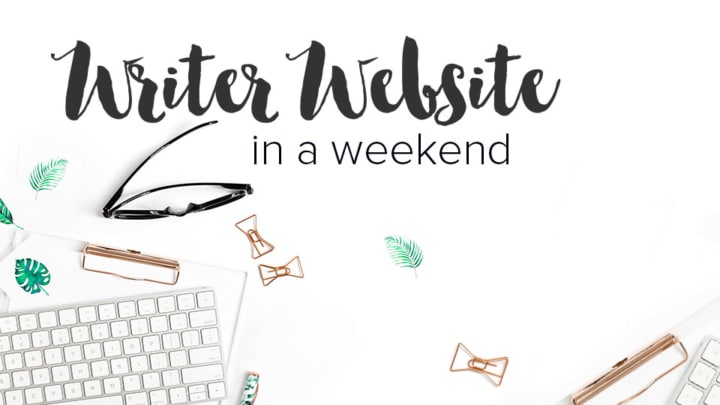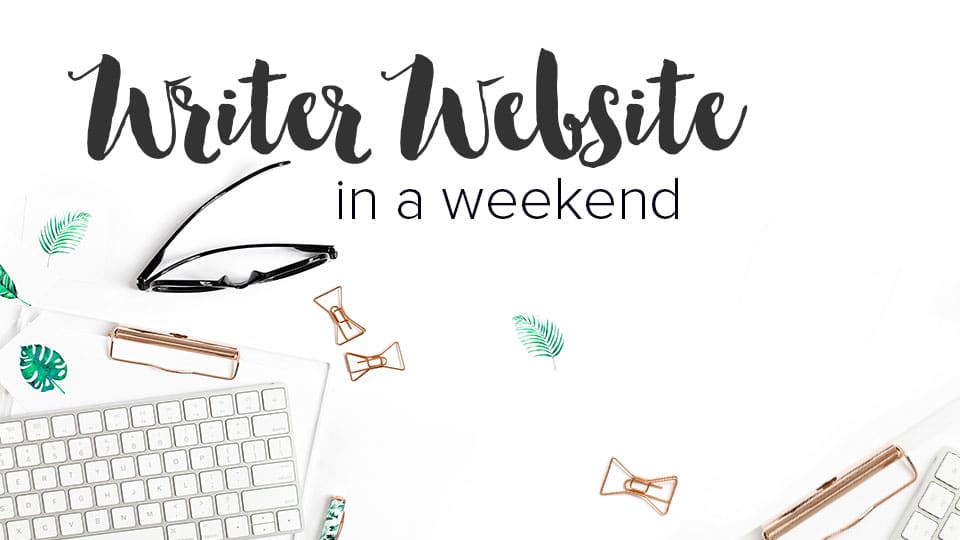 2. Networking
While having a writer website can attract the right type of clients, networking can help you make a living as a writer!
I love networking, but for many bloggers, it's not a topic they write about. Why? I think because the concept is boring or at least not popular (won't garner any shares or social chatter).
But, networking is so important for freelance writers and bloggers that I've created course lessons on this and even have a blog post all about it on this blog.
If you aren't sure, networking is the idea of developing relationships with others strategically.
There is a purpose of connecting with other freelance writers, bloggers, or business owners. A great example of networking is reaching out to a blog owner to guest post on their site.
This can help you gain a paying gig as it did for me!
That's the power of networking.
Another time, I landed a great gig writing on a popular blog. Because of my connection to this blog, influencers started featuring me on their popular sites or referencing my blog.
This, in turn, grew my brand more and helped me attract even better high-paying clients.
So, as you can see, networking coupled with your writer website is powerful and highly effective tools in your arsenal.
3. Referrals
I love picking up a gig from referral business. It's awesome because the lead is vetted and trusted. You know that the project is a great project, and the potential client will be a great client.
Why? Because your current amazing client referred you to their network of business owners (networking sneaking in again!).
That's why it's important to wow your clients and provide the best type of articles you can – oh, and be professional about it also!
How do you get a referral?
You can ask the client point blank. I have done that on social media and I landed a gig that way.
But, I find the best referrals are unsolicited.


4. LinkedIn
Many freelance writers have had success using LinkedIn to find high-paying gigs.
Why is this a great place? Because professionals, businesses, and brands are on LinkedIn. Think of it as the business Facebook platform.
To use LinkedIn effectively, make sure you call yourself a freelance writer for hire and mention your niche.
In your bio, make sure to state what your services are and who your ideal client is. I would also link to your writer website or samples.
Finally, make sure to use my LinkedIn hack to boost more views on your profile.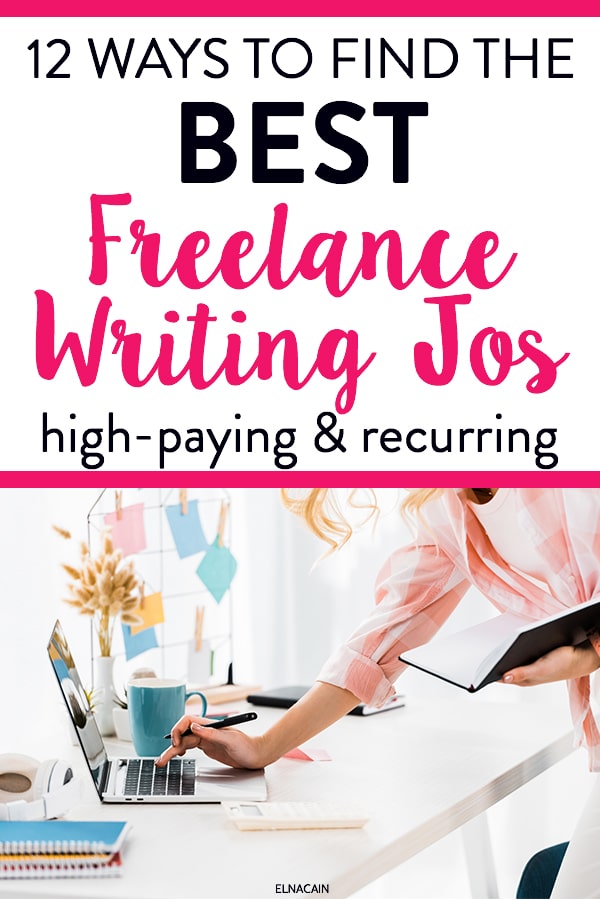 5. Guest Posting
Believe or not, but guest posting can be a very effective way to find high-paying clients – especially if your guest post is on a popular site where your potential clients hang out.
While this strategy may be giving away your content for free, I would beg to differ. There is always a goal to guest posting, and it doesn't have to be monetary.
You might want to guest post to:
Grow your brand
Build your writing portfolio
Show your expertise in your niche
Connect with potential clients
Gain a backlink
Land a freelance writing job
So, when guest posting, have a reason for doing this. And, guest posting is a way to find high-paying freelance writing jobs.
If that is your goal, I wouldn't go and try to find paid guest posting sites. These may be too niched and can take months for your article to be published.
Instead, I would try to land guest spots on popular brands like Elephant Journal or Thrive Global. Both of these sites receive over 1 million visitors a month making them great places to guest post on.
I would also do some research on bloggers guest posting on other popular sites like Entrepreneur to make sure you land a guest spot on a popular blog.
6. Cold Pitching
Cold pitching is a very strong strategy to find high-paying clients.
But, this was not my best strategy for me. As a mom with twins, cold pitching took too much time out of my schedule. I found optimizing my writer website and networking to be my bread and butter.
Cold pitching, though, is a very attractive way to find clients for many new freelance writers. And it's attractive because you can usually find some really great projects and awesome clients too.
Essentially, businesses aren't advertising for a freelance writer. It's up to you to win them over and show them why they need YOU as a content writer.
Using this strategy means you need a killer pitch and know your niche very well.
To be effective with cold pitching, you need to know the brands you want to work for or at least find reputable brands quickly.
A hack is to find companies that have hired freelancers in the past. If you know they have, then it's much easier to convince business owners to hire a freelance writer for their projects.
And, you can find out this information by using Contena. Contena is a job board that has much more than freelance writing jobs.
Contena tracks companies that have hired writers in the past.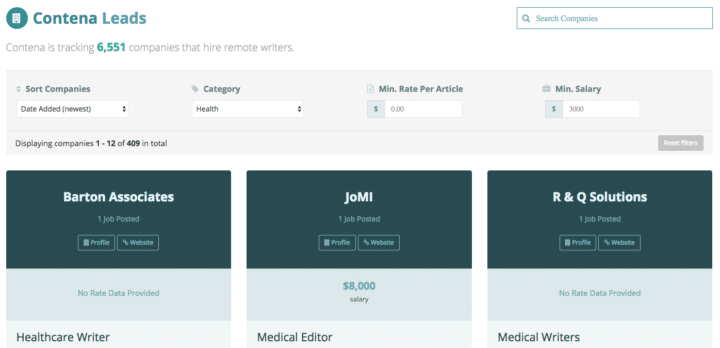 As I mentioned, cold pitching is very time consuming, but if you want to devote to this tactic, then go for it! A lot of my Writeto1k students have had tremendous success with cold pitching.
Need Other Ways to Find The Best Freelance Writing Jobs?
The next batch of tactics are ones I've never used, but my course students or other freelance writers have.
Marketing agencies – You can easily find recurring work since marketing agencies always need content writers for their clients.
Conferences – From the speakers to the attendees to even the sponsors of the conference, you can find high-paying clients in these industry-specific conferences.
Other freelancers – Did you know that graphic designers often need freelance writers? They have clients with a barren website and need a copywriter quick! Be that writer.
Social media – find active participants like marketers on social media. Use hashtags to seek them out – #contentmarketing #inboundmarketing #emailmarketing
Trade Associations – practically any niche will have a trade association!
Recruiting sites – these websites recruit creatives. Try these places for high-paying work: Creative Circle, Artisan Creative, and Robert Half.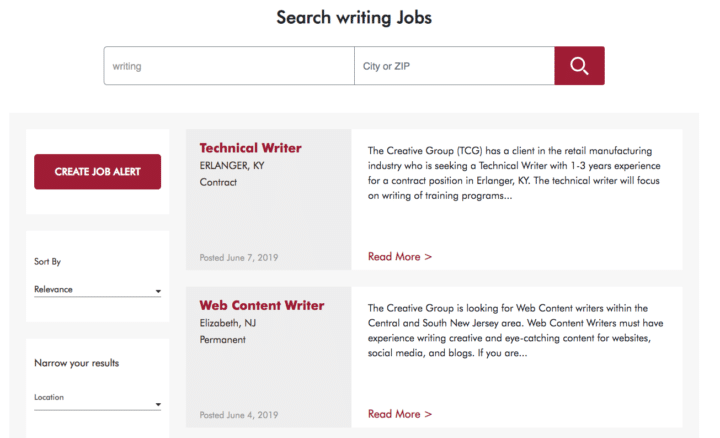 It's Time to Explore
There ya go!
Twelve "high level" ways to find the best freelance writing jobs.
Don't just stick to job boards to find all your work. Use them in the beginning and then move away from there by trying these different strategies!
Over to you – which strategy do you like the best or has worked for you the best? Share with me in the comments!