A few years ago, I wanted to do a case study of using job boards to land new freelance writing gigs.
I was able to land two solid writing jobs in one week.
While those new clients were great to write for, they weren't from notable brands or my preferred writing niche: SaaS digital marketing.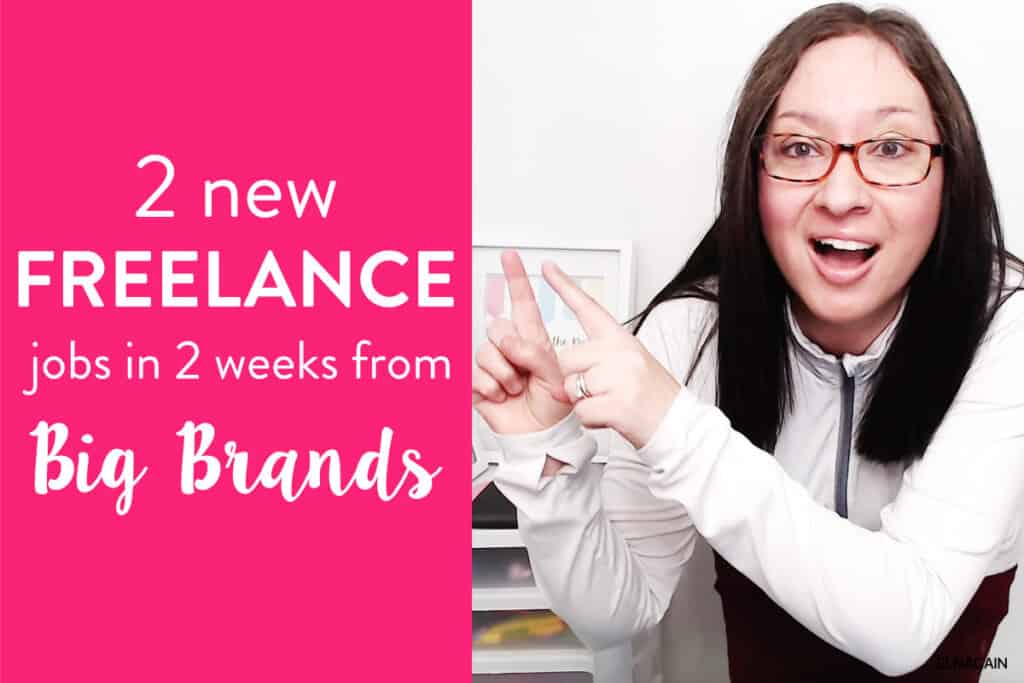 So, when I unexpectedly landed two freelance writing jobs from two big brands, I thought it would be a nice blog post to help you gain the confidence to get out there and write a pitch!
The Setup: How to Prepare Writing for Big Brands
In 2019 I landed a writing gig with Walmart.
I was shocked and giddy with delight! I wrote two gift guides for them, and ever since I got a taste of writing for well-known brands, I wanted more!
So, in 2020 I made the goal to land client work with notable brands.
I'm sad to say that did not happen.
It wasn't until the start of 2022 that brands came a-calling.
Here are the steps I did to help me land writing jobs from big brands.
1. I Changed My LinkedIn Title
I made a conscious effort to add more keywords to my LinkedIn title.
I knew that a professional freelance writer title would help prospects find me easier and know exactly if I could help them.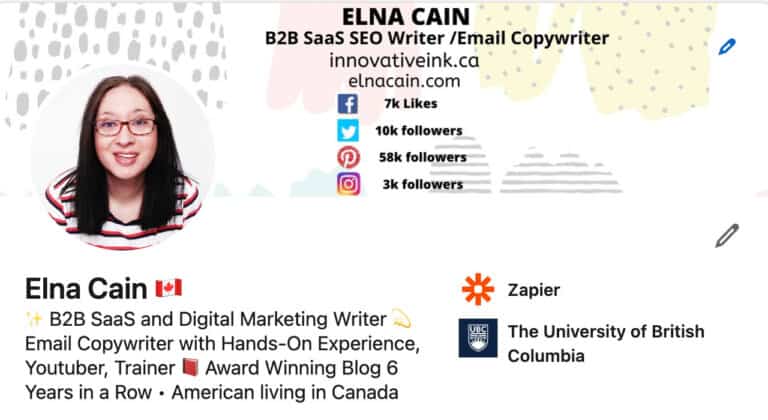 I clarified that the type of digital marketing writing I did was for SaaS companies – software as a service.
I also added I am an email copywriter and other things to make me appear human and relatable!
In Writeto1k, I updated my LinkedIn lesson and included a few key things I did on LinkedIn to help me get more views and businesses wanting to hire me.
2. I Changed My Website Title
On my writer website, I decided to update my SEO title for my home page. This title is viewed on Google when people type in what they want.
While I'm not at the top, I am on the first page for my new title of SaaS writer.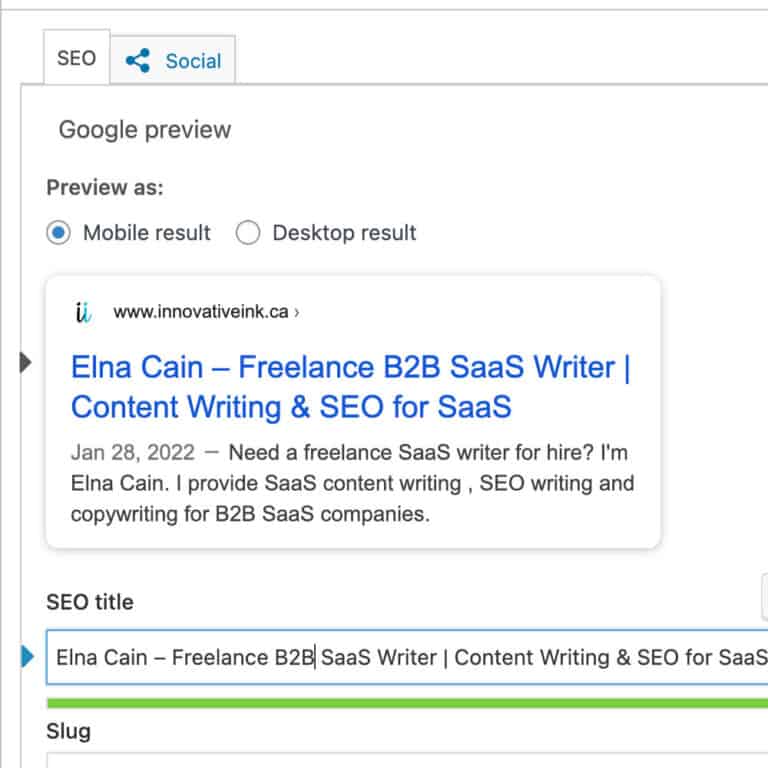 Go to the backend of your WordPress site, go to your home page, and scroll down until you see the Yoast box for SEO and Social.
I don't know for sure if new WordPress sites come with Yoast, but if not, it's a free plugin you can add!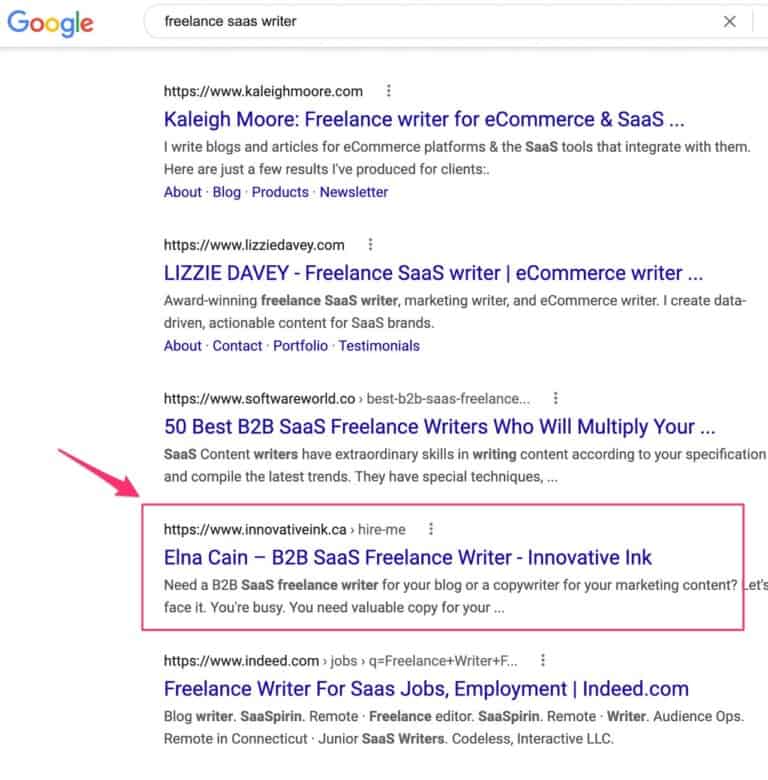 4. I Updated My Twitter Bio
While the work I get via social media comes mostly from LinkedIn, I get some excellent client work from Twitter.
So, I decided to flex my portfolio by adding the places I have bylines for.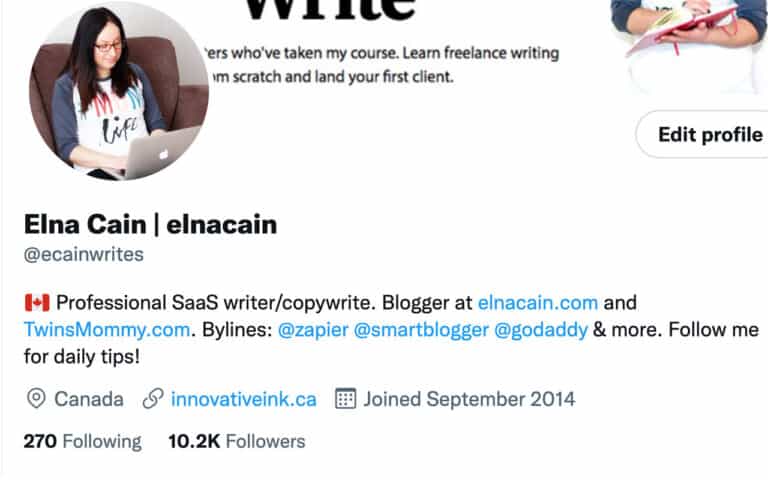 5. I Guest Posted
At the start of the year, I decided to do some guest posting. One of my students in Writeto1k hosts the Book Clients in 30 Days Challenge, and one of the challenges is to guest post.
I found some places to guest post (one of them being Zapier as they have a guest contributor form) and landed a few.
Unfortunately, my guest pitch for Zapier wasn't accepted. That was like the third time I tried, too, and I felt a little bummed that I STILL didn't get a yes from them.
But happy that Addicted2Success and the Good Men Project published my posts.
6. I Engaged More on Instagram
I've been slowly growing my Instagram profile and following brands like GoDaddy, Woobox, and Clickup.
I hoped to engage with their content and get on their radar.
GoDaddy was the one brand that engaged with me the most by replying to all my comments on their posts and even following me!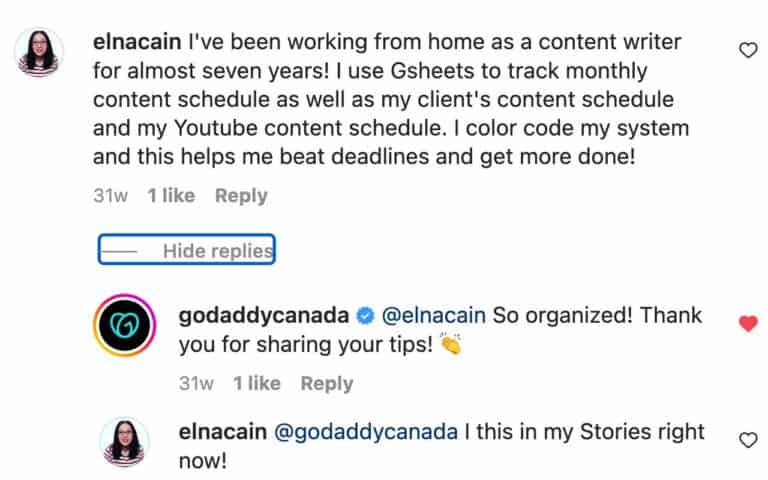 My New Brand Writing Jobs
My strategy as an online freelance writer is lead generation. I build a presence online that attracts clients.
So all the preparation I did beforehand helped me land these two writing jobs in two weeks.
Now, will YOU land two jobs easily if you follow this plan? Maybe you will or maybe not.
Most of these things I have done in the past didn't result in big brands reaching out. But I know I made a conscious effort to guest post and engage more on Instagram.
And well, maybe the change in my LinkedIn title is what did it? It's hard to pinpoint the exact thing that landed me the gigs – that's why I added ALL THE THINGS 🙂
So, what two brands came a-calling?
Zapier and GoDaddy.
Even though Zapier didn't approve my guest posts, the editor took the time to look at my work on my writer website and then asked me for a writing job with them.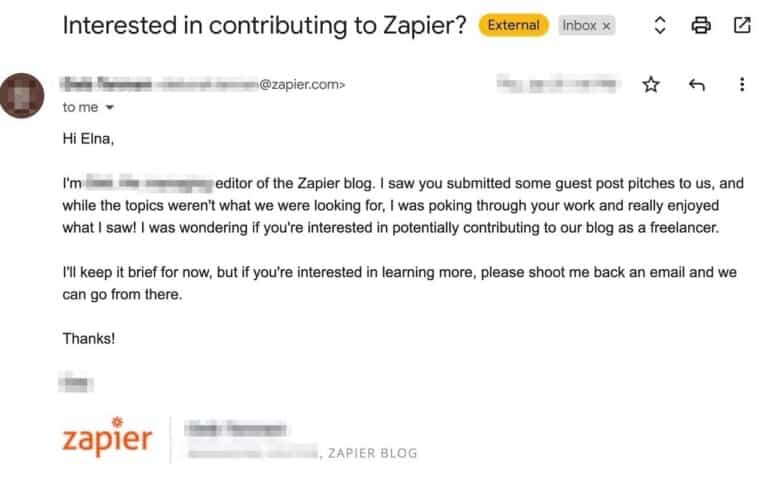 Both of these writing gigs are ad hoc, meaning I either pitch stories or they pitch me stories to write. I like these types of writing jobs because I already have a full schedule with my other sites 🙂
I haven't been published on GoDaddy yet, but I'm looking forward to it when that happens
In the meantime, another brand – AI writing assistant tool and a service provider for SEO copywriting – contacted me, and we are all negotiating right now!
Exciting!
Why Am I Still Writing for Clients?
Some people may wonder why I would be writing for clients and assume I am just some marketer creating courses and selling that to make a living online.
Nope – that's not me!
I LOVE LOVE LOVE working with clients.
I LOVE LOVE LOVE improving my craft.
And I love the growth I get from working with various clients.
For example, I didn't have Zoom discovery calls early in my freelance writing journey.
But, since the pandemic and the popularity of video conferencing, I love to hop on a Zoom call to discuss the project terms with a new client.
When I started freelance writing, I didn't do copywriting or SEO writing, but now?
After eight years of writing online, I can market my copywriting and SEO services confidently.
And all of this helps my Writeto1k students.
I share my struggles, wins, and how I grow as a writer.
For example, I posted in my private Facebook group for Writeto1k students that an editor from a Medium publication sent a Loom video helping me improve my article.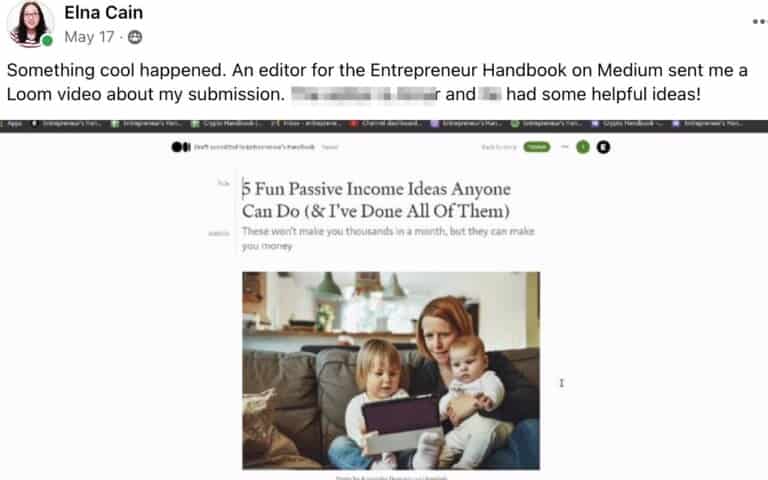 This was the first time an editor sent a Loom video, which was extremely helpful.
One student posted,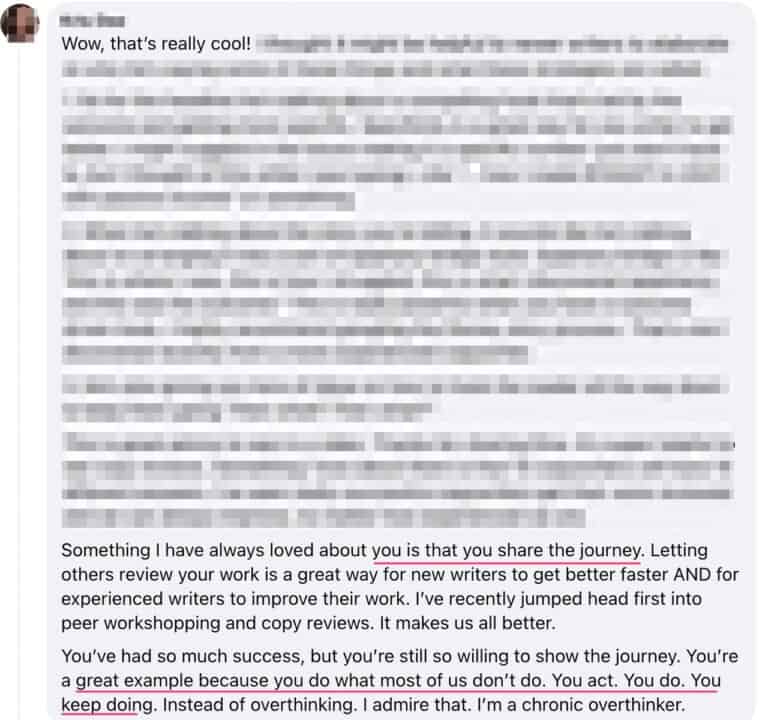 I work with clients to help my students grow as a writer.
What I did now versus back in 2014 is different.
And I owe it to my students to give them the most up-to-date information about writing for the web as possible!
I hope you found this helpful!
Tell me in the comments what you're doing to land your dream writing jobs!
Please pin me!