If you're a freelance writer, then I'm sure you've heard of Lauren Tharp. She has indispensable advice for writers and her blog has even won her awards.
Being a frequent reader of Be a Freelance Blogger, I came across Lauren's name a lot. I began searching for her guest posts on writing and quickly began my quest to know as much as I could about her. I really took note of how she used her creative images as a way to build her brand as a freelance writer.

When companies started paying attention to me, I reached out to Lauren for help about the business end of freelance writing.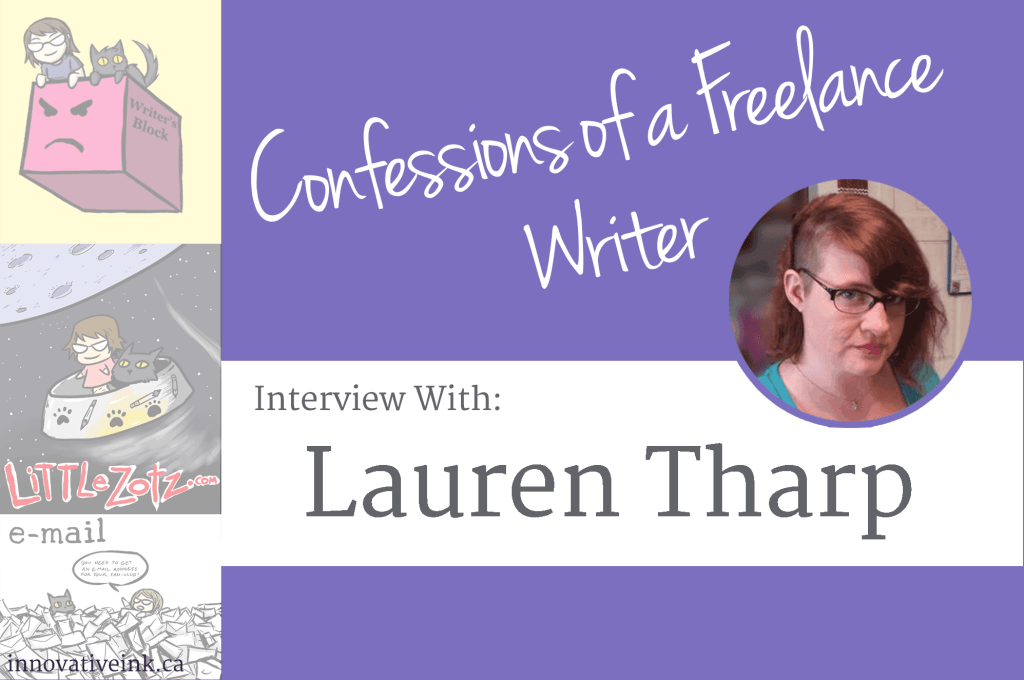 She's been helpful to me ever since.
For February, I've opened my blog to guest writers. My Confessions of a Freelance Writer highlights some successful freelance writers that have helped me or inspired me. In case you've missed some interviews, here are the one's I've already e-interviewed:

Let's get to know how Lauren became a successful freelance writer.
Let's Get To Know Lauren

My name is Lauren Tharp. I'm the owner of LittleZotz Writing, an award-winning website that provides writing services to businesses and free advice to writers looking to go freelance. I'm also the Associate Editor and Community Manager for Be a Freelance Blogger.
On a more personal note, I'm the daughter of two former special effects artists, my significant other is a horror comic book artist, and I own two cats.
From Crappy Fast Food to Freelance Writer

I've been writing nearly my entire life, and writing for pay off-and-on since I was sixteen.
At the end of 2009, I moved to a new town and quickly realized that we were spending more on gas to drive me to my crappy fast food job than I was actually earning there – so I quit. Then, I had a choice to make: Take on yet another minimum wage job I cared nothing about, or go after my dreams of earning a living with my writing. I chose the latter, and, on August 17, 2010, LittleZotz Writing was born.
Freelance Is in Lauren's Blood

My parents are both freelancers themselves, so they were fine with it. As was my significant other, Ramiro, another fellow freelancer. Ramiro's been my biggest supporter and the one who really 'gets' me and all of my writing dreams.
My in-laws, unfortunately, were less-than-thrilled at first. My mother-in-law and father-in-law both work 9-to-5 jobs – and have their entire working lives – and equated "freelancer" with "unemployed."
But then I started making money from my business and they've been okay with it ever since. [laughs]. That's honestly the best, quickest, way to get naysayers to believe in your freelancing dreams: Start earning money from it!
Lauren's Official Start As a Freelance Writer

As a teenager, I wrote some short stories and articles for magazines. I also took on some ghostwriting and editing gigs. I wasn't exactly earning a living with my writing, but I had a nice side-hustle going.
However, I consider my "official" start as a freelance writer to be in 2010. That was the year that I made writing my sole source of income, and I haven't looked back since.
Freedoms and Limitations

As a freelancer, how and when you work is completely up to you. Your clients only have a say in the final product. That potentially gives you a lot of freedom.
Of course, since you're working for others, that means that freelance writing can essentially become a customer service position. So all that "the customer is always right" stuff you thought you'd left behind when you broke free from the rat race is going to "limit" you from time-to-time as a freelancer.
Security Issues and An Award: Challenges and Big Wins

In 2012, my website was hacked and then blacklisted by Google. I hadn't invested in website security and paid the price. I lost 88% of my website traffic, and it took me a while to rebuild it.
At the end of that same year, I lost my two biggest clients – and I hadn't been marketing myself! So, at the start of 2013, I pretty much had to restart my business from scratch.
As for big "wins" I've had, I've been fortunate enough to write for several publications I enjoy personally, and I've worked with a lot of great people.
If you want a more literal "win," I was recently given an award when LittleZotz Writing made The Write Life's list of "100 Best Websites for Writers" for the second year in a row!
Thrown In the Deep End: Lauren's First "Big" Client

My first few clients were either personal friends who threw me a bone, or people who found me through content mills. Nothing to write home about.
My first "big" gig came to me in October of 2010 – a little less than three months after I opened my virtual doors for business – and it was just dumb luck. I had posted an ad for myself on Craigslist basically saying "anyone need a writer?" and I suddenly found myself in the writing and marketing department of a TV mini-series! Talk about getting thrown into the deep end. [laughs].
After that, I went after similar "light copywriting" jobs until I realized that my passion lay more in blogging and ghostblogging – and that's what I do now.
What Are Lauren's Top 3 4 Resources for New Freelance Writers?
Well, I'm very fond of my own website. [laughs].
All right. All right. Kidding aside, my top three favorite websites for freelance writing – and blogging – info would have to be: Be a Freelance Blogger, The Write Life, and… a tie between A Writer's Bucket List and Writing Thoughts. That's four. Sorry, not sorry. They're all so good!
How Does Lauren Secure Gigs?

Most of my writing gigs come to me three ways: A referral from a former client, a referral from a fellow freelance writer, or the client will stumble across my website online and send me a message.
But, if that slows down, I'll scope out job boards or get my rear in gear and start actively sending out pitches again.
What Lauren's Goals for the Year?

More of the same, but better than ever! [laughs].
I'm going to continue writing articles on my own blog and at other publications, I'm going to continue my position at Be a Freelance Blogger, and I'm going to continue to write for my clients.
In addition to that: I'm writing a book on ghostblogging, I'm co-authoring a book with Sophie Lizard, and I've been made a member of the Kingdom of Paidalot's Royal Court.
On a personal note, I'll be continuing my fiction writing, and will likely speak at local schools about how teens can get a head start on their writing careers.
And, The One Piece of Advice Lauren Would Give New Freelance Writers?

Anything Else Lauren?
I'd love to hear from Innovative Ink's readers!
My business website can be found at LittleZotz.com. That's where I try to help fellow writers become freelancers through blog posts, bi-monthly newsletters, free e-books, and one-on-one mentoring.
Lauren Tharp is a freelance writer and the owner of LittleZotz Writing. Lauren helps small businesses bring their brands to life through written content; and she also helps fellow writers get started as freelancers via blog posts, bi-monthly newsletters, free e-books and one-on-one mentoring.