Everywhere you look, you keep reading about people that break into freelance writing by using their professional background or leveraging their corporate contacts.
Most of these stories are from writers with a business, IT or real estate background.
These niches are highly profitable, but what if you don't have that same background?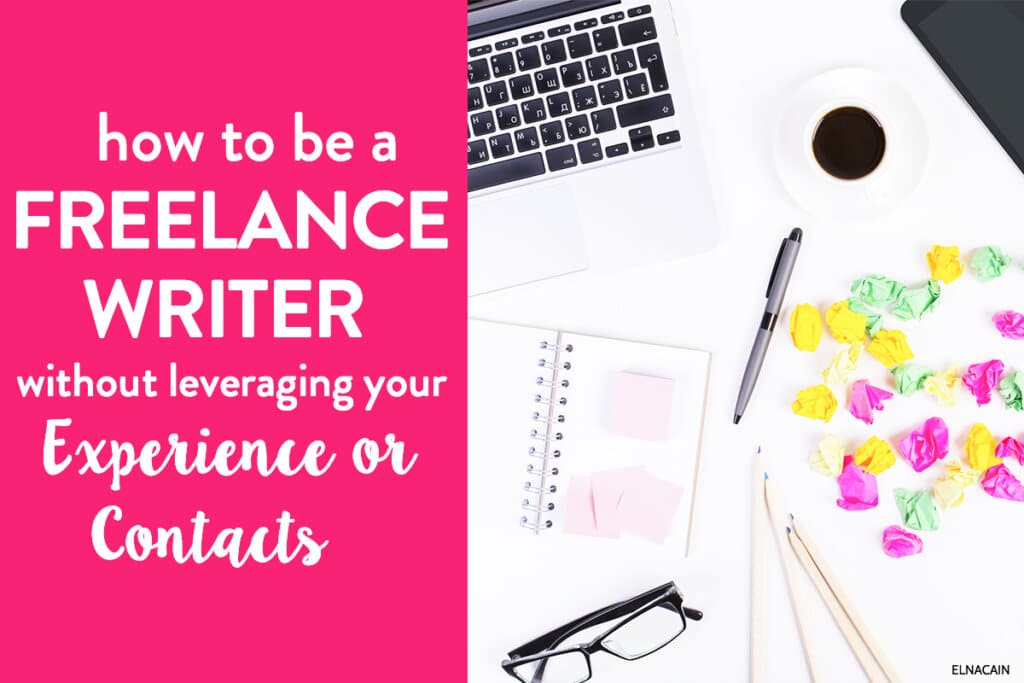 What if you're a secretary? An artist?
A stay-at-home mom who's been out of the workforce for several years? Is it still possible to make a living from writing without using your background?
The answer:
YES! Of course.
I know writers that were forensic scientists turned freelance writer and now write in the entertainment niche. It is entirely possible to start freelance writing with virtually no contacts, no past experience or no knowledge about a niche.
That's exactly how I broke into freelance writing.
I Didn't Land ANY Jobs With My Previous Experience
Before I was a B2B professional writer, my core background was (and still is) in Applied Behavior Analysis (ABA). I worked with children with autism by doing behavioral learning strategies to help them speak, play, dress, socialize and more.
So, of course, when I started researching how to become a freelance writer, I naturally gravitated towards wanting to write about education, and in particular, ABA.
I was able to score a guest post in this niche, which helped me prove my credibility when I sent my pitches to ABA agencies.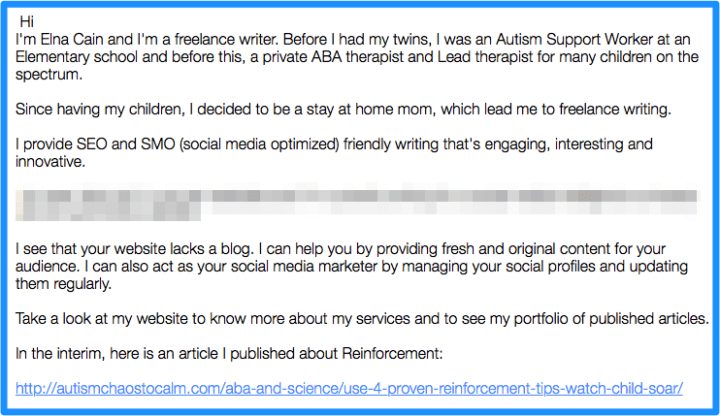 I was fairly new when I reached out to these agencies. But, as luck would have it, I either didn't hear back from them, or they said they weren't focus on building their blog.
At the time, I wasn't knowledgeable about how businesses can use a blog to bring in more local businesses, so I left it at that.
I had no luck either with finding jobs in the parenting niche and any health writing jobs I saw where low paying (around $.05/word).
Freelance writing wasn't working for me.
I couldn't find any good paying writing gigs in the special education, parenting or natural health industries.
Now, don't get me wrong here. Those are totally viable niches. I have been approached by a parenting blog and a health site that pay extremely well, so it isn't unheard of.
This is just my story of how I was struggling to use my experience and background to help me find a freelance writing gig.
So, how did I turn this around and become a sought-after freelance writer within two years?
When I look back and think about what I did to get to this point in my freelance writing profession, I know that the four fundamental steps I took helped me reach this status – without leveraging any past experience or contacts that I had.
If you are in the same place, then these steps can help you become a freelance writer – that can actually pay the bills.
1. Discover Your Niche
Okay.
I'm sure you've heard this a thousand times. Find your niche.
Find any niche.
Find five niches.
What's the answer?
Personally and truthfully all you need is around 2-3 niches to start off.
You can draw from experience or draw from your passion and hobbies. Maybe you're a knitter and it's something you know a lot about.
Well, you can get paid to write about knitting.

Or, maybe you rode horses when you were little. Even better.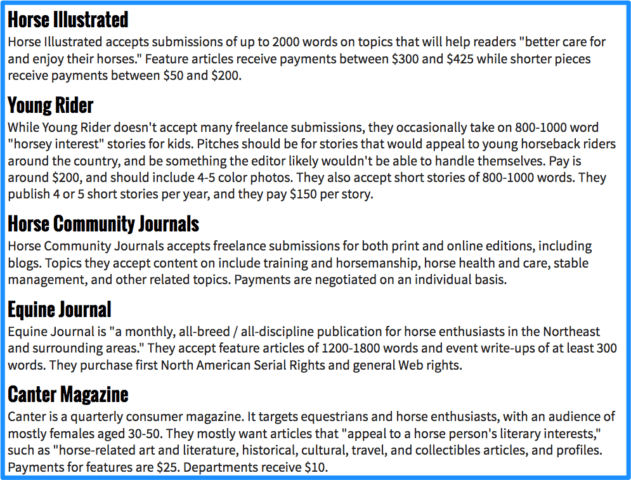 Whatever your passion or hobby is, I'm sure you can find that it's something you can write for and get paid in.
When discovering your niches, make sure you do your due diligence and research the market to see if it's a viable niche.
Look to see if there is also room for growth. In other words, how high can you raise your rate in this industry before hitting the ceiling?
2. Market Your Niche as a Profitable Niche
You might have a hard time turning your niche into a profitable niche WITHOUT any experience or expert knowledge. So, how do you do this?
You have to corner your market in this industry and well, practice makes perfect. You have to write in this topic, read content in this topic, start practicing in this niche and learn as much as you can about it.
Some beginner steps include:
Creating stellar samples in this niche – Get some blog posts or PDF's or Google share docs to show to prospective clients.
Create backup samples (of other less profitable niches, but that can help you build your portfolio) – Remember those two other niches you decided to discover? Make some backup samples in those topics. This is so you can pitch to those industries, in case your main industry or niche isn't profitable or you're having a hard time finding work in that niche.
Create a writer website that speaks to your ideal client (can do this on a budget at first) – Do you have a website that speaks 0f your freelance writing services? I suggest you start a blog for your business and start marketing your freelance writing services right away. This shows prospective clients that your writing isn't a hobby – it's a profession.
Start guest posting – I am all for guest posting for free. You know why? Because it's the best way to get your portfolio up and you never know, that free guest post can turn into a paid writing gig.
This phase as a freelance writer is all about getting your author bio out there to the masses.
With guest posts, writing on your blog, sharing your content on social media and syndicating your posts on HuffPo, Medium and LinkedIn Pulse you're trying to build your portfolio and reach a big audience that will hire you for your writing.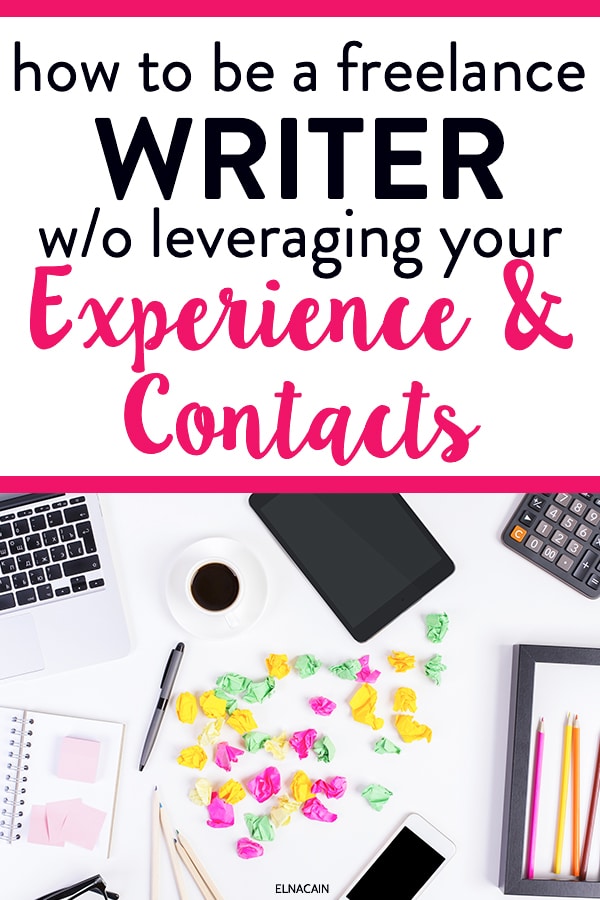 3. Learn Your Niche
You know after writing in the digital marketing niche for a while, I wanted to try my hand in a new industry. I was learning about how writing in the WordPress space can be profitable. I heard about freelance writers commanding $.15/word or more in this niche.
This was appealing to me and I wanted to see if I could also do the same. Now, even though I have a WordPress blog and I manage several other WordPress blogs, I wasn't that involved in the backend of it all.
So, the first thing I did was learn about plugins, features, themes and more in the WordPress space. I visited websites that catered to WordPress content, watched YouTube videos about setting up a WordPress blog and played around on my site.
I absorbed as much information as I could in this new industry. Instead of landing a guest post in this niche, I was fortunate – at that time – to pitch some of my current clients WordPress type posts.
I also reached out to Tom Ewer of WordCandy to work with him. Over time I was able to grow my portfolio in this brand new niche in which I really had no experience in.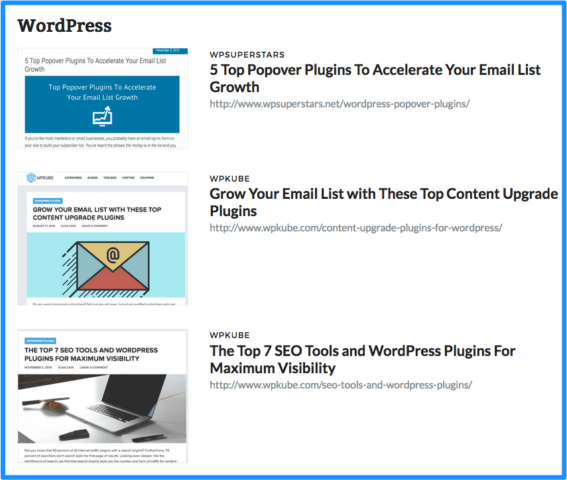 4. Pitch the Right Way
There is a process to pitching.
One of the problems I see in a new freelance writer's pitch is that it comes off as either generic or from a company and not from one person.
Every day I get pitches for guest posts or for other things like website design and most of these pitches come off as fake and generic. It's just a template they use. I read the first sentence and chuck in the trash. I have no time to invest in these types of pitches.
And you know what? Prospective clients don't either.
So, look at your pitch and see if it reads like a cookie cutter pitch. Add some personality and make it memorable.

Then, stop looking for freelance writing jobs on Upwork or Guru.
Start looking at quality job boards that will give you the most bang for your buck. If you're strapped for cash I recommenced using these free job boards:
If you want to cut down your competition, try Contena.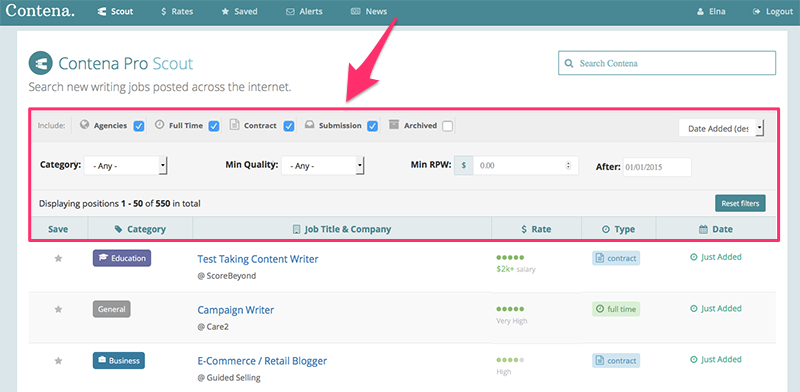 What's great about this job board is that you can customize your search and only look at gigs in your niche. For me, this is a big time saver.
Finally, track your pitches. Open a Google Sheet and keep track of each pitch your sent. This can help you keep track which ads responded and which ones hired you.
It's Possible to Be a Successful Freelance Writer Without Any Corporate Background
I'm proof that a stay at home mom with a background in learning theory and behaviorism is now writing for OptinMonster, Blogging Wizard and now Huffington Post.
You don't need a degree in journalism or even any degree to be a profitable freelance writer. You also don't need any expert knowledge in a particular industry or have a corporate background to get started.
You also don't need to rely on your contacts or family members. I never did (heck, most of my family and mommy friends have no clue what I'm doing and that's my choice to keep it from them).
All you need is the desire to make a living from writing, some decent writing skills and the hunger to learn how to do it right.
Over to you – are you ready?
If you're ready to really earn a living from writing, you can get your step-by-step profitable freelance writing blueprint by joining Write Your Way to Your First $1k. It walks you through the exact action steps you need to take to land clients, tweak your website to increase conversions and get paid to write.