Over on my Youtube channel, I posted a couple of videos on different websites that pay you to write.
The websites I showed were paying two hundred dollars to three hundred dollars and upwards of five hundred dollars to guest post.

For a brand new freelance writer, these websites can be the big break to make this dream a reality.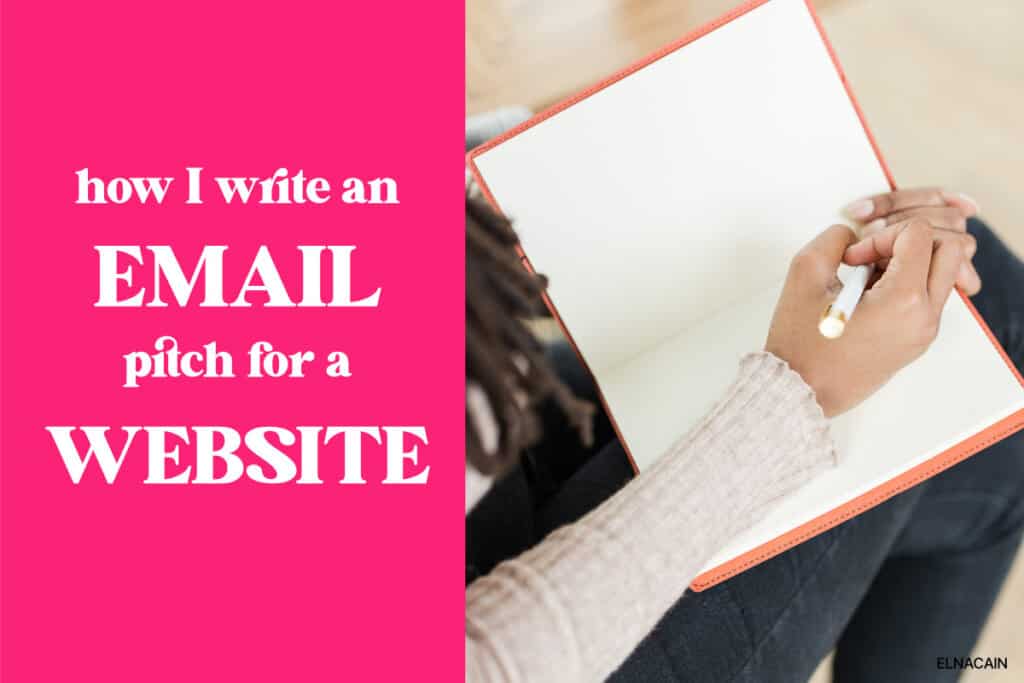 If you want to be able to work from home as a freelance writer, then a way to get started is to snag paid guest posting websites.
These are special websites that allow writers to post an article and get paid for it. I call these types of writing gigs, ad hoc gigs since it's a one-off type of submission.
You can also have ad-hoc clients that call on you a few times a year as well (I've had a few of those types of writing jobs too).
But to get the attention of these sites that pay, you need a strong pitch writing process.
This will help you stand out since they probably get hundreds of pitches for articles every day.
So, let's look at how I write a winning pitch email for websites. Follow these tips (there's more in the video) and I'm sure your pitch will stand out!
Make sure to watch the Youtube for this blog post and subscribe to my channel!
1. Read & Follow the Guidelines of the Publication
To ensure the editor reads through your whole email pitch, read the guidelines and publication of the website!
Each website or publication has their own guidelines and it's your job to read through them and apply what you read to your email.
I know –
Sometimes the guidelines seem like a reading a book and many of them use font size 5 too!
But, to get your pitch writing right, you have to follow the guidelines.
Here's a pitch email guidelines example from Atlas Obscura.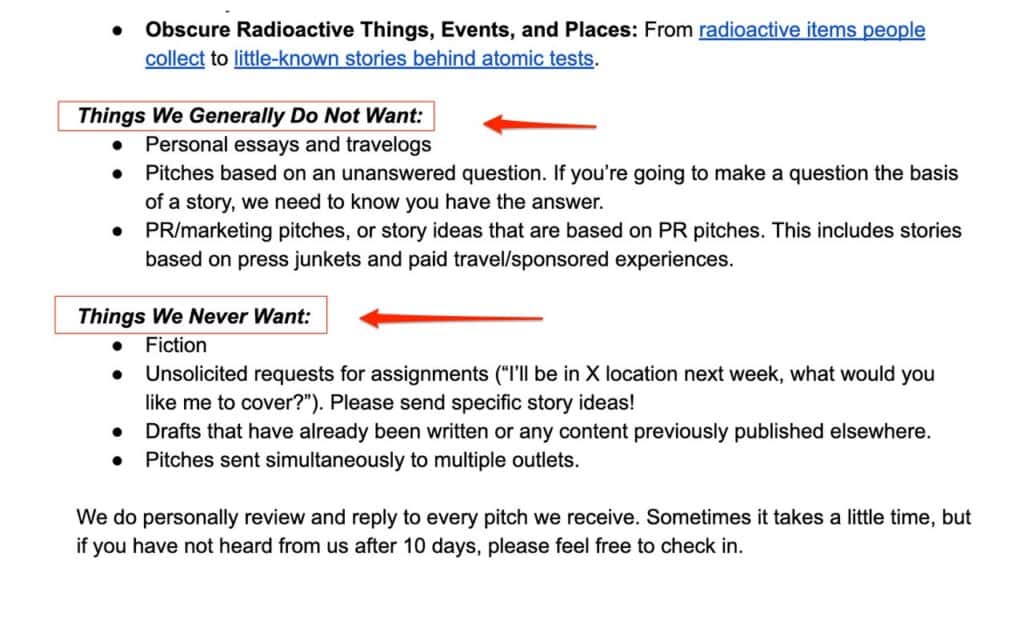 Atlas Obscura specifically lays out what they don't want and things they will never publish for their magazine. If you want to write a pitch for an article on Atlas Obscura make sure you stay away from travelogs and fictional travel stories.
Over on my contributor website, FreelancerFAQs I made sure to put the exact blog topics I want for my guest posting website.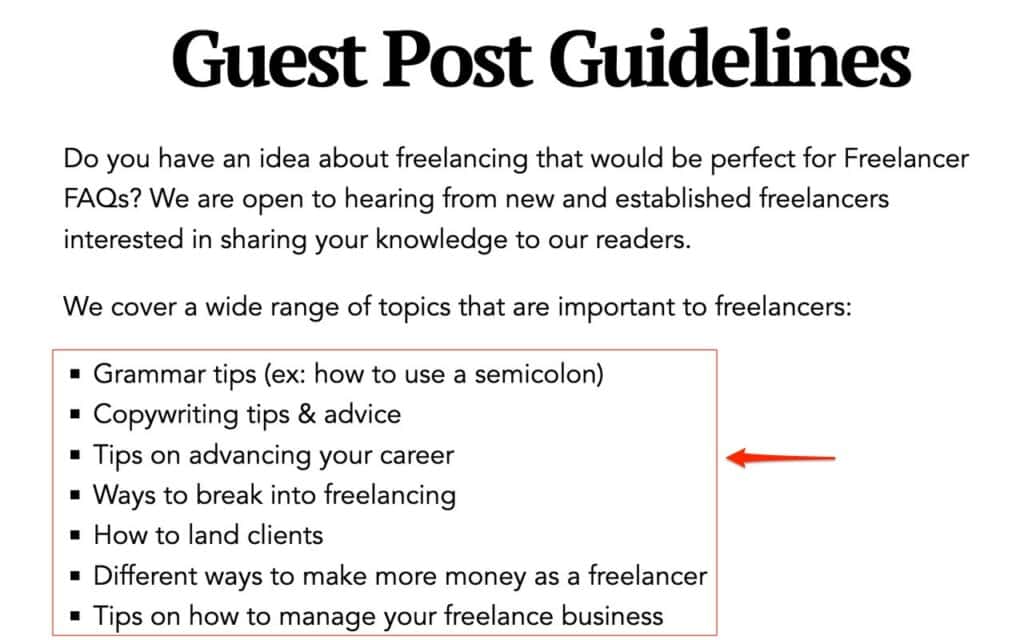 In my submission guidelines I mentioned that each blog posts requires at least a thousand words and the headline of your article needs to be in a form of a question.
So when you send your pitch email to the editor of the website or magazine, they will know instantly if you read their guidelines as this is their way to weed out anyone that wouldn't fit their brand message.
2. Demonstrate You're the Expert
The websites or publications you want to write for will gladly accept your email sales pitch if you demonstrate you're the expert in a niche or topic.
This might look like drawing from your career if you decided to leverage your job for your writing niche.
For example, if you're a nurse you can use that experience to be a medical writer.
This will show clients and guest website editors that you are legit and have the credentials to talk about your pitch topic.
Now, if you're unable to be an expert in your niche, you can leverage other experts in your industry.
These are called subject matter experts (SME) and you can either interview them or use quotes from their social media posts.
Be aware you can pitch an interview, a case study, or use subject matter expert quotes to help elevate your email pitch idea.
Freelance writer Sage Becker published a post on Go Daddy about a side hustle and for her article she interviewed an interior designer who had an interior class as a side hustle.
Sage interviewed this designer and put it all together by adding stats into a nice article, demonstrating her expertise as a journalist that's knowledgeable about design.
This is something that would make a nice writing sample for Sage's portfolio since it shows more skills than just writing.
This can also work if your writing niche isn't directly related to your past job.
For example, if you work in retail and want to become a beauty freelancer or beauty copywriter you can take aspects of retail and pitch sustainable businesses that have eco-friendly products.
You can branch out of your retail experience and use that to funnel what you know about the products that you promote or you sell in retail to eco-friendly businesses or websites.
You can tailor your pitch writing by revealing your expertise in your chosen field. Something like,
"My name is Elna Cain and I've been a SaaS digital marketing writer for nearly a decade. I love helping brands elevate their message on social media and through their email marketing. I see on your magazine that…"
3. Don't Pitch the Same Topic to Multiple Websites
This is a big no-no in the blogging and freelancing world!
You don't want to pitch the same article to multiple websites because you run the risk of having all of them accept your pitch!
Google doesn't want duplicate content online and this type of content won't rank in Google. Google wants to index articles with unique content, not the same content.
It's also not great for your reputation as a freelance writer, right?
Website owners talk and they will mention how one writer gave them duplicate content and to stay away from them.
So don't give the same article to two different guest posting sites. This also means you can't send the same article pitch with blog topics or headlines as both publications may accept those topics.
What can you do instead?
You can have one main idea but then have different angles when you email pitch the website.
This is the best way to get around sending duplicate content if you're unable to think of 100 different blog topics for these websites to pitch to.
For example, since digital marketing is my writing niche and I know a lot about LinkedIn I can pitch using LinkedIn to grow your brand.
Then, I can use an AI writing tool like ChatGPT to help come up with different topics around that main topic.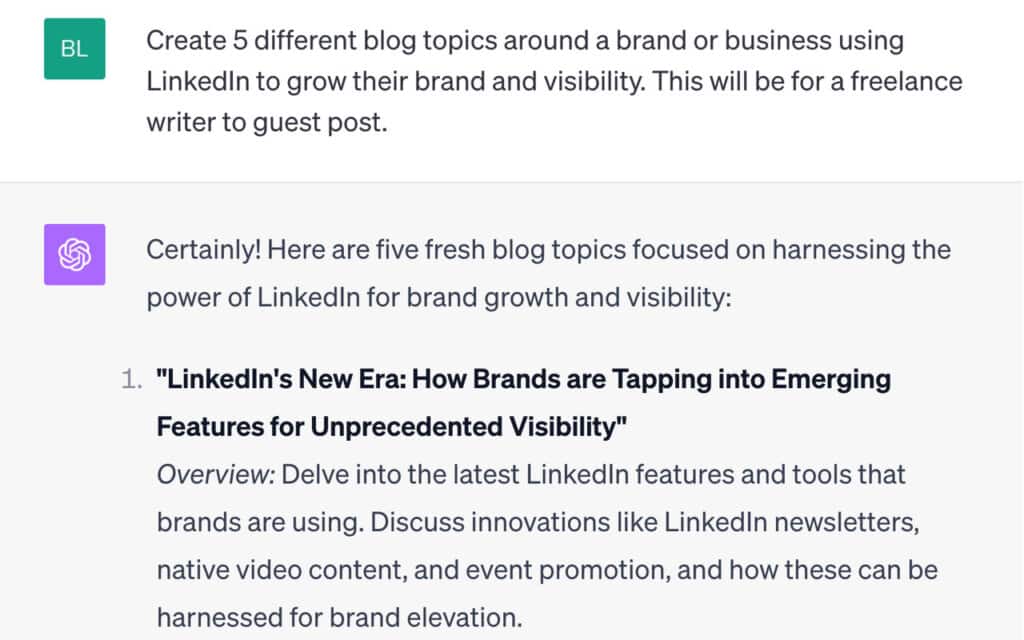 From this list you can create your own headlines for your pitch email.
All of these will be around the same topic of using LinkedIn for brand awareness, but now you can pitch different angles to different websites:
15 LinkedIn Post Ideas to Gain Visibility
How to Write a viral LinkedIn Post
9 Ways to Build Authentic Relationships on LinkedIn
All of these ideas center around posting on LinkedIn but they're all angled differently.
I can even use similar blog ideas but for a different audience.
My 15 LinkedIn Post Ideas could be for SAS Businesses and then I can pitch 12 LinkedIn Post Ideas for Entrepreneurs.
These are basically the same topic but it's for a different audience, which means you will add different tools and tips for that specific audience.
It's an easy work around to duplicate content and when you're stuck for ideas top pitch!
4. Work on Your Author Bio
When looking at sites that pay, look at the authors for those articles.
Do these websites even post the author or author bio link to each article they have?
This is important for a freelance writer. Why?
Because if there is no byline, you can't put that piece of content on your portfolio.
Your writing samples have to come from you and have your name attached.

If they don't then it will be hard to land writing jobs.
Potential clients won't trust your content and may not hire you based on a portfolio full of writing samples that don't have your name as the author.
This bio will be at the end of a guest post or guest article.
Sometimes, the web owner will link your name to an author page.
My client, GoDaddy, does this with their authors.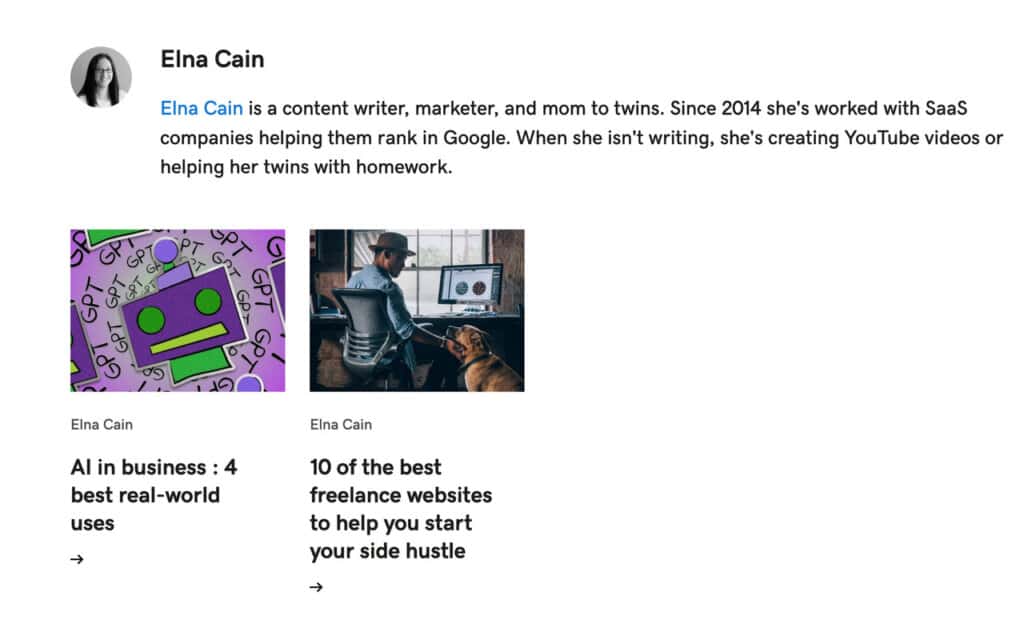 These are things you want to pay attention to when looking for websites that pay guest contributors.
Do they post the name of the author?
Do they have an author bio?
Do they have a link to an author page?
Sites that pay should have these elements because this shows bylined work, is attached to your name.
This makes it easier for your marketing strategy for getting clients.
So, when you send your email pitch, can provide links to your author pages. This is what I do.
I will like to my author page on GoDaddy, SmartBlogger, Wordtune and Blogging Wizard.
This shows potential editors that I have experience writing in a particular topic or industry.
Make sure your author bio has your name, what you do, the type of writing that you do, and the type of clients you serve.
For example, state that you're an SEO health copywriter or content writer with specialization in sales pages and landing pages.
When you optimize your bio this way, it acts as real estate to get your hired.
One thing to note is that your author bio isn't set in stone. You can change it for every client you land or if you pivot or offer a new service.
5. Incorporate Keywords
Unless the website that pays specifies not to use keywords, it's best to incorporate some in your title and throughout your article.
So, for the post idea, 15 LinkedIn Post Ideas for Small Businesses, some of my subtopic headlines might be:
Posting on LinkedIn
LinkedIn Business Page
Best Time to Post on LinkedIn
These topics focus on some keywords and it will demonstrate to an editor of a site that pays, you are knowledgeable about content writing.
Of course, I wouldn't make the entire article stuffed with keywords.
Adding it to the title and subtopic headlines and peppering your main keyword through the article is enough.
And for most email pitches, you don't always send the full article.
Most guest guidelines want your topic idea or outline.
This is where you can demonstrate in your pitch email your SEO knowledge.
"My suggested headline: 15 Targeted LinkedIn Post Ideas for Small Businesses. In this article I plan to discuss:Posting on LinkedIn, LinkedIn business page set up (best practices), and best times to post on LinkedIn to reach your target clients."
If you need more help on writing an SEO article, make sure to check out my masterclass, Fast Track to SEO Writing.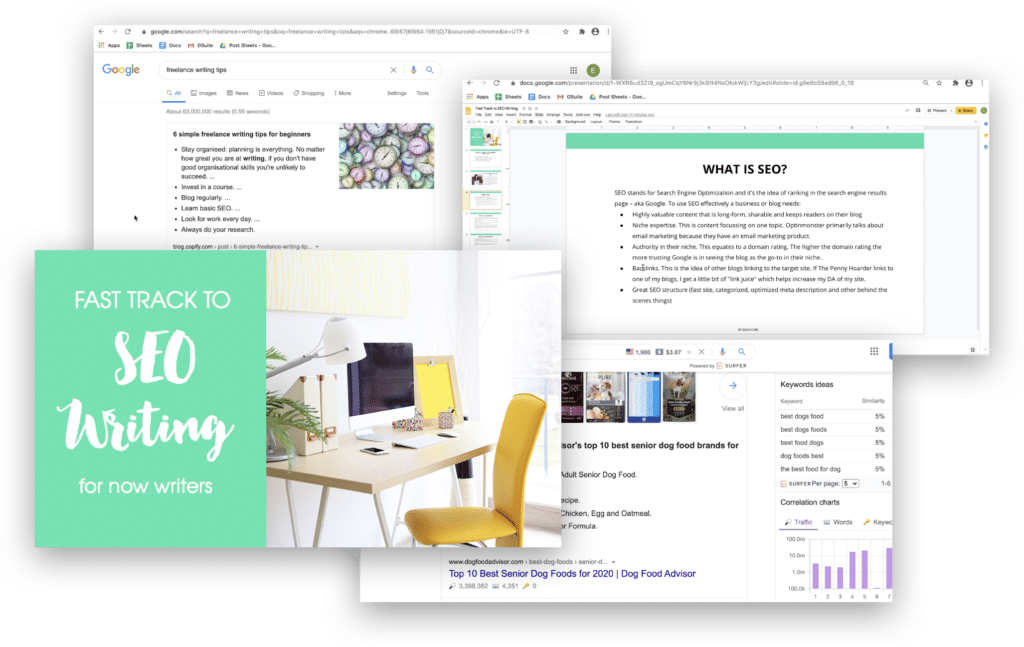 6. Add Credible Sources
When writing your paid guest article make sure to include stats and facts to your content to make it credible.
This means adding:
Trends reports
Current facts
Current news
Avoid outdated facts or stats and don't include links from unfamiliar websites.
For example, if I needed current Pinterest trends, I would link to the Pinterest forecast report.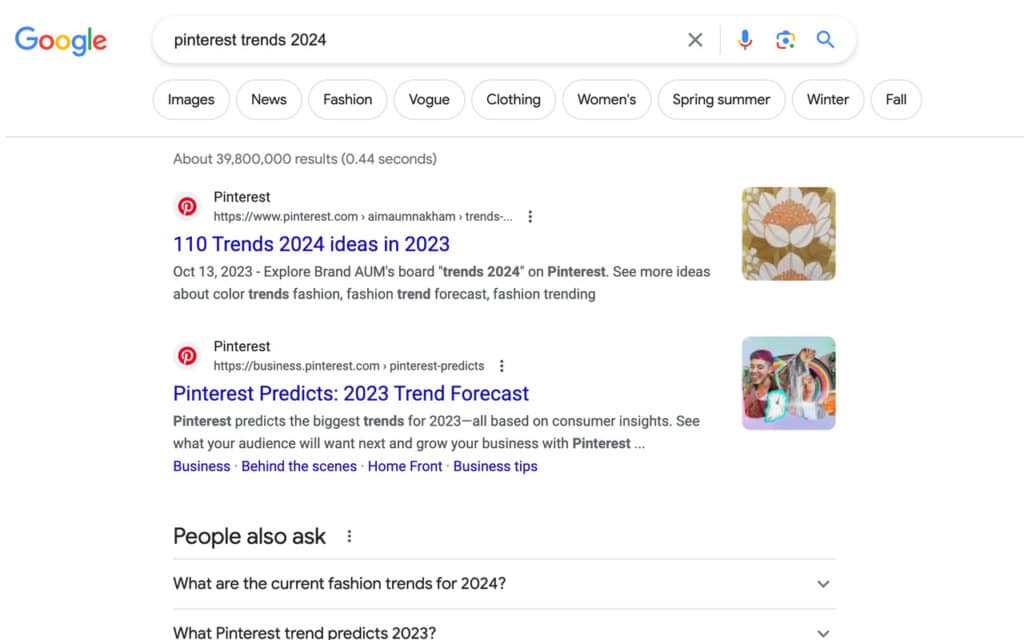 Another way to add credible sources is to add subject matter experts into your article.
This is a journalistic skill and it can help your article stand out even more.
You can use LinkedIn to find thought leaders in your space to use in your article.
For example, Mishal Cazmi is the editorial manager for Pinterest. I can check her feed to see if she posts any thought leadership content and use some of it for a quote.
So, when you send your pitch to a guest contribution website, make sure to mention that you can interview or feature thought leadership content from SMEs.
"I plan to share the most up-to-date Pinterest marketing trends and share thought leadership from the Pinterest editorial manager."
7. Keep Copies
It's a good idea to keep track of all the email pitches you are sending as well as the pitch idea or outlines.
I like to use my freelance writer planner to keep track of my client and guest work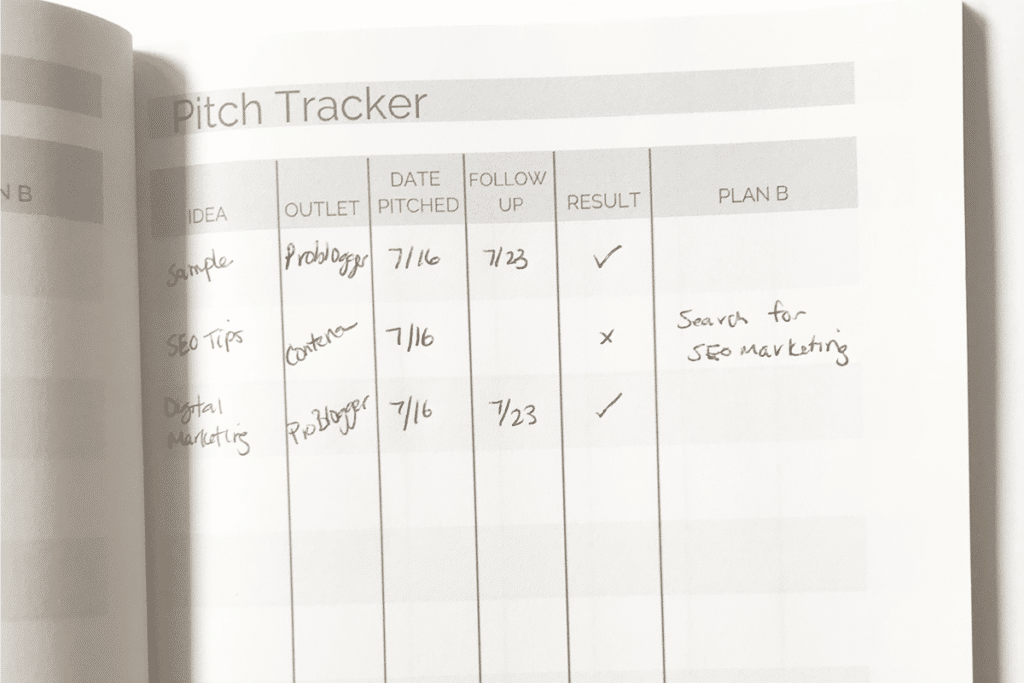 This will keep you organized and be sure not to pitch the same idea to another site that pays.
I suggest you go a step further and keep copies of your submissions.
Keep a folder on your computer with the guest articles you submitted. There may be times, years later, where that website shuts down.
This means your guest article is no longer published or live.
What can you do?
Well, if you have a copy of that article, you can update it and use it again for another email pitch idea!
It sucks that you'll have to remove it from your online portfolio, but if you snag another guest website, you can add them when they publish your work.
Putting It All Together
So with these pitch tips, here's how I write an email pitch for websites that pay.
Hi (editor),

My name is Elna Cain and I've been a SaaS digital marketing writer for nearly a decade. I love helping brands elevate their message on social media. I've been an avid reader of The Risen Entrepreneur magazine and noticed that LinkedIn hasn't been discussed from a brand awareness viewpoint.

I'd love to write about the 15 Targeted LinkedIn Post Ideas for Small Businesses. In this article I plan to discuss:

Effective LinkedIn posting for brand awareness
Optimizing business page setup
Strategic post timing to maximize client reach

This piece will distill cutting-edge LinkedIn marketing trends and insights from top SaaS LinkedIn strategists.

I am excited about the prospect of contributing to The Risen Entrepreneur.

Elna Cain
Get Out There and Write Your Pitch Email!
I hope these tips help you and give you the confidence you need to get out there and start sending cold emails and pitch emails!
If you have any questions, just post them below and I'll be sure to help you!