Many of you may not know that I own and manage four blogs and I recently started a new one.
As a mom to twins, a freelance writer, coach and author of a freelance course, you can see I'm pretty busy.
Why would I even fathom starting a new blog when I already have 4?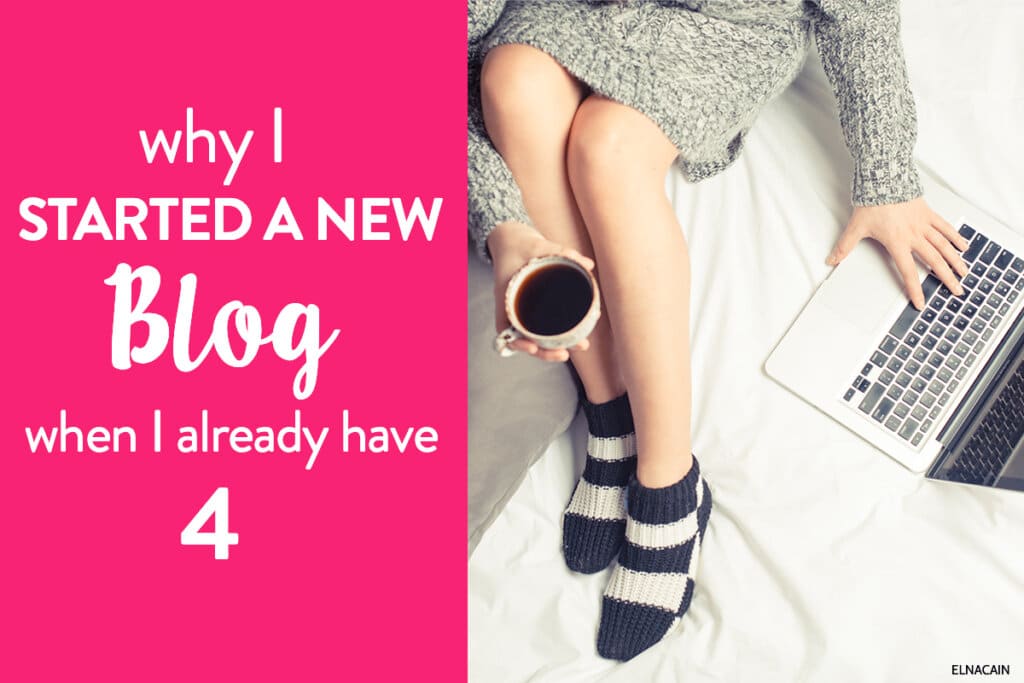 I don't know a lot about other freelance writers except the ones I hang out with (hey Lorraine!) but I like starting new projects.
And other bloggers feel the same way!
Cori Ramos of Not Now Mom's Busy started a new blog called CorinaRamos.net.
Freelance writer Alicia Rades, has her freelance site, author site and blogging guide site.
I'm creative and love exploring the creative and passionate side of freelance writing.
If you're considering starting another blog, but just not sure you can handle it or really think it's a good idea, I'm here to tell you go for it! There are a ton of benefits to having more than one blog.
But, before I get into that, I want to let you in on why I created TwinsMommy in the first place.
What? Another Mom Blog? (Not Really)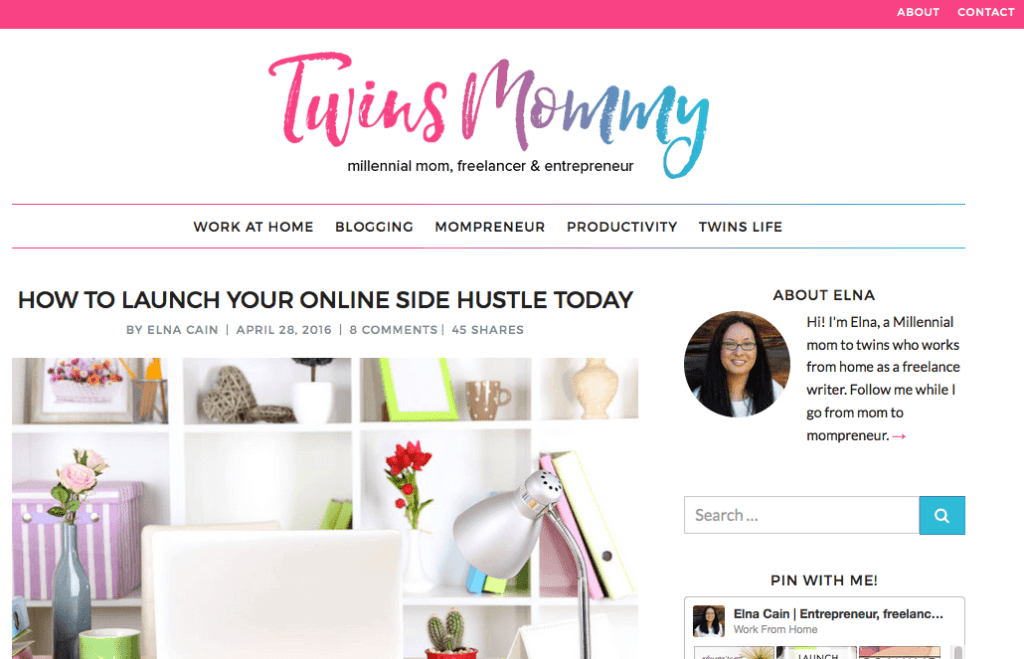 About a month ago I was sitting around talking with my hubby about the idea of starting another blog.
See, currently I have four blogs:
You see, this blog here is the only one I consistently have to write posts for. All the others either don't have a blog or have multiple authors.
So, the idea of having another personal blog like ElnaCain, didn't seem like a huge jump. I write one blog post a week for this blog, I knew I would have time to write another post, so I went ahead and started TwinsMommy.
I wanted a broader site about moms, blogging and freelancing. While I touch a little bit on being a mom and a freelance writer on my ElnaCain site, that is not my focus; my focus is on providing tips for new and budding freelance writers.
With this new site, I would talk more about my life with twins, but also speak to moms who are or thinking about working from home.
And that's what TwinsMommy is about! But, as I started writing posts and attracting an audience, I learned that I wanted to do more than just talk about being a work-at-home mom, I wanted to help these mamas go from being a mom to being a mompreneur.
I decided early on that I wanted to try monetizing a new blog in a new niche.
I'm happy with how TwinsMommy turned out – both visually, branding wise and content wise – and can't believe how some of my posts have had tons of shares and over 50 comments already!
Some of my popular posts are:
I'm also shocked by how generous mommy bloggers are. I've already been asked to contribute on three blogs and I belong to several private Facebook mommy blogger groups that are highly supportive.
Besides the generosity and supportive nature, what other benefits are there to starting a new blog?
1. I'm Reaching a New Audience
I was a bit worried that I would be attracting the same audience as I have for this blog, but I've met so many new people that I know I'm reaching a new audience.
One thing you can do for your freelance career is to network and extend your reach as far as you can online. By "e-meeting" new bloggers and networking with other people, you start joining new inner circles, which just gets your name out there more.
2. I'm Sparking My Creativity
I love designing and branding things. Visuals are my thang! So, when I have the opportunity to extend my creative wings and design, I'm all for it.
I designed the TwinsMommy logo and tried something new by using a gradient to incorporate pink and blue to signify my boy/girl twins.
I created a visual brand for each of my TwinsMommy images, which is helping me form a brand with my images on this blog.
And, the best thing about starting TwinsMommy was the flood of blog post ideas! Because I had a broader list of topics to write about (work from home, productivity, mompreneur, twins life and blogging) I came up with dozens and dozens of blog post ideas in under an hour.
This creativity extended to generating ideas for clients and for this blog too.
3. A New Income Stream
One of the best ways you can always ensure a healthy income as a freelance writer is by diversifying your income.
My plan for TwinsMommy is to grow that blog so that I can eventually monetize it. Whether it's with affiliate marketing or designing another course, this is a nice way to generate more income.
And who doesn't like more money, right?
Although TwinsMommy isn't generating any income – unless someone clicks on a link back to my site and buys my course – I'll be gearing up for that in the next few months.
4. It's Helping Me Build My Design Portfolio
In my 2016 goals post I mentioned that I'm planning on opening up a website design/development company called Ink&Link.
While I'm hoping this service will be up and running soon, for now I'm growing my portfolio whenever I create a new site.
This will help once I launch Ink&Link and give customers some ideas of what types of sites me and my husband design.
5. It's A New Marketing Strategy
I mention this blog and my course several times in my TwinsMommy blog posts. This isn't a mistake; rather, it's a calculated effort to grow a new audience and get my course to these new people.
Because of TwinsMommy, I'm focusing my efforts on Pinterest marketing and even signed up for Tailwind to help me grow my following and traffic – which is totally working!
When Do I Have Time to Do This All?
Currently I'm writing two blog posts a week over on TwinsMommy! And, like I mentioned, one blog post a week here.
I also have a full plate of client work during the month as well. So, I really don't have a lot of time to spare, but why am I writing two posts a week when I have about a ba-jillion projects due each month?
For starters, it's a new blog and it needs content to grow authority and ranking in Google. I'll do my best to post twice a week, but I know there will be a time when I will have to drop it to once a week.
Another reason I am doing two posts a week over there is because I can do it. Writing in this "freelance/work at home/blogging" niche is in my wheelhouse and I can whip out posts in under an hour no problem. Especially if they are about me.
I'm crossing my fingers that I can keep up with this content schedule, especially since summer is usually slow online, I feel I can keep it up until the fall at least.
Have I scared you or inspired you to start a new blog? Tell me in the comments and remember to Pin me!