People ask me all the time when the heck do I find time to freelance write, write on multiple personal blogs, run a successful course and take care of my twins?
Do I get anything done in a day?
I do!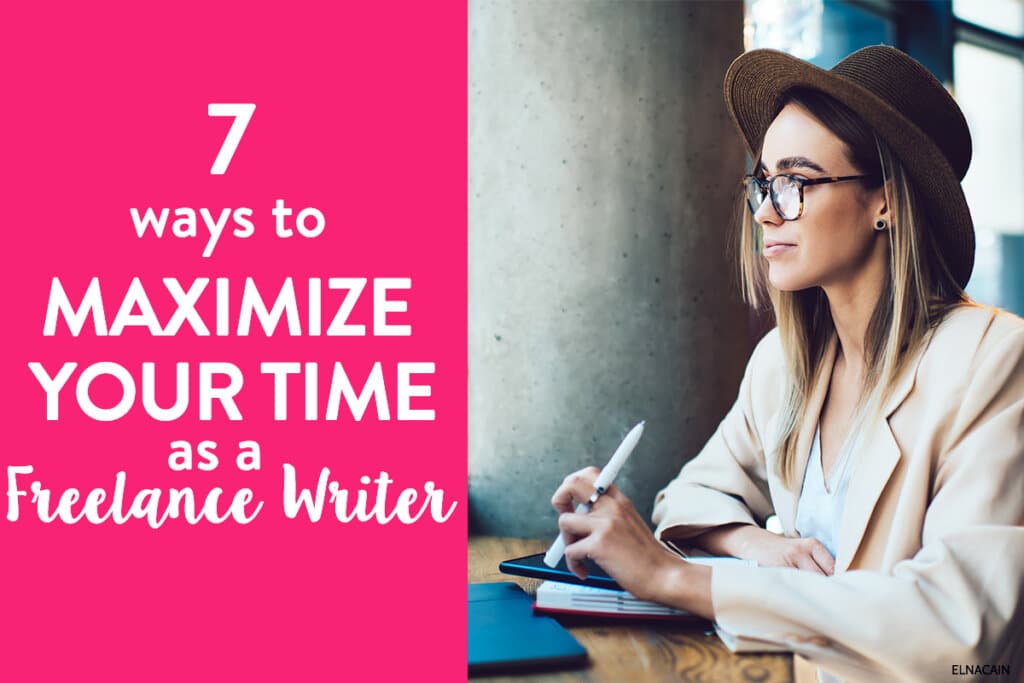 I've been freelance writing for only two years and while most months I land more and more client work, I'm still able to make a living as a freelance writer and still take my twins to skating lessons, gymnastics and swimming every week. Phew!!
Now, I'm not trying to gloat or anything, but I do want to let you know that it's totally possible for you – single mom, college student, or side hustler – to make enough money as a freelance writer and ditch your 9-5 job for good.
It's not easy and for a while it can take up a lot of your time, but there are ways to maximize that time so you are actually coming out ahead.
I Have a Secret
Okay.
This may not be a real secret. I might have told my readers this already on my blog or on social media, but when it comes to time management, I'm really not the best person to talk to.
Juggling my time as a work at home mom is a challenge since every day is different and every minute can change. For example, my daughter has a cold and she gets clingy when she doesn't feel well.
This might mean we have frozen pizza for dinner or I take an hour off – when I should be writing – to give her a steam bath.
So, even though my time is scattered, I'm still able to get my work done and be productive when I do sit down and write. The trick is to find ways to save your time.
Because your time = money.
If you don't work on Monday, you don't make money. I mean, it's a given when you're a freelancer and it's a trade-off to the full-time job.
Because you're the boss and can set your own hours, it means when you aren't devoting your time to your business you aren't generating an income.
You can, tough, save time by maximizing the time you already have. Here are seven ways I remain productive and efficient.
1. Create a Pitch Template
For new freelance writers, you should spend the bulk of your time pitching. Why? Because that will produce the biggest return for your investment.
But, crafting a new pitch each time you send an email isn't time well spent. One thing you can do to cut your time in half is to create a template of a general pitch.
Save it in Google Docs or create a note in Evernote.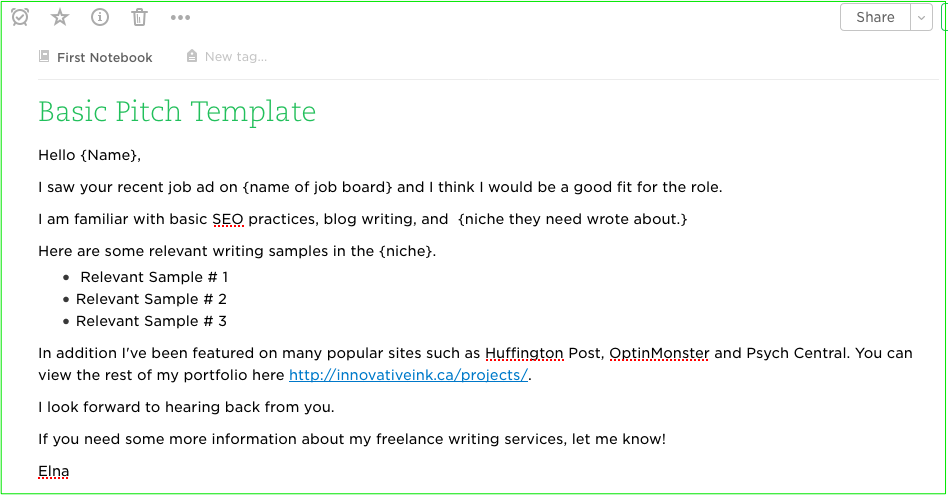 Whenever you pitch to a job board, just copy your basic pitch template and paste it in the email. Make sure to change your template to make it unique to each job ad you apply to or else you'll come off as generic and fake.
I have my high converting pitch on file and whenever I do want to pitch to a job or even cold pitch a company, all I have to do is grab that template and tailor it to whomever I'm sending it to.
2. Sign Up to a Paid Job Board
Alright, I know as a new freelance writer you probably have a tight budget. You're boot strapping your side hustle and just waiting to break even right?
Well, one of the ways that have helped me free up my time as well as maximize my time is to do away with free job boards and focus my pitching on a paid job board.
Personally, I like using Contena. What makes it different from other paid job boards is that you can customize your search based on your niche. So if you're a lifestyle writer, you can filter your search to only show jobs in the lifestyle niche.
Imagine the time it takes to go to all the free job boards, look on Twitter, visit Craigslist and check out Facebook groups trying to find a job in your niche?
That can take hours.
With Contena, it takes minutes. And for this WAHM, this is amazing. While I don't visit job boards every day, when I have a lull in my business, the first place I visit is Contena and look at their marketing gigs.
If you're interested in signing up to Contena, the best time to sign up is now! Gain highly paying jobs in your inbox today!
3. Automate Your Social Media Postings
In my Writeto1k course, I give you a lot of tips to ramp up your social media presence. I firmly believe this has helped me get in touch with influencers, land high-paying clients and raised my credibility as a freelance writer and digital marketer.
But, updating your social media profiles can take a lot of time. And let's face it:
Social media is a big time suck.
You go there to tweet your latest blog post and 45 minutes later you're taking a quiz to see which character best represents you.
I know. Been there, done that.
So, instead of wasting your time on Facebook or Pinterest, invest in an automation tool to do the posting for you.
The three tools I use are: Tailwind, Grum and IFTTT.
Tailwind
Tailwind is a Pinterst scheduling tool that automatically schedules your pins to group boards and to your own boards.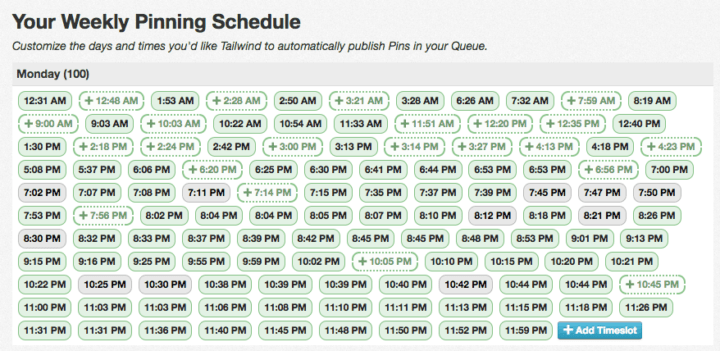 It's super easy to use. Scheduling your pins is just one click when you use Board Lists.
Set the boards you want in a list – typically group similar boards like all social media boards or work from home boards – and with one button you can schedule your pins to that list.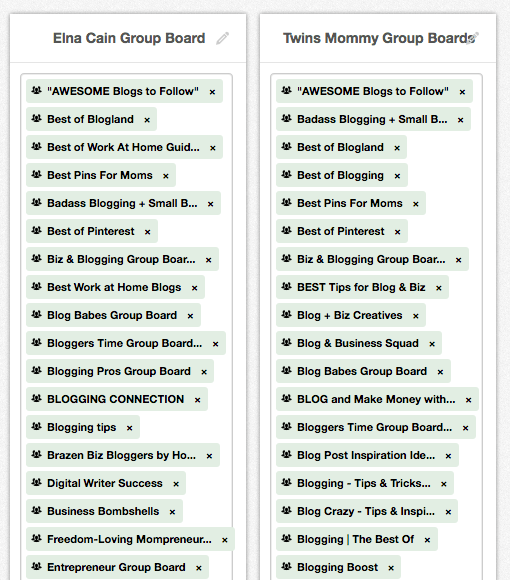 I usually schedule my pins on Pinterest by using the Tailwind extension browser and click on the pins I want to schedule.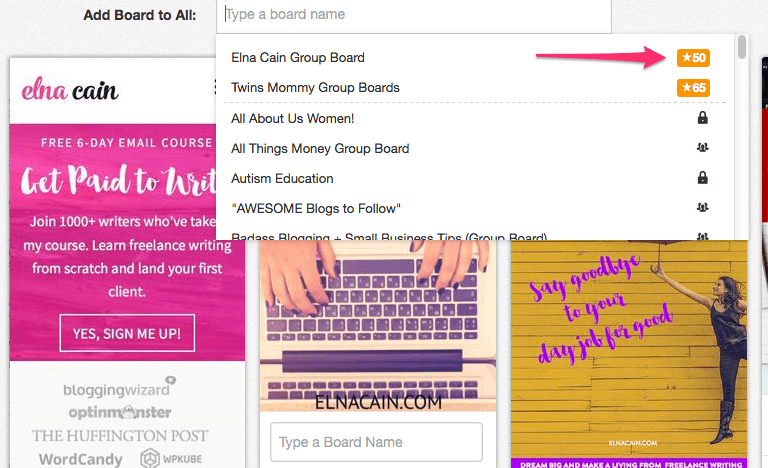 Grum
I finally made an Instagram account, but you know what?
Because I work from home and work on my laptop or desktop, I rarely use my phone. Half the time I forget to bring it with I head out with my twins.
I'm not old fashioned or anything, it's just that with twins, my focus is on keeping them safe when I'm out and about. I don't have time to check my Facebook messages.
But, now that I have an Instagram account, I'm forced to use my phone to make any updates.
Well, I thought there was no way around that, until I learned about Grum.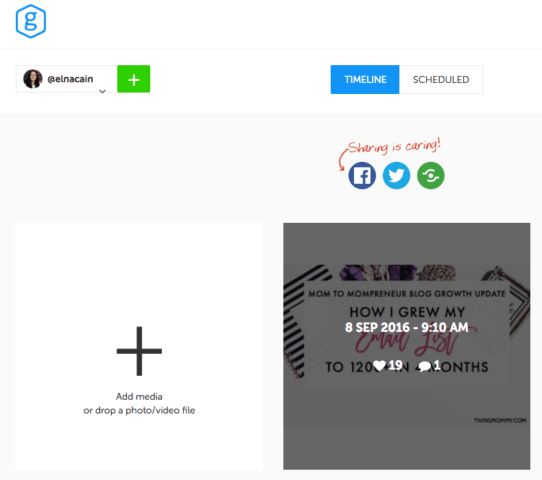 Grum lets you update your Instagram account on your desktop.
Wha-what?
Yeah, I know. It's awesome and it's totally easy to use. You just add your blog post image, set a description with hashtags and either post it now or schedule it for later.
I don't update my Instagram account too much, but when I do, Grum makes it super easy to schedule my posts.
IFTTT
IFTTT stands for If This Then That and it syncs two apps together – called recipes– to work together. I created a recipe card that says whenever my Google calendar is updated with an event called, BUFFER THIS, it's to set a tweet.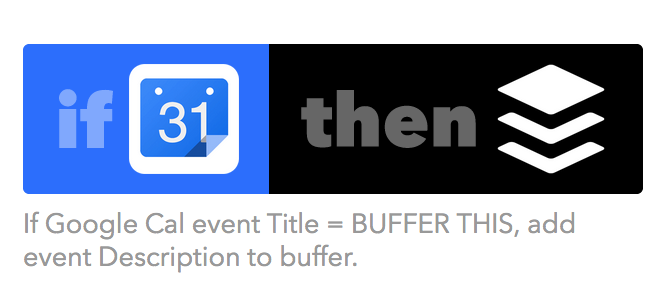 Right now, I schedule my Elna Cain blog posts, Twins Mommy blog posts, some FreelancerFAQs and other people's blog posts.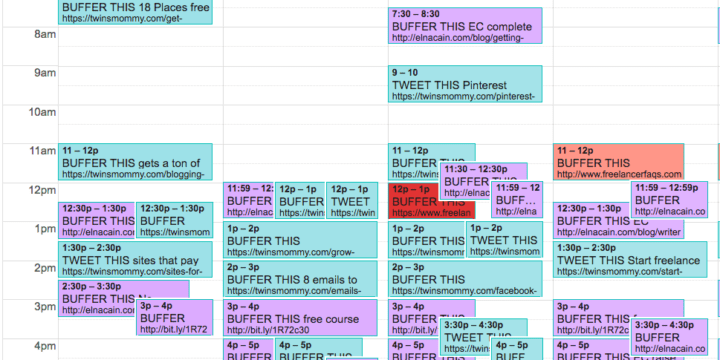 This is great because more of my posts have more retweets and I've been getting more followers too.
Automating your social media posting is a big time saver, but you do have to spend a bit of time once a week or so updating your scheduling.
4. Batch Your Tasks
Batching means you do all of one task until it's finished before you move on to do another task. So for example, you can batch all your editing for images.
You could batch your research or invoices too.
This actually helps you save some time since you're not going back and forth doing other tasks.
For me, the top tasks I typically batch are:
Email
Images
Blog management (uploading guest posts)
Research
Writing personal blog posts
Even though I made this list for batching my tasks, sometimes I get real busy and find that multi-tasking does the job. Like I mentioned, I'm not keen on time management and I do my best to get the most work done in what little time I have.
5. Create a Schedule
Do you have a schedule for working at home?
This is important so that you have the motivation to actually work. Because, if you don't already know stay-at-home moms are more depressed.
Setting a schedule can give you some purpose in your day and get you focused on doing your work. I wake up every morning with the family between 7:30 and 8:00am.
I choose to check my email and have my coffee while my kids eat breakfast. Then the mom duty starts and I do my best getting my mom chores in.
At lunch I check social media and email, before it's back to mom duty. Nap time is when I get to work and the whole process repeats itself once my twins wake up from their nap.
Next year my schedule is going to change because my twins will be entering school for the first time. I can actually schedule some gym time, personal time and have more time to work on my business.
So, if you're struggling to create a consistent schedule, use an alarm to wake up and block times to do your pitching, emailing, client work, cold pitching, guest posting etc..
6. Use Music
Did you know that listening to music increases your productivity? I had no idea when I started listening to music while I wrote.
I started because my twins were chatting whenever I put them down for their daily nap or at bedtime. They sleep in the same room and their room is next to where I work, so hearing them distracted me and I needed to find a way to focus.
So, I started listening to music. I personally listen to instrumental music on YouTube and I've been listening to the same album and songs for almost a year.
Yes, it's repetitive – I do listen to to other instrumental music from time to time – but I've trained my brain to write when I listen to Ludovico.
My concentration is up and I'm more productive. It works!
7. Outsource
There's no way I could do all that I'm doing for my business by myself, especially doing this part time. I've outsourced a lot of the tech and development side to my husband. Without him, I wouldn't have four blogs or even do any webinars. He's a great help to saving me time and frustration when it comes to the tech side of things.
I also outsource my editing. I recently hired a copyeditor and it's helped me save so much time and has alleviated a lot of stress in my life.
I'm also thinking about hiring a VA to help me with my other websites as well as help with email too. It's something I'm thinking about doing in the next few months.
If you're thinking about going to the next level, consider outsourcing and delegating tasks that take up too much of your time or you can't do.
Working For Yourself Keeps You Busy
As the saying goes,
I'd rather hustle 24/7, then slave 9-5.
As an entrepreneur – yeah, that's what you are! – you're going to work a lot more hours than you did at your full time job.
But, you know what? That's how it should be. You're investing in yourself! But, working from home brings so many distractions, like social media.
Whatever your distraction is, these seven ways to maximize your time will boost your productivity and hopefully make you more income!
Over to you – how do you find time or save time as a freelance writer?
If you're ready to really earn a living from writing, you can get your step-by-step profitable freelance writing blueprint by joining Write Your Way to Your First $1k. It walks you through the exact action steps you need to take to land clients, tweak your website to increase conversions and get paid as a writer.