So, I've been a freelance writer since 2014 and over the years I've had different work spaces.
First, it was in my main bedroom halfway into the closet.
Then I had to work in the living room for a while. Next came my own bedroom, but I had to share it as it was also a craft room and where my daughter kept her clothes.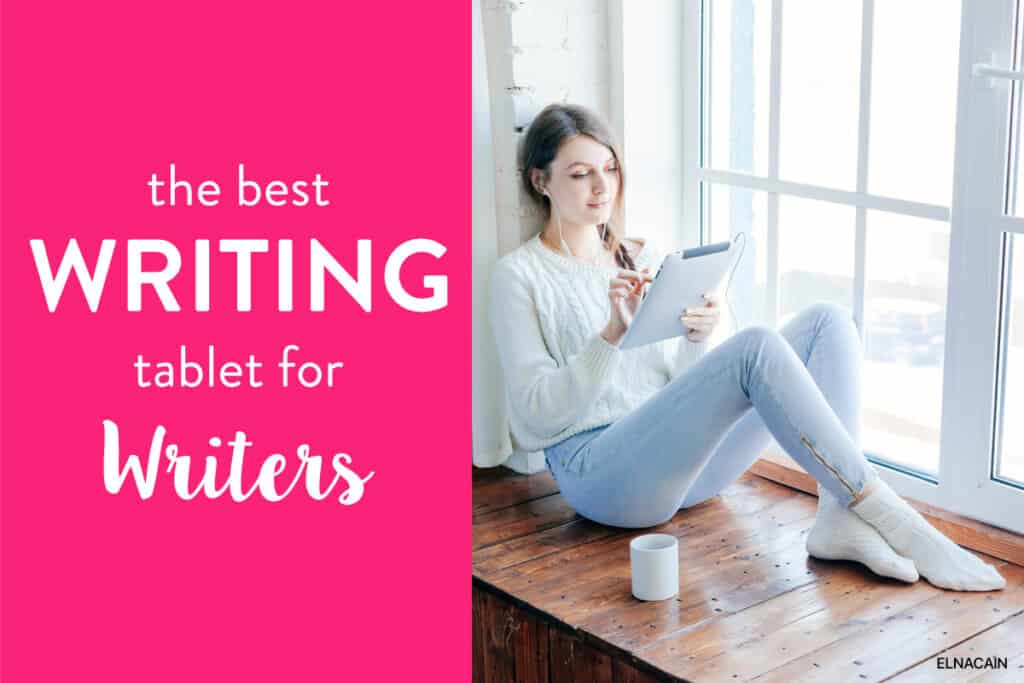 Now?
I have my own space (mostly) and I am loving my workspace at home!
I've got it set up just the way I want it with my computer, keyboard, mouse, lights, office supplies, and more to get my writing work done.
But I can't pack it up and take it with me!
So, what do you do when you want to write on the go?
Instead of lugging along a thousand notebooks and pens, why not get a writing tablet?
Writing tablets are perfect to have with you when inspiration strikes or when you want to get some work done while out and about.
Or maybe you just want to curl up on your couch to write – anything goes!
Many tablets are designed to meet the needs of writers, but choosing the right one can be challenging.
To help you out, I found the best writing tablets for the most popular operating systems that feature keyboard compatibility to match the swiftness of your fingers.
But before we get into those, let's look at the advantages of buying a writing tablet, as well as what you should look for in a writing tablet.
Why Should I Buy a Writing Tablet?
While you probably do the majority of your writing on a desktop or laptop, tablets are a great portable alternative that allows you to write anywhere!
Tablets combine the best of laptops and smartphones, packing in the functionality of a laptop into a smaller device.
Plus, tablets are cheaper than laptops and desktops but offer ample storage and operating power.
All you need is a compatible keyboard, and you can get started writing without dropping tons of money on a new computer.
A tablet is an investment you should consider making if you are just starting out or are looking for a way to write on the go!
How Do I Choose the Best Writing Tablet?
In order to choose the best tablet for your writing needs, you should think about your preferences and what you want the tablet to do.
Operating Systems
There are four main operating systems you can choose from when it comes to tablets:
Apple iPadOS
Google Android
Microsoft Windows
Google ChromeOS
The one you choose really comes down to your preference. If you're familiar with a particular operating system, you'll have an easier time using a tablet with that OS.
Writing Software
Each OS comes with a preferred writing application.
So if you're more familiar with writing software and apps than operating systems, this may help you make your decision.
For the iPadOS, you can use writing software such as Pages, Ulysses, and Storyist (which is perfect for novelists!)
Software such as Scrivener and Final Draft can be used on both Windows and iPadOS.
Otherwise, popular software such as Google Docs, Microsoft Office, and Evernote can be used on all operating systems.
Accessories
Do you want a tablet with a pen? A keyboard?
While the best writing tablets are capable of integrating these accessories, some tablets are not.
When you're writing on a tablet, you're going to want a keyboard to make the job easier. And, if you want to jot done notes, you'll want a tablet that is compatible with a stylus pen.
Make sure you look at the specs of a tablet before buying it to make sure you can use the accessories you want.
What Should I Look For in a Writing Tablet?
When you're looking for the best writing tablet to suit your needs, it's important to consider all of a tablet's specs to make sure it will get the job done.
Here are something you should look for in a writing tablet:
Battery Life: If you want to take your tablet on the go, you need to make sure it has enough battery life, so you're not scrambling for an outlet in the middle of writing!
Screen Size: Larger screens are going to be easier to work on, so make sure you don't choose a screen that is too small. Screens that are 8" are good, but 10" screens are better.
And, of course, as I mentioned above: writing software and accessories (keyboard and pens).
The Best Writing Tablet for Apple iPadOS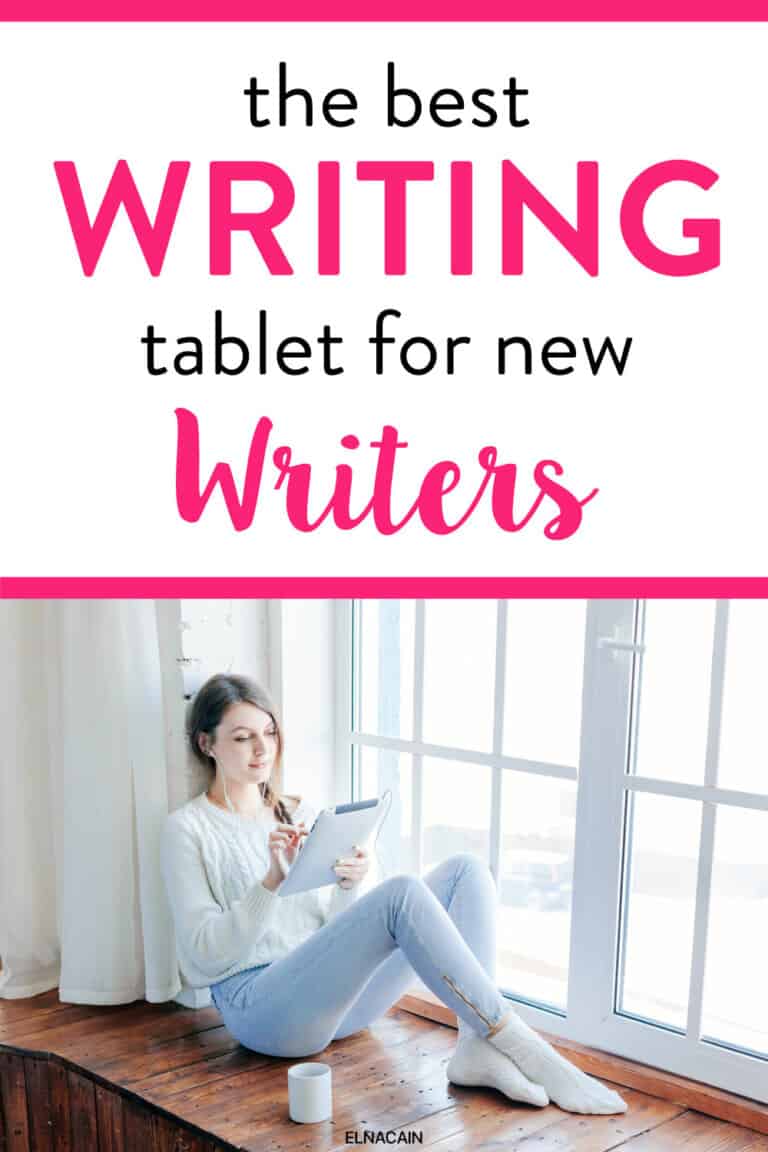 The iPad is really the only tablet worth using for the Mac operating system.
This high-quality tablet is the best writing tablet if you are a Mac user.
You can sync your data through iCloud and connect your iOS apps across all your devices.
iPads have large screens and amazing resolutions, making them perfect for writing. You can also integrate a keyboard and many writing apps are available in the Apple App Store.
The Apple iPad comes in different styles, so you can easily choose which one best suits your needs:
iPad Pro: The iPad Pro has the largest screen size (11") and can be integrated with the Smart Keyboard Folio, Magic Keyboard, and Apple Pencil 2nd Gen to make it a tablet with a pen.
iPad Air: The iPad Air is slightly smaller than the Pro, but you can still connect it with the Apple stylus pen and Smart Keyboard.
iPad: The standard iPad has a screen size of 10.2" and can be used with the Smart Keyboard and Apple stylus.
Specs:
Screen Size: 2" to 11"
Battery Life: 10 hours
Accessories: Keyboard and stylus pen
We have several iPads (including the Pro) and love it!
With the Stylus pen, we use it to play Pictionary, Hangman and for unique graphics for online use.
My daughter used ProCreate to create of my niche site logos!
The Best Writing Tablet for Google Android
Not everyone is an Apple user, so what is the best Android operating system writing tablet?
That would be the Samsung Galaxy Tab! They are the highest-rating Android tablets, with the Tab S6 model being the best for writers.
If you're on a budget, you could go for the less expensive Tab A, but it has less storage than the S6.
When it comes to the S6, one of the coolest features is the "DeX Mode," where you can turn your tablet into a laptop!
In DeX mode, you can use your tablet like a PC – apps will appear like windows, making it easier to switch between apps on your tablet screen.
Plus, you can connect a Bluetooth keyboard and mouse for a full PC experience!
Specs:
Screen Size: 5"
Battery Life: 14 hours
Accessories: Keyboard and stylus pen
The Best Writing Tablet for Microsoft Windows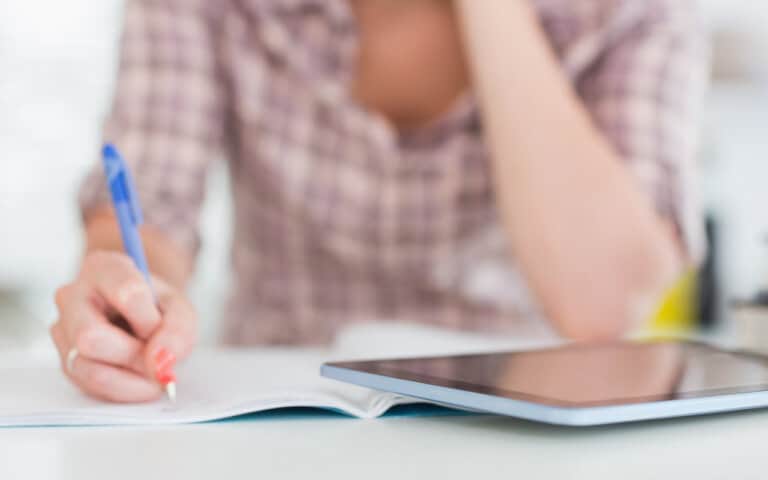 If you're looking for the best writing tablet with Windows capabilities, check out the Microsoft Surface Pro!
It comes in two popular models, the Surface Pro X and the Surface Pro 7. The main difference between the two is that the Pro X has cellular capabilities, so you don't always need WiFi.
The Surface Pro X also has a larger screen size (13") and can integrate with the Surface Pro X Keyboard – but with the Surface Pro 7, you can use the Surface Type Keyboard.
Because the Surface Pro uses the Windows operating system, it works like a laptop, and you can order the Type Cover to cover your screen when you take your tablet with you – perfect for writers on the go!
So if you're looking for the best writing tablet to replace your laptop, the Surface Pro is worth taking a look at.
Specs:
Screen Size: 3" – 13:
Battery Life: 5 – 13 hours
Accessories: Keyboard and stylus pen
The Best Writing Tablet for Google ChromeOS
The Google Pixel Slate is the best Google ChromeOS tablets on the market! It has sharp image quality, charges quickly, and has a fast processing speed.
It has a 12.3" display and can be paired with a keyboard to make your writing life easier!
One of its most defining features is its split-screen capabilities. This allows you to multitask with multi-window browsing so you can flip between apps such as Google docs and sheets.
Specs:
Screen Size:3"
Battery Life: 12 hours
Accessories: Keyboard and stylus pen
Best Writing Tablets: Runner-Ups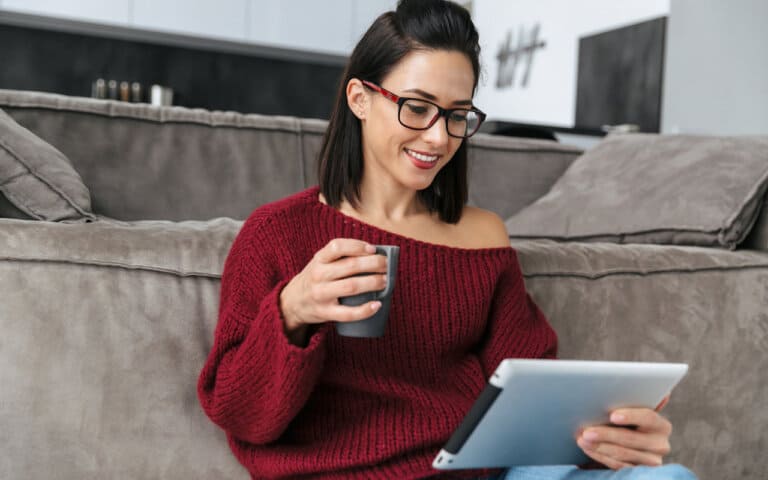 Good tablets aren't cheap, but they do offer a high-quality experience for writers!
However, if you are looking for something a bit more affordable, check out these runner-ups for the best writing tablets:
Lenovo Tab
These Android tablets don't have a cellular connection or stylus, but they offer lots of storage and a high-resolution 10.3" display.
They are great budget tablets if you're looking for affordability.
ASUS Zenpad
The ASUS Zenpad has a 9.7" screen and comes with 64GB of data – which is pretty big for a tablet!
This decently priced tablet is fast and can be paired with a keyboard for easier typing.
ASUS Chromebook Tablet
The ASUS Chromebook tablet is fairly inexpensive and a great choice if you are starting out as a freelance writer.
It includes a WACOM stylus, making this a tablet with a pen if you prefer to write your notes.
Boogie Board Blackboard Tablet
I thought I would mention the Boogie Board Blackboard Tablet in case you are looking for a budget-friendly option that doesn't need the fanciness of an operating system.
This tablet with a pen is a reusable notebook that allows you to take notes and save everything to the Blackboard app (available on iOS and Android).
Perfect for when you have ideas on the go!
Writing Tablets for Writers – Let's Go!
Are you ready to take the show on the road?
With the best writing tablet, you can carry around the functionality of a laptop to get your writing work done while you are out and about.
Talk about being productive as a writer!
Which one will you choose?
Let me know in the comments!