I don't know about you, I need music to write!!
I'm at home and my husband is at home and my twins are at home and well, it's noisy in my home!
Music helps me focus and it masks all the house noise during the day.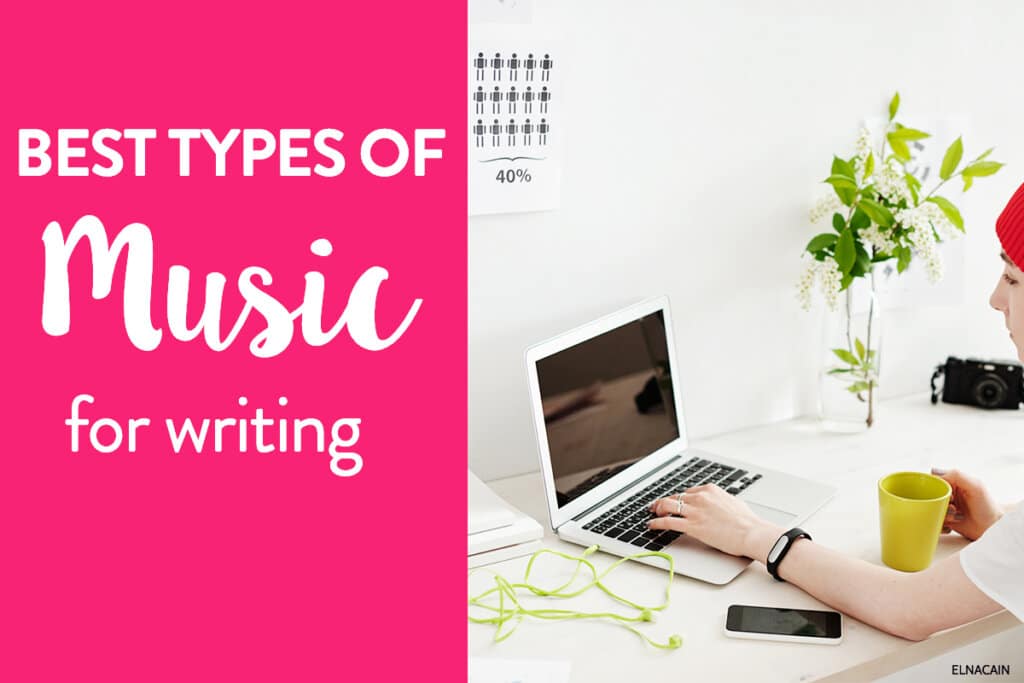 As a writer I'm sure you have certain things you do in order to get in the zone.
Maybe it's having your favorite hot drink, putting on your best cozy slippers on, or turning on the perfect writing music playlist.
Writing music is part of what I do to get in the zone and whip out 1,000 word blog post in under an hour.
So, if you are struggling to write faster, or find blog topic ideas or just have writer's block, why not try music to help you write?
Let's talk about writing music and why you should be using it when you are working. While I have a couple of favorite go-to stations and playlists, there are tons of different options when it comes to listening to your favorite writing music.
Listening To Writing Music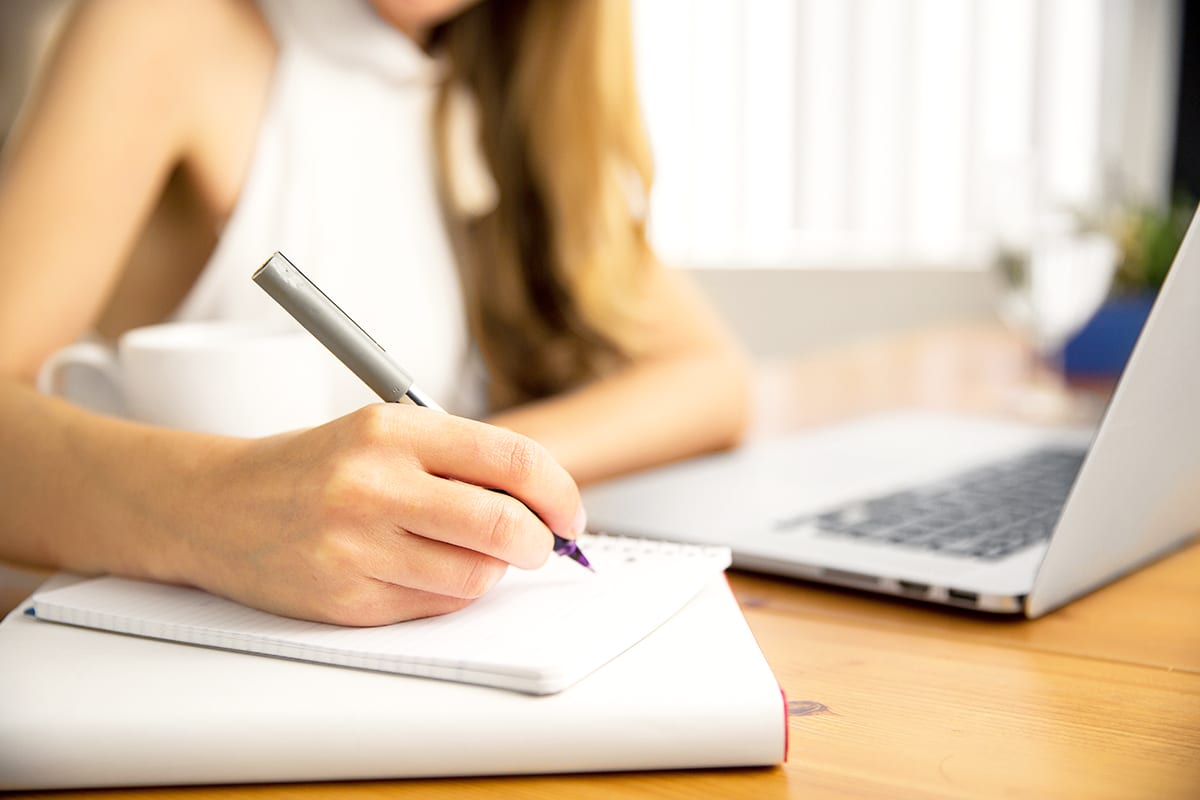 Having certain routines that you perform for various tasks is a great way to boost productivity.
This helps me stay motivated when I do certain activities. For example, I put on a certain playlist or Spotify when working out, doing chores around the house, or working.
Using music while writing is no different. While you might think that all music is created equal, there are certain types that are much better for when you are writing to help improve your focus.
Instrumental music and music without lyrics have been proven to enhance your memory and focus by activating both sides of the brain simultaneously.
Some of the best things to listen to are movie scores, EDM (if you're looking for something more upbeat), instrumental, and classical.
For many years I listened to Ludovico Einaudi for when writing. I have since evolved and now listen to a variety of music.
YouTube
YouTube is a great resource for listening to writing music.
While you can certainly just search for keywords like "writing music," "study music," or "music for focus and concentration," I wanted to focus on a few really good channels to help you up your writing game.
Top Classical Music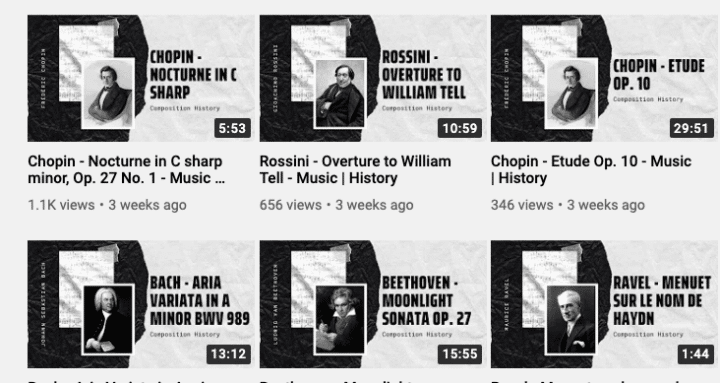 While many of these are shorter videos, you can easily make your own playlist of your favorite classical hits.
From Vivaldi to Chopin, you can choose from their already created playlists of specific composers.
Meditative Mind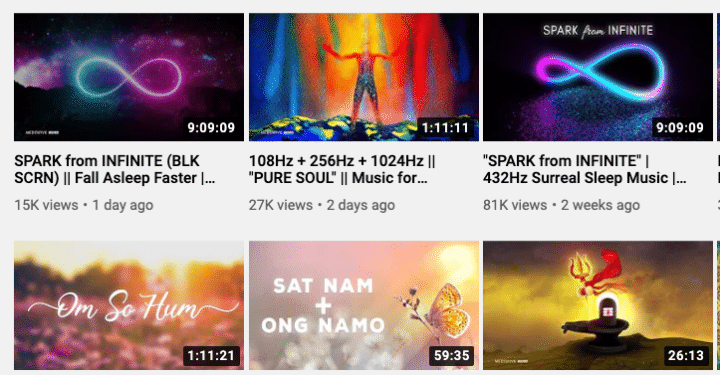 This is a lovely YouTube channel that focuses on, as the name implies, meditative music.
It includes lots of nature sounds, Indian flutes, and chakra centering tones. While all of the videos sound great on their own, anything with "Hz" in the title or description should be listened to with headphones to get the most relaxing benefits.
A perfect way to ease any stress you are feeling while writing. But be warned, you probably shouldn't listen to this if you are tired, you might not be very productive then.
Nu Meditation Music
Nu Meditation Music is similar to Meditative Mind, and includes a variety of VERY long tracks. Putting one video on can set you up for the entire day of writing!
Some favorites are Indian and Native American flute music.
Halidon Music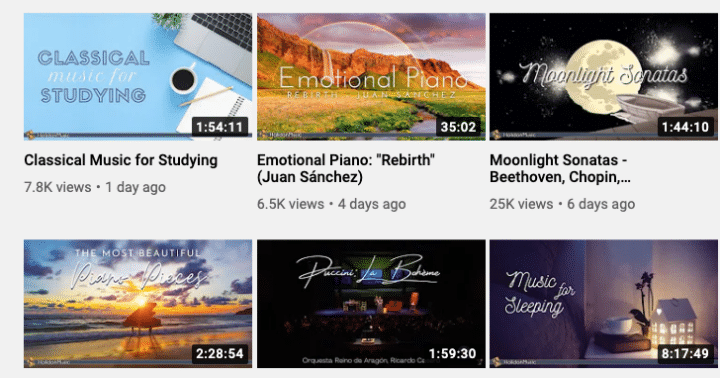 This channel includes a wide variety of classical compositions, relaxation music, and movie scores.
Most pieces range from two to three hours, which is perfect for getting in a solid and productive writing session.
Gravity Music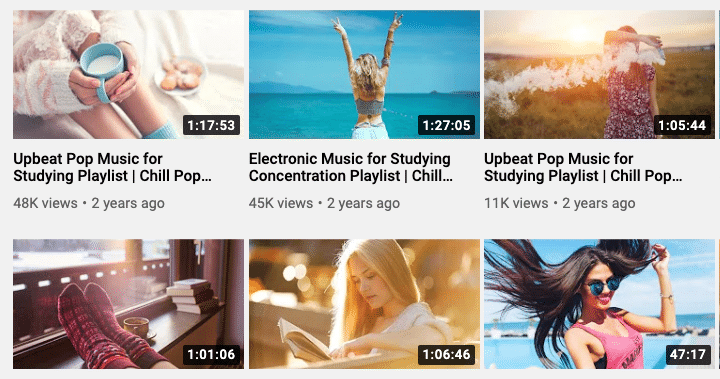 If you are a fan of the EDM type of music but are looking for something without any actual lyrics, then you will like some of the videos and playlists on Gravity Music. With over 10 million views, this electronic music for studying concentration is one of their most popular.
A fun and upbeat video to keep you pumped through a full two hours of writing.
Amazon Music
If you are already an Amazon Prime member, then you have access to Amazon Music.
You can still listen to Amazon music if you are not a prime member, however your selection is limited and there will be more ads. Amazon music includes songs, playlists, artists, and albums.
Similar to other platforms, you can search for certain keywords of what you are looking to listen to. Here are a few examples of some music selections for writing music.
Relaxing Scores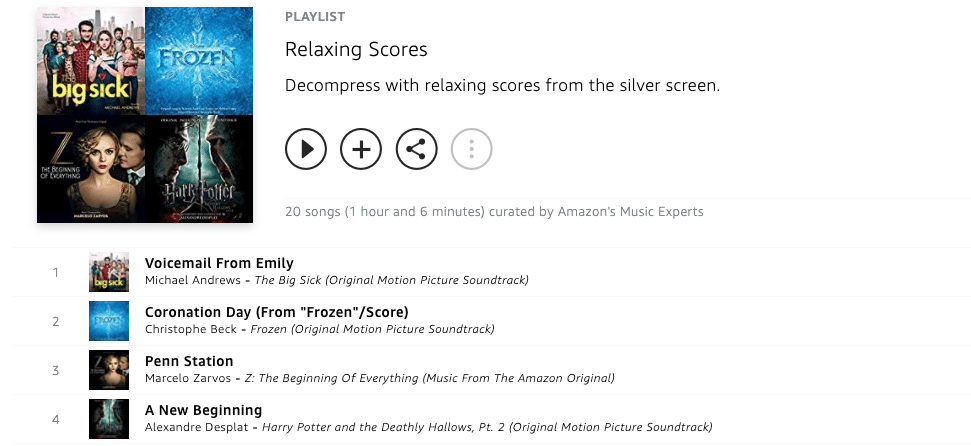 Instrumental movie scores are another great choice for writing music. This is a playlist that includes scores from some popular movies and shows like Frozen, Harry Potter, The Man in the High Castle, and Braveheart. Many of these scores are on the mellower side and perfect for a nice quiet writing session to keep you focused and motivated.
Best Of Star Wars
If you are looking for something much more upbeat to pump you up for your writing session, then the Best of Star Wars playlist is filled with powerful scores to keep you energized. Even if you are not an avid Star Wars fan, this is a great playlist for keeping you focused on your writing.
Powerful Scores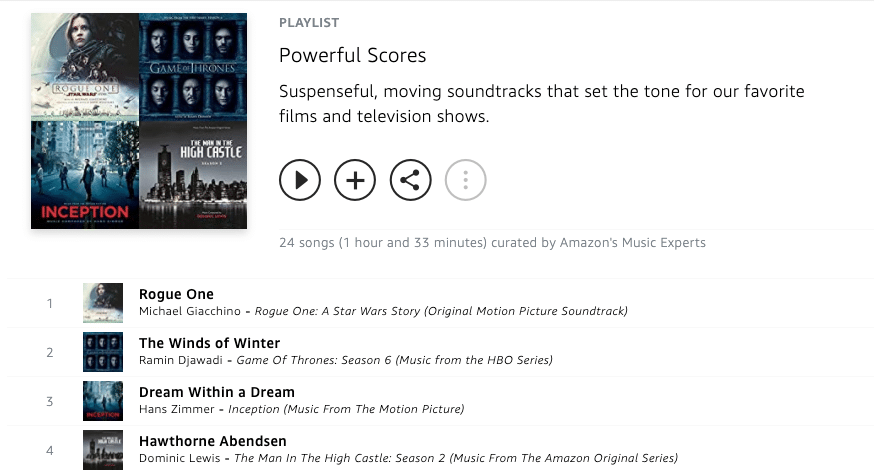 If you like the more upbeat and powerful music scores, then this playlist is perfect. It includes many memorable scores from tv shows and movies, such as Game of Thrones, Inception, and Requiem for a Dream.
Classical Focus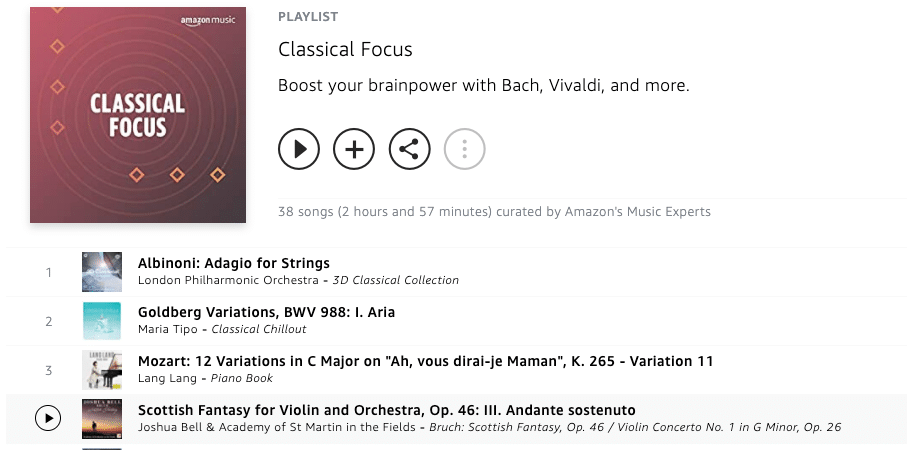 This channel is certainly a go-to when doing any kind of work where you need to focus, especially writing. A soft album filled with all the most popular classical and modern composers, from Bach and others.
Disney Scores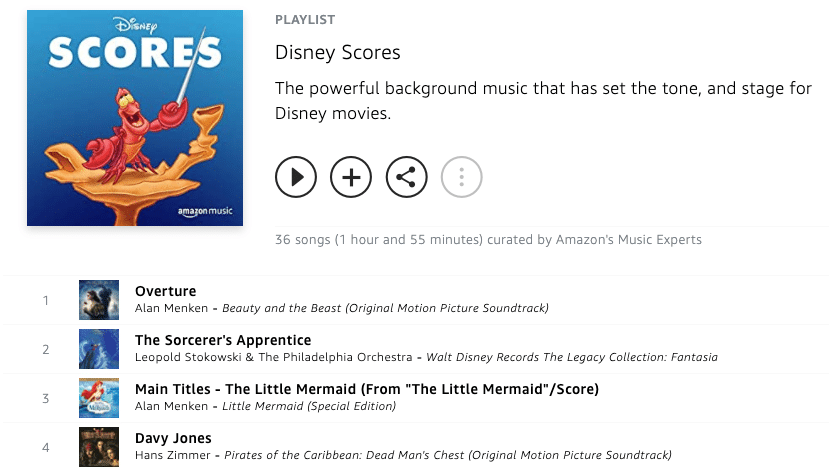 If you are a Disney fan or are looking for some very cheery and upbeat musical scores, then this playlist was created for you! Covering many of the most popular Disney classics, from Cinderella to Pete's Dragon. Just try not to get distracted singing the lyrics in your head.
Pandora
Pandora focuses more on music stations more than playlists and artists.
The one downfall about the free version of Pandora is the ads. While it's not too bad if you are listening on your computer, just quickly hit the mute button, it can get rather annoying if you are listening on another type of device, so it may not be the best writing music experience.
However, if Pandora is your go-to for streaming music, they do offer a very affordable premium, ad-free service.
The really nice thing about Pandora is that when you choose a station to listen to, it doesn't just play one specific artist, it includes a variety of similar artists. This makes it really easy to discover new favorites.
Just note: Pandora is only available in the United States.
Classical Study Music Radio
The classical study music radio is an all time favorite! A fully instrumental station that includes everything from composers to movie scores. There is a nice variety of strong and powerful score mixed in with lighter melodies.
Jennifer Thomas Radio
Artist Jennifer Thomas is a pianist who creates beautiful music. Her station includes a variety of piano compositions and other upbeat instrumental music.
Linsdey Sertling
Lindsey Sterling is an extremely talented violinist. She covers a lot of popular songs and creates stunning, upbeat melodies that will have you moving in your seat. Another great station for getting yourself pumped up for a killer writing session.
Penguin Cafe Orchestra
Penguin Cafe Orchestra is a unique mix of instrumental guitar melodies, classified as an avant-pop band. There are a few "la la las," in some of their songs, but it is mostly instrumental in nature.
2 Cellos
2 Cellos, similar to Lindsey Sterling, do instrumental covers of popular songs. They cover a wide range of songs from modern covers, like ACDC's Thunderstruck to classical pieces like Vilvaldi's storm.
But be warned, if you check these guys out on YouTube, their intense videos can be pretty distracting. So if you are actually trying to get things done, either listen to them on Pandora or minimize your window.
Spotify
Unlike the other streaming platforms mentioned, Spotify is not just a site that you can hop on to listen to music. Rather, it is an app that you can download to your computer or smart device.
The free version of Spotify is broken down into songs, albums, podcasts, videos, and profiles. Similar to other streaming platforms, you can easily find music by searching for keywords.
Study Music for Focus and Concentration

A lovely, mellow album just over an hour long. Perfect for a quick writing session when you feel the need for something zen.
Study Cafe-Jazz & Bossa Nova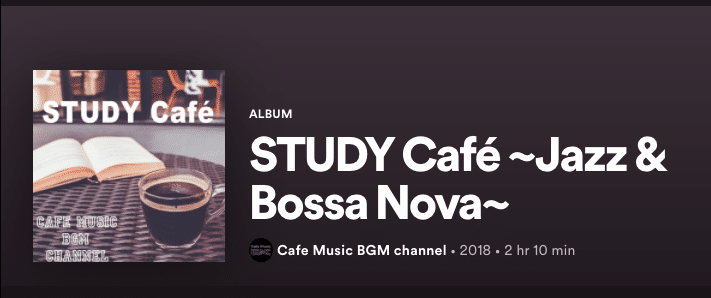 Sometimes you just need a little jazz in your life to jazz up your routine.
The Study Cafe album is reminiscent of sitting in your favorite cafe sipping a hot latte. At just over two hours, you will get lost in the soothing and upbeat melodies while typing up your next big writing project.
Lofi Hip Hop Beats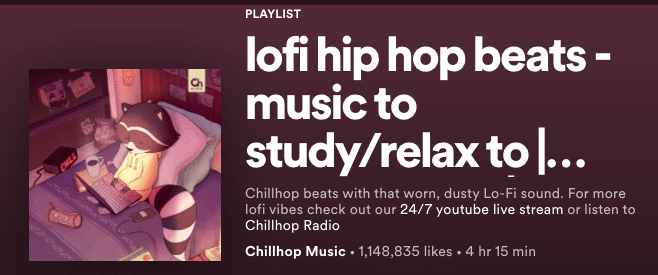 If it's some funky, Lofi beats that you are after, this album can keep you going all day long. With almost nine hours of writing music songs, you will never run out music to keep you in the writing flow.
Concentration Music for Work

Another great option for writing music is instrumental music mixed with nature sounds.
The soft rain sounds create a relaxing and quiet environment perfect for an undisrupted writing session.
Instrumental Pop Covers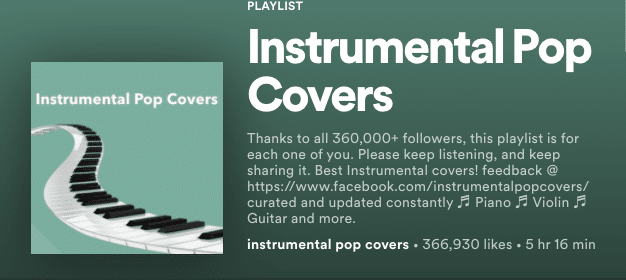 This Spotify playlist has over 27 hours of some of the most popular instrumental versions of popular pop songs.
You will easily recognize some of the songs, like Smooth Criminal and Desperado.
Writing Music to Help You Write
Just as with other aspects of your writing routine, your playlists and streaming services are personal to you.
If you already have a specific playlist, try switching it up once and awhile to help increase your productivity and focus. If you are having some writer's block or having difficulty keeping your focus on your writing, try something more upbeat.
If you know exactly what you want to say, then stick with mellower tones to keep you in the zone.
And of course, if you are having problems tuning out any external distractions, don't forget your headphones!