If you are a freelance writer like me, than you know how difficult it can be to come up with original and captivating, yet quality driven blog posts or articles. That doesn't mean, though, you only have to write low-quality web content.
Take if from me, you can write learn how to improve content and create quality content that makes your readers want to come back for more. All you need are 3 key things to improve your content.
Want to know what they are? Take a look.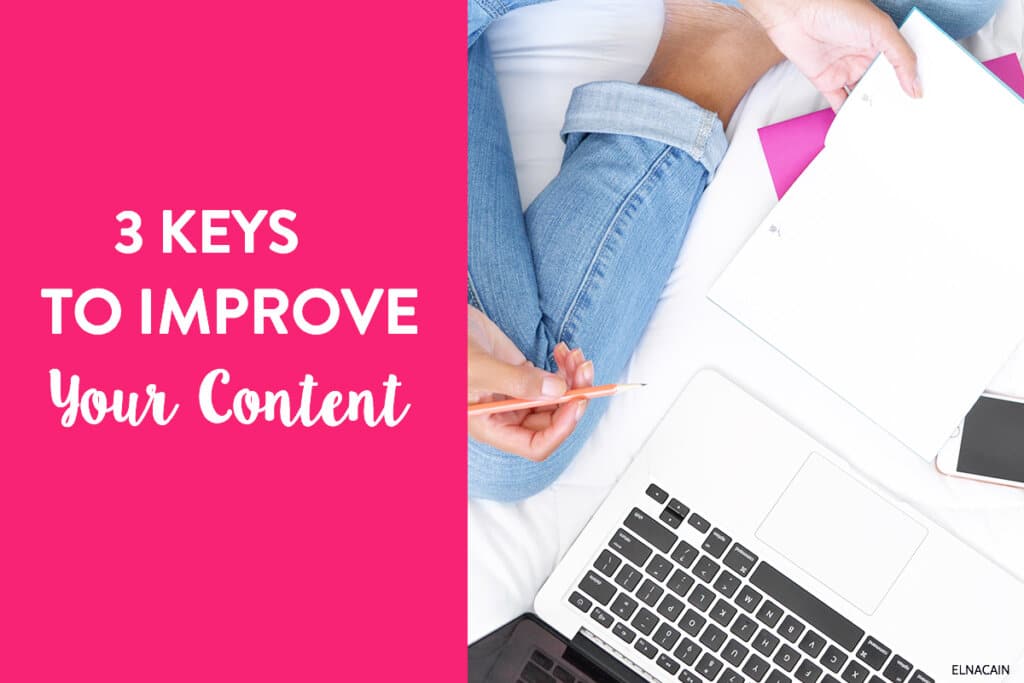 3 Ways on How to Improve Content
With these tips, I'll share what I learned as a freelance writer on how to improve content.
I know for me, when I improve content, I will land better freelance writing jobs.
1. Whenever Possible Provide Real-Life Examples
When you include examples in your post, it can connect your readers to what you are writing.
This also makes what you are writing more easily understandable.
For instance, if i write the sentence:
One of the iPhone 14 features that many customers are looking forward to the new design features.
Now for those of us who aren't "techie" and up to date with iPhone features, you read this sentence and know what design features are.
But do you know what the exact features?
No.
Providing a concrete example of specific features, will make readers connect and better understand this the new iPhone.
Here is a quality example for the new features of iPhone 14.
One of the iPhone 14 features that many customers are looking forward to a periscope lens for the camera. This will be a great zoom feature for content creators, making for some unique Reel or Tik Tok videos.
I was able to provide accurate examples of the new iPhone camera feature and relate to that with real-life examples of content creators.
This helps a lot for freelance writers who need to write about digital products or tech gear for their clients.
Learning how to improve content by simply explaining the digital tool or service or how you use it for your brand.
2. Insert Statistics to Legitimize Your Post & Improve Content
Now I know not every blog post out there provides meaningful information that has statistics to back it up.
Many people start blogs as a hobby and write mostly about their day, thoughts, musings and so forth.
If you want to have a blog that either generates income or a huge following, then make sure what you write about can be supported by statistics.
Using statistics helps the reader know that what they are reading is current and is a real issue for people.
It also validates and legitimizes the issue you are presenting in your blog post and immediately helps to improve content easily.
So how do you go about gathering data for your blog post?
The number one way I find credible sources is via a quick Google search.
However, finding the right statistic can be a challenge if you don't know what to search for.
It is best to think about your topic and pick a sentence or idea that you feel would benefit from a statistic.
For the above example, I would need to search the previous iPhone "apple iPhone 13 sell out" in Google's search engine to get some stats.
I feel my topic on the iPhone 14 will benefit if I insert a statistic about how many previous iPhones were sold. If I am having a hard time finding a statistic with that keyword search, then I can narrow it down by adding the term "statistic" or "%" with your keyword search.
Looking at the various links I come across a Yahoo Finance online site. I learn the following statistic about the iPhone 13 and use it to add legitimacy to my topic.
Investors Chaterjee said, Well, "the upcoming iPhone 13 launch," for one, which Chatterjee sees helping to push calendar year 2022 iPhone sales up to 246 million units (equal to projected 2021 sales)."
3. Use Reputable Sources That Everyone Knows
Lastly, one way to improve content is to make sure your sources are reputable.
Searching in Google can bring back links that, although may have the information you are looking for, are not credible.
For the above example, I was able to find that statistic on Yahoo Finance. Yahoo is a reputable site that many people know.
This also shows the reader they can trust what you write and what you write will be up-to-date and factual.
How to Improve Content
Doing these three things to improve content will help you land better freelance writing gigs.
Make sure to use these for your writing samples and for your client pieces.
What key to content writing do you feel is the best?
What would you add? I'd like to hear!