I've been a freelance writer for a little over a year and I recently posted my goals for my business.
I'm pretty private with my goals. My husband is the only one who knows my business goals and personal goals. I'm definitely not a blabber.
But, this past summer I was ecstatic to take my business to the next level and I wanted to include my readers in on my journey.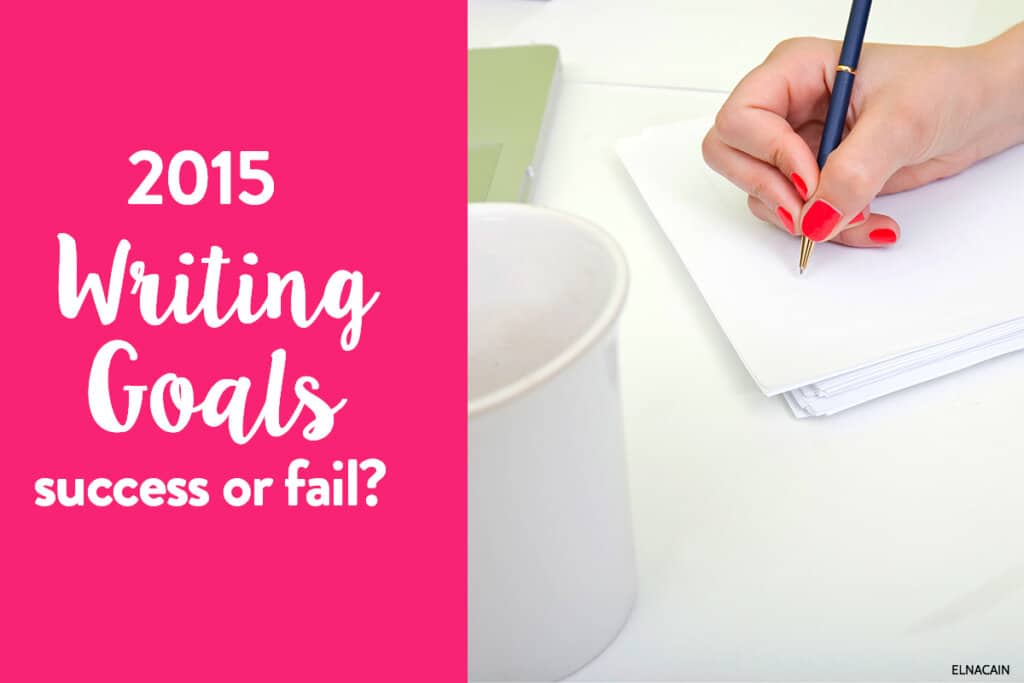 I also teach goal setting in my course for new bloggers and aspiring writers and I know they're benefiting from this accountability.
This is what Kate, a course participant said about it:
This course has ABSOLUTELY helped me! (And continues to help.) In fact, I've been trying to set guidelines for myself as a work-at-home freelance writer and one of them is committing myself to a daily schedule. Elna's course has been the cornerstone in helping me stick to that schedule.
Thanks Kate! I have a great bunch of course participants and they are killing it with their tenacity and go get 'em attitude.
So, to help you become motivated and to kick start your freelance writing career off on the right foot, let's recap my mid-year goals and see how I did.
My Mid-Year Goals Recap
1. Write Shorter Content, But Highly Niched
Can you tell I love to blog?
Not only do I blog on my own free time on ElnaCain, but I also contribute to FreelancerFAQs regularly. I also provide free content to Tweak Your Biz, LifeStyleBody and I recently I started to contribute to:
Not Now Mommy's Busy – Corina Ramos' awesome site for those interested in making money from home
Alegriasmuse – Jessica Adam's fabulous site for creative entrepreneurs
But, earlier this year I had to scale down my content on this blog to make room for a bigger project (at the time I wasn't sure if I was going to write an eBook or course).
So, I made the decision to pare down my blog posts and focus on a highly niched topic. I can say that I did follow through on this goal!
Now, not every post is under 1,000 words, but it is more niched and I can tell that my readers value my content. It definitely aligns with my lead magnet (free email course), making every piece of content relatable.
I will continue to write in this vein and provide targeted posts for my audience.
2. Include Copywriting Services
Back in July I was slowly learning about copywriting. I had mentioned I wanted to purchase some copywriting courses and I did. It helped me with my sales page so I'm happy.
I also alluded to creating a separate copywriting services website, but I've decided to go in a different direction with this.
For now, I am including copywriting services, but have yet to update my Hire Me page. I am happy to say that I landed my first copywriting client (who is also a current client of mine) and she gave me a huge project (multiple landing page copy and service page copy).
I quickly learned that conversion webcopy is my absolute fav and can't wait to land more copywriting clients. At the moment, though, it isn't a priority yet (I'm not actively pitching my copywriting services).
3. Offer Coaching
This goal I can say was an instant success! I launched my coaching services for freelance writers back in August of this year and to date I have eight coaching students and have a few more lined up for this month and the New Year.
I'm over the moon that I'm helping these writers out and will continue to offer my coaching to anyone wanting to learn how to be a successful freelance writer.
If this stay-at-home mom without a journalist degree can replace her full-time income as a teacher working part-time as a freelance writer, then I know you and anyone else can too.
4. Start a Big Project
In July I set my goal to create an eBook or course for new freelance writers. I wasn't sure what the format was going to be or if I was going to niche my product for just moms interested in freelance writing.
It ended up being an online course for bloggers and new writers and I launched it on November 16th of this year. I had originally set my anticipated launch for back-to-school (September) but I failed at meeting that goal (client work and family yo!).
It's been about a month since this course has been up and running and I currently have 23 students enrolled. I had set a goal to sell at least 20 courses by the New Year and I've exceeded that so I'm excited and happy about that!
My goal now is to work at selling at least 1 course a day. But I need many pieces to come together before that happens.
I had also mentioned starting a community for freelance writers, and for now I have the private Facebook group for my course participants and I will see how this fares and if there's a need for something more.
How Did You Fare?
Yay! I accomplished a lot in only 6 months!
It's amazing what you can accomplish in such a short amount of time. I'm gearing up for 2016 and will share with you some huge goals I have for my freelance writing business (I can't wait to share them with you!).
Did you set freelance writing goals this year? How did you do? I want to hear all about them!