Are you a new freelance writer? If so, do you think:
I can work anywhere and anytime I want. Yeah I can be my own BOSS!
I can create my own schedule and choose the job that's right for me. No more dreading the daily grind!
I will ultimately get paid for doing what I love the most: writing. I can get rich!
All this can be true and more when you are a freelance writer, but don't let these awesome perks become the death of your career.
In this 3-part mini blog series, Getting the Job Done, I will cover proven techniques to help you become a successful freelance writer and get that job done.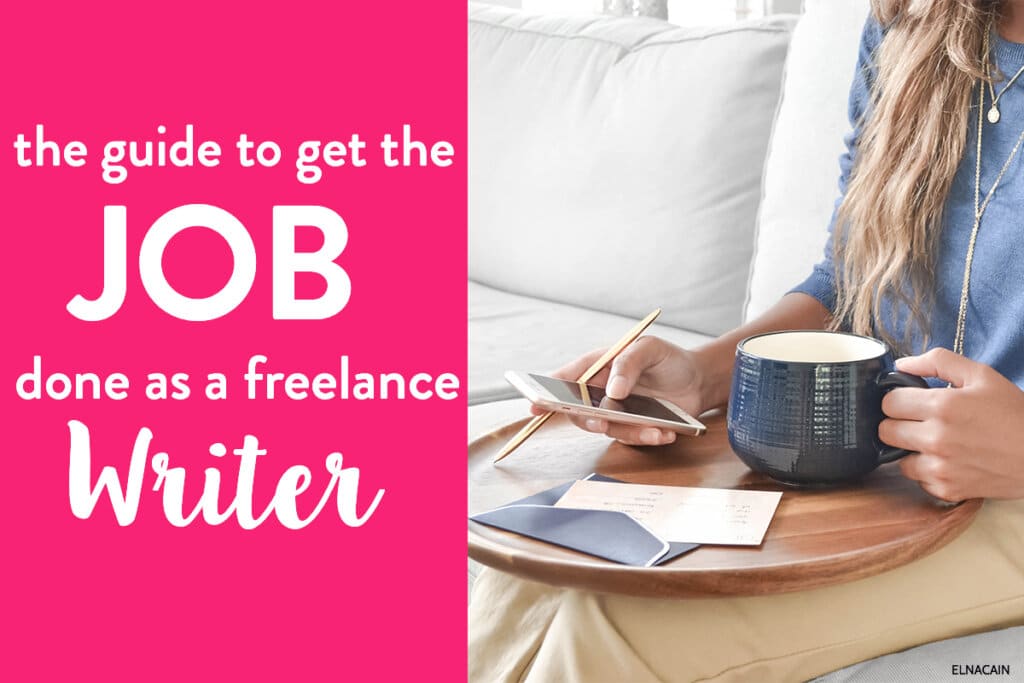 If you want to maximize your chance at being a successful freelance writer, check out my proven course for aspiring freelance writers called Write Your Way to Your First $1k.
In this post, you will learn
Work environment requirements
Scheduling to fit maximum projects so you can maintain your business
The different roles a freelance writer takes
So let's get started. Here are the basic do's when it comes to being a freelance writer.
Create a Clean and Organized Workspace
I know when I started freelancing my services, I envisioned going to a Starbucks, ordering some fancy drink and plopping myself in a comfy chair with my laptop.
Although I do this occasionally, it's not my primary way of writing. I find that if all I did was go to a coffee house, I wouldn't be as productive if I had worked in my office.
Why is that?
Because working on my laptop at Starbucks means I will be interrupted by friends, baristas, and run of the mill noise that occurs in a coffee house. This, in turn, will produce low work productivity, which means unsatisfied clients.
I'm also a stay-at-home mom of toddler twins. This means I'm limited when I can steal away for a few hours out of the house. I need to be able to work comfortably in my home while I can still watch over my children.
So in all my efforts to be a dedicated freelance writer, I chose a workspace that was free of distractions.
My bedroom and my desk.
I also made sure that my workspace was clean and organized. No more magazines or tissue boxes littering my desk. I only have my laptop, water bottle, and any other necessary gadgets like a keyboard and mouse occupying my desk.
And you know what I found once I removed all distractions? I was able to write faster and better! Having a clean space helps you with focusing your thoughts to only writing.
What if you don't have room for a desk? No problem!
You can work at your kitchen table or turn your closet into a mini office if you don't have the space. What is great about being a freelance writer is the choice to choose your workspace.
Set Regular Work Hours and Follow Them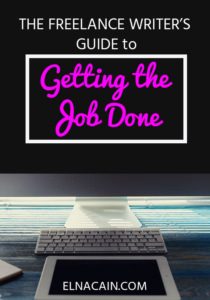 It's easy when you are a freelance writer to work into the wee hours of the morning or sleep in because you stayed up late the previous night. After all, you're the BOSS and you can work any time you want, right?
I'm here to tell you nope!
If you want a successful freelance writing career, then be consistent with your work hours.
Set an alarm in the morning to wake up the same time every morning. It's also a good idea to set regular breaks throughout the day for meals and just stretch or take a walk.
This has a two-fold advantage because not only does this create a regular work schedule but taking breaks also increases productivity!
You don't have to stick to conventional work hours either. Being a work at home writer means you can choose the hours you want to work.
I find that I get most of my work done early in the morning and after 7 pm. But, I have twin toddlers to compete with my attention on a daily basis. I work when I can and work more when a family member can take them for the morning.
Since I have to be a mom first, I try to work when I can. This usually during their naps, when I have childcare and after they go down for bed. This usually gets me a good 4 hours during most days of the week.
Be Great At Managing Your Projects
You will soon realize that working for yourself means putting on a lot of administrative hats, one of them being a project manager.
What is a project manager?
In a nutshell, the onus is on you to manage:
keeping tabs with each deadline
communicating with your client either via email, skype or phone.
branding and promoting yourself as a freelance writer for hire
educating yourself on different writing styles
keeping up to date on the latest Google updates that could potentially change the way you write
How do you juggle all these administrative tasks while still producing high-quality writing for your clients? I find that being a sought-after freelance writer means you have to be able to manage your projects efficiently and effectively.

To get a jumpstart in your freelance writing career, enroll in Write Your Way to Your First $1k today!
In Part 2 of my mini blog series I will go in depth on how to be an effective project manager. I will also cover why manners count in this business.
You are on the way to getting the job done so stay tuned!