As a freelance writer, most of you won't have to use a cover letter to land a job.
But, there will be some job ads that specify a freelance writer have a cover letter to apply for that writing gig.
And with that, your resume and your cover letter can make or break the opportunity to land your dream job.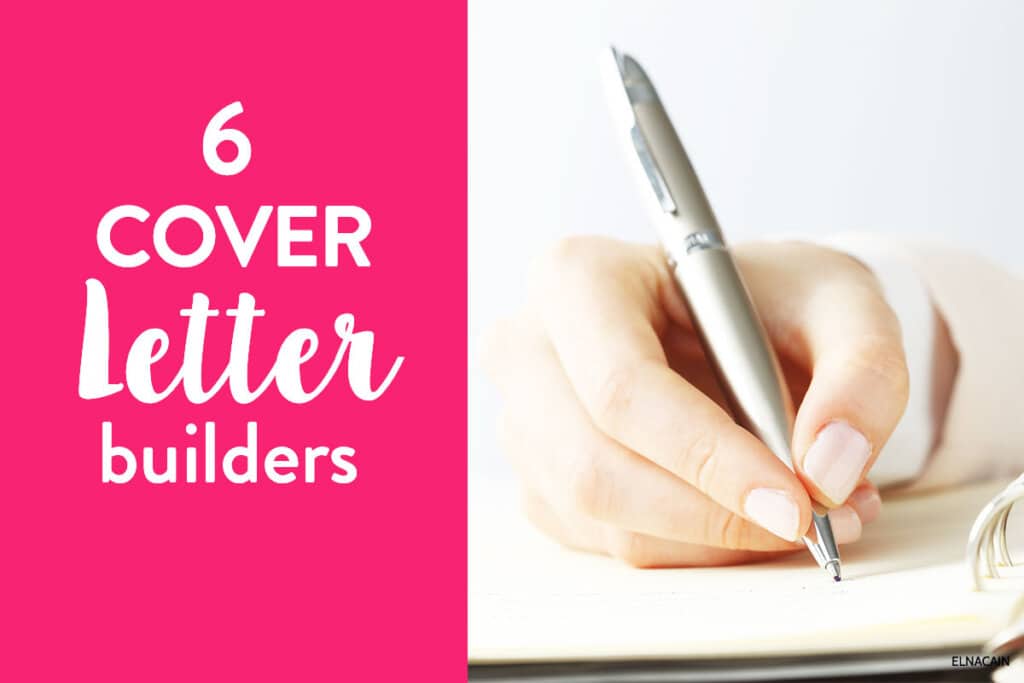 While your resume gives hiring managers an overview of your skills and qualifications, your cover letter can tell your potential future client so much more.
It's not uncommon for clients to list certain specifications in job listings to ensure that the freelancers are paying attention to the small details and not just sending out the same boring resume and cover letter to 50 different freelance writing jobs.
Being able to show in your cover letter that you're able to pay attention to detail and use the language on their website in writing your cover letter shows that you're willing to put in that extra bit of effort to get the writing job right the first time.
Writing a cover letter from scratch can be challenging.
Many people feel weird about writing about themselves and fall prey to many of the common mistakes.
Using a cover letter builder can help you to get a leg up on your competition and stand out in a sea of basic applicants.
It's unfortunate, even if you spend a lot of time on your cover letter, that most of them don't get read. This is especially true when the cover letter is not customized to the company and position you are applying for.
To help you out, I've outlined a few of the most common mistakes freelancers make when writing their cover letters and how you can avoid them with cover letter builders.
Some Common Mistakes to Avoid When Writing Your Cover Letter
Make sure that you do your research on the company first!
Non-specific greetings. Anything that begins with "Dear Sir or Ma'am" is most likely not going to get read.
Start your cover letter with something that is going to pique their interest and that is going to make them want to keep reading, not "I am applying for X job…" .
Don't just list your skills, show the hiring manager why you are more qualified than any of the other applicants. Get specific, talk about ROI and specific client or project examples if possible.
Above all, don't try to create a generic cover letter template that you don't change when you apply to a freelance writing job.
While a cover letter template is helpful in saving you time and energy, make sure to modify it and make it relevant for the job you want to pitch for.
Best Cover Letter Builders
Here are six easy to use (mostly free) cover letter builders to help you land that freelance job.
1. Resume Genius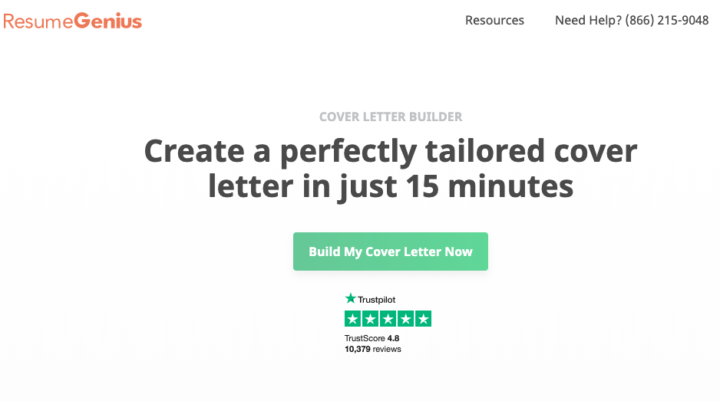 Resume Genius is an easy to use cover letter builder that even a high school senior could use.
It starts off with a simple quiz like format and asks you a few questions, like:
Do you have work experience?
What's your highest level of education?
After a few questions, it walks you through entering your work experience and choosing some hard and soft skills, as well as words to describe yourself. You can even enter the information for the company and position that you are applying for.
After entering all your information, it compiles a professional cover letter customized to the position and company that you are applying for.
You can also easily save your work so that you can go back and make additional cover letters for other companies and positions without having to start over. You can easily directly download your cover letter or sign up to get a copy.
2. Zety
With Zety, you can choose from a variety of modern cover letter templates before you dive into the creation process.
Zety also collects your information through a quiz type format. It focuses on your strengths and the job you would like to apply for. If you don't have a specific one in mind, you can enter that too.
One of the unique aspects of Zety is that is asks you about how you would describe your job style; such as a doer, organizer, or analyzer.
Once Zety has put together your cover letter, you will need to enter your first and last name and create an account with your email address to get your finished cover letter.
You can easily edit the letter within each one of the fields to fully customize it to fit your needs.
3. LiveBuilder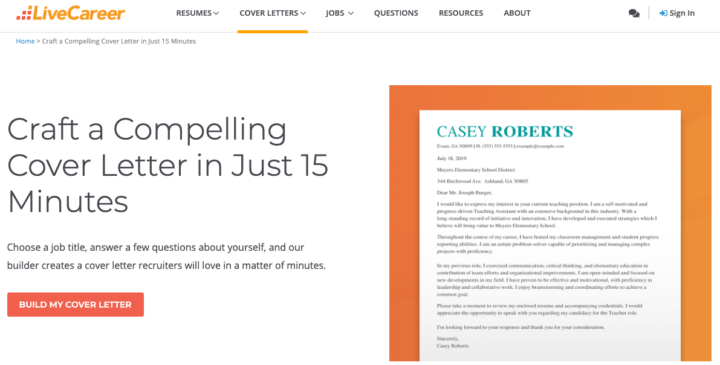 LiveBuilder is another free cover letter builder that can help you to create amazing and professional cover letters in a matter or minutes. The setup for LiveBuilder is very similar to Zety with how they gather information. It starts off with gathering information rather than picking a template first. LiveBuilder offers a variety fully customizable of templates to choose from.
Simply enter your email address and LiveBuilder will give you full access to their cover letter and resume building services.
4. Resume Companion
Resume Companion is used by university career centers to help students build outstanding resumes and cover letters. In a few simple steps you can have a professional cover letter that will help you land your dream job. You only need to answer five questions to have your cover letter ready to go.
Fully customizable and automatically formatted, you won't have to worry about wasting extra time trying to figure out how to correctly format each part. You can also easily export your cover letter to PDF or Word.
While it is not necessary, there is even a section to help explain work gaps. While there is some debate about how to handle gaps in your resume, you should feel out the company that you are applying for. Often, hiring managers suggest that you should only have to explain gaps in your work history if the company specifically addresses it.
5. KickResume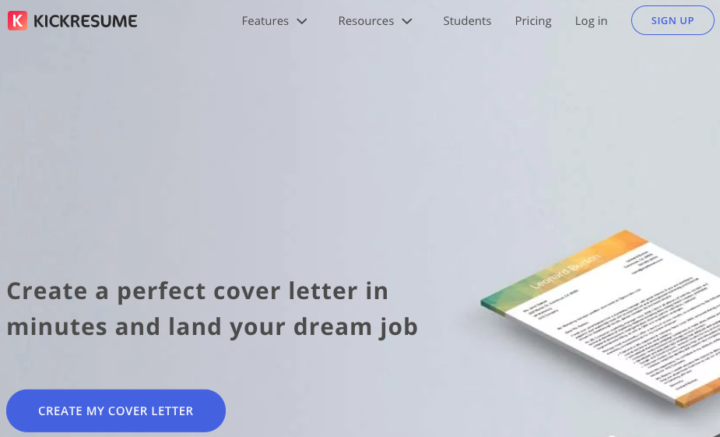 KickResume boasts itself as "the world's most powerful cover letter builder." Each and every one of their cover letter templates have been designed by professional graphic designers and approved by professional recruiters.
According to their stats, when candidates use their cover letter templates they have a 60% higher chance of getting hired and the average time to find a new position is 25 days.
That really goes to show you how powerful a great cover letter can be.
There is a free and a paid version of this cover letter and resume builder. The paid version, is less than $10/month but might be worth it if you are on a serious job hunt.
Job seekers that have used Kick Resume have gotten hired by some of the most well known companies around.
6. Smart Cover Letter
Make the right impression with a professional cover letter using Smart Cover Letter. Simply begin by entering your name and email.
Before you even get started Smart Cover Letter provides you with tips on how to get the most out of your professional cover letter.
Although the tips are simple, they are very valuable; such as always double check to make sure your contact information is correct so employers can get ahold of you.
Once you sign up you can enter your contact info, which will then go right on your cover letter. Do your best to find out the name of the person that is going to be reading your cover letter to avoid the generic greeting of Sir or Ma'am.
While the greeting defaults to, "I'm writing to apply for the position of [job position] at [company name]," You can easily customize it to make your letter stand out.
Cover Letter Builders to Help Land a Job
Having a great cover letter can truly make or break your job hunt. Try out a couple of these and see which one gets you better results.
There is a quote, "what you measure you move," searching for a job is no different. Track what you are doing and do more of what works!
Over to you – have you used a cover letter builder or cover letter template for pitching to freelance writing jobs?
Share with me in the comments!