Do you have a blog with interesting content people want to read, but they aren't reading it because you have lifeless images?
Do you want to learn how to create images to die for in order to increase social engagement and ultimately gain more readers?
If you answered yes to one or both of my questions, then this tutorial is for you!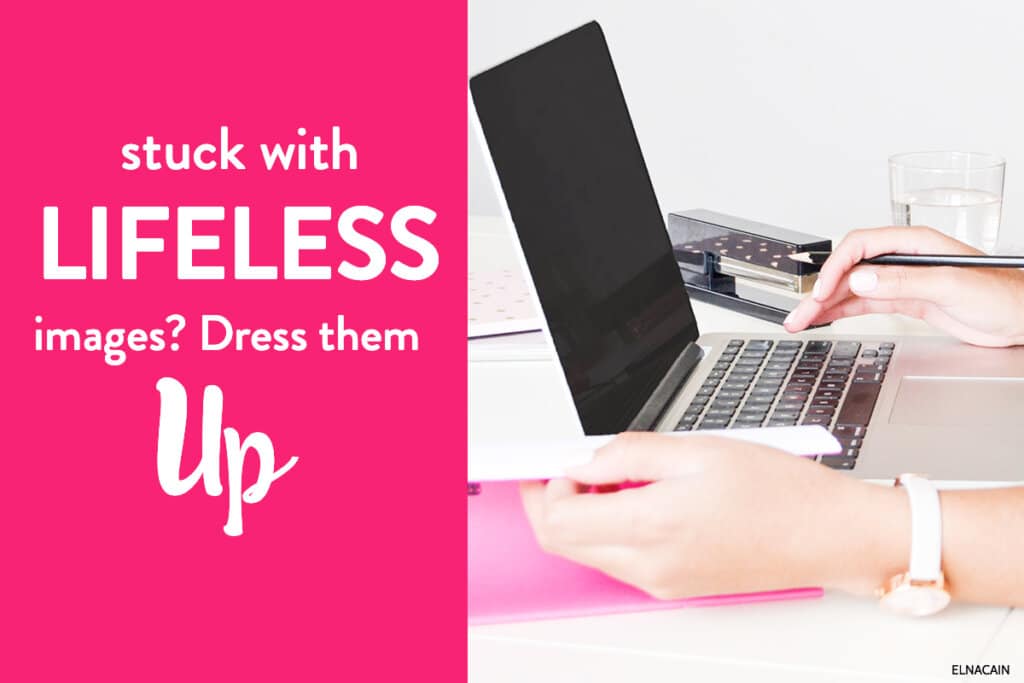 When it comes to putting the final touch on a blog post, I'm sure you typically reserve the feature image until the very end. Usually you
Find a photo that tells exactly what your post is about
Insert it into your blog and publish it
Share it on social media
You may not realize it, but photos on your blog could help you attract more readers.
Why does a photo matter when you already have shareable content?
Although blogging in itself promotes social engagement by making it easily shareable on social media, using visual content can increase likes by 54% and comments by 104% on your blog posts.
So how can you dress up your lifeless images to promote more social engagement? In this post, I will discuss where you can get photos and show you video tutorials on 4 ways to enhance your photos using Photoshop.
If you don't have Photoshop, you can purchase Photoshop for as little as $9.99/month. Or, there's a 30 day free trial of Photoshop here. A much cheaper version is Photoshop Elements. There's also a free trial of Elements that you can get here.
And in the end you don't want to use Adobe Photoshop, you can go here and find many Photoshop alternatives that are free to use.
I know that there are other free image editors like Canva and Picmonkey out there that many bloggers use, but I prefer Photoshop as that is the only image editor I am familiar with.
I have used Canva before, and although it is a great tool for bloggers and is easy to use I found it had some key limitations. Specifically, I was unable to overlay certain images and I couldn't use two different text fonts (like I did with the image on this post) unless I picked a per-determined text box.
Let's get started!
A Picture is Worth a Thousand Words
If you are new to blogging, you might think any picture on Google is up for grabs as long as you attribute it to the original source with a link and caption.
Wrong.
Sara Hawkins wrote a post on Social Media Examiner, and puts it into perspective saying,
You've heard the adage that a picture is worth a thousand words, but when that picture is protected by copyright, the picture is only worth three words: cease and desist.
Many pictures on the internet are copyright protected, meaning, they can't be used or distributed without express authorization from the owner.
But don't worry. There are actually many Creative Commons photos that are royalty free and available for commercial use.
The Verve has a great article featuring 27 sites that have free stock photos.
Even better, BufferSocial has more than 53 free image sites for anyone who wants to use a picture for their blog.
Now that you know where to get your photos, let's begin to turn them from lifeless images into images to die for. Here are 4 ways to enhance them for greater social engagement.
Click on any of the links to watch my tutorial. Note, my children were sleeping when I did my voice over, so that is why I might sound a bit subdued and calm in my video.
1. Add a Text Overlay to Your Photo
2. Add a Frame to Shape Your Text
3. Add a Filter to Your Image
I used an Instagram type filter for my photo. If you want the same effect, you can get retro filters for your images at Brusheezy.
4. Rounding Corners on Your Image
Now You Can Create Appealing Visual Content for Your Blog Readers
I hope my video tutorials will help you in opening up your creativity when it comes to jazzing up an image. So next time you're finished with your blog post, find a photo that relates to your content but hasn't been overused and dress it up using any of my four enhancements.
Besides focusing on your feature image, you can also add other visual content to your blog post to make it more appealing to your readers, making it more likely they will share it. Try adding
charts, graphs, venn diagrams
infographics
slideshare
So there you go! Let me know what image modifications you use to make your images pop. What other visual content do you like using in your blog posts? Do you find it makes a difference in attracting more readers?