It's that time of the year – gifts for writers!
Do you have a friend or family member who is a writer, teacher, author, blogger or professor?
My MIL is a teacher and librarian and my friend, Lorraine, is an editor.
Finding the perfect gift for writers can be a challenge. What to get for Christmas is especially challenging for the hard to find gifts person.
Writing is so personal and covers a ton of different genres. So, how can you make your writer friend or family member get excited about a gift?
Well, with gifts for writers! These gifts are clever, cute, cozy and can help make writers profitable. So check out this massive guide of 67 gifts for writers and make sure to bookmark this for later.
67 Gifts for Writers
Below, I've listed types of writers in your life and gifts for writers that go well for that writer. You might know a budding writer or a foodie writer or a chic writer.
The gifts for writers in this list are tailored to that specific type of writer. Enjoy the guide!
1. For the Coffee Drinker
Don't annoy the writer in your life! Ha!
This clever mug says it all for the avid coffee drinker writing their next novel – don't get in their way when writing strikes, or she'll kill you off in her novel!
For a little motivation, you can try this Mother F* mug or this mug that says writing is a superpower.
2. For the Music Listener (What to Get for Christmas)
Why not give the writer in your life some wireless noise cancelling earbuds? They are small and without a wire, they can go anywhere with them! I listen to music when I write, so these are perfect for me.
If headphones are what your writer friend loves the most, then these bestseller Bluetooth noise-cancelling headphones will be instant love.
3. For Audiobook Lovers
What writer doesn't like listening to books while they work or do chores?
I'm one to listen to podcasts, music and books when doing the laundry or meal prepping.
So, why not try this Audible membership?
You get a free Audible book when you sign up and get access to bestsellers, new releases and more.
4. For the Journal Fanatics

When I was in college, I loved having new journals I could use to jot down ideas, thoughts or musings in my day.
This Tree Journal is beautiful, durable and the pages in these journals are thick, making it hold up during bus rides or in between toddler's hands.
If you seek more structure, try this Freedom Journal or this 642 Guided Journal.
5. For the Aspiring Blogger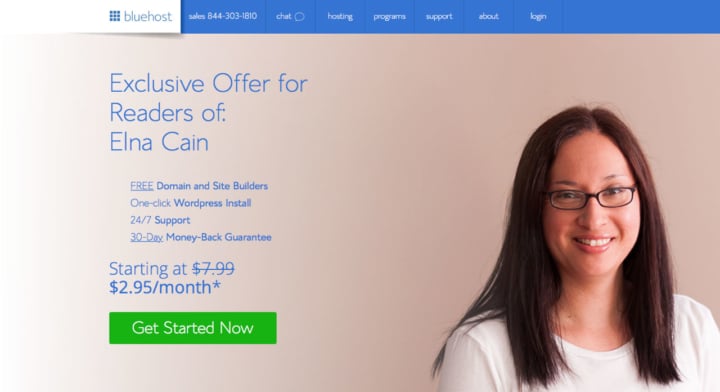 Does the writer in your life have a writer's website? It might be time to start a blog for the new year.
Bluehost is the top hosting company for writers and freelancers. Their customer service is beyond great and the cost to start a website with them is the cheapest around.
Here are a step-by-step blog post and video to help new writers start a blog.
6. For the Beginner Freelance Writer
The best gift for writers are ones that grow with them and helps them become a better writer – and a profitable writer too!
Why not gift a writing course like Write Your Way to Your First $1k to the writer in your life? It helps new writers land high-paying clients, so they make a living as a writer!
With over 50 lessons and video tutorials, this is the best business writing course around.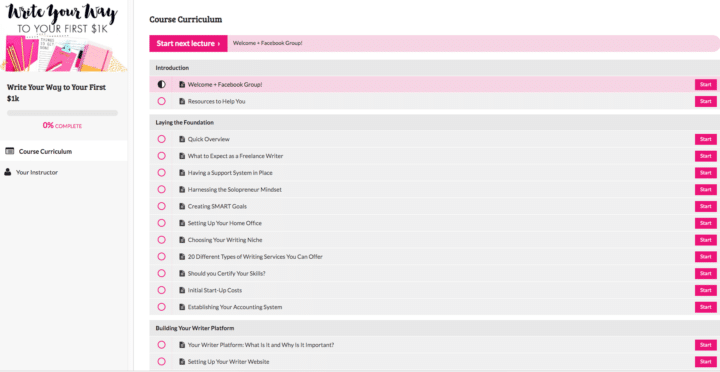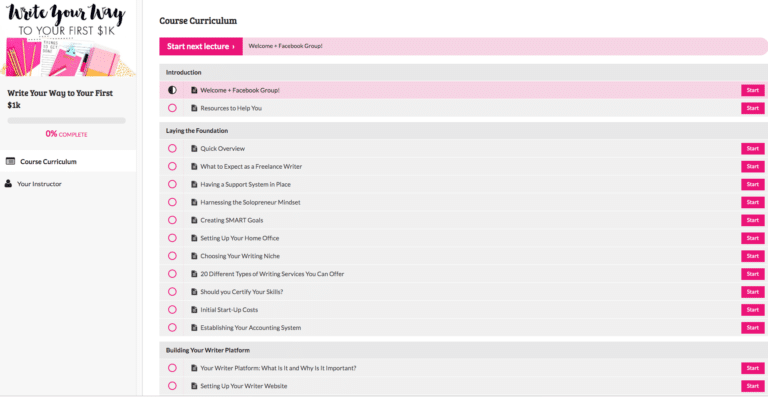 If they need help writing faster and overcoming writer's block – forever – then gift the Speedy Freelancer Course for writers.
Next, if the freelance writer in your life is struggling to land consistent writing work, why not give them a membership to a job board?
Contena is a premium job board with big brands and leads – like CNN – wanting writers with high-paying gigs in the B2C and B2B industries.
Writer's Work is a job board and platform for brands to find writers.
At $15/month or just a one-time fee of $47, it's a great way to start freelance writing.
Finally, go ahead and get them a subscription to Grammarly – the most popular editing tool writers use – including me!
7. For the Cozy Writer

I don't know about you, but when the weather gets cold, my hands and feet get cold – no matter if I'm wearing a sweater and sweatpants! Warm up your loved writer friend with these fingerless gloves.
You can complete the set with some cozy slippers like these memory foam indoor and outdoor kind.
And for some added warmth, slip in this flannel throw blanket for when they want to write on the couch or even on their bed.
8. For the Die-Hard Writer

Does your writer friend want everyone to know they are a writer?
Give them ways to show off with these temporary literary tattoos.
Add to this by surprising them with this writer's pj set.
For more branding writing elements take a look at these:
9. For When Inspiration Hits

As a writer, I get the best ideas when I'm taking a shower.
And, then I have to remember it or end my shower early. Well, don't let that happen to the writer in your life. Give them all the chances they can with this waterproof notepad to jot down their ideas as one of them may lead to a bestseller.
10. For the Book Reader
Give the book lover in your life a Kindle subscription so they can never be without their favorite book.
Or, you can give them a subscription to Amazon First Reads. With this subscription, you get early access to editor's picks, can choose one Kindle book for only $1 each month and can select print materials for under $10!
11. For the Tea Lover

Do you know a tea-loving writer? Surprise them with this Jane Austen black tea blend.
With spearmint, a slight touch of vanilla and lavender flowers, this makes for a sweet floral tea.
Complete the writer gift with these Jane Austen books coaster set, a clever drink tea spoon, and a tea mug with the greatest opening lines of literature.
12. For the Hand Writer

If your writer friend can't stand using digital writing tools, why not treat them with what they love the most – pencils. This editing pencil is a two-toned pencil to let you self-edit as you write.
Wrap it up in this Edgar Allen Poe inspired zippered pouch and toss in this literary insults charts for inspiration.
13. For the Competitive Writer (Great Idea for What to Get for Christmas)

Who doesn't like a little competition with friends and family? Writers are the ultimate competitor and let them shine and show off their vocabulary skills with a fun game of Bananagrams.
Race under a timer to see who can create words in a crossword grid using all their tiles. When you do, yell, "peel" to start a new round.
If you want more structure, go with a tried-and-true Scrabble game or get creative with Word a Round where you unravel words as fast as you can.
14. For the Young Writer

Start the love of reading with these BOB beginner books. I bought these for my kindergarten twins and they immediately wanted to read these colorful and simple books to each other.
We are on our third set and they are reading above their grade level! So proud of them.
To encourage reading and writing, check out Bananagrams for kids, Zingo and Spot It!
15. For the Productive Goal Setter

One of the things I did in the new year was to create goals using this writing productivity planner.
I use this planner every week to track my client pitches, articles and weekly writing tasks. It has helped me stay focus and accomplish two of my three goals!
Another gift for writers is the One Hour Content Plan (from a course student of mine) to help you get more ideas and be more productive with your writing.
16. For the Foodie Writer

Food and reading go hand-in-hand. With coffee and a biscuit, you can dive right into a novel or get inspired to outline a blog post or chapter in your new book.
Writers can carry that feeling into their cooking with this Game of Thrones inspired cookbook.
That's right! Create meals you read in your books! How cool is that?
Try these other literary cookbooks to spice up your meal plan:
17. For the Librarian

My MIL was a librarian in her youth and has encouraged my twins to love going to the library. Why not bring the library to your loved one?
These Library candles set the scene for some book reading, or you can surprise the writer in your life with this trio set of Library spray.
For stocking stuffers for writers, check out these:
18. For the Chic Writer

I share my office with my twins. On one side, I have a craft area for my twins and on the other side is my office.
So, I do my best to dress up my desk with this marble mousepad or have beautiful rose gold pens with some bling diamonds to add a touch of sparkly goodness.
19. For the Side Hustler
Do you know someone who works full-time, takes care of their family and wants to write?
They have an unfinished novel, or they just want something different from the 9-5 job that fulfills their passion for writing. Well, a side-hustle can help them achieve this and more.
This means moonlighting as a writer and finding pockets of time to write. Before my twins started school, I used my Fitbit's vibrating alarm to wake me up quietly – and not the rest of my house – to start my side hustle as a freelance writer.
If your partner doesn't mind waking up early (before work), then this sunrise alarm clock would be great for both of you.
20. For the Pen Addict
I have a confession to make – I'm a pen addict and my twins are becoming pen addicts too!
We just bought them their own sharpie set for drawing (they watch this YouTube channel for ideas) and I constantly have to find good pens for my writing.
For my go-to writing pen, I absolutely love these Bic Velocity pens. They are so smooth, never run out of ink and they are retractable.
Other writers may like these Zebra ballpoint pens or these Pilot G-2 retractable gel pens.
21. For the Creative Writer

Whether you have a librarian, college professor or tutor in your life, any one of them would get a kick out of an Edgar Allen action figure!
You can also choose from:
22. For the Writer With Writer's Block
This cool stocking stuffer writer gift can cure any writer with writer's block
. The Writer's Block has 786 ideas to prompt you back into writing again.
For other gifts for writers, why not give them this cool looking Writer's Block journal – it looks like a real block of wood!
Or, you can opt for the Writer Emergency Pack, filled with illustrated idea cards, prompts and more!
Finally, gift your writer friend with a course to help them write faster and abolish writer's block forever.
Gifts for Writers!
There ya go! Sixty-seven wonderful gifts for writers, librarians, editors, bloggers and more!
Is there a gift or two you can't wait to get for your writer friend?
Tell me in the comments and remember to pin me!