Do you want to become a freelance writer, but have no clue how to do it?
The frustration is too much and you give up even trying.
I've been there and have done that! I almost quit entirely when someone made fun of my writing.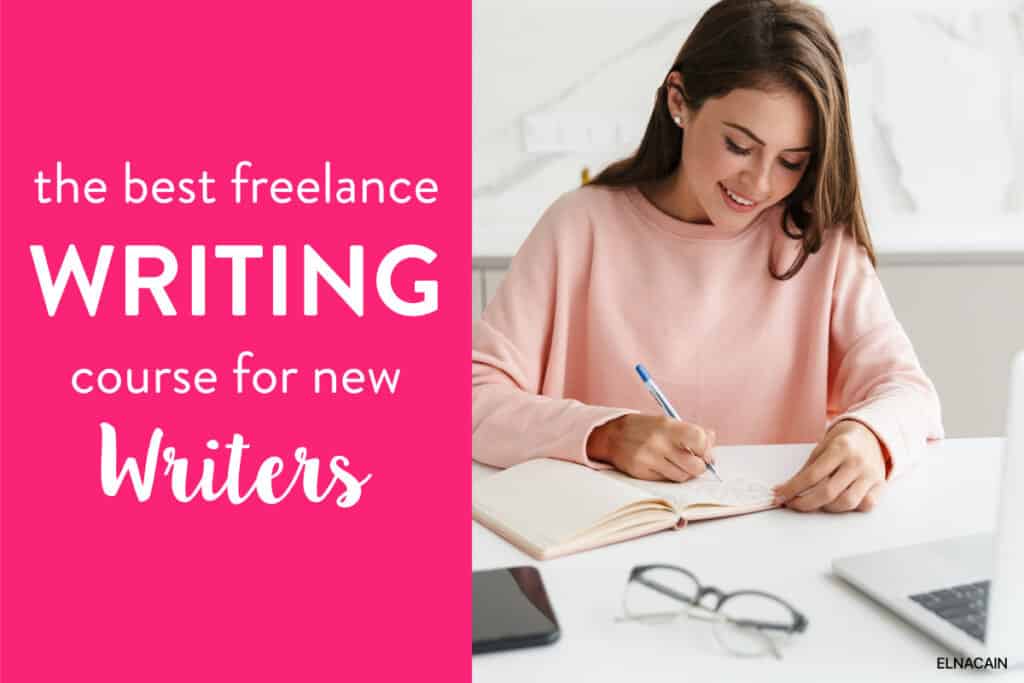 Luckily, I didn't!
I kept on going and started to make a name for myself! I landed bigger and better clients with each new freelance writing job!
From Blogging Wizard to Optinmonster, to Walmart, to my latest clients: Zapier and Freshworks. I'm over the moon ecstatic with how I've been able to freelance write since 2014 and STILL make a living writing content.
I've been able to diversify my income, start niche websites, grow another blogging business and hire a VA and other writers.
No matter what path you take, writing nonfiction books, how-to guides, SEO copywriting or content marketing, you want to get paid to write and that's what counts, right?
It may not be that you start a legit business or that you have the freedom to work anywhere in the world, but it's being able to call yourself a professional writer that gets paid for their writing.
As my freelance writing business grew, my audience of new writers grew, and they needed help.
While I did do 1:1 coaching at first, it quickly became too time-consuming.
I had to think of something else as I truly wanted to help my audience learn to freelance write and make money writing.
And the answer?
A freelance writing course.
I was able to develop a roadmap of sorts that helped me not only land clients, but attract and land high paying clients too.
If you want freelance writing to be your main source of income or just a side hustle to some extra cash, my course Write Your Way to Your First $1k can help.
The Freelance Writing Course: Write Your Way to Your First $1k
If you want an inside look into my freelance writing course, subscribe to my Youtube channel and watch the video below!
The main part of the course is seven modules or chapters of my program. The course is a mix of written lessons and video lessons.
I update the course every year and add new lessons. Any new lessons I create are in video format. If, for any reason you aren't happy with the course, there is a 30-day money back guarantee.
When I first designed this freelance writing course I intended it to be a 7-week writing course, but the information in each module is in-depth and comprehensive, so I now say the course is self-paced.
This was better because new freelance writers can go through the course in two weeks if they want or they can pick a module and work on that – which works too!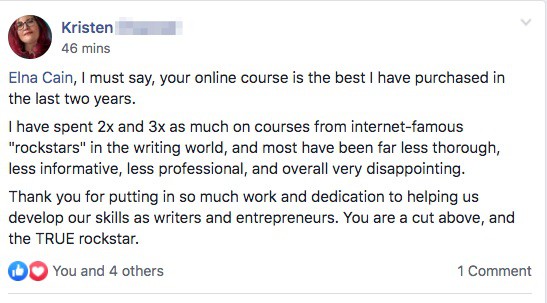 What's great about my writing course is that it has a private Facebook group you can join. I mention this in the introduction module.
I'm in the group answering questions when I can, but other writers have stepped up and shared their experiences.
Other veteran Writeto1k writers in the group also help new students that join the Faceobok group. I also do training and I bring in experts – other freelancers – to share their wisdom.
I've had freelance writers Samar Owais, Elise Dopson, Alicia Rades and more share their advice.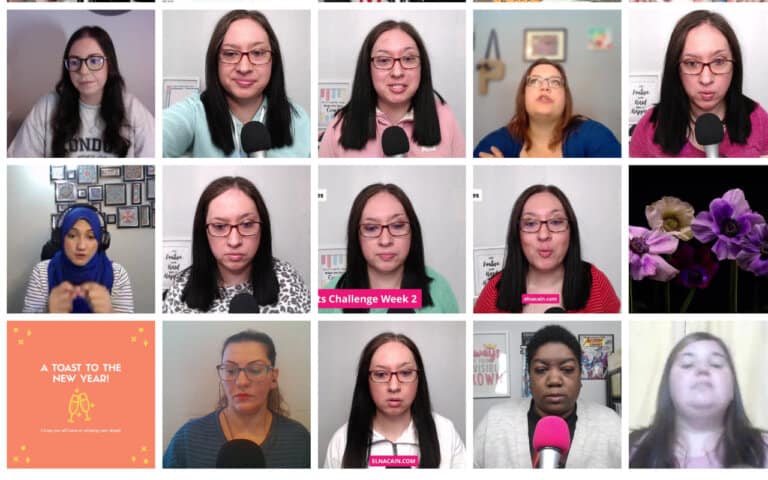 It's a very supportive Facebook group, and I'm happy to see all the wins and helpful advice given.
You then start your first module in the freelance writing course: Laying the Foundation.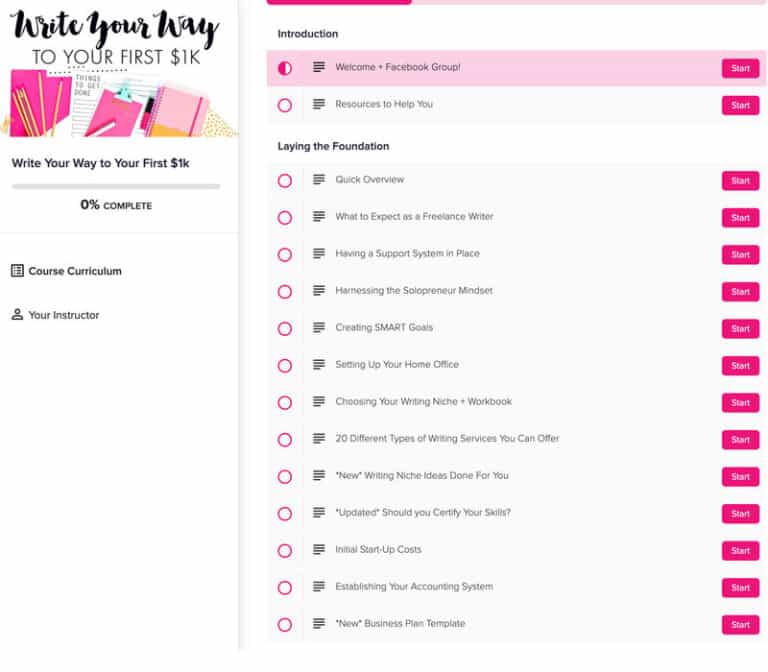 This module is straightforward and all written. I feel that this information is best presented as written.
There is no need for people to see me talk these lessons. I'm showing my course students a strategy or a tech thing in the video lessons I provide. There's a purpose to providing video content and written content in my course.

I polled my course students, and they enjoy both formats – written and video.
In Laying the Foundation module, I prepare you to be a solopreneur or freelancer. Are you ready to work by yourself and manage your time without a boss telling you?
These things are important to cover since working from home can be lonely, but it's still highly rewarding (and the freelance writing course Facebook group makes up for the lonely part!)
My favorite lessons are:
Choosing Your Niche + Workbook
*Updated* Should You Certify Your Skills?
These two lessons give a new freelance writer direction and a plan to go forward.
I know figuring out your writing niche is a struggle, but the lessons I have in Writeto1k, the discussions in the Facebook group and my help will help YOU find the right writing niche.
And, I know it works because the discussion in my Facebook group is less about what niche to get into and more about landing clients, marketing strategies, or writing tips.
From here, the groundwork begins with my other modules. Those modules are:
Building Your Writing Platform – I share with you what platforms to build your writing business and show you how to set those up and craft copy for your website.
Building Your Portfolio – I share what to write on your portfolio page and have video tutorials on setting up your portfolio.
Finding Writing Clients – I continually add new lessons on finding writing clients. While the bulk of this course is to help you ATTRACT clients to you, I do realize for brand new freelance writers, you need to hustle and put yourself out there. I make this easy in this module!
Your Pitch – I walk you lesson by lesson on writing your pitch and provide a Pitch Archive of proven and converting pitches.
Your First $1k – This module is about writing and learning how to write a blog post, use images, edit your post and submit your post + more!
Your Freelance Business – From invoicing your client to managing your business and more, this module helps you prepare yourself for a legit business.
And there are many bonus modules too:
Advanced Freelance Writing Training (From Experts)
Pitch Archive
Extra Materials (include guides like a copywriting guide, Book Clients in 30 Days challenge, and how to negotiate a higher rate with current clients and more)
Success Stories from course students
My Favorite Module in Write Your Way to Your First $1k
While all the modules in Writeto1k are fabulous and necessary to make a living as a writer, my favorite module is You're First $1k.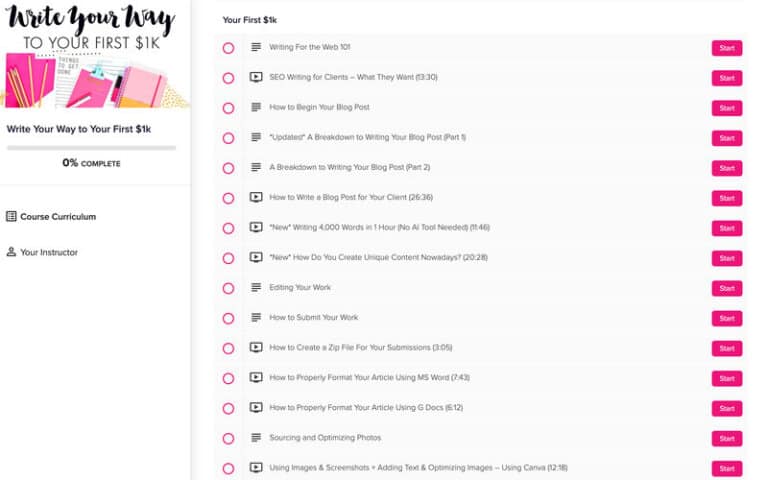 In this module, I share my newest writing process. With this process, I can write 4,000 words in one hour! Oh yea! It's awesome, and I share this and more in this module for my freelance course.
The module has lessons on SEO writing, a step-by-step process to write a blog post, edit a blog post, submit your freelance writing work and source and use images for your content.
I plan to publish more lessons to help with improving your writing skills!
What this Writing Program is All About
Write Your Way to Your First $1k course is for people who want to start a freelance writing business.
They want to get paid for their words and make a living writing. They love writing, love learning and hate their 9-5 job.
They want more than what their job is giving them, and Writeto1k can give that and more!

Do I Need Another Freelance Writing Course or is Writeto1k Enough?
Write Your Way to Your First $1k is a comprehensive course, but I didn't want to make an entire A-Z course or overwhelm my students by adding other topics around freelance writing.
That is why I have other courses that complement Writeto1k well. One is called Writer Website in a Weekend.
This video tutorial course teaches you how to set up you WordPress writer website. It's a technical course that walks you step-by-step on how to set up a WordPress website 🙂
It's fully updated!
The other course that compliments what I teach in Write Your Way to Your First $1k is Freelance Blogging in a Weekend.
This is primarily a writing course (but all video lessons) to help struggling freelance writers that can't get past the $100-$150 per post client learn high-paying writing skills.
These are SEO writing skills and skills to write an ultimate guide and review post. I also share tips and strategies that work well for your blog if you have a blog in addition to your writing business.
There are amazing bonus videos and affiliate marketing strategies too!
If you are looking for something smaller or a shorter course to take, I have two masterclasses, each about an hour long.
The first is the Writing Sample Starter Kit. This masterclass has 250 writing prompts for you and a tutorial on how to write your first writing sample.
The second masterclass is the Fast Track to SEO Writing. I show you how to write an SEO blog post for a client.
If you are struggling with another area, please comment and let me know! I might be able to create a course or masterclass to help you out!
Are You Ready?
As a course student, you get lifetime access and updates for the freelance writing course you are enrolled in.
I do my best to provide the most up-to-date information for my students!
So, are you ready to invest in yourself and enroll?
Feel free to DM me on Instagram if you have any questions about one of my courses!