Wow, another year has gone by in my freelance writing business and so much has happened for me! I have no idea where to begin. It seems like everything is jumbled in my mind right now.
The person and the business in January took a great pivot in the summer and is taking another turn for 2017. I think the big change in goals occurred when I started Twins Mommy.
So, to say that my mind is wrapped around that new platform isn't an understatement. But, that doesn't mean this blog or my freelance writing business is taking a back burner.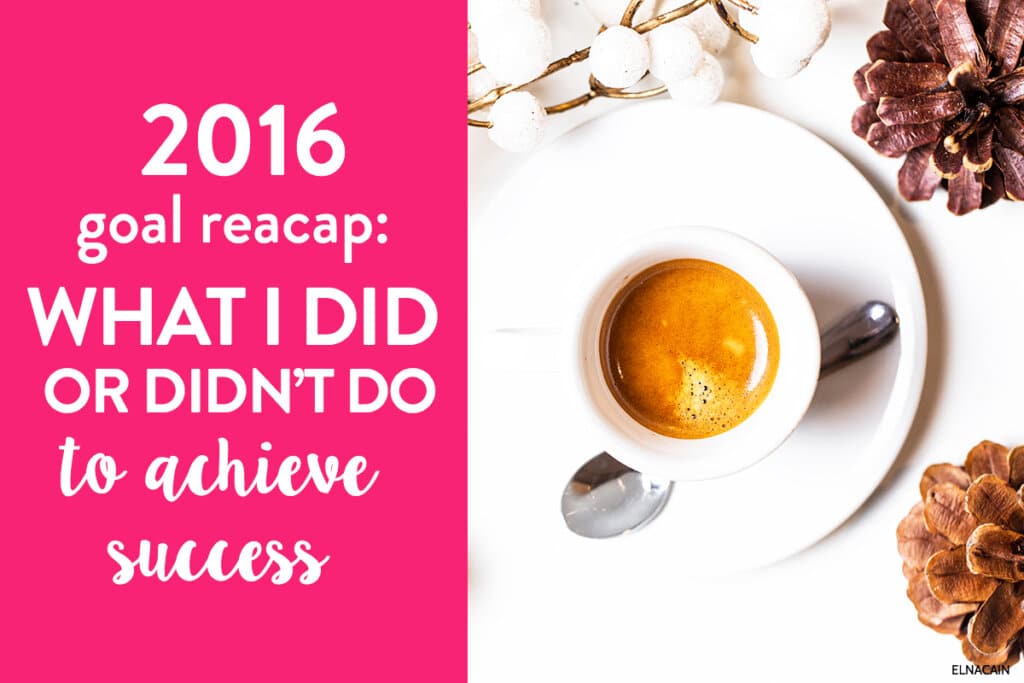 What's Happening Now
November was a Write Your Way to Your First $1k month. I revamped the course, made it a much better user experience and included so many awesome bonuses I'm pretty sure my course is the only freelance writing course out there that has this much information and almost 100 different ways to find clients.
Yes, you read that right. My course is full of actionable content and I made sure to let my subscribers know the value my course has. I'm planning to unveil the new revamped course soon, but that didn't stop people from purchasing the course in November and over Black Friday.
Just that month alone I sold almost 60 courses which shows me that people are interested in wanting to make a living from writing.
One of my goals was to set up an affiliate program and I did that early in the year. I have around 60 affiliates and some of them are my freelance writing clients, which is neat to collaborate with them on that level as an entrepreneur.
As a result of having affiliates and just the natural progression of my blog and business, this year was the year where I was asked to contribute to posts.
Some notable posts where I was featured include:
Interview with Elna Cain: Full-Time Income from Freelancing Part-Time – Contena
Expert Roundup: How to Find and Keep Long-Term Clients – Be a Freelance Writer
Meet the Freelance Writer: Elna Cain – Freelance Writing
37 Experts Reveal Their Biggest Blogging Mistakes (So You Don't Make Them!) – The Blogging Budha
15 Expert Tips For Unblocking Writer's Block – Huffington Post
20 Power Mums Share Their Life Hacks, Productivity Tips & Tools – Huffington Post
And so many more.
When I look back at my 2016 Goals, I can see that I had a lot of ideas for new projects. See, that's what happens when you're an entrepreneur – you have ideas that never flourish. They are just ideas. But, I like that aspect of entreprenuership.
I'm a creative. I love creating graphics, blog posts, webinars, lead magnets just about anything. So every day I have ideas like:
Write an eBook
Create a course for Twins Mommy
Create another course for Elna Cain
Create a start a blog post
Include more awesome things in my Writeto1k course
Get my hold on affiliate marketing for my blogs
Now, will all of these come to fruition? Probably not, but these ideas lead me down a path and it gets me focused.
At least that's how I work. My husband has a more logical brain and helps with setting quarterly goals in our freelance business (since now he's a bigger part in my business lately).
So, what other goals did I or didn't I achieve?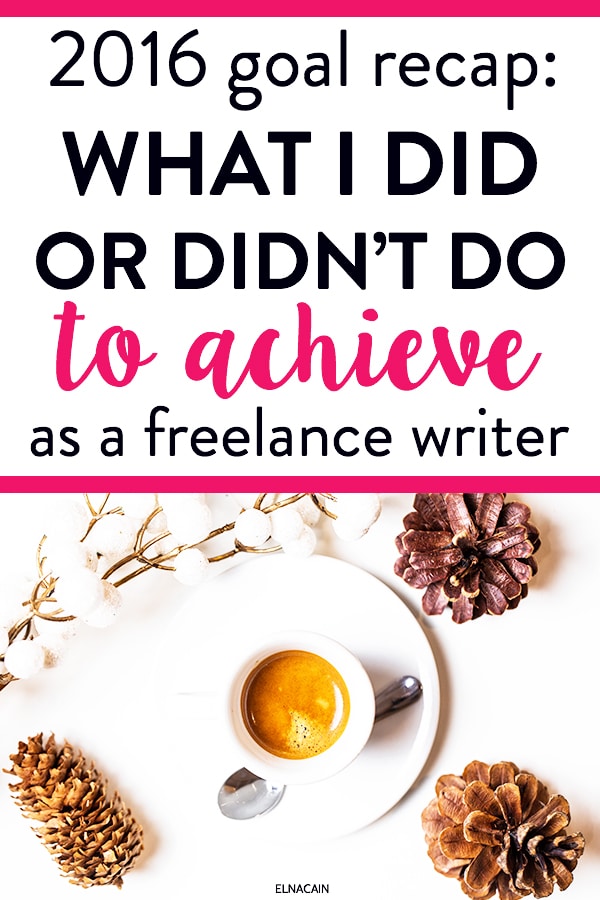 1. Contribute to the Huffington Post
Yes! I did become a contributor in February, when Arianna Huffington was still the chief editor. I emailed Arianna on January 30 and she responded on February 9th:

And I sat on that for a while. I didn't post anything or do anything with that platform – until I heard that Arianna was leaving Huffington Post.
For some reason I was thinking they were going to redact my byline and tell me I could no longer post on their platform. But, that never happened. In October I finally published my post: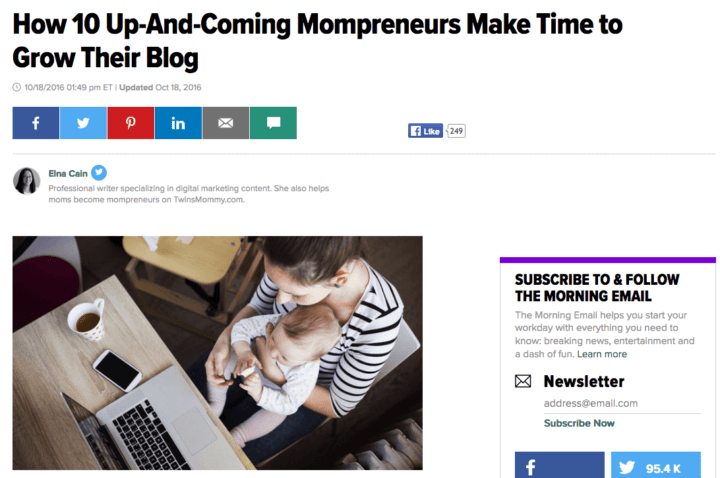 In the long run I decided to use this contributorship to help me grow my Twins Mommy blog. While my niche on the Huffington Post is small business, I will focus on being a mompreneur mostly. I had to finalize my smaller author bio and decided to mention my digital marketing expertize and who my audience is:

While people may feel that the Huffington Post isn't as prestigious now that they have a blogger platform where anyone can publish a post without the editors approval, for freelance writers, it's still a great sample.
Why? Because I'm pretty sure that most people don't know the behind-the-scenes goings on with the Huffington Post. Prospects will view your portfolio and if they see you're a HuffPo writer, it will just show your credibility as a writer.
2. Start Hosting Collaborative Webinars
Yes! I have done one collaborative webinar over on my Twins Mommy blog.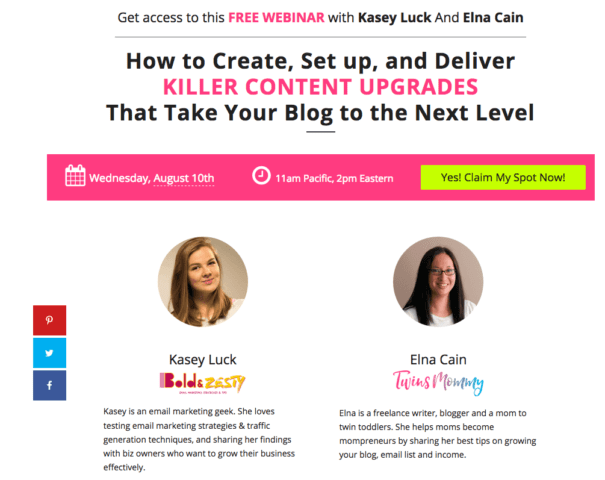 That was pretty fun and I want to do that again. I do have a lineup for this blog, but the person that I want to collaborate with just had a baby, so is a little preoccupied at the moment!
One reason I have been slow with webinars is that my twins aren't consistent nappers. Most of the time my daughter doesn't nap and either I have to watch her or my husband does. My twins nap during prime webinar time so I haven't hosted many webinars after the summer.
But, with Facebook Live being uber popular, I'm probably going to start doing that for a while until I can solidify some times for a webinar.
3. Start Your Writer Website (Service and Package)
This is partly still on the table, but I haven't acted on this yet, mostly because this goal revolves around my husband.
And over time it has evolved to focus on my course students only. So for now, this service or package will only be available to my course students when it's unveiled.
4. Start a Content, Marketing and Design Company
Not happened yet!
Both my husband and I want to collaborate on this venture. We have thought of a name but we are redesigning the brand, audience and the actual product or service. For now, we are scratching out the content and marketing side of the business and probably going to focus on designing.
Not a Bad 2016 Year
During the year I made more goals, especially for my Twins Mommy blog. I'm in the works of being handed an established Facebook group, which I will promote my Twins Mommy brand and my freelance service. This project isn't a solo one; I'm going to collaborate with another solopreneur that's a VA so I'm ecstatic for when this happens – very soon!
One thing that was big this year was all the networking I've done. I've networked closely with other freelance writers and mom bloggers and it's amazing how there is so much potential when you network!
And this helped me with my epic courses giveaway that I had over at Twins Mommy.
I won't go into detail about the specific goals I have for my freelance writing business – that will be in January's post – but what I can say is that I honestly feel that 2017 is the year for my business and family.
Over to you! Tell me if you smashed your goals this year!