ATTENTION: Freelance writers
Does charging $300, $400, $500 or more for a single blog post sound like a pipe dream?
You're struggling…
All you want to do is get paid to write.
And you don't want to spend every waking moment writing for pennies – just to make ends meet.
That's not asking too much, is it?
You're pitching, you're doing outreach, but the only gigs you seem to be landing are…not very exciting.
And they definitely don't pay the bills.
Things like $35 for a 1,000 word blog post or $15 for a newsletter – or worse – way worse!
Yikes! How can I charge more?
You deserve better. A lot better.
But why are you struggling?
I've been a freelance writer for over five years, and I've learned an easy way to make a living from writing.
I sent out an invoice for $1500 the other day…for one post
Sure, I don't make $1500 for every post I write. But I routinely charge – and get – $400 or more per post!
I'm not spending 50 hours a week researching for these articles and I'm not spending my precious time emailing back and forth with my clients or having to pitch constantly for story ideas.
I have twins to take care of and a house to manage – this mama has no time for that!
Want to know how I do it?
Early in my freelance writing journey I lucked into a type of writing that proved to help me make hundreds of thousands of dollars over the years… without writing a lot.
It's boosted my creativity, helped me network with top influencers in my industry, and has allowed me to grow as a professional writer.
So, exactly what type of writing is this?
It's freelance blogging!
It's that simple.
Blogging jobs are recurring, and this means companies and brands hire you to provide weekly or monthly blog posts.
But clients aren't stupid – they don't pay hundreds of dollars for just any old content.
You need to learn how to write killer content – the kind clients pay big bucks for
And the best part – learning this critical skill means you can adopt this strategy for your own blog too.
Can you say…double whammy?!
Once you learn freelance blogging, you can use those skills to make money on your own blog
I'm sure you've read in Facebook groups or on Twitter of bloggers earning $10,000, $20,000 or $30,000 per month with their blog, right?
After you're done Freelance Blogging in a Weekend, you'll know exactly how to write a blog post that's highly engaging and highly converting.
You'll also know how to use search engine optimization – SEO – the right way to not only help your clients rank in Google, but to help your blog posts rank in Google too!
My blog posts rank easily in Google (and convert)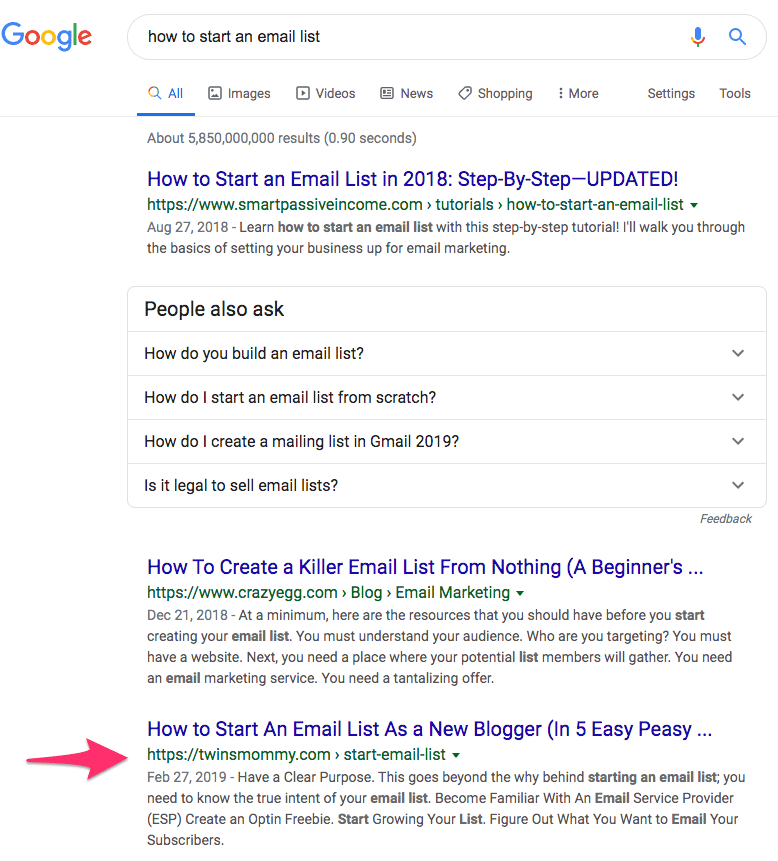 As a freelance blogger I get to do what I love doing the best – writing blog posts.
I don't need to rely on picking up in-depth projects like white paper writing or magazine writing where I'm constantly communicating with the client or editor or I'm on the phone interviewing a source.
Clients will love you…Google will too
I want to be able to sit at my computer while my twins are playing in the next room, draft an outline, research the information I need and write a damn good blog post for my client – or my own blog!


Introducing Freelance Blogging in a Weekend
A writing course that teaches you how to write high-paying B2B blog posts & SEO writing that earns you mega cash with clients – and your blog.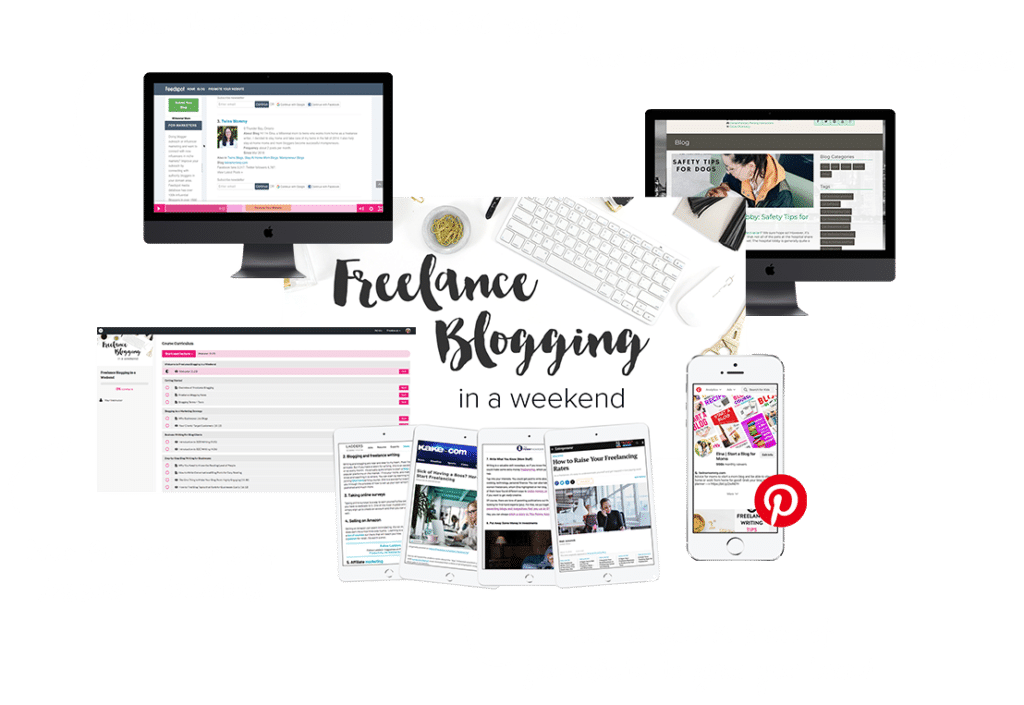 Let me guess:
Does the thought of charging $400, $500, $600 or more for a blog post scare you?
Do you think it's impossible because all you ever receive for your writing is $50 a post or less?
Do you struggle with understanding SEO and B2B long-form writing?
Freelance Blogging in a Weekend helps you build your writing skills so you can break away from content mills or sites like Upwork
Everybody knows that most clients here have no clue how valuable blogging is – and if they do, they're not willing to pay for it.
You can start charging hundreds of dollars per blog post and confidently turn down $50 writing jobs.
You will have the confidence to write SEO blog posts for your clients and finally stop the feast and famine cycle many freelance writers face.
As your instructor, I teach you how to write ultimate guides, list posts, an SEO converting blog post and affiliate marketing posts for your blog and clients.
What will I learn?
My never-before-told process of how I write about things I have NO CLUE about.
The differences between B2B writing and B2C writing and if either are profitable – you might be surprised
How to write a product review to make money for your blog and for your client's blog
My key formulas for profitable types of blog posts like writing an affiliate marketing post
What SEO is and how to use it in your writing to rank in Google
When I started Twins Mommy, I didn't know much about affiliate marketing.
I made a ton of mistakes like adding affiliate links to random blog posts.
It was no wonder that I only earned $50 in one month.
But, once I used my freelance blogging skills to write product reviews, I went from $50 to $2,000 in one month.
And that was with just a few blog posts!
But I hear blogging is dead and it's all about video now…
Good point!
Video marketing is huge for a lot of businesses and bloggers, but do you want to know something?
Content marketing – using blog writing to attract customers – generates more qualified leads than any other traditional marketing tactic – up to 126% more!
Blogging is usually the first step in a business' inbound marketing plan.

Businesses with a blog know that highly valuable blog content can be marketed on their Facebook page, on Twitter, in their emails and on Google.
As a freelance blogger you will write these types of blog posts for your clients, and then flip that around and also write those types of posts for yourself.
This means having a diversified income every month, which gives you the confidence to make a living with your writing.
But I already know how to write blog posts…
Well, if you're routinely making hundreds of dollars – or more – with each of your blog posts, then Freelance Blogging in a Weekend isn't for you.
However, if you're stuck at only getting $50 or so for a blog post, Freelance Blogging in a Weekend can help grow your skill set and take your business to the next level.
You'll learn exactly how to write blog posts that are used for marketing purposes. This isn't a diary entry or an op-ed piece.
This is a conversational, in-depth, highly optimized blog post that will generate sales.
Are you ready to grow your income?
When you enroll in Freelance Blogging in a Weekend, you also get these amazing bonuses (worth over $650)!
3-Day Blogging for Money Masterclass
When you enroll before December 3rd, you'll get access to a private Facebook group where I will do a mini masterclass each day for three days (date to be announced). Replays will be available, so don't worry if you can't attend live.
Day 1: Writing Captivating Introductions
Learn the proven formula to writing captivating introductions to engage your readers and help them make a connection to your writing. Doing this one thing can help you build a raving tribe that will buy from you.
Day 2: Turning a Blog Post Into a Converting Post
I will dive deep into a student's blog post and look at key areas like engagement level, SEO, email list potential and income potential. I will then share my tactics to boost your blog post for more conversions.
Day 3: Writing Gift Guides for the Holidays Using WordPress
Learn how to write gift guides with a converting WordPress design feature. You'll also learn to compete with other top gift guide posts using my process of writing gift guides that attract sales.
Bonus #1
Behind the Scenes – Landing a $2k B2C Blogging Gig ($97 value)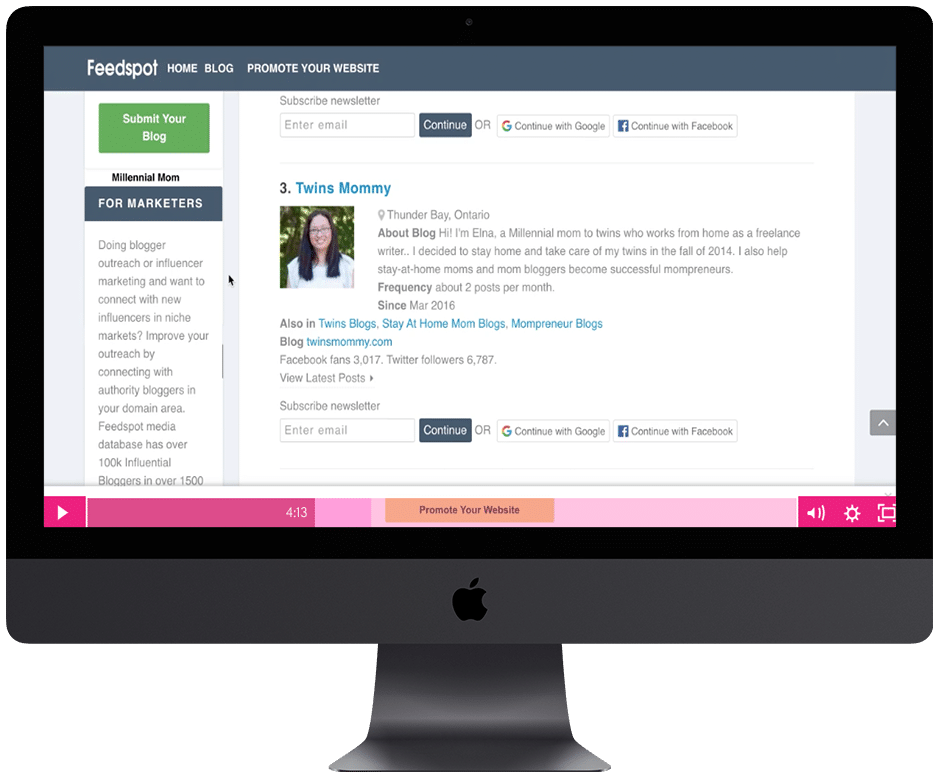 Learn what you need as a freelance blogger to attract and hook a high quality B2C client. From showing you the inquiry to how I eventually closed the gig, learn step-by-step how you can replicate the same process for your business.
Bonus #2
How to Get In Front of Journalists for Massive Brand Building ($97 value)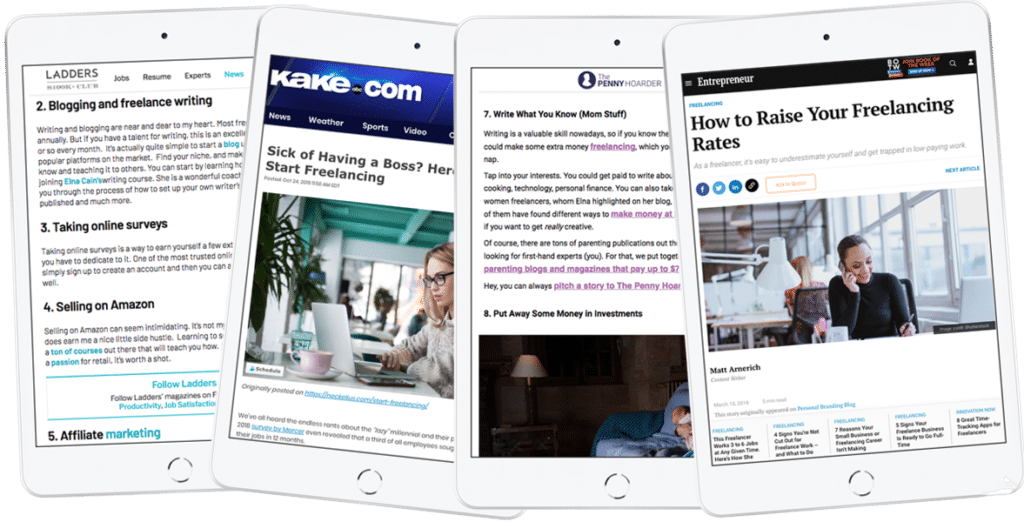 How can you as a blogger get featured on big sites like Forbes, The Ladders or on media sites like ABC or NBC?
By using a strategy that few know. Learn not one, but three ways to quickly find and get in front of journalists and how to pitch them so they don't turn you down.
When journalists feature you as experts in your niche, suddenly Google loves you, brands seek you out for collaborations, and new ways to diversify your income come into play.
Bonus #3
Getting Started With Pinterest for Your Blog ($67 value)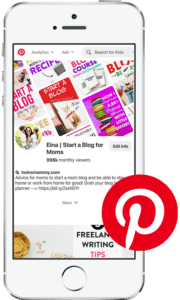 What's the #1 strategy to quickly and insanely grow your blog traffic? Pinterest.
Pinterest is hot right now. New bloggers, old bloggers, lifestyle bloggers, men bloggers and more use Pinterest as their main source of traffic.
Learn my exact marketing strategy to start Pinterest correctly for massive boosts in blog traffic.
Bonus #4
How to Sell Blogging Services to Clients ($97 value)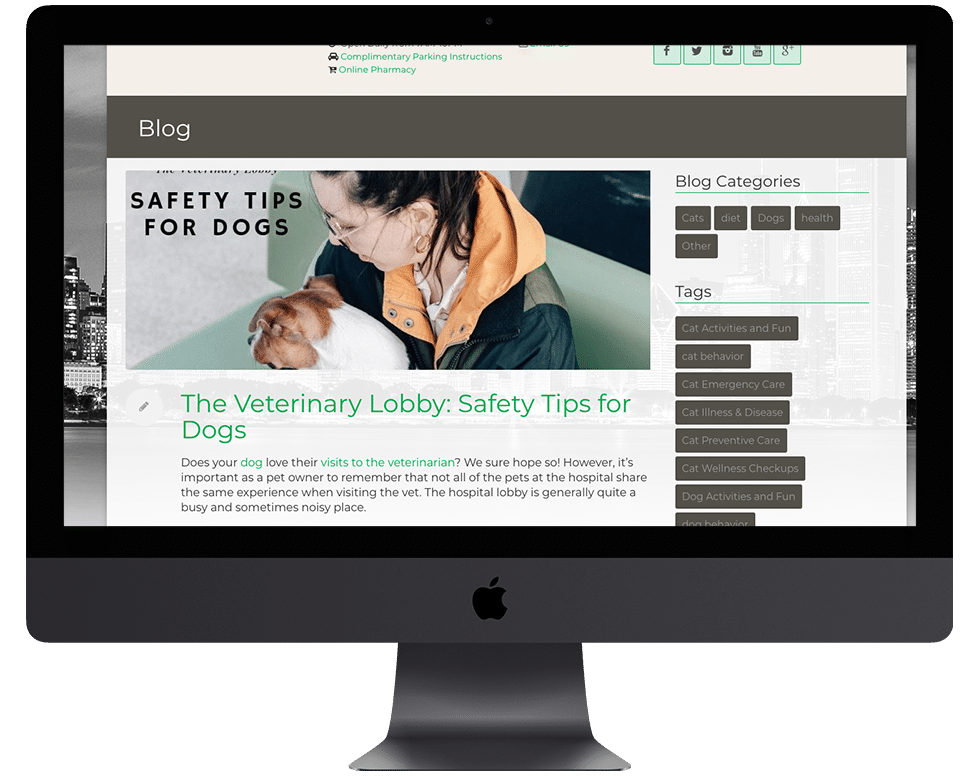 Want to be a freelance blogger for a potential client but notice they don't have a blog?
How do you convince them they need a blog and then to turn around and hire you for their blog content?
Learn how to sell your blogging services to gain more freelance blogging jobs.
There are two types of freelance writers
The DIYer: You download every free resource out there and try to hack together a freelance blogging business. You try to piece together SEO and conversational writing, but what ends up happening? You pick up a $10 project here or a $20 project there and have no idea why you're not landing quality blogging clients.
The Investor. When you invest in Freelance Blogging in a Weekend you gain expert writing skills that will make clients crave your content and pay top dollar for it.
Learn my step-by-step process for writing high-paying blog posts
Do you know what type of – and how to expertly write – blog posts that cost $300, $400, $500 or more?
Do you know the best types of blog posts to boost your affiliate income with your personal blog?
Or, how about confidently writing about a topic you know nothing about?
In Freelance Blogging in a Weekend, I share with you my never-before seen, shared, or taught processes for writing high-paying long-form blog posts
This knowledge can be used for your clients and for your own blog to help you compete with successful bloggers.
And let me share a secret with you – the average blogger has no idea how to write these types of blog posts.
From knowing how to write a product review for money, to writing a converting list post, ultimate guide and high-ranking SEO blog post, you will have the tools to quickly go from hobby blogger to a money-making blogger.
Take advantage of my proven framework today!
This is a self-paced online course.
You'll immediately have access to all the modules, video lessons and bonus materials.
You can go through all the lessons in one day or take as long as you need.
You'll have lifetime access to this course and you'll also get any new lessons I add or updates I do to Freelance Blogging in a Weekend.
By the end of this course, you'll have the knowledge to write long-from blog posts for clients and know the processes for writing highly converting blog posts for money.
What's included
Module 1: Getting Started
Get an overview of freelance blogging and blogging terms
Learn how much you can really make as a freelance blogger
Module 2: Blogging As a Marketing Strategy
Learn why businesses use blogs and how knowing this can help you be a better writer
Find out how to figure out your client audience as a way to fit their writing style
Module 3: Business Writing for Blog Clients
Learn all about B2B and B2C writing and how profitable they are
Module 4: Step-By-Step Blog Writing for Businesses
Learn how to write conversationally – the key to landing better clients
Get a step-by-step writing process for popular posts clients seek
Learn my never before seen process for writing about a topic I know nothing about
See a writing exercise on how to fix your writing for better engagement
Module 5: Special Niche : Long-Form Writing (Worth $400 a Post)
Learn how to break topics down so that our long-form piece of writing is easy to read
Learn how to write particular long-form pieces of content that clients demand (and that you can also write on your blog)
Module 6: Special Niche: SEO Writing
Understanding SEO for business and learning if it's profitable
Learn to find keywords for your clients (and for your blog posts) and where to place them in your post
Module 7: Make Money With Your Blog
Learn about affiliate marketing and the most popular types of posts to boost conversions
Get my mega list of 63 affiliate programs you can sign up to
How to write a product review that will grow your income
Effective strategies to build engagement with your blog posts
Enroll in Freelance Blogging in a Weekend Today
No risk, no questions asked 30-day money back guarantee
7 core modules
30+ lessons
Product review writing
B2B writing
SEO writing
Lifetime access
One Time Payment
Fully updated Nov. 2013
One single payment. Instant lifetime access to:

Freelance Blogging in a Weekend



Frequently Asked Questions
Does this course teach you how to find clients?
No, it does not. Freelance Blogging in a Weekend is a writing course that teaches you specific strategies to boost your writing skills. I will say that some of the bonus videos do teach you a way or two to land a gig.
What's your refund policy?
I can't guarantee you success or income; I can just teach you what I've learned along the way. But I stand behind this course with a full 30-day, 100% money-back guarantee.
How long do I get access to the course materials?
Once you enroll in the course, you have access for life. So, for every new or revamped module, lesson, video or other piece of content, you will receive access to it for free. In the unlikely event I take down the online copy of the course, you will be provided with a downloadable copy. I don't leave anyone hanging!
Can I take this course if English is my second language?
While Freelance Blogging in a Weekend is a writing course, it does not teach you the fundamentals of writing and grammar. If you struggle with writing in English, I suggest you take an English writing class to get up to speed before you take my course.
I live internationally. Is this course still applicable?
Yes, if you plan to write in English, it is. I have students from Denmark, Germany, UK, Africa, Puerto Rico, Canada, Australia and more! I teach you specific writing skills in English, but if you speak and write in English, then this course is applicable.
Does this course teach you how to start a blog?
No, this course only teaches you how to write specific blog posts to make money with your blog. If you need help starting a blog, free free to check out Elnacain.com for a blog tutorial.