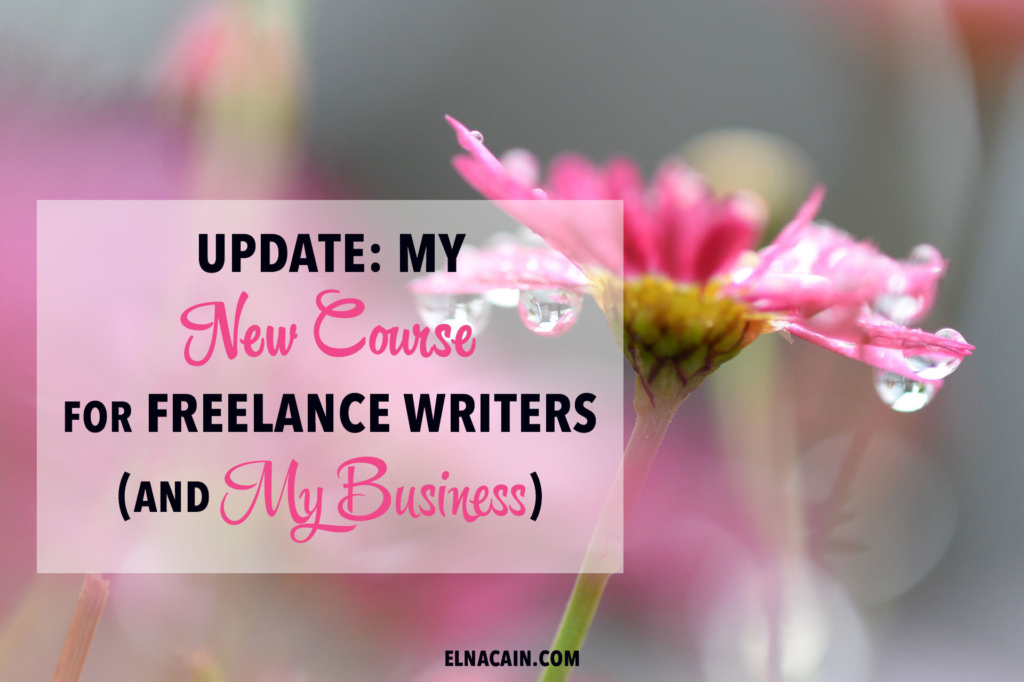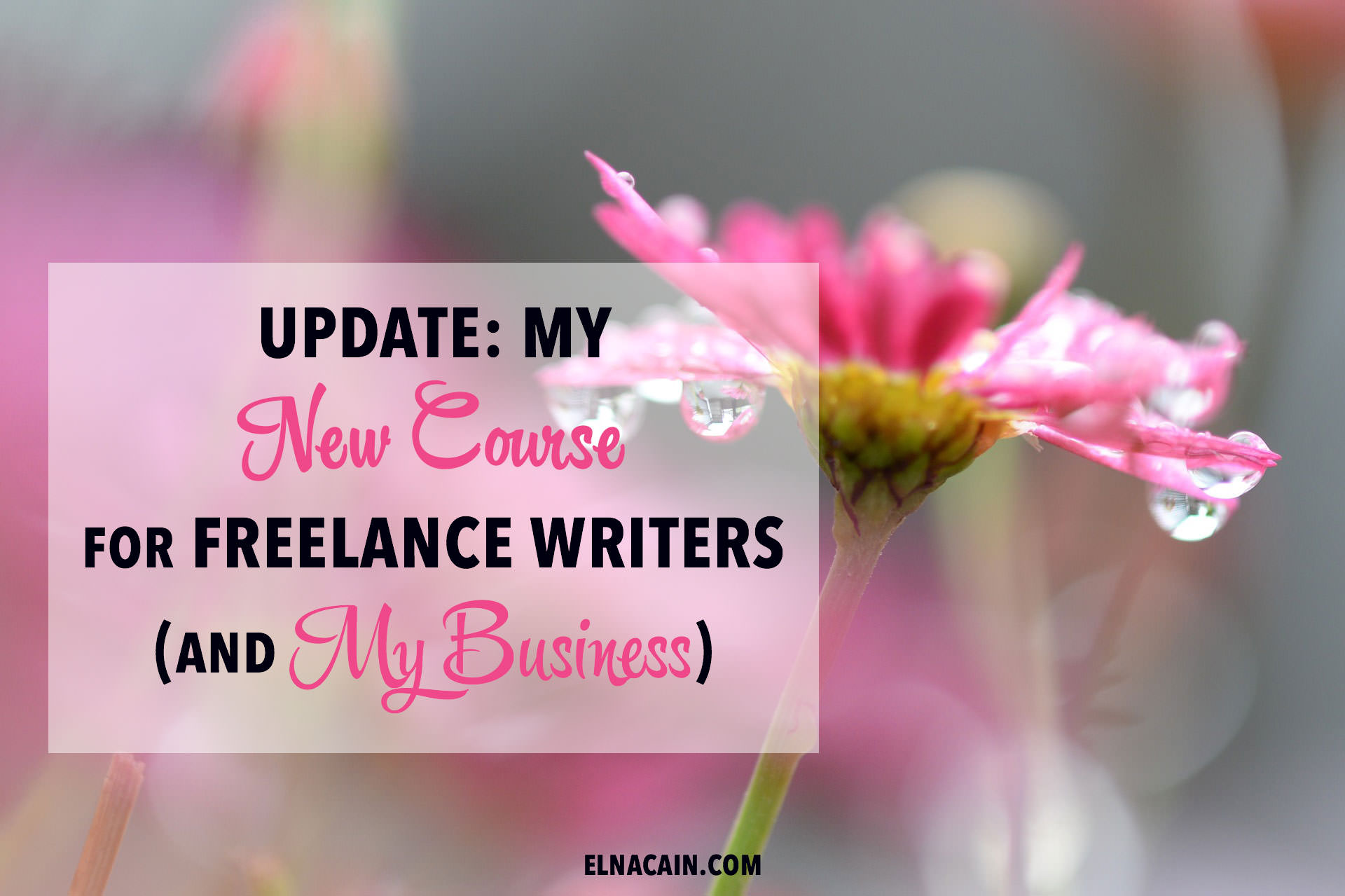 What a busy month September has been for me – and we're not even half way through.
My life of as a freelance writer is never constant, I find. One month I wish I had more work, and the next, I'm referring prospects to other writers!
It's been a full year since I started freelance writing and I can honestly say, I can't believe it! Everything went into high gear when I landed my ideal client, decided to write a comprehensive course for new freelance writers and landed a huge freelance gig with an influential blogger.
I normally don't talk about myself in these posts. After all, I want you to learn awesome and action-worthy tips on my blog. But, I'm brimming with excitement over my free email course, my new and exciting upcoming course for aspiring freelance writers and my business!
So, today I'm sharing what's going on in my freelance writing business.
My Free Email Course
A full month has almost has passed since I launched my free email course, Get Paid to Write Online. I made a goal to get 100 subscribers the first week I unveiled my new site and email course.
I ended up getting 95 subscribers in a week and on day eight, I surpassed my goal! Not bad. The following weeks were just as successful and now I'm at the 200 mark a month later.
I'm super happy for this, but what I'm ecstatic about is all the great things people are saying about my free course! Here's just a snippet of what people are saying:



This just makes me bubble up inside!
People are emailing me and using social media telling me how much they liked my course and how it's really helping them!
I'm also providing lots of freebies (that I may end up selling later on) and will continue to provide the best tips and more awesome freebies to my Get Paid crew. So, if you haven't joined the crew, now is a great time!
My New Freelance Writing Course
I mentioned in my Mid-Year Goals post I was working on an eBook for new freelance writers.
So, I started writing and writing and writing and…then my business exploded and I had more work than I could handle. I had to put my eBook on the back burner for a week or two.
But, this gave me time to think about my product. I want my product to be the best there is out there. I want it to have information and tips you can't find online or in other eBooks or courses.
I began to see my product differently and ultimately decided to make it a course rather than an eBook. Calling it a course also seems to be a better fit for the information I'm providing and I'll be able to price it in a way to reflect how valuable my course is.
During this time I also started toying with names for this course. I was struggling finding a good name that wasn't too generic or mundane. Then suddenly, I thought of the perfect title for my course!
My new course is called Write Your Way to Your First 1K.
So far I really like it. It's catchy and I know there are aspiring writers and even people who've tried to make it as a freelance writer wanting to reach their first thousand dollars, but just don't know how.
My course will tell you the exact steps to get to your first 1k and beyond.
Soon, I will give my subscribers a sneak peek or two of my course material and I can't wait!
My Freelance Writing Business is Taking Off
About two weeks ago I decided to do a little case study on if I could land a client in 7 days only using free job boards.
See, it's been a while since I spent a good chunk of my time pitching. Since I have 2 toddlers to look after each day – and I receive numerous emails from entrepreneurs, companies and start-ups wanting to work with me – I actually have more work than I can handle.
Well, I ended up landing two writing gigs. One writing gig is actually more of an editing job and I ghostwrite on an ad hoc basis. The other job is both ghostwriting and by-lined so I'm excited to start with this awesome digital marketing company.
But, something else happened. Three more prospective clients contacted me for work! I ended up taking on two additional clients and referring one prospect to a Get Paid crew member.
I'm a Coach!
As you can see, I'm pretty busy. But, this hasn't stopped me from continuing to write my course and I even started coaching other freelance writers!
I currently have 3 coaching clients and I couldn't be happier! I launched my coaching about a month ago and I'm excited to help more writers succeed!
I'm offering 30-minute calls either via phone or Google Hangouts. So, if you're struggling with finding clients or just need a solid plan, consider my help!
 Balancing it All
Right now it's 8:30 a.m. on Saturday and my twins are playing with their dad while I'm on the couch busily typing away (praying I don't injure my hands typing on my laptop yet again!). I don't normally type when my children are awake.
I do most of my work when they are sleeping, but now that I have more work, I have to find times to write. This means writing when they are awake.
I'm fortunate enough to have a husband that works from home also and in-laws who come over often to watch the kids.
Working from home is a balancing act. I want to fulfill my client's needs, but at the same time be present with my children. It's a struggle every WAHM faces, but I'm learning to navigate this new phase in my business!
Enough talking about myself!
Over to you – tell me where you're at in your freelance writing business or just say hi. I want to hear from you!